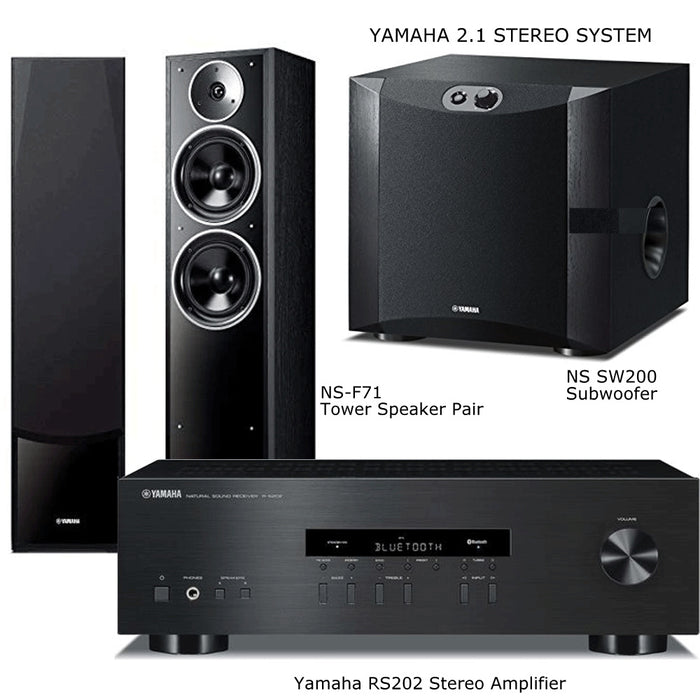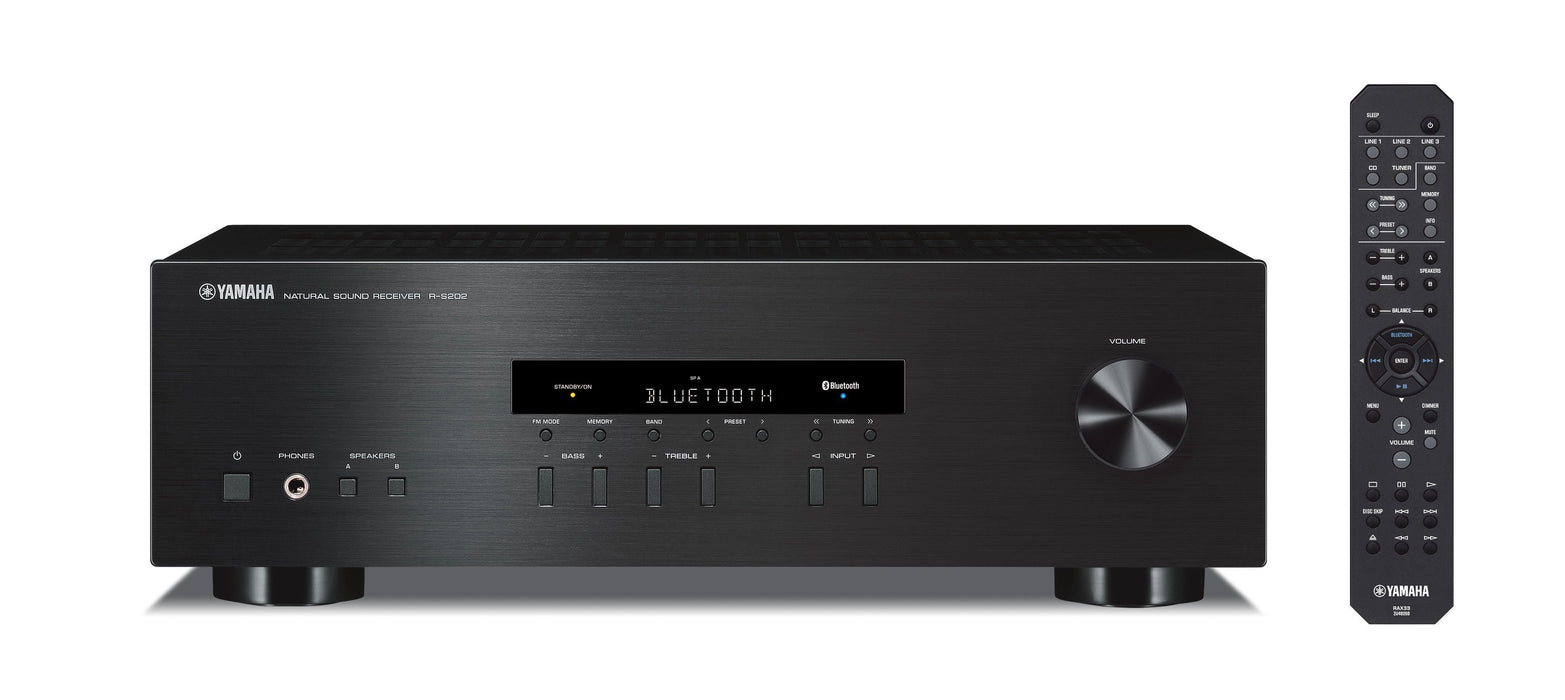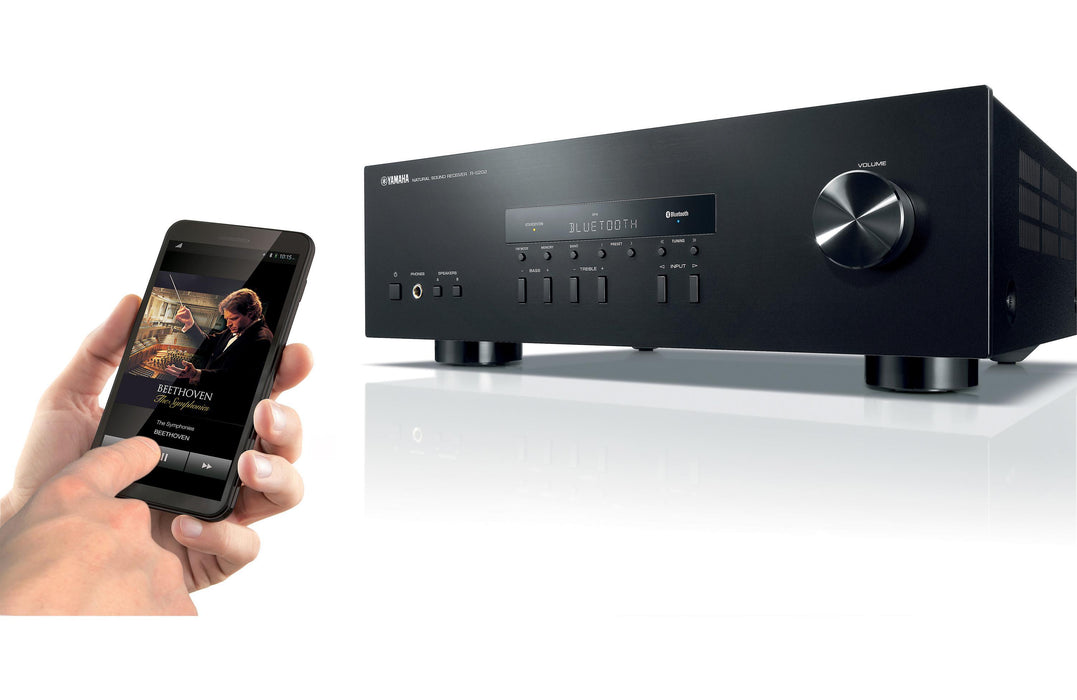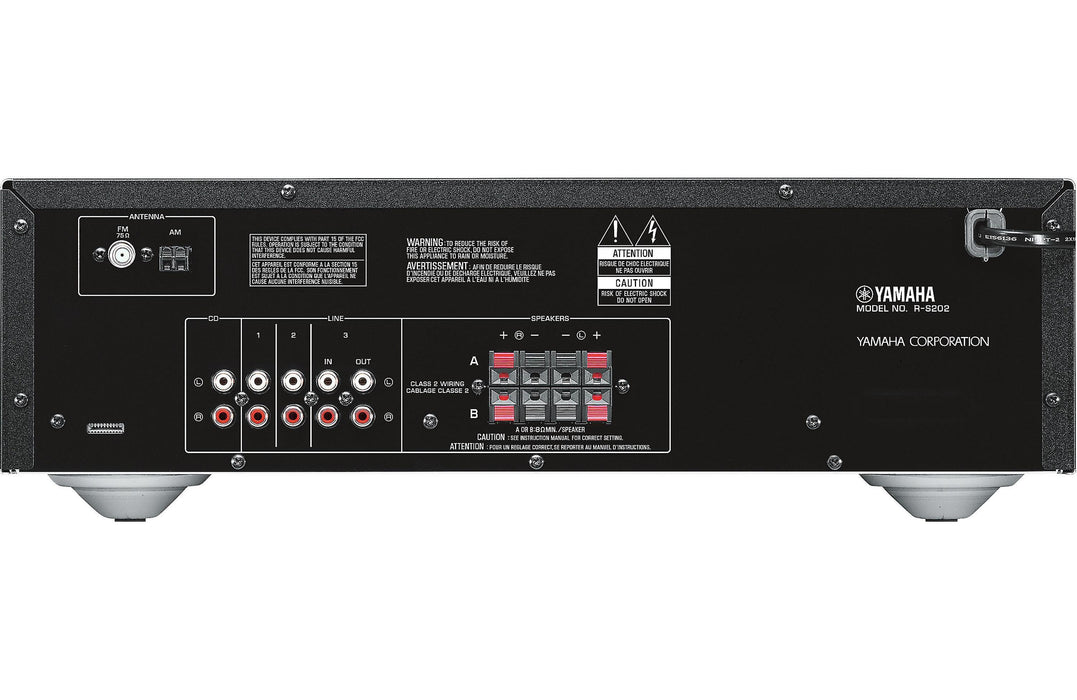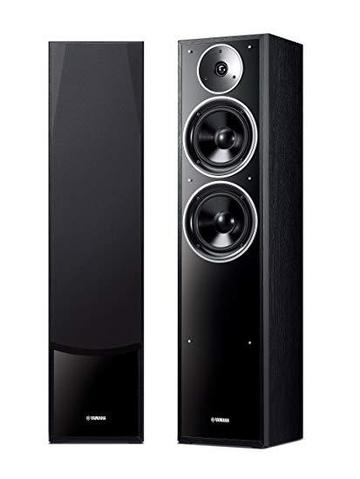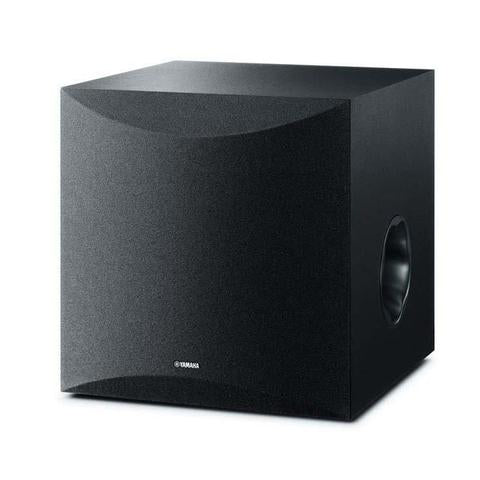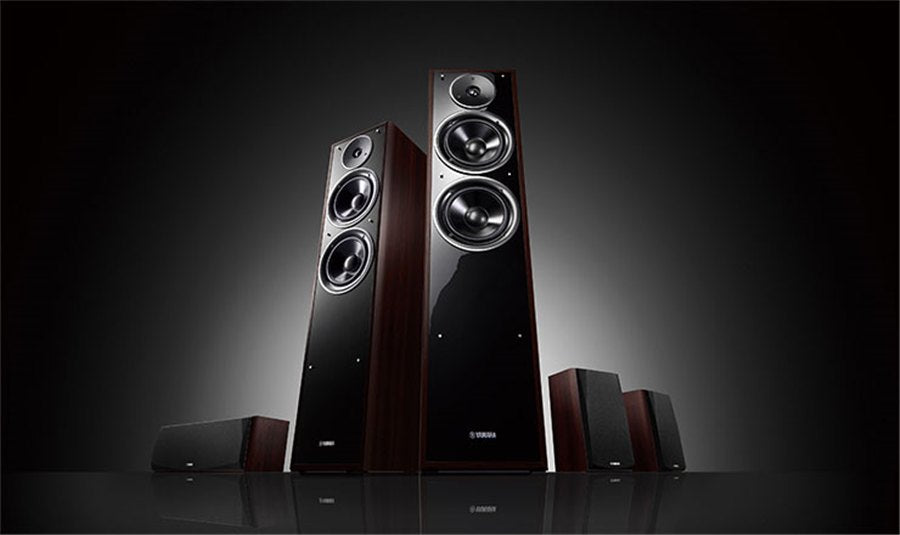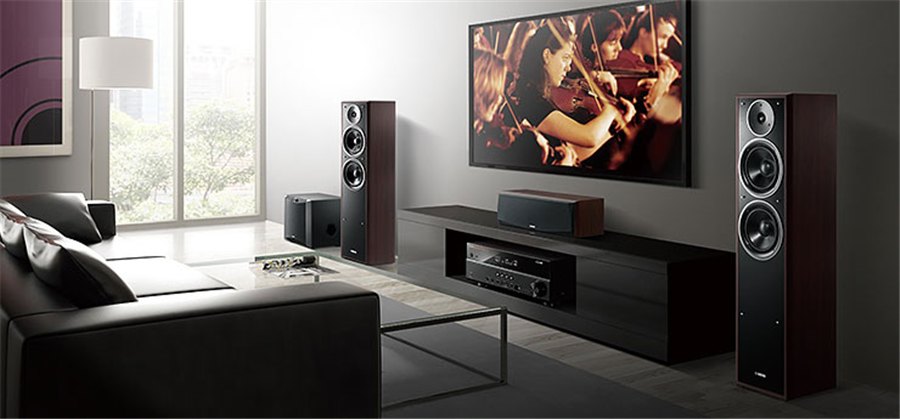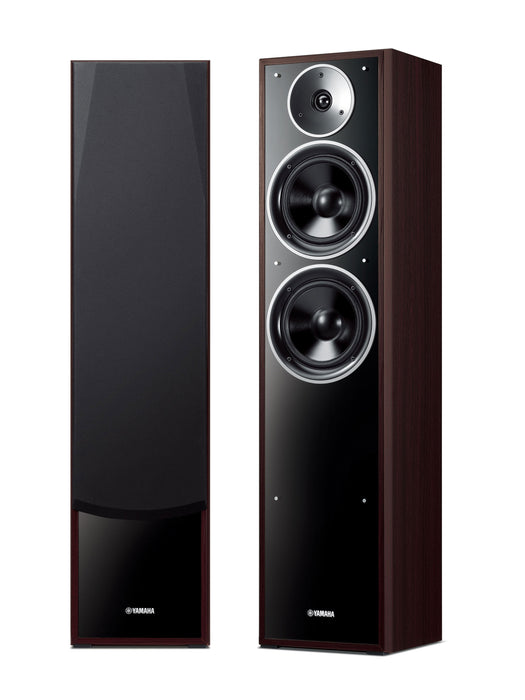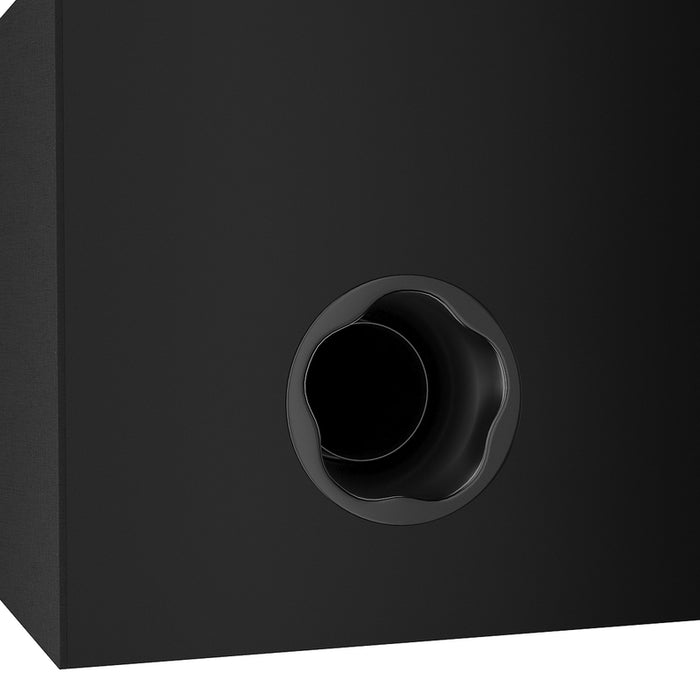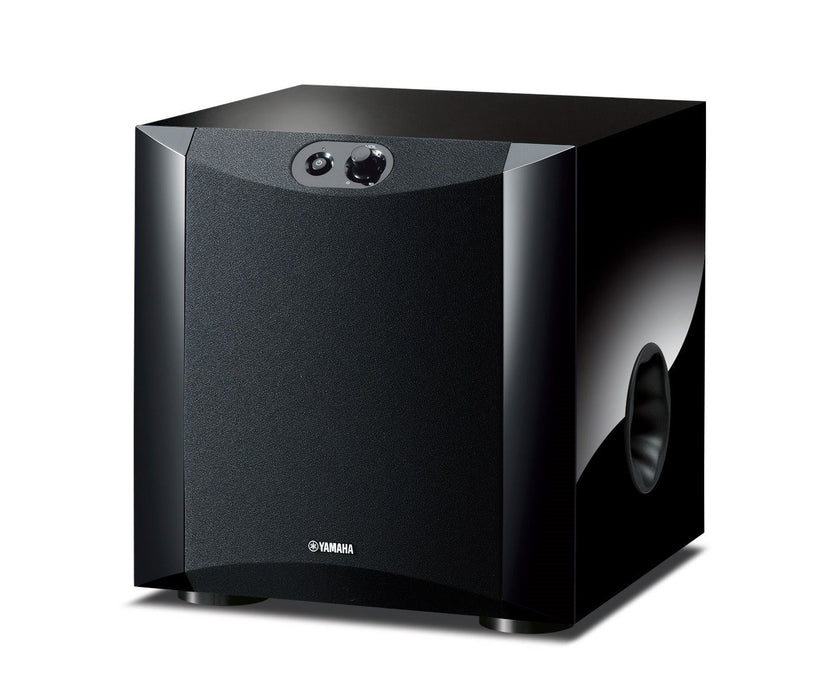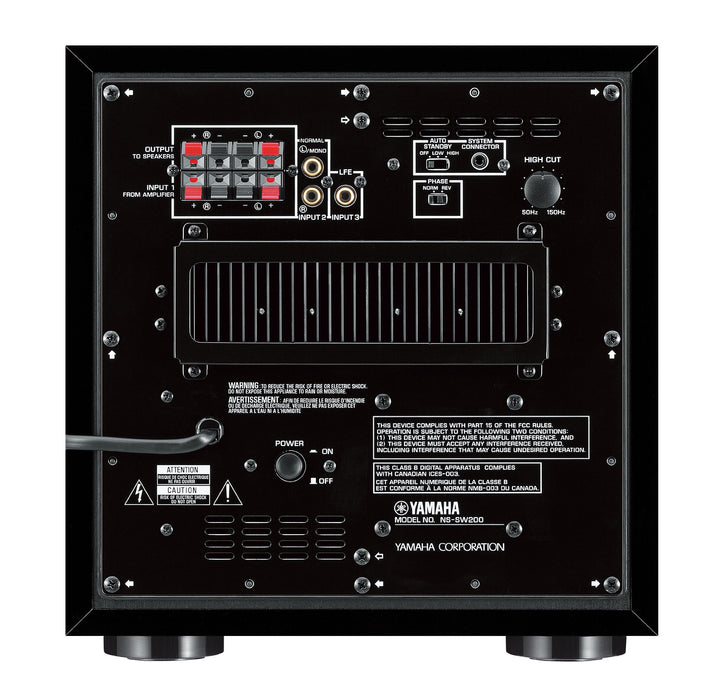 Yamaha RS202 Amplifier + NSF71 Tower Speakers + NS-SW200 Subwoofer - 2.1 Stereo Music System # AM201032
This Yamaha 2.1 Stereo Package Includes:
(Click on product links below for more info)
Warranty Info:
Yamaha RS 202 Stereo Integrated Amplifier
Product Highlights:
100 watts x 2 into 8 ohms (40-20,000 Hz) at 0.2% thd
Built-in Bluetooth lets you stream directly from compatible devices
4 stereo RCA audio inputs
No phono input — to connect a turntable you'll need to add a phono preamp
Stereo RCA output for audio dubbing
40 am/FM presets with station naming
Front-panel bass and treble controls
Front-panel a/b switching for two pairs of speakers
2 sets of spring-clip speaker connectors
Full-size (1/4") headphone jack
Sleep timer
Remote control
17-1/8"W x 5-9/16"H x 13-9/16"D
Weight: 6.7 kg
Warranty: 1 year

Yamaha NS-F71 Tower Speakers Pair
High-quality sound and design featuring the metallic silver trim ring. No matter what the content, from movies to music, enjoy the rich, spacious sound from this floor-standing speaker.
Create a luxurious theatre room to fully enjoy movies and music with rich sound
The new and elegant trim ring enables tight high end and wide, powerful bass
Large cabinet built from MDF materials
Large, gold-plated terminals prevent loss of sound quality
A glossy black front baffle and two-tone finish make for exquisite design
A front grille with a rounded form for a luxurious and upscale design
Choice of two colors to help you create a high-quality home theatre
Features and Specs:
Weight: 14 Kg

Depth: 10 1/8"

Height : 38 3/8"

Width : 9 1/8"

Impedance: 6 Ohms

Sensitivity: 89 DB/2.83 V/1 M

Warranty: 1 Year
Yamaha NS-SW200 Active Subwoofer
Product Highlight
A design combining superior operability and beauty. And introducing a new technology, Twisted Flare Port, for clear and tight bass. A subwoofer that will match a wide range of speakers and interiors.
PWM digital drive high efficiency amplifier and dual feedback circuit
New Twisted Flare Port contributes to clear and tight bass
Advanced YST II (Yamaha Active Servo Technology II)
20 cm (8") cone woofer
Beautiful design will match a wide range of speakers and interiors
Front control panel for easy control
System control and Auto standby
Subwoofer
Driver : L 20 cm (8") cone
Output Power : 130 W
Frequency Response : 28–200 Hz
Advanced YST : Yes
High-Efficiency
Power Amplifier : Yes
Twisted Flare Port : Yes
Auto Standby : Yes
Standby Power Consumption : 0.3 W
System Connector : Yes
Dimensions (W x H x D) : 290 x 306 x 351 mm; 11-3/8" x 12" x 13-7/8"
Weight : 11.2 kg.