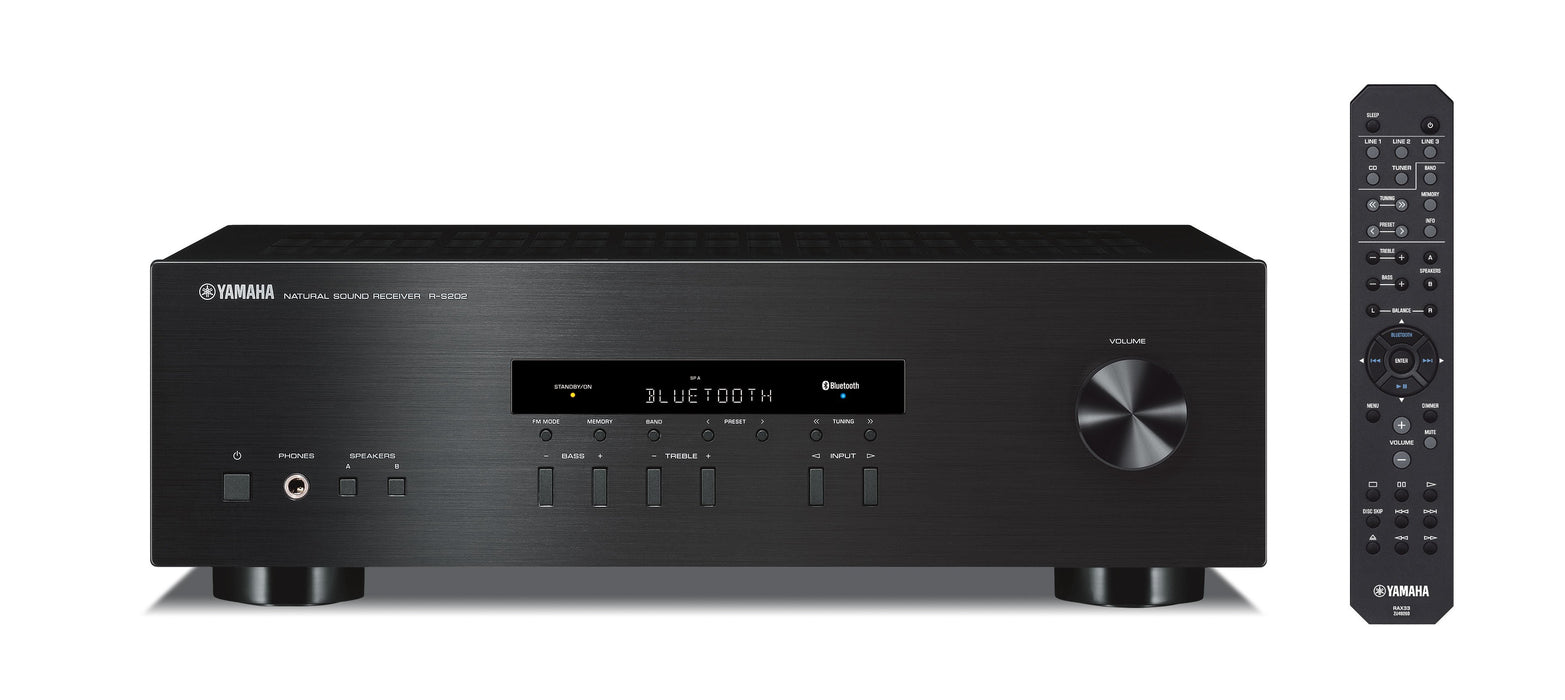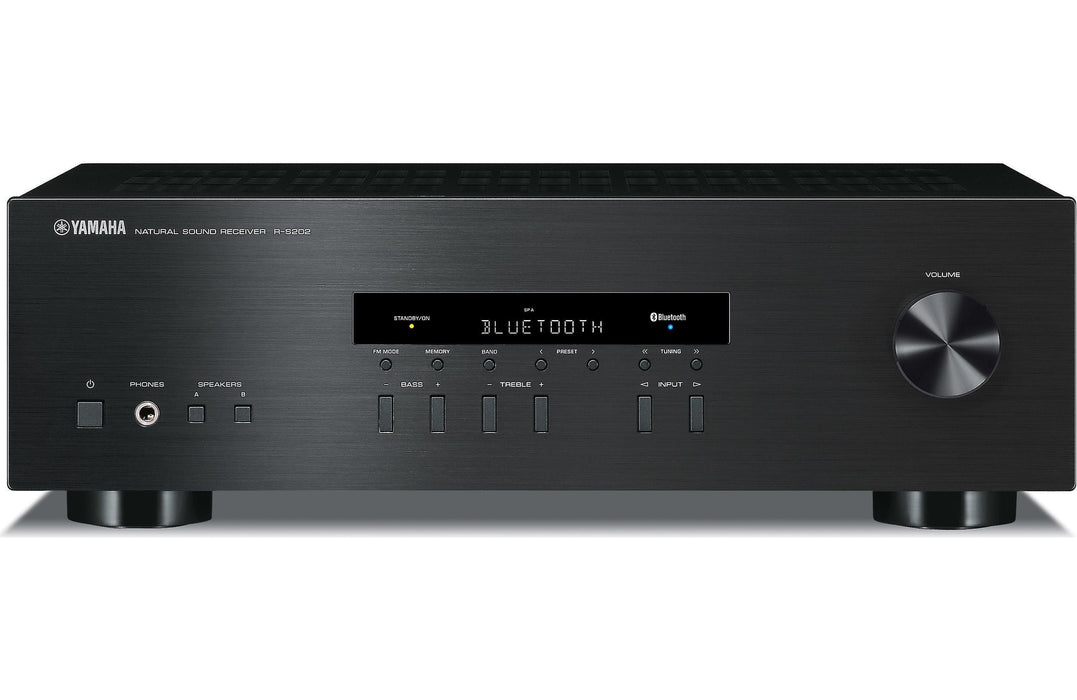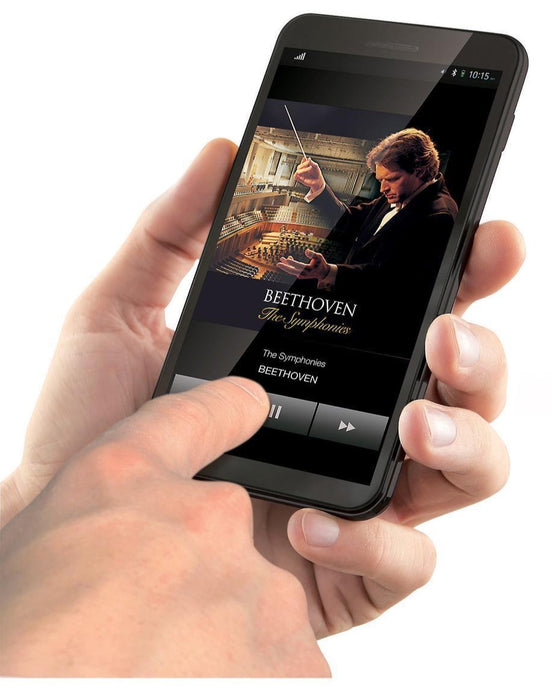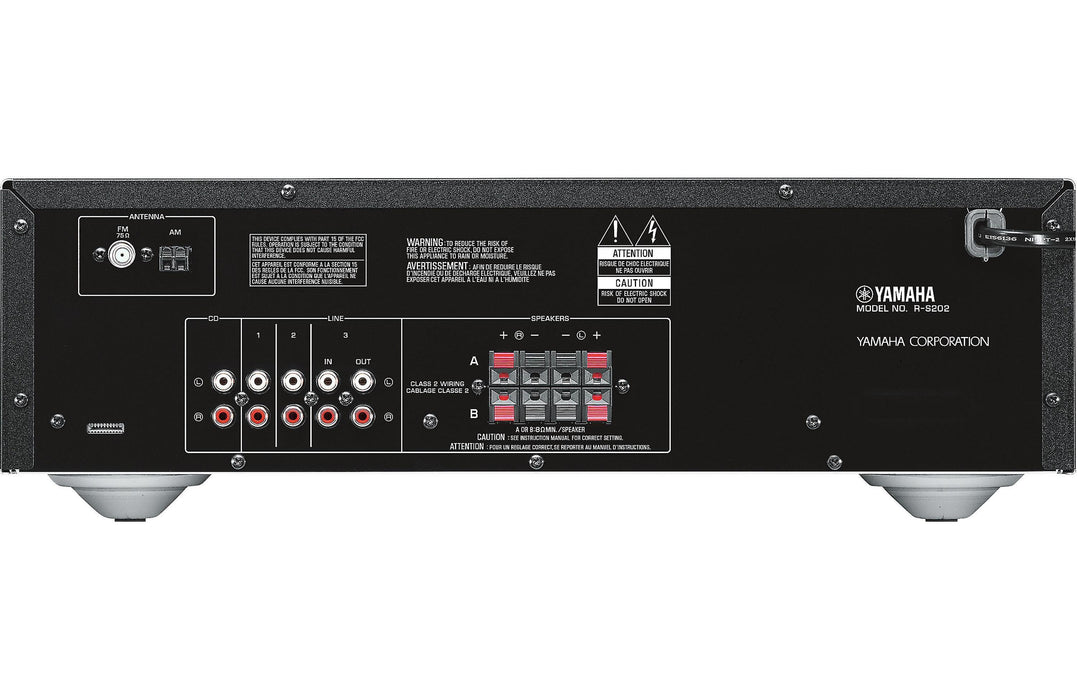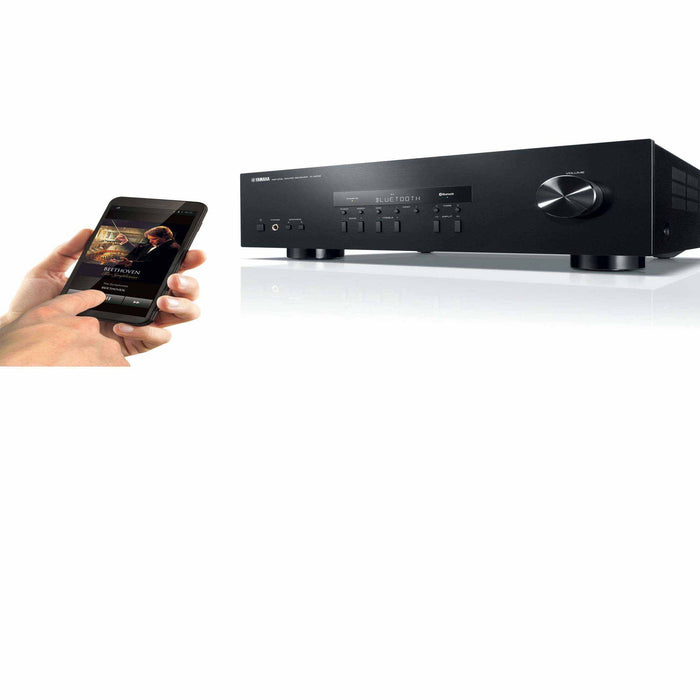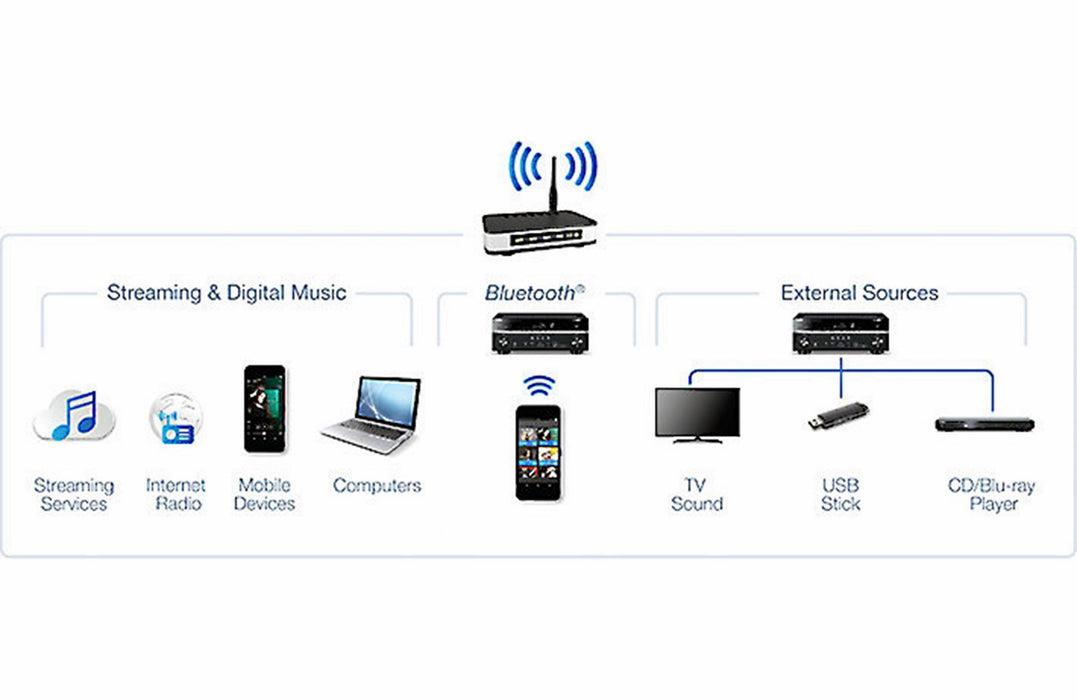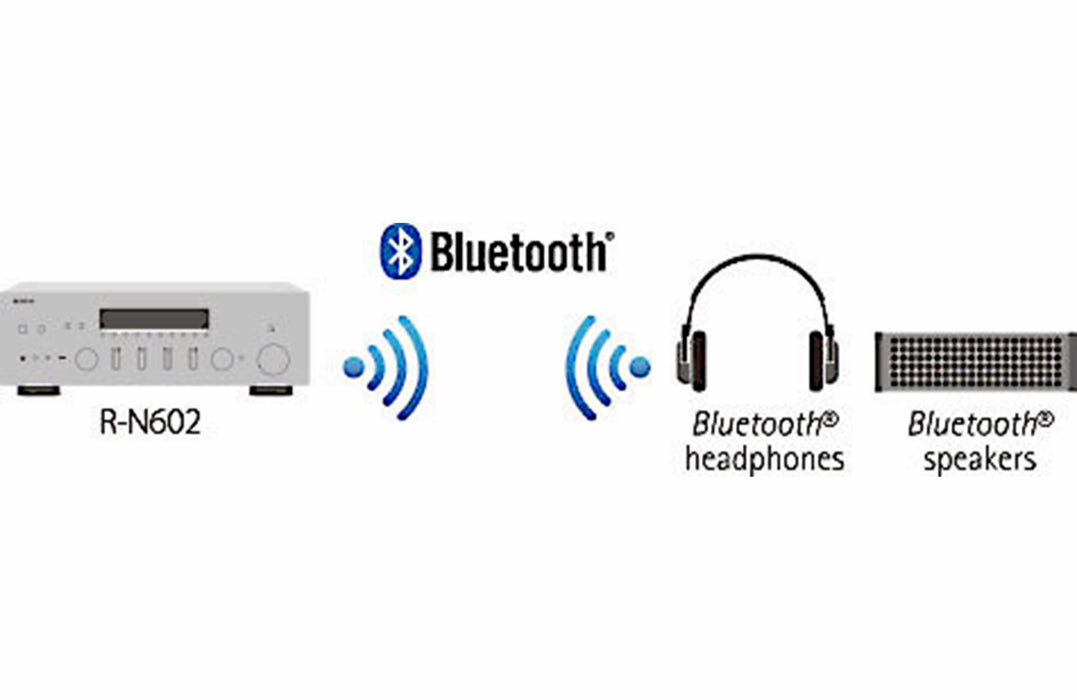 Yamaha RS202 Stereo Amplifier With Bluetooth® And AM / FM Radio Tuner
Yamaha RS202 Product Highlights:
100 watts x 2 into 8 ohms (40-20,000 Hz) at 0.2% thd
Built-in Bluetooth lets you stream directly from compatible devices
4 stereo rca audio inputs
No phono input — to connect a turntable you'll need to add a phono preamp
Stereo RCA output for audio dubbing
40 am/FM presets with station naming
Front-panel bass and treble controls
Front-panel a/b switching for two pairs of speakers
2 sets of spring-clip speaker connectors
Full-size (1/4") headphone jack
Sleep timer
Remote control
17-1/8"W x 5-9/16"H x 13-9/16"D
Weight: 6.7 kg
Warranty: 1 year
Features And Specs
100 Watt x 2 Channel Amplifier:

The Yamaha R-S202 stereo receiver employs a 100-watt x 2-channel (40-20kHz, 8-ohms, 0.2% THD) high-drive amplifier with a high sound quality design that minimizes the length of signal routes and optimizes the circuit layout.
Yamaha positioned the power transformer near the power amp circuit to reduce power loss, while improving peak power supply capacity to enable high volume output.
The signal ground and power supply ground are connected at one point, eliminating mutual interference to achieve a higher S/N ratio.
The result is sound filled with clarity and a feeling of openness.
Built-in Bluetooth:

The Yamaha R-S202 features built-in Bluetooth (ver 4.1+ EDR), allowing you to stream stored music and music apps on your Bluetooth-enabled Apple iPod/iPhone/iPad, Android smartphone/tablet, Windows PC/Phone, or Mac laptop/computer to the stereo receiver. In addition to the standard SBC Bluetooth codec, the receiver also supports the AAC codec for higher quality sound from Apple iPod/iPhone/iPad devices.
You will still control music playback functions and view song/artist information from your Bluetooth-enabled source device.
Analog Inputs/Output:

The Yamaha R-S202 features four analog stereo RCA inputs to connect up to four audio components, and a single stereo RCA record output to connect to a CD-recorder or other recording device.
AM/FM Tuner:

The Yamaha R-S202 stereo receiver features a built-in AM/FM tuner with manual, seek, and preset tuning.
The R-R202 lets you store up to 40 AM/FM station presets. Auto preset lets you automatically search for and register FM stations that can be received in your area.
An indoor FM wire antenna and AM loop antenna are included with the receiver.
A & B Speaker Terminals:

The R-S202 is fitted with A & B speaker terminals so you can power up to two pair of speakers.
The speaker selector switch on the front-panel of the receiver makes it easy to switch between speaker outputs, allowing you to hear the sound from one speaker pair (A or B) or from both speaker pairs (A+B).
In addition, compatible speakers can be bi-wired using the A & B speaker terminals simultaneously (they are wired in parallel).
The eight spring-clip speaker terminals that will accept bare wire (up to 12AWG) and pin-connectors.
Headphone Jack:

The stereo receiver has a standard 1/4" headphone jack on the front panel for private listening.
When headphones are plugged in, the receiver's speaker output is not muted, so remember to turn the A and B speakers off.
Tone Control:

The Yamaha R-S202 offers Bass, Treble, and Balance adjustment.
Bass & Treble can be adjusted independently from -10dB to + 10dB. Balance can be set between Left+10 and Right+10.
Max/Initial Volume:

You can set the maximum volume level of the receiver so that its volume will not be accidentally increased above a certain level (01-99, Max).
Use the Initial Volume feature to specify the volume level when the receiver's power is turned on.
You can select 01-99, Max, Mute, or Off. When "Off" is selected, the volume level used when the receiver was turned off will be applied.
IR Remote:

The included IR remote control provides wireless operation of the stereo receiver and a connected Yamaha CD receiver.
Sleep Timer:

Use the Sleep timer to automatically set this unit to standby mode after a certain amount of time (30/60/90/120 mins).
The sleep timer is useful when you are going to sleep while listening to the receiver.
Power Management: 
A power management function automatically cuts off the power (switches to standby mode) when the receiver has not been operated for a long time. It can be set to two, four, eight or 12 hours, or off.In addition, power consumption during standby is only 0.5 W, achieving good energy-saving performance.
What's in The Box:
Stereo receiver
Wireless remote control (rax33)
2 "Aa" batteries
Am loop antenna
Fm wire antenna
Owner's manual
Warranty information