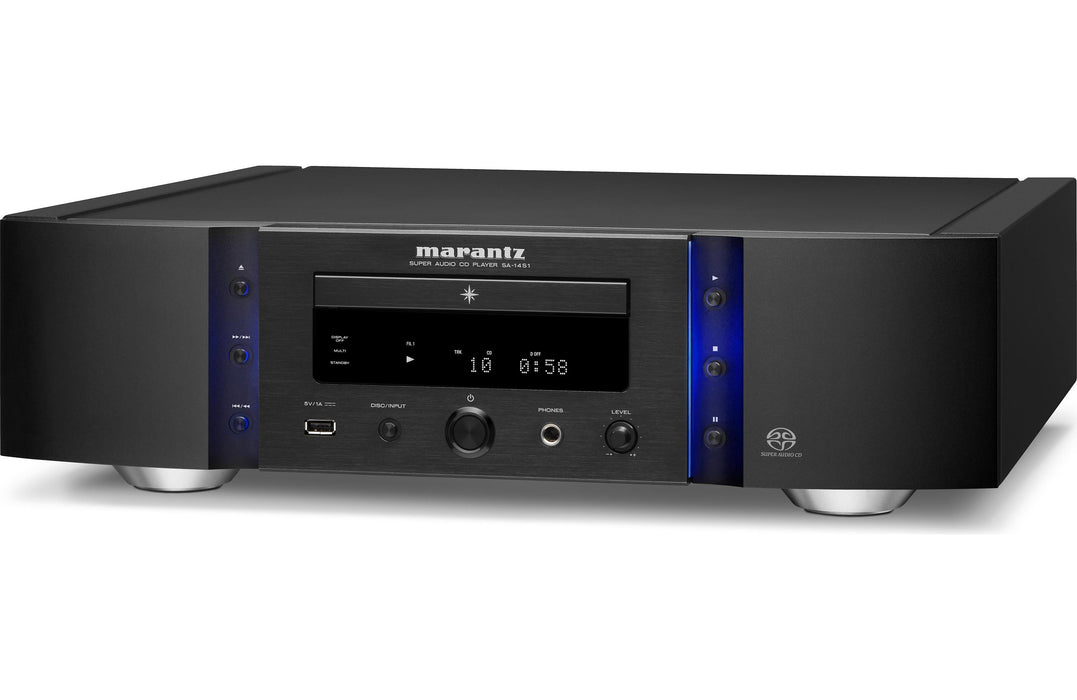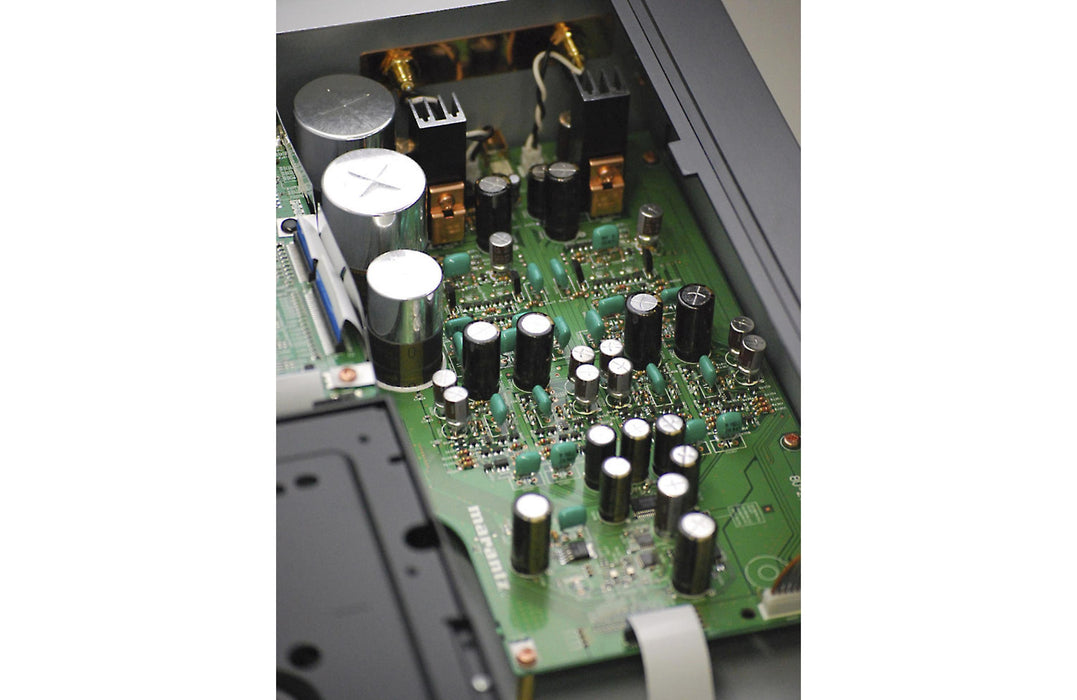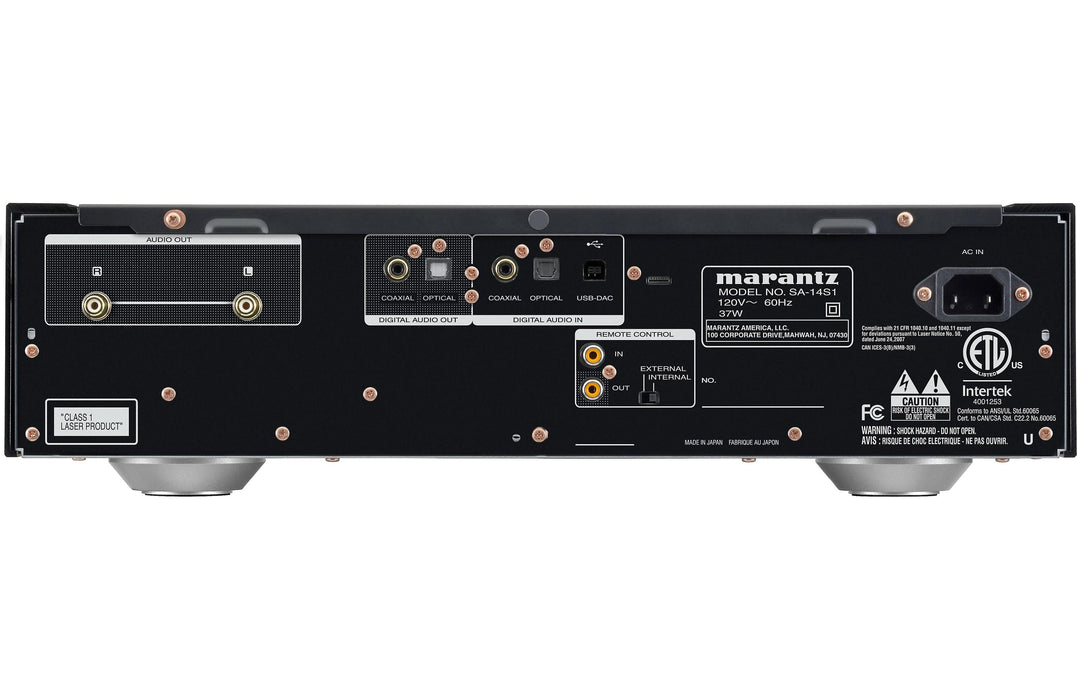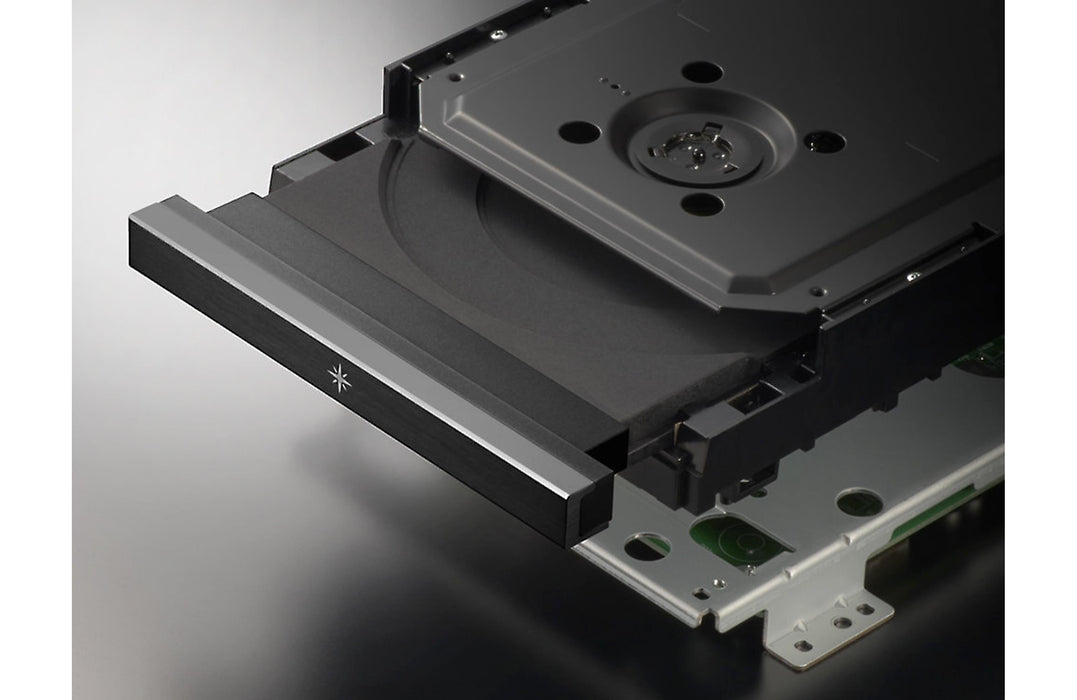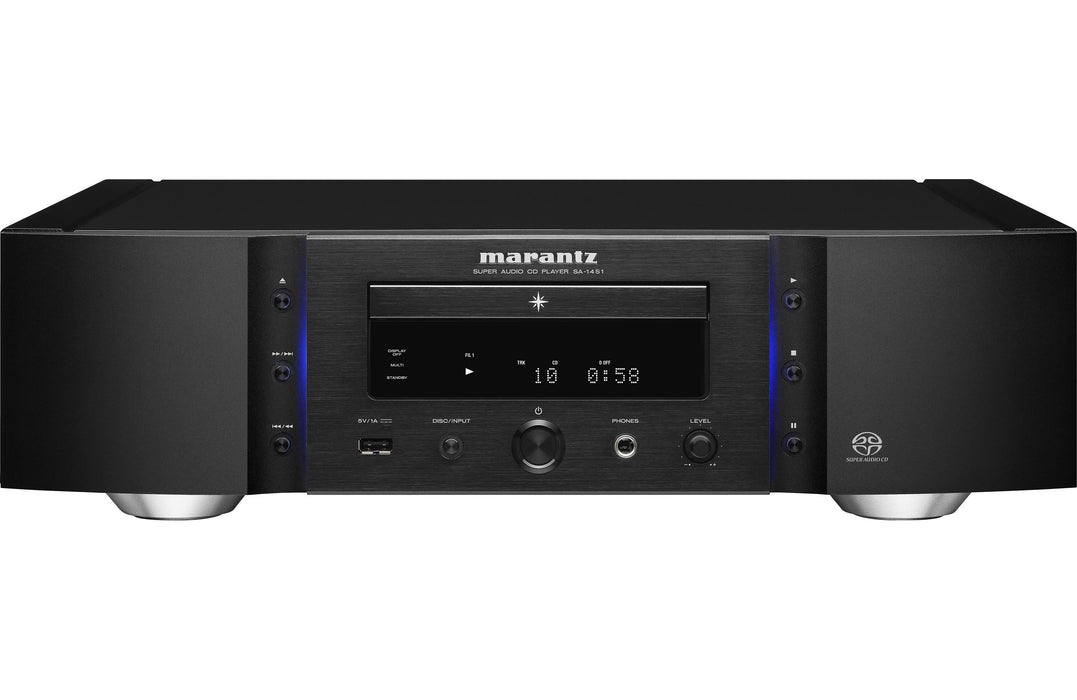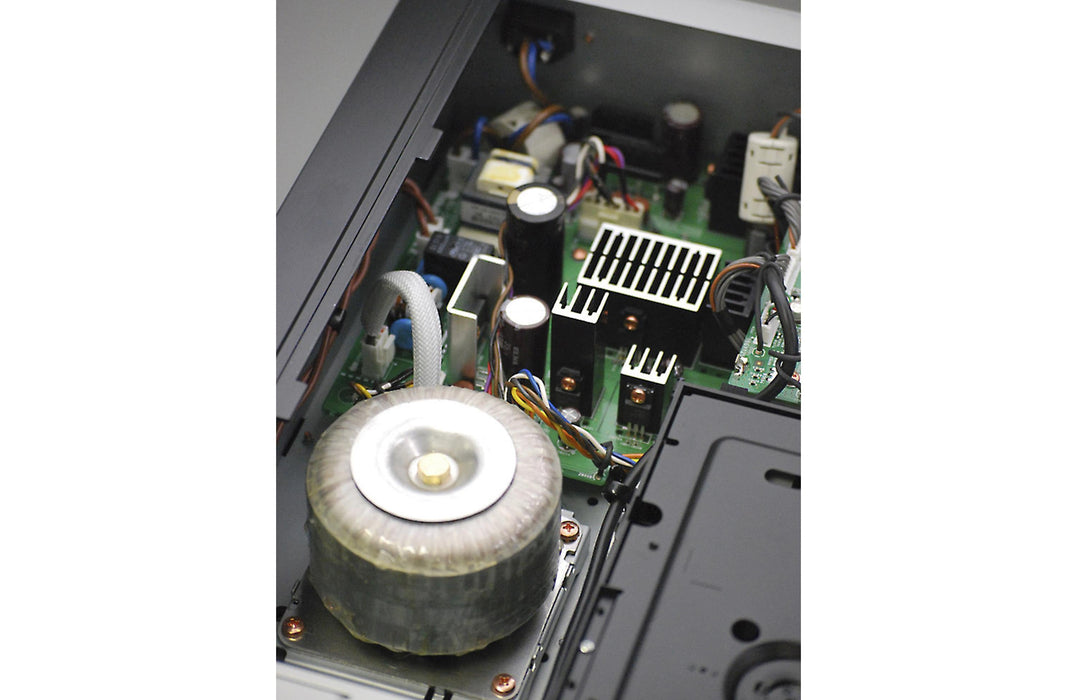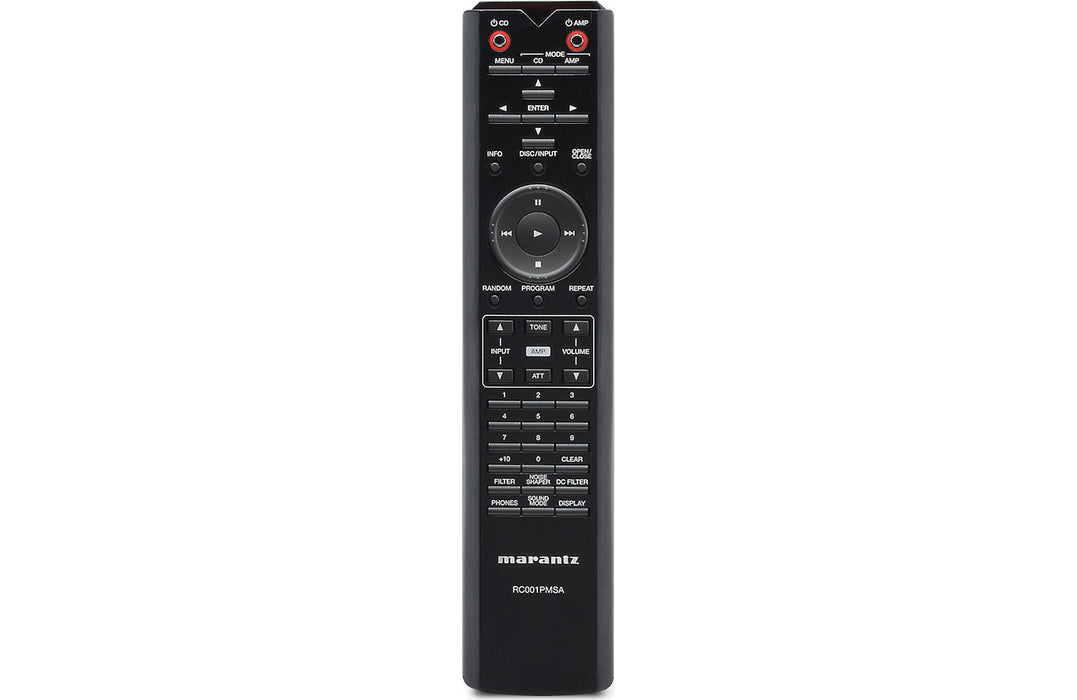 Marantz SA-14S1SE Stereo SACD Player
SA-14S1SE
New Premium Products from Marantz are always a reason for the audiophile community to celebrate. And the new 14 Series Special Edition thrusts the audio experience to new levels – because this Special Edition has been lovingly fine-tuned and passionately optimized for High-Resolution files: marking the new era in music adoration. The SA-14S1 Special Edition includes a heavy 5mm thick aluminum top lid and highly rigid feet to minimize vibration as well as an oversized Toroidal transformer and a strong power supply section that generates the cleanest of power to eliminate component cross-contamination. This is the perfect platform reference-quality sound. It includes a DAC-Mode that's almost identical in functionality to that of the revolutionary, award-winning NA-11S1. It has optical and coaxial digital input as well as USB-B for direct connection to a PC. This means it provides direct high-definition audio streaming from your PC so you can make use of the high-quality DAC and the high-quality audio output stage with HDAM-SA2 modules. That's why, importantly, this newly developed player also includes our latest ground/signal isolator technology, to virtually eliminate PC noise. The player can operate as a soundcard for your PC and the USB-B port works in asynchronous mode to support not only 192kHz / 24bits but also the DSD 2.8MHz and 5.6MHz for maximized versatility and performance. It even has a USB input on the front to play MP3, WAV, and AAC formats, and, of course, it's iPod/iPhone compatible. This is Super Audio CD quality in the sublime, and more. Much more.
Features:
Marantz HDAM Technology
Compared to other disc players that employ multiple op-amp ICs, the SA-14S1 Special Edition features our exclusive HDAM technology that employs dedicated modules featuring discrete components that together deliver wide dynamic range and fast slew rate for a true wideband response.
High Current Power Supply
The power supply features a large high current toroidal power transformer that features OFC (oxygen-free copper) secondary windings, along with high speed, high current Schottky Barrier Diodes in the rectifier stage for the purest DC voltage output.
Reference Class D/A Conversion
In order to handle the widest range of disc and audio file types, the SA-14S1 Special Edition incorporates the reference class DSD1792 digital-to-analog converter, which provides up to 192 kHz/24 bit resolution, along with DSD decoding with Super Audio CDs. To prevent interference between the various stages, the power supply, digital audio stage and analog audio stages each feature their own individual circuit boards. A variety of disc and file types are supported including music CDs and Super Audio CDs, as well as linear PCM, AAC, MP3, and WAV file types. Via the rear panel USB-B port, you can connect your computer and enjoy audio files including High-Resolution DSD 2.8MHz and 5.6MHz for maximized versatility and performance.
Rigid chassis, Thick Aluminum Top Cover, and Heavy Feet
It is all about creating a good foundation before starting to take care of the processing and amplification of sensitive audio signals. With a solid base, we ensure that vibration will be kept to a minimum not influencing the audio signal by microphonic effects to keep it unaltered.
Expanded Connectivity
Along with the analog stereo outputs, there are also digital and coaxial outputs for connection to an external digital decoder or amplifier, and the SA-14S1 Special Edition is also equipped with optical and coaxial inputs that allow you to use the player as a standalone digital audio convertor. There are remote control input and output jacks that let you connect the SA-14S1 Special Edition to other compatible Marantz components, and an internal/external switch on the rear panel provides additional system control flexibility.
Convenient Front USB-A Port
Conveniently located on the front panel, the USB port lets you connect your favorite portable audio device as well as USB media, and the port features compatibility with the iPod, iPod touch and the iPhone which lets you enjoy direct digital connection for the utmost audio fidelity.
System Remote Control
The elegant remote control features an intuitive ergonomic layout, and is equipped with amplifier control functions that let you use a single remote control to operate the SA-14S1 Special Edition and the matching PM-14S1 Special Edition premium integrated stereo amplifier.
Low Noise Fluorescent Display
The deluxe low noise fluorescent display features clear, easy to read alpha-numeric characters and is compatible with text-encoded Super Audio CDs. There's a display control button on the remote control that lets you dim the display or even turn it off if you wish.
Dedicated Headphone Output
Connect your favorite headphones directly to the convenient front-panel headphone jack, which also features its own variable volume control. The headphone circuit is designed to be compatible with the widest range of headphone types and is compatible with lower impedance headphones as well.
Specifications:
CD Compatibility: CD / CD-R/RW / SA-CD / WMA / MP3 / AAC:

 

Yes /Yes /Yes/ Yes /Yes/Yes
CD-Text / SA-CD Text / ID3 Tag / WMA Meta Tag / AAC Meta data:

 

Yes / Yes / Yes / Yes / Yes
iPod / iPhone compatible USB input:

 

Yes
HDAM version:

 

HDAM+HDAM SA2
Asynchronous mode rear USB:

 

Yes
Bit-perfect transmission:

 

Yes
USB-B DSD Audio Streaming (DoP):

 

DSD2.8 / DSD5.6
Ground isolator for DAC Mode operation:

 

Yes
Power Transformer: Toroidal / El:

 

Yes / No
High-Grade Audio Components: Yes
Customized Components:

 

Yes
Symmetric circuit layout:

 

Yes
Extra metal plate for chassis strengthening:

 

Yes
Digital out off / Audio EX Mode:

 

Yes / No
Headphone: Standard / Buffer / Current feedback: No / Yes /Yes (HDAM SA2)
DAC operation mode:

 

USB / Coax / Optical Yes/ Yes / Yes
Selectable filter:

 

CD / SA-CD Yes / Yes + DAC-Mode
Zero Impedance Matching joint (copper):

 

Yes
Separated rectifier circuit for analog and digital circuitry:

 

Yes
Display: Dimmer / Off:

 

NO / Yes
The low noise LCD display:

 

Yes
Play Back
Program Play (CD):

 

20
Repeat:

 

Yes
Random Play:

 

Yes
Start Sound Mode for SA-CD:

 

Yes
Input/ Output
Analogue Out (Cinch):

 

2ch
Digital Optical In / Out:

 

Yes / Yes
Digital Coaxial In / Out:

 

Yes / Yes
Sample Rate digital In: 192 kHz/24-bit
Gold Plated Cinch:

 

Yes 
USB Audio (Front ) / Made for iPod / Works with iPhone:

 

Yes /Yes / Yes
USB type B input for PC (rear) Sample Rate USB type B In:

 

Yes 
D-Bus:

 

Yes
Headphone Out: Yes
Headphone Volume Control:

 

Yes 
USB type B input for PC (rear):

 

192 kHz/24-bit & DoP (DSD2.8 and DSD5.6)
Specs:
Mechanism FG Mecha (MZ original)
D/A Conversion Multi-bit, Delta-Sigma
DAC IC DSD1792A
Digital Filter DSD1792A
Noise Shaper DSD1792A
Low Pass Filter stage HDAM
Output Buffer HDAM SA2
Headphone amp HDAM + HDAM SA2
Frequency Response (Cust.) 2 Hz - 50 kHz
Dynamic Range (SA) 112 dB
Signal to Noise Ratio (SA) 110 dB
Total Harmonic Distortion (SA) 0.00%
Channel Separation (SA) 102 dB
Frequency Response 2 Hz - 20 kHz
Dynamic Range 100 dB
Signal to Noise Ratio 110 dB
Total Harmonic Distortion of 0.00%
Channel Separation 100 dB
General
Metal Front Panel
Remote Control RC001PMSA
Power Consumption in W 37
Standby Consumption in W 0.3
Auto power off
Detachable Power Cable
Maximum Dimensions (W x D x H) in mm 440 x 127 x 419
Weight in kg 15.3