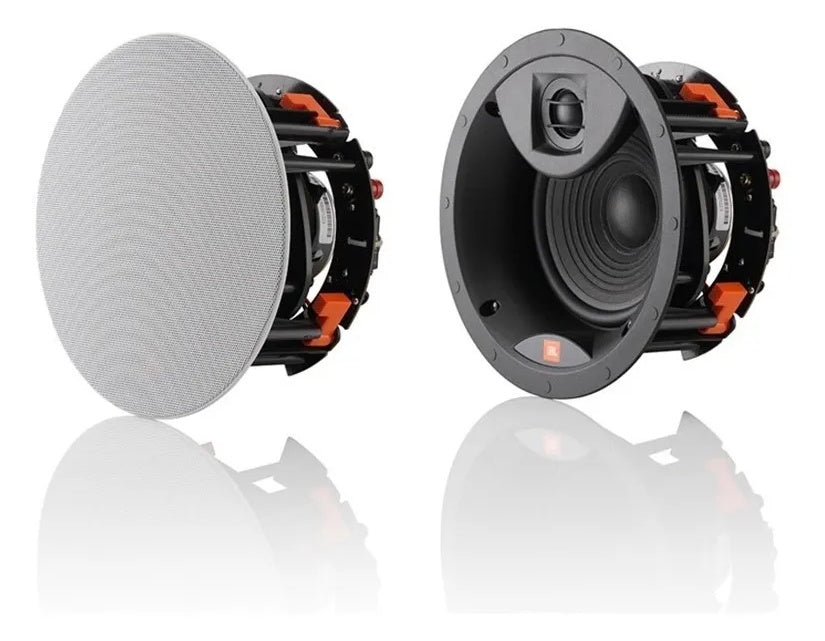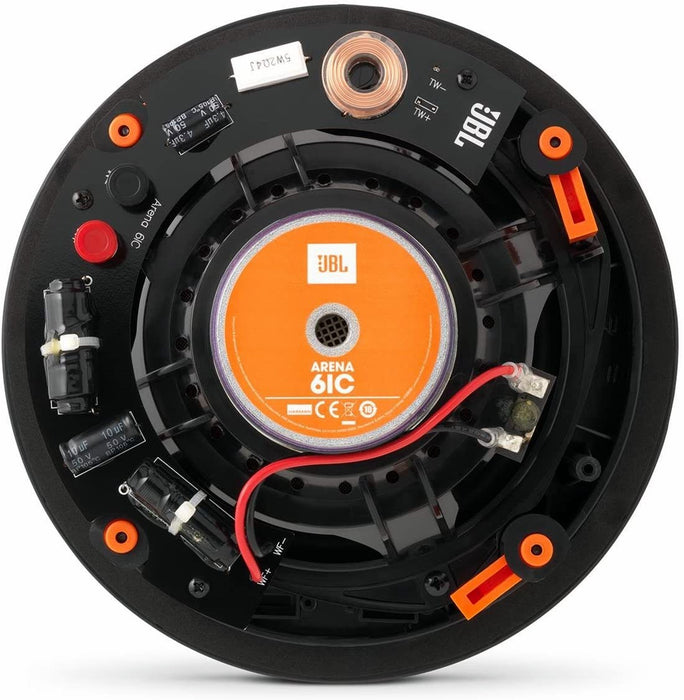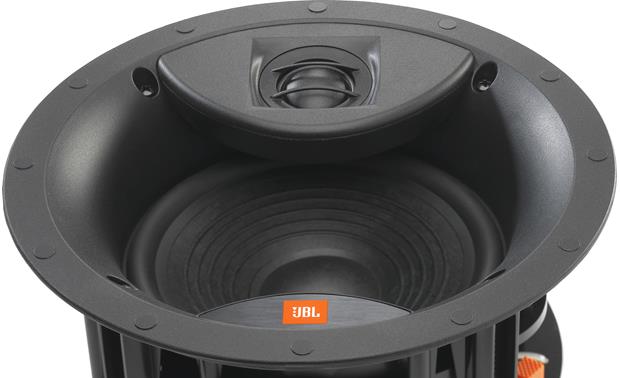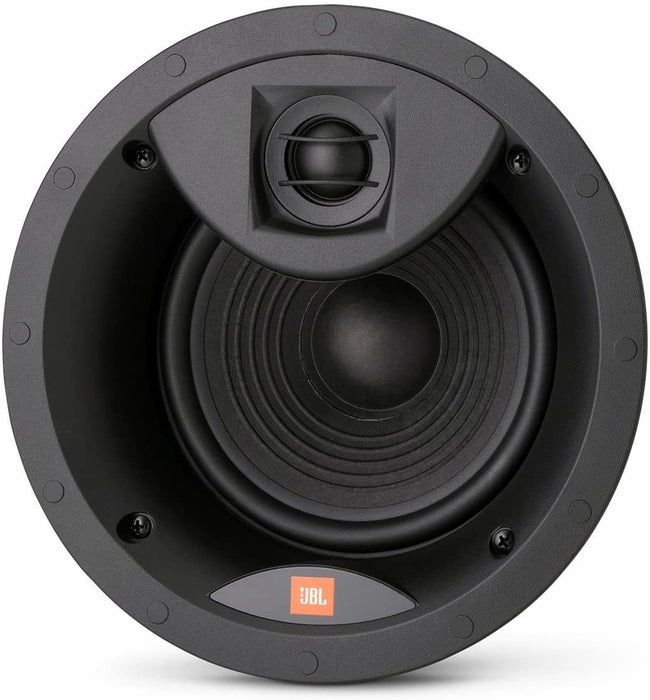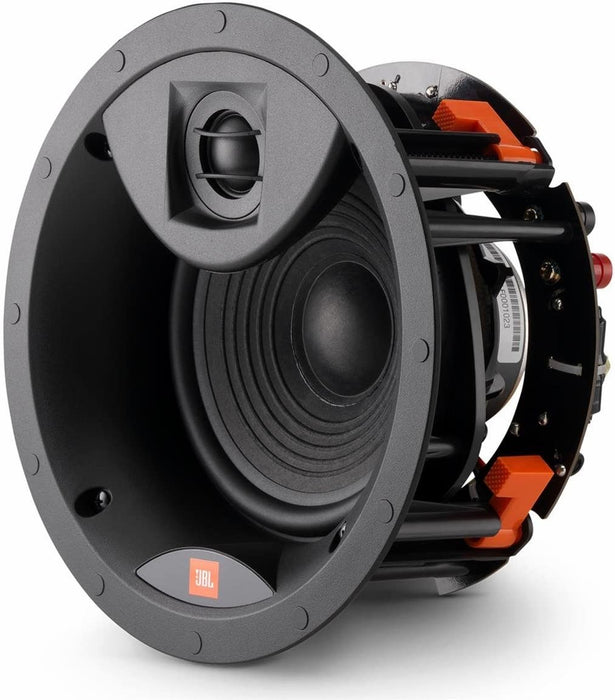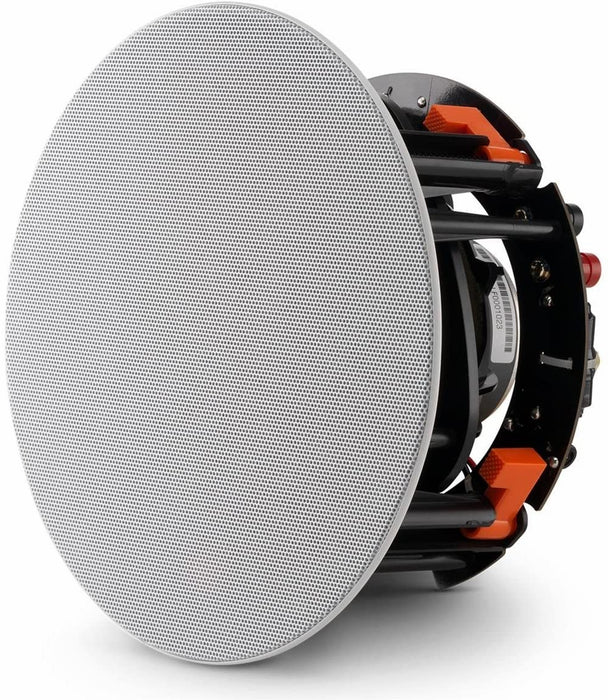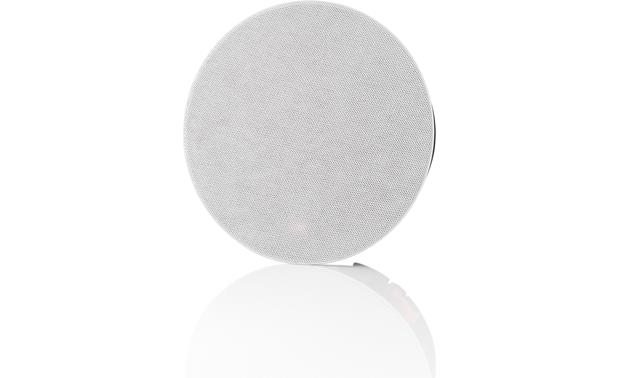 JBL Arena 6IC In-Ceiling Speaker With Magnetic Grill Best For Dolby Atmos Surround Effect - Pair
Front Row Seats To The Concert, Now Available!
Room-filling Sound With Zero Footprint 
JBL's Unique Woofer and Tweeter Design Provide Detailed Sound for Both Movies and Music.
JBL's Arena 6IC in-ceiling speaker delivers high-quality audio performance with a nearly invisible design. With a paintable grille, it blends in smoothly with your room, offering detailed full-range sound. Put a pair in rooms where you want music without taking up any floor space, or use them for your home theater's surround or overhead channels. You'll enjoy the crisp bass response from the 6-1/2" woofer, and smooth highs from the 1" silk dome tweeter.

Born From Jbl's Storied Audio Heritage
The Arena series' rich, distinctive sound was modeled after JBL's legendary M2 Master Reference Monitor — one of the best speakers they ever created. JBL's proprietary HDI waveguide helps this speaker deliver optimum sound quality throughout your room.

Match Your Decor
The 6IC combines detailed performance with a sleek design. The low-profile grille is magnetic, so attaching it to the speaker is a breeze. It's also paintable, so you can match it to your room's decor. The zero-bezel edge means no bulk around the sides of the grille, making it virtually disappear into your ceiling.

DIY Installation
JBL's rotating-cam design makes your in-ceiling installation go smoother. Once you have the 6IC in place, simply use a screwdriver to tighten each cam for a secure grip against the back of the ceiling material. If this is a do-it-yourself installation, check out our guide to installing in-wall and in-ceiling speakers, along with our selection of in-wall speaker wire.

Warranty
1-year Manufacturer's Warranty

Product Highlights: 
6-1/2" poly cellulose woofer
1" silk dome tweeter
Frequency response 38-20,000 Hz
Power handling: up to 80 watts RMS
8-ohm impedance
Sensitivity 86 dB
Includes paintable magnetic grille
Cutout diameter: 8"
Grille Diameter: 9-1/8"
Mounting depth: 4-11/16"
Warranty: 1 year
What's in the Box:
JBL Arena 6IC Owner's Manual
In-ceiling loudspeaker
Grille
2 Scrim cloths (1 installed)
Mounting Template
Instruction Manual
Features
Two-Way Driver Design: The JBL Arena 6IC in-ceiling loudspeaker utilizes a two-way driver design with a single 1" silk soft-dome tweeter and a 6.5" polycellulose long-throw woofer with rubber surround. Computer-optimized driver positioning and a precision crossover network result in ideal performance and lifelike soundstage imaging.

High Defin.ition Imaging (HDI) Waveguide: The JBL Arena 6IC in-ceiling speaker's tweeter incorporates a High Defin.ition Imaging (HDI) Waveguide. This High Defin.ition Imaging (HDI) waveguide technology takes its cues from the legendary JBL M2 Master Reference Monitor. The HDI waveguide aids in the tweeter's ability to produce a lifelike soundstage with accuracy and clarity.

Zero-Bezel Magnetic Grille: The zero-bezel magnetic grille is nearly invisible (protruding only 0.25" from ceiling), seamlessly blending into your room's decor. The grille is also paintable for an even more seamless look.

In-Ceiling Installation: The JBL Arena 6IC in-ceiling loudspeaker offers a sturdy, reliable installation design that fits ceilings from 0.5" to 2" thick. Specialty locking clamps secure the in-ceiling speaker in place and are designed to minimize vibration. There needs to be at least 1" between the edge of the supplied mounting template and any rafters or other obstructions behind the ceiling, so the speaker's locking mechanism will have room to engage fully.

Frame Diameter (w/ Grille): 9.125" (diameter) x 0.25" (depth)
Cutout Opening: 8.0" (diameter) x 4.6875" (depth)
Spring Post Terminals: The JBL Arena 6IC in-ceiling speaker is fitted with a set of spring-post terminals which will accept bare-wire (up to 10AWG), pin connectors, and banana plugs (single or dual). The spring-post terminals are gold-plated for maximum signal transfer and resistance to corrosion.

Applications: The JBL Arena 6IC in-ceiling loudspeaker is engineered for the custom installer with whole-house, seamless audio and visual design in mind. In addition to distributed whole-house audio, the Arena 6IC in-ceiling speaker can also be used in more conventional stereo & home theater applications.

JBL Arena Series: The Arena 6IC in-ceiling speaker is part of JBL's Arena series of loudspeakers, which includes floor standing speakers, bookshelf speakers, a center-channel speaker, a powered sub, as well as in-ceiling and in-ceiling speakers.