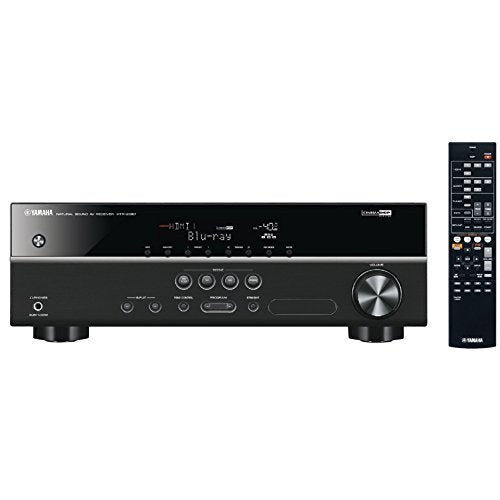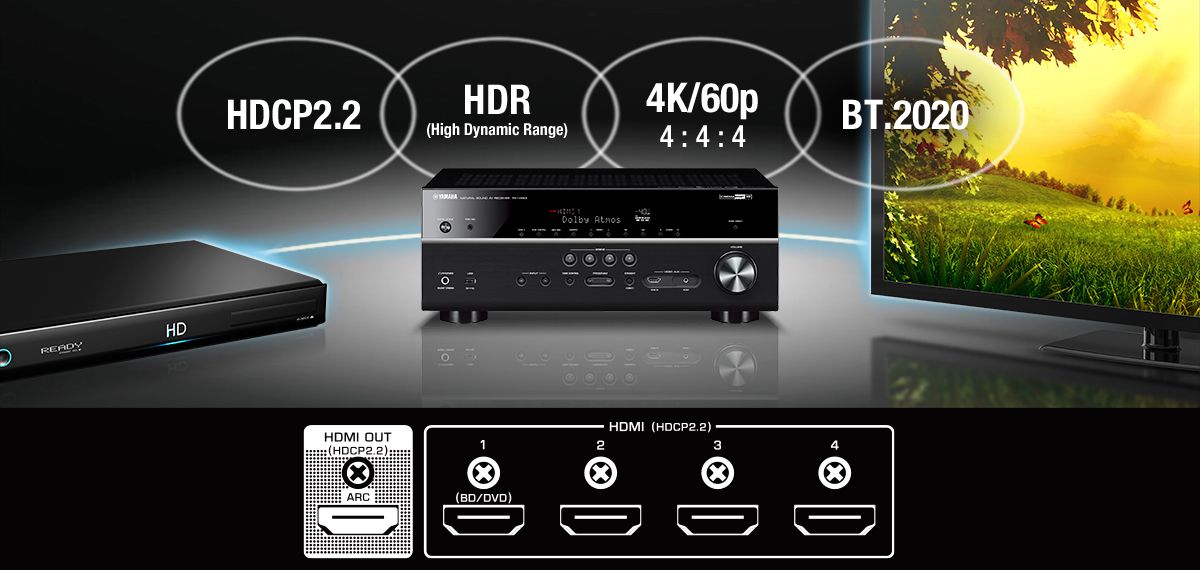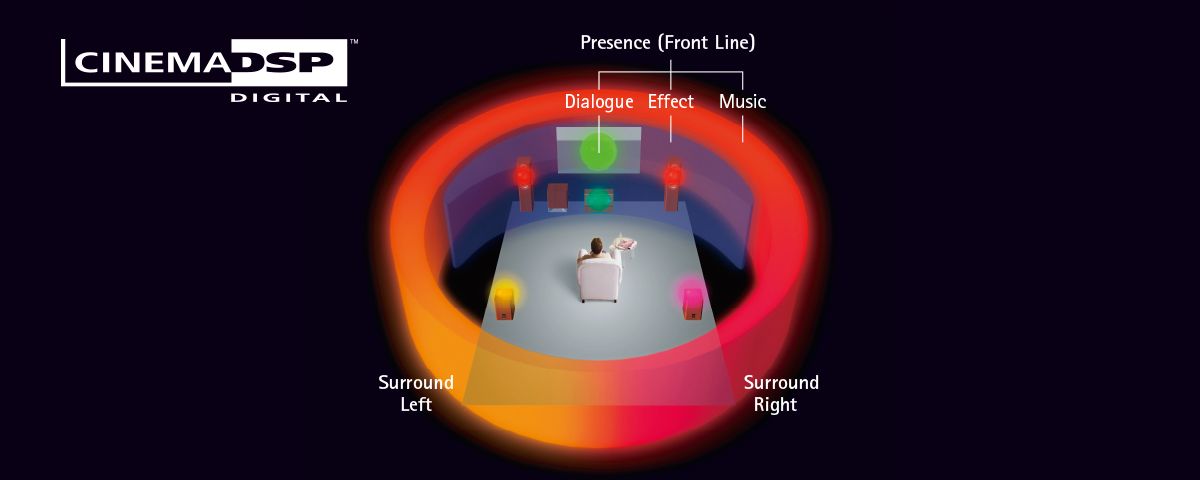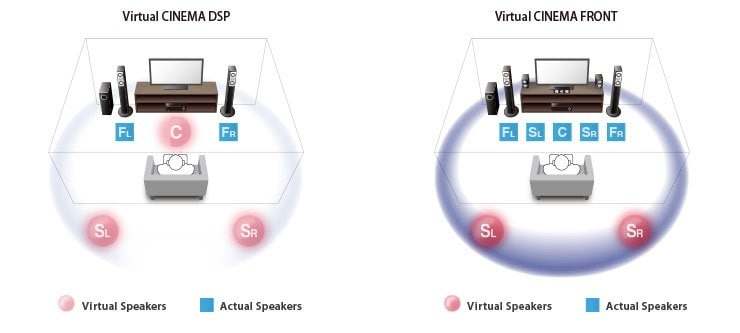 Yamaha AVR HTR2071 Audio-Video Receiver 5.1 Ch , 4xHDMI-In, 4K Ultra HD
Most Suitable Replacement for J.B.L, HAR-MAN KARDON, SONY,  PANASONIC, AIWA, LG, SAMSUNG, PIO.NEER, PHILLIPS etc Top brands of the Home Theater Speaker  With Working Speakers and Subwoofer ( Both types powered OR non -powered.) 
Provision For Both Passive (Non Powered) and  Active (Powered) Sub Woofers.
Yamaha HTR 2071 - A 5.1-channel AV receiver with traditional Yamaha sound quality and a great many convenient features.

5-channel powerful surround sound
--- 70 W per Channel (6 ohms, 20 Hz-20 kHz, 0.09% THD, 2-ch driven)
--- 100 W per Channel (6 ohms, 1 kHz, 0.9% THD, 1-ch driven)
--- 135 W per Channel (6 ohms, 1 kHz, 10% THD, 1-ch driven)
Discrete amp configuration
Compressed Music Enhancer
HDMI® (4 in / 1 out) with 4K Ultra HD full support (4K / 60p [4:4:4]), HDR Video and BT.2020
Dialogue Level Adjustment for proper sound balance with dialogue and vocals
Virtual CINEMA FRONT provides virtual surround sound with 5 speakers in front
Multi-language color OSD capable of displaying cover art
ECO mode operation for about 20% less power consumption
About Yamaha HTR2071 HDMI Audio-Video Receiver

4K Ultra HD pass-through for super-high-resolution images
HDMI with 3D and Audio Return Channel 
3D means the receiver can handle 3D signal data. The Audio Return Channel function enables data to be sent and received via the same HDMI cable, so you can hear the sound from the TV via a single HDMI cable, with no need for an extra optical cable.
SCENE for One-Touch Start  
Pressing a SCENE button powers on the AV Receiver and selects the input source and DSP mode. You can re-set the buttons for different sources by selecting a source and DSP mode, then pressing a SCENE button for more than three seconds.
HDMI CEC for Easy Operation  
Another benefit of HDMI is the availability of CEC functionality. When the unit is connected to a CEC-compatible TV, it will turn on and off together with the TV, and you can use the TV remote to control the volume. CEC also provides advanced functionality with other components. For example, you can use the receiver's remote unit to control pla yer functions like Skip and Stop. *All connected devices must be HDMI CEC compatible. Some CEC-compatible TVs / pla yers may not work.
Virtual CINEMA FRONT Provides Virtual 5-channel Surround Sound with High Quality and Resolution
Even when it is impossible to install surround speakers behind the listening position, Virtual CINEMA DSP reproduces virtual 5-channel surround sound filled with realism, with only two front speakers. With Virtual CINEMA FRONT, you will enjoy virtual 5-channel surround sound with higher quality and resolution by installing surround speakers at the front. You get more flexibility to arrange your speakers inside the room, along with easy enjoyment of high-quality surround sound.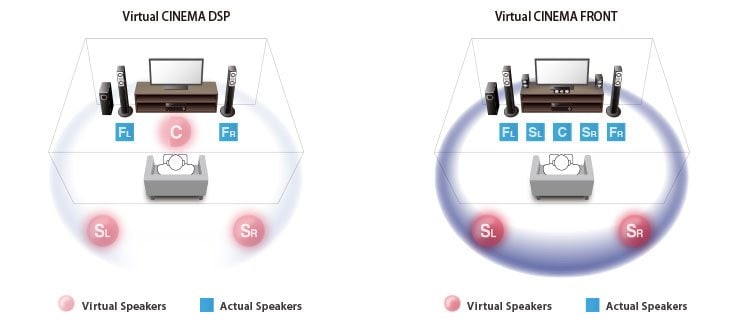 HD Audio with CINEMA DSP 
Yamaha's exclusive CINEMA DSP technology supports playback of HD Audio (Dolby TrueHD, DTS-HD Master Audio, etc.), providing natural and expansive sound imaging.
Extra Bass Provides Rich Bass Reproduction, Even with Small Speakers  
Yamaha's exclusive low-range enhancement technology delivers richer bass than you expect from the speaker size while maintaining good localization and sound balance even with compact front speakers. When a subwoofer is used, it improves the volume of the entire low range of the speaker system, not only the front speakers but also enhancing the bass from the subwoofer. You'll enjoy video and music with sound that has exceptional power and presence.
Subwoofer Trim for Improved Sound Imaging   
The Subwoofer Trim control enhances the low frequencies by avoiding overlap with the front speaker output. This will result in a cleaner, more focused sound stage while providing seamless frequency response. When subwoofer frequency overlap occurs in conventional systems, the overall sound is "pushed" toward the subwoofer. Subwoofer Trim takes care of this by separating the low subwoofer frequencies cleanly, thus stabilizing the front stage while providing a well-balanced enhanced bass sound.
Compressed Music Enhancer   
When music is encoded into a digitally compressed format like MP3, the frequency response suffers. Yamaha's Compressed Music Enhancer employs sophisticated digital signal processing using exclusive algorithms to restore what was lost, so the music always sounds the way it should.
Discrete Amp Configuration for High Sound Quality  
This AV receiver was designed with a strong focus on achieving exceptionally high sound clarity. It employs a discrete amp configuration and a low jitter PLL circuit, which contribute to its excellent audio performance.
ECO mode Lowers Power Consumption by 20%* 
Yamaha's new ECO mode reduces power consumption by about 20%. It can be set from the top of the GUI menu.
* Compared to power consumption when ECO mode is off (Yamaha measurement).
Selectable Auto Power Down  
Auto Power Down lets you save energy by selecting to turn off the power after 2, 4, 8 or 12 hours.
AV Setup Guide App Makes System Setup Easier
AV Setup Guide is an app that makes it much easier to perform receiver setup and also assists you with cable connections between the AV receiver and source devices. It guides you through various settings such as speaker connections, TV and source device connections, and power amp assignment. System illustrations and actual AV receiver images help you understand how to make the connections between devices, for a much quicker system setup. It is available in multiple languages. Designed for iOS and Android tablets.
**Brownbox Packing.