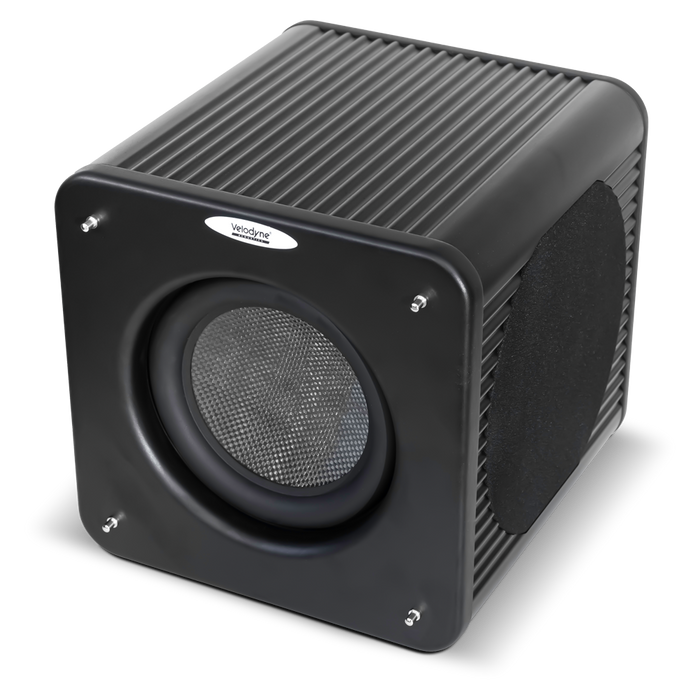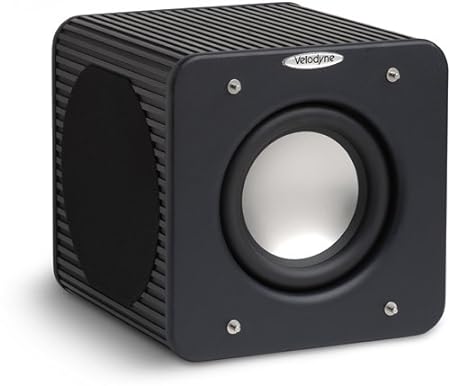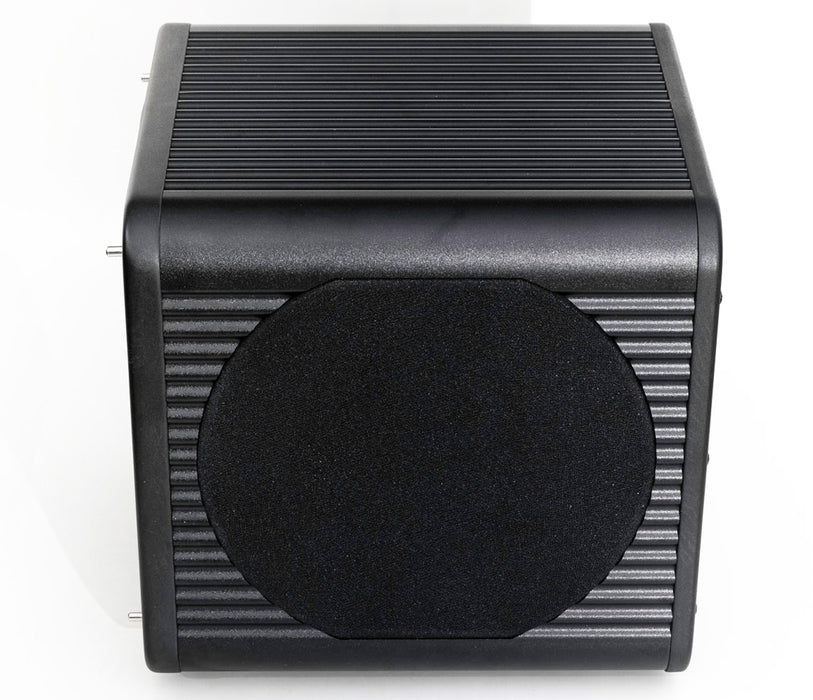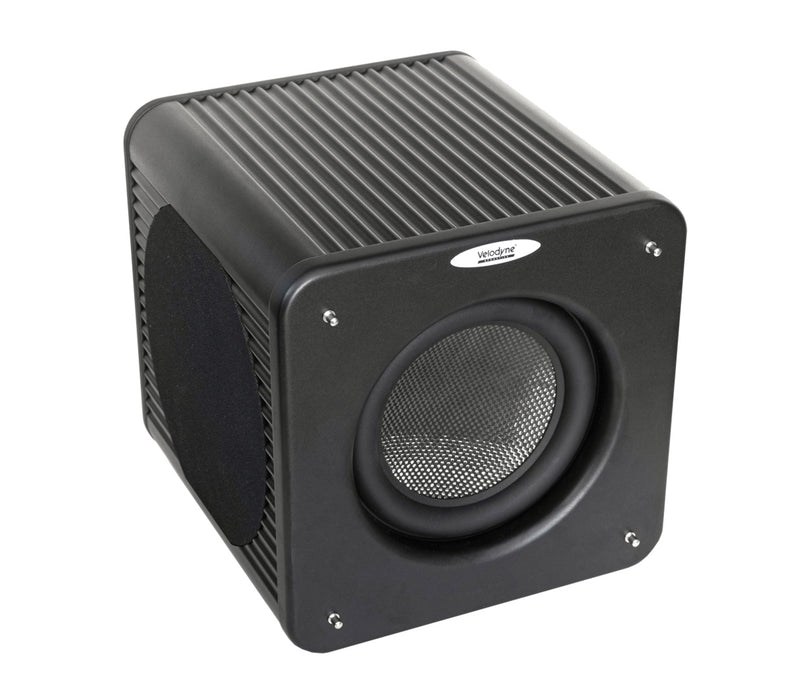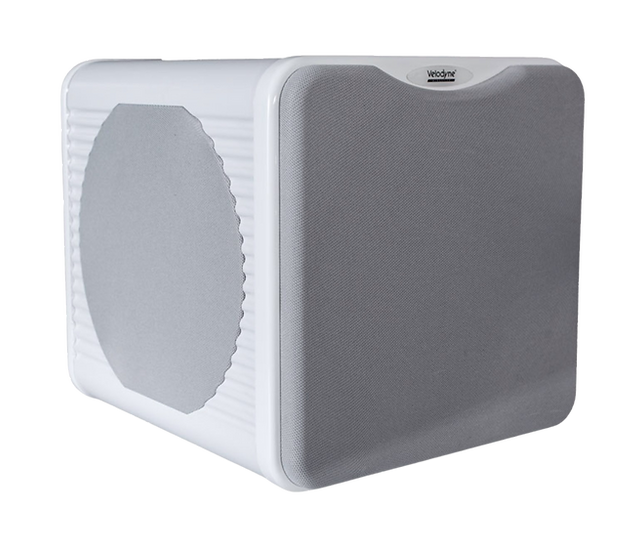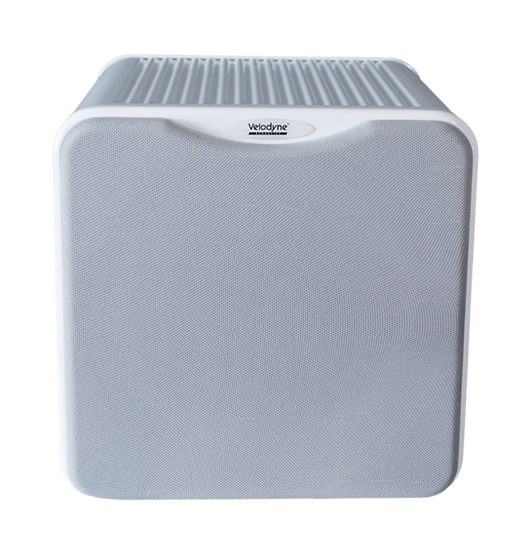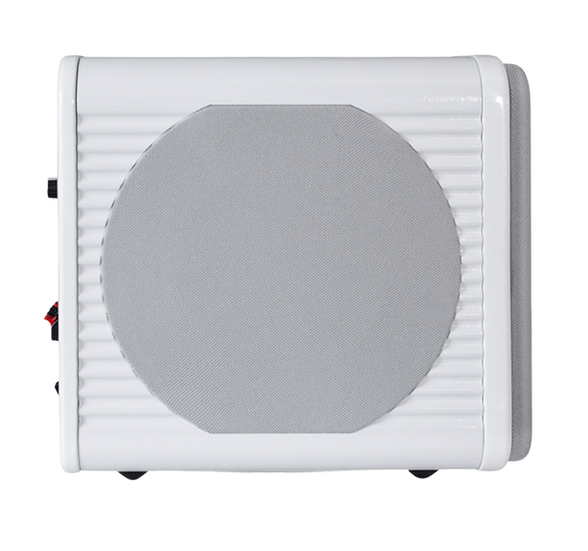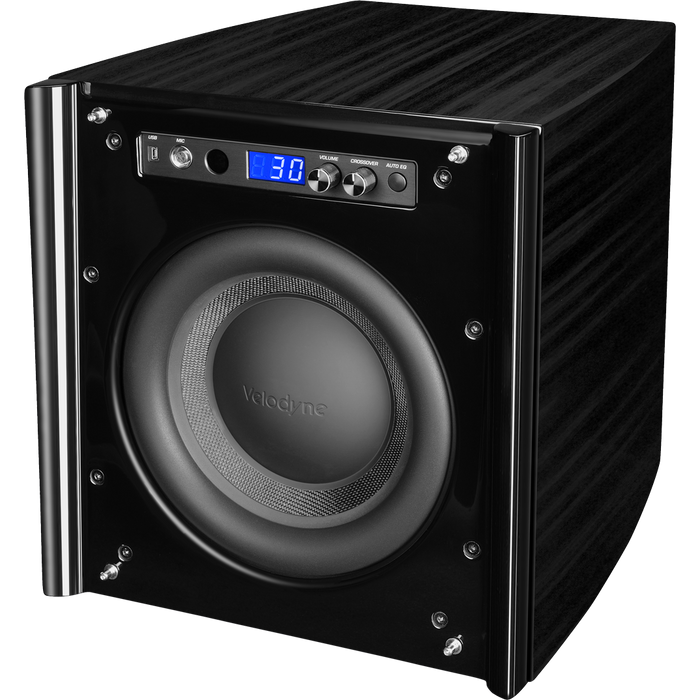 Velodyne Acoustics MicroVee X - Compact Powered Subwoofer
The MicroVee X from Velodyne Acoustics was designed
to deliver the best music and home cinema experience from the smallest possible enclosure.
At the same time, the subwoofer can be placed discreetly in nearly any home. The Digital Drive Control System (DDCS) and the powerful Class AB amplifier ensure precise and low-distortion bass reproduction.
Features:
A 6.5-inch active driver combined with two side-mounted passive radiators delivers powerful, musical bass.
Velodyne Acoustics' Subwoofer Direct feature optionally bypasses the internal crossover, for the best performance in any system.
With 800 watts of peak power, the classic Class AB amplifier offers extreme performance levels, low distortion, and precise bass.
DDCS reduces distortion to 1/6 of the values of comparable subwoofers
Video Review:
Dynamic Drive Control System (DDCS)
Designed with Velodyne's DDCS distortion-limiting technology; this subwoofer is capable of reproducing well-defined bass tones that will enhance the overall sound value of any soundtrack with lower distortion. It is an active, signal-based system that assures linear cone movement and controls the driver's frequency and distortion characteristics.

High-Performance Amplification
It features Reliable Class D Energy Recovery System (ERS) amplification with 1000W RMS/2000W peak power. Because of the high efficiency of its design, it reproduces exceptional sound quality and clarity in every audible detail.

Three Driver Design
It offers one 6.5" woofer with a 5" piston, and two long 6.5" passive radiators with 5" pistons capable of reproducing the most demanding home theater soundtracks and music with authority, accuracy, and low distortion.

Dual-Wound Voice Coils
Developed with dual-wound voice coil technology; this subwoofer assures linear travel and allows heat dissipation throughout the enclosure.

Low-Frequency Response
With a frequency response of 38 - 120Hz, this subwoofer offers a full range of low frequencies with the capability of reproducing a very tight bass response throughout your home theater.

Features and Controls
This subwoofer offers line level, speaker level inputs and outputs, LFE input, variable volume control, high-excursion rubber surround, adjustable (50 - 200Hz) low-pass crossover, selectable phase control, and signal sensing (auto turn on/off).
Technical Specifications:
Driver

6,5" forward firing

Amplifier Class AB

800 watts dynamic

300 watts RMS power

Frequency Response: Overall

Frequency Response: (± 3 dB)

18 – 300 Hz

32 – 180 Hz

Low Pass Crossover

50 Hz to 180 Hz (12 dB/Octave)

Phase

0 to 180 degrees

Cabinet Design

MDF Closed Box with 52mm / 2" front Baffle

Magnet Structure

Dual ferrite magnet motor

Woofer

6,5" high excursion double-vented basket driver with PP-enforced Membrane

Voice Coil

Four Layer 2″ / 52mm Voice coil

Input

GoldPlated Line in Stereo RCA, LFE in, Nickel Plated high-level

Output

Gold-plated LFE /RCA

Power Selector

Off / Auto / On

Finishes

Black

Dimensions (W/H/D) (includes feet and connectors)

25cm x 25cm x 28cm

Weight (approx)

9 kg

Shipping Weight (approx)

11 kg