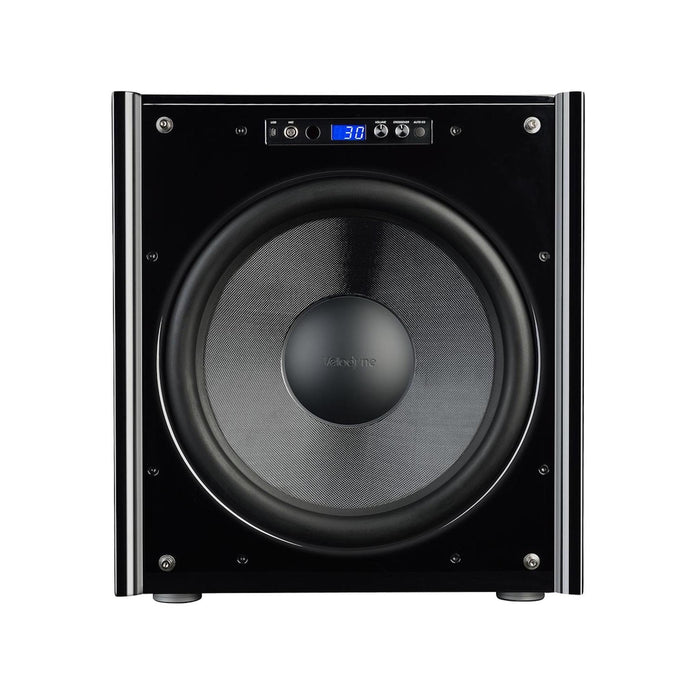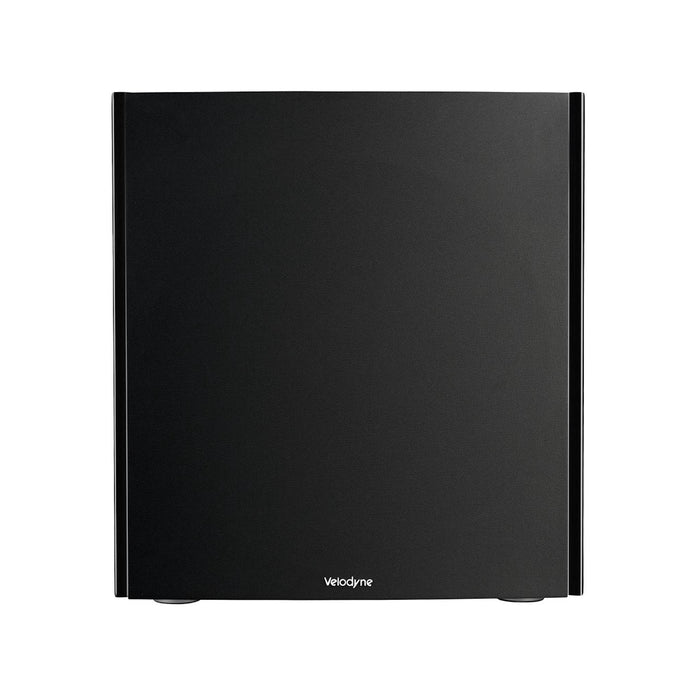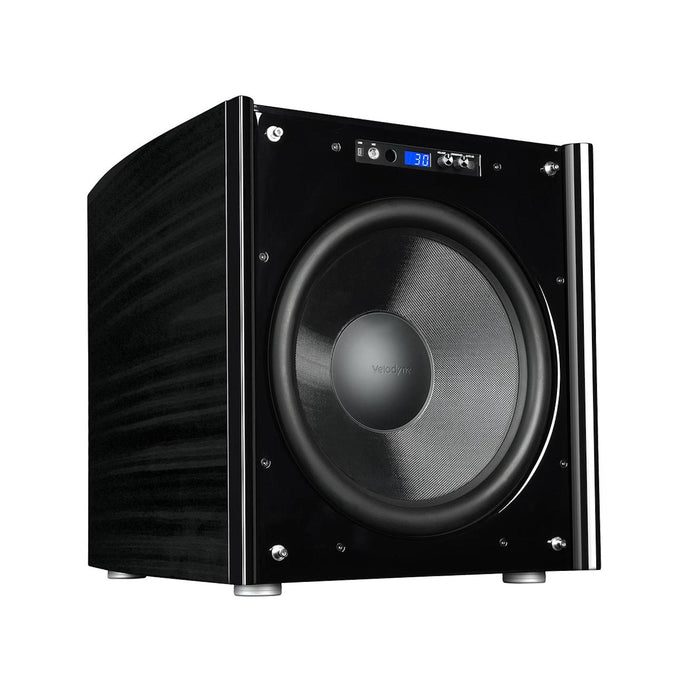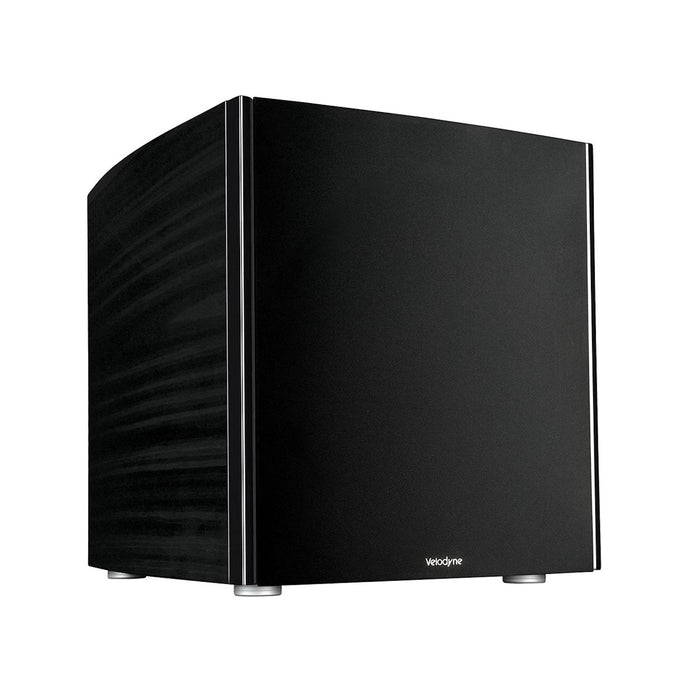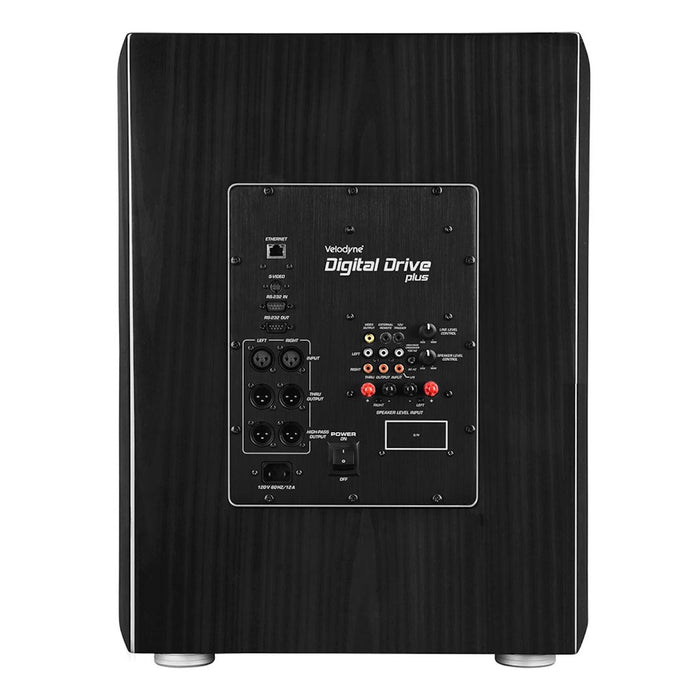 Velodyne Acoustics Digital Drive 18 Plus - Powered Subwoofer
CUTTING-EDGE TECHNOLOGY FOR REAL GOURMETS
The Digital Drive Plus series redefines the term subwoofer. Digitally controlled drivers with impressive performance, almost endless power, and the latest calibration algorithms with extensive adjustment options make these subwoofers precision tools of a special class.
State-of-the-art technologies coupled with decades of experience in building subwoofers
make the Digital Drive Plus Series the essence of everything the Velodyne Acoustics brand is all about. Digitally controlled high-end drivers, extensive customization options, and infinite power lead to incorruptible precision down to the lowest frequency basement
Features:
High-performance chassis with six-way, hand-wound voice coils.

Digital diaphragm control with 16,000 samples per second

High-precision automatic calibration with software connection for fine-tuning

Powerful amplifiers with 1,250 watts RMS and 3,000 watts impulse power
Video Review:
THE DIGITAL DRIVE PLUS SUBWOOFERS ARE THE PINNACLES OF ALMOST THREE DECADES OF VELODYNE SUBWOOFER ENGINEERING EXPERTISE.
Fast, accurate, and elegant, the Digital Drive Plus series features Digital High-gain Servo control, which monitors and controls cone motion nearly 16,000 times per second, keeping distortion below 0.5%. The Energy Recovery System amplifier is over 95% efficient, dedicating nearly all of its power to bass reproduction with virtually no energy wasted as heat, adding to the sub's long lifespan.
All subwoofer models of the Digital Drive Plus series have a huge 1250 Watts RMS, and a 3000 Watts Dynamic power amplifier. It's cutting-edge, highly sophisticated, 8-band Auto-EQ Plus technology assures not just low distortion but the most accurate bass available from any subwoofer available in the market today. With Auto-EQ Plus, it's never been so easy to seamlessly blend your subwoofer's performance with your system and your room. Quite simply, the Digital Drive Plus series subwoofers are the biggest, baddest, cleanest, hardest-hitting subwoofers in the world today.
They are capable of a staggering amount of output; at up to 115 dB maximum - it's 5 dB louder than a sonic boom! Needless to say, they also get low—way, way low, with a frequency response between up to 14.4 and 120 Hz at 3 dB down. You can calibrate the subwoofer's response automatically or manually with the 8-band parametric equalizer with on-screen graphics, or computer readout using the front-mounted USB port. You can even adjust the degree of control by the digital servo.
The Digital Drive Plus series perfectly meshes audio engineering with the art of design with a huge 1250 Watts RMS, 3000 Watts Dynamic, power amplifier, reproducing even the most challenging audio for applications from music to home theatre to gaming. Unleash the authoritative power of the Digital Drive Plus subwoofers on your largest listening spaces and sink into the aural experience of over 99.5% accurate bass reproduction with unbelievable muscle, perfectly optimized by the 8-band Auto-EQPLUS equalizer feature and remote-controlled presets to ensure you get the most out of your new audio equipment.
KEY FEATURES
Servo System: Patented accelerometer-based High Gain Servo System

Massive Structure: Massive motor structure for amazing low-frequency energy

Special Cone Design: Sophisticated cone design for fast, accurate motion

PC Controllable: Use your PC for manual adjustments and real-time feedback on your bass performance

Auto Equalizer: One-Touch Auto-EQ PLUS automates the seamless blend of subwoofer, system, and room

Control Integration: Industry-leading control system integration options including IR input, Ethernet, and RS-232

Low Distortion: The industry's lowest distortion bass — under 0.5%

Custom Wound Coil: Six-layer, custom wound voice coil assures better heat dissipation

Massive Output: There is nothing quite like the awesome power of a DD+ with up to 115 dB - louder than a sonic boom
Technical Specifications:
Driver

18″ forward firing

Amplifier Class D

3000 watts dynamic

 1250 watts RMS power

Frequency Response: Overall

8.8 – 300 Hz

Frequency Response: (± 3 dB)

14.4 – 120 Hz

THE

< 0.5 % (typical)

High Pass Crossover

80 or 100 Hz at 6 dB/octave

Low Pass Crossover

40 Hz to 199 Hz (variable in 1 Hz increments) selectable slope

 Default: 80 Hz @ 24 dB/Octave

Phase

0 to 180 degrees (variable in 15-degree increments)

Polarity

Adjustable (+/-)

Magnet Structure

39.7 lbs.

Voice Coil

Six-layer, 75 mm

Cone

Fiberglass Rohacell Laminate

Input LFE (Mono)

Line level (RCA), Nominal Impedance 47K, Balanced (XLR), Nominal Impedance 10K

Input L&R

Line level (RCA & XLR)

Input Microphone

Balanced (Mini-XLR, cable included)

Input Speaker Level (L&R)

Bare wire, banana plugs, or spade lugs

Output Thru (L&R)

Line level (RCA & XLR)

Output (L&R), High-Pass (L&R)

Line level (RCA & XLR)

Included Accessories

Full features a remote control, DD+ accessory kit, and video cable

Finishes

Black gloss ebony or Piano Black

Dimensions (H/W/D) (includes feet and connectors)

22.7" x 20.7" x 25.6" (58 x 53 x 65 cm)

Shipping Weight (approx)

64.4 kg