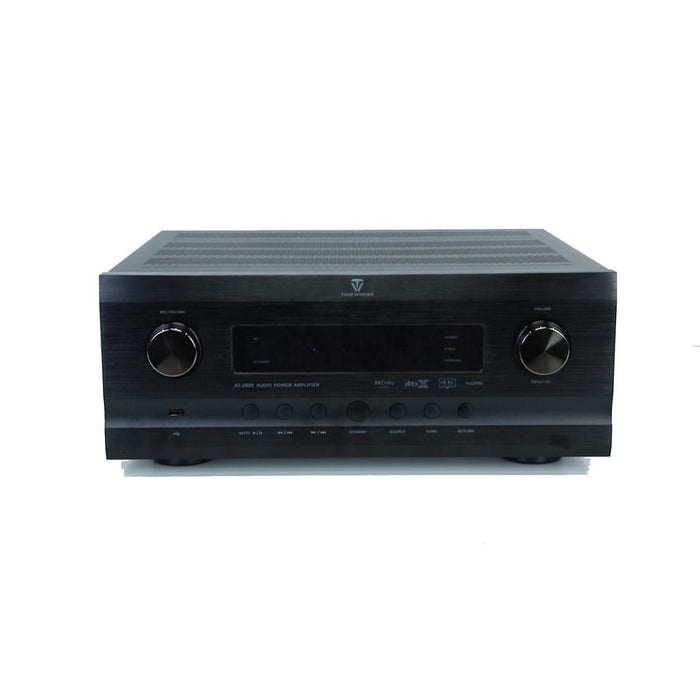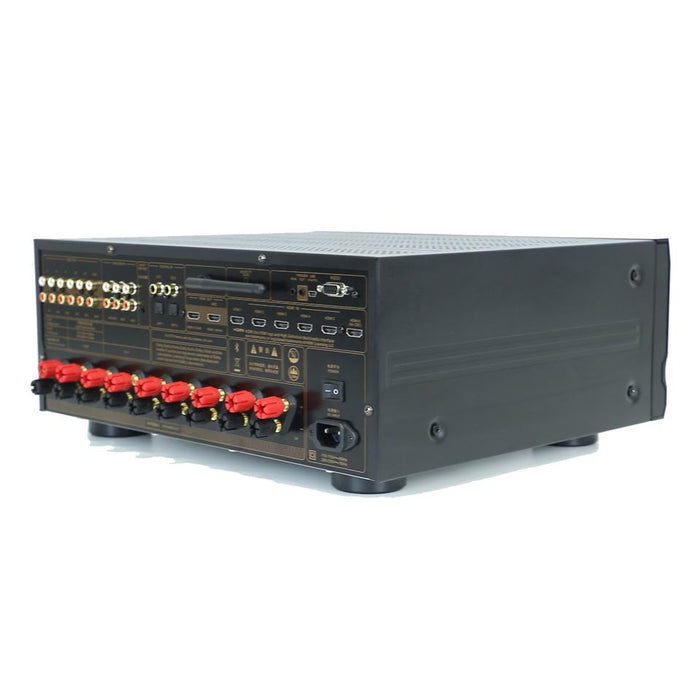 Tonewinner AT-2900 9 Channels Integrated Amp AV Receiver Home Theatre Amplifier- Each
AT-2900 is an AV receiver integrated amplifier which supports Dolby Atmos, DTS:X, Dolby Vision, HDR, 4K and all their downward iterations. AT-2900 AVR supports 14 channels independent decoding with 3 subwoofer outputs to achieve 7.3.6 or 9.3.4 speaker placements. It supports independent volume control for every channel, including subwoofers. It also supports HDMI 6 in 2 out, eARC, Bluetooth, TF card, USB disk, OSD menu, RS232, App control, auto acoustic test room calibration, etc. It's a multi-functional integrated amplifier AVR for high-end home entertainment. As a top 10 audio brand in China, Tonewinner has 30+ years experience in designing and manufacturing acoustic products. As an original supplier, Tonewinner always warmly welcomes distributors, partners and customers around the world.
Model   AT-2900
Channels   7.1.6/9.1.4
Power   13*140W
G.W.    18KG
Dolby Atmos & DTS:X Decoding

It supports Dolby Atmos and DTS:X decoding bringing 3D sound quality with more depths and details. It supports 14 channels independent decoding working with three subwoofer outputs to achieve up to 9.3.4 or 7.3.6 speaker placement. It offers independent volume control to each channel including subwoofers. It can used as an independent preamplifier to work with an amplifier and subwoofers to bring more stunning sound.
Original Easy Test EQ
Auto Acoustic Test Smart Calibration

The Easy Test EQ (ETQ) is originally designed by Tonewinner and has been used in most of its products. The auto and also manual acoustic tests give you choices, convenience and profession.
High Power Output

120W/8Ω and 200W/4Ω per channel power output brings you expressive and boomy sound experience. High power out is prepared for the young at your heart.
15 Meters Wireless Bluetooth

High-speed and stable Bluetooth connection. Low distortion, low energy consumption and low latency. Easy connectivity and auto-re-connectivity. Switch any music apps and platforms you want.
3D Sound for Immersive Experience

With professional DSP manipulation, sound spots of traditional stereo and multi-channel tracks are accurately captured, and non-Dolby Atmos non-DTS:X audio sources are processed and transmitted out as 3D sound quality as far as possible.