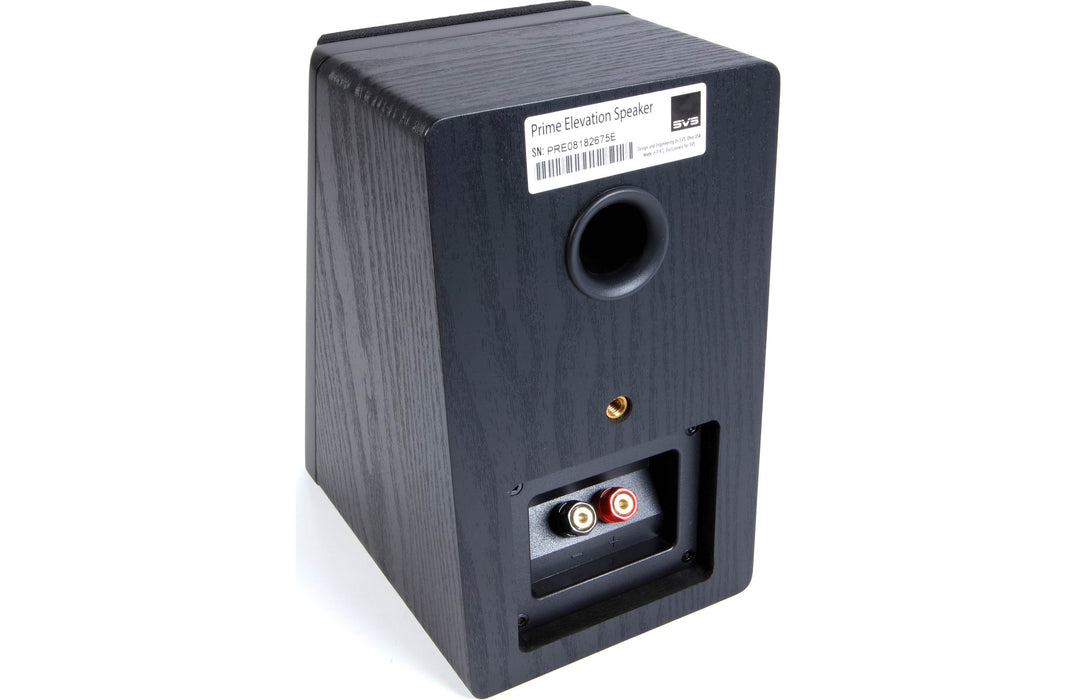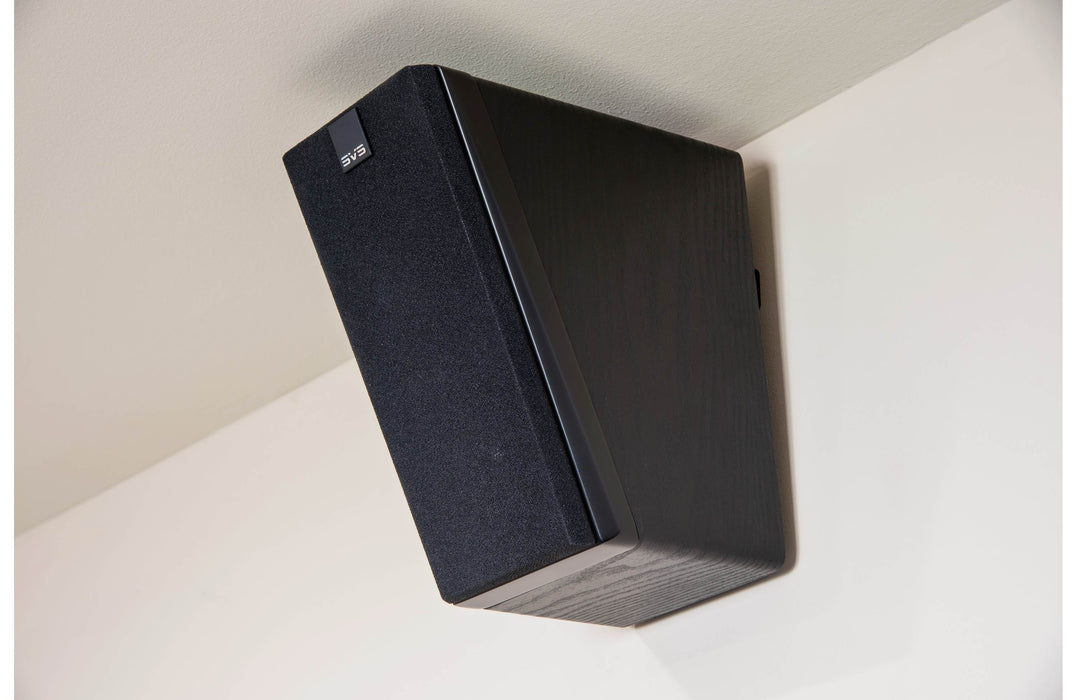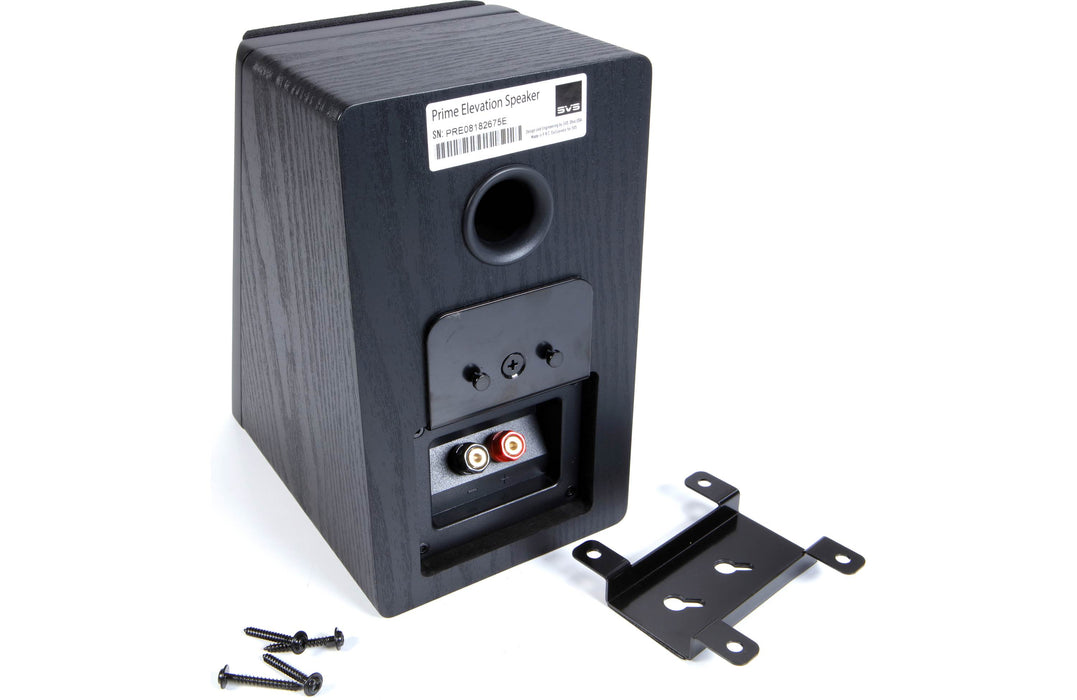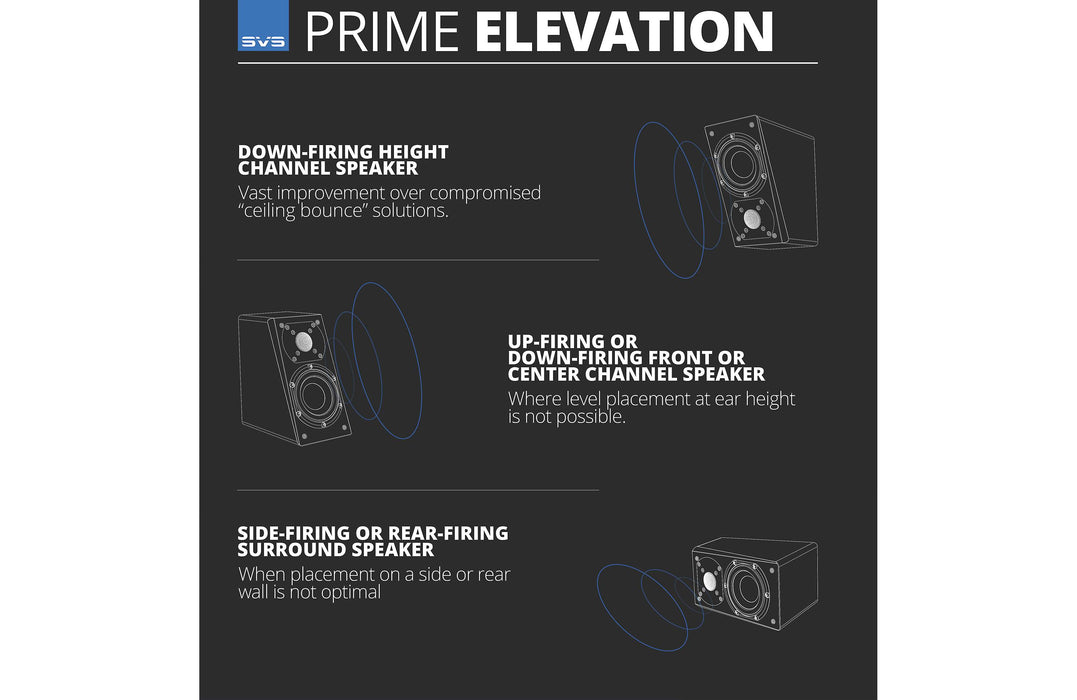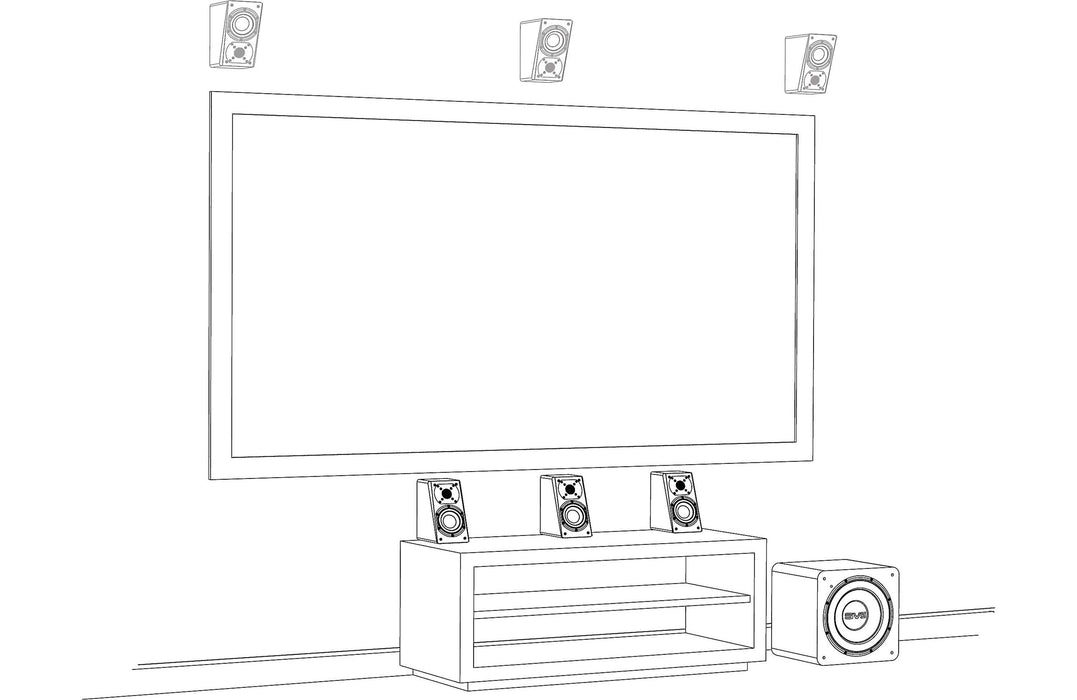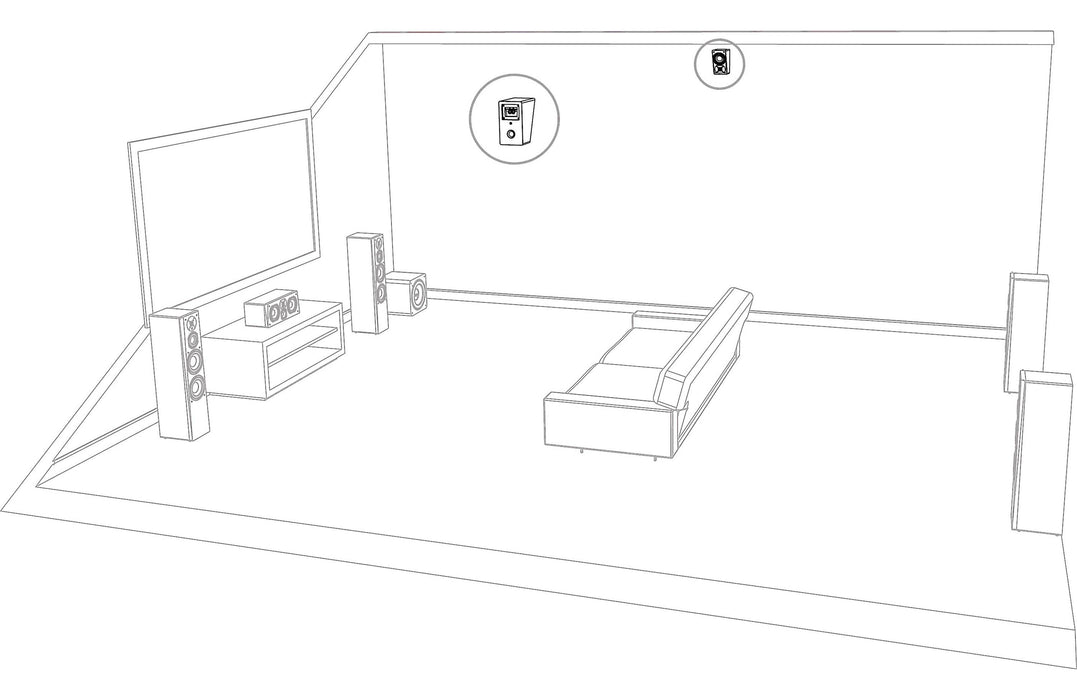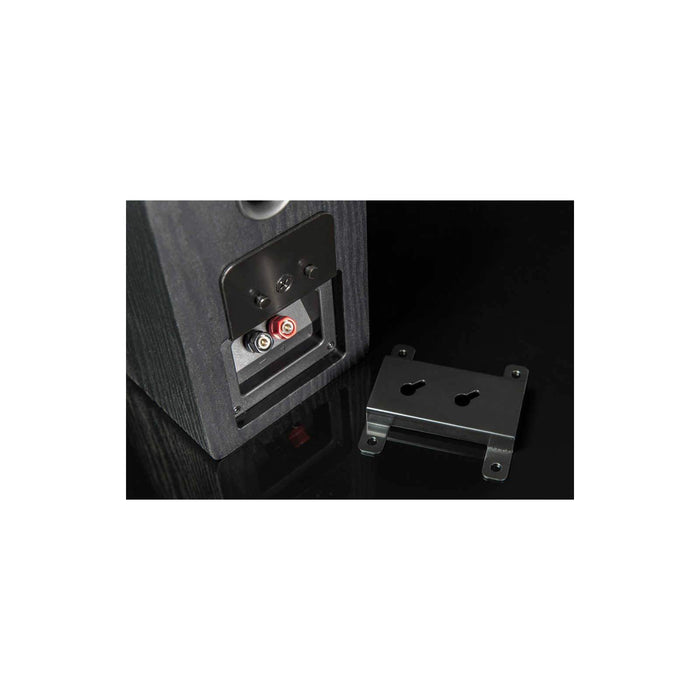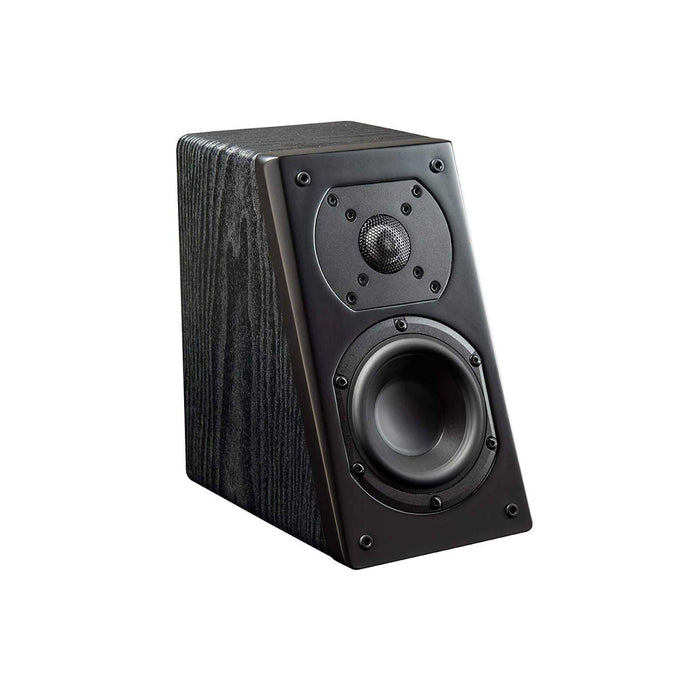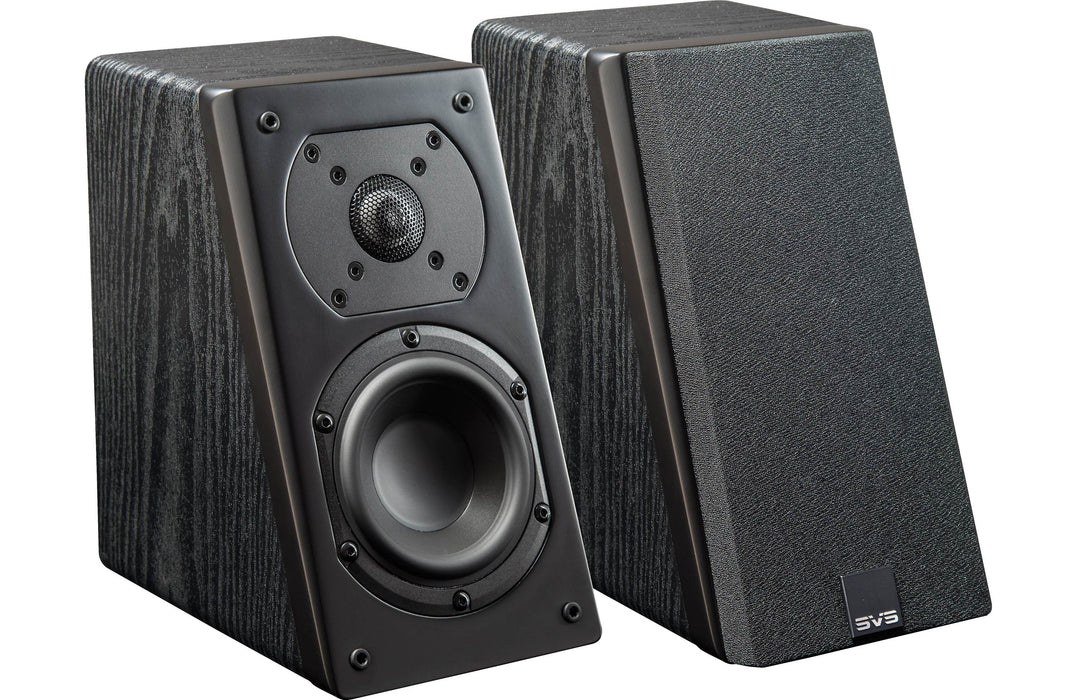 SVS Prime Elevation Height Effects / Atmos Effect Speakers (Black Ash) - Pair
Height effects speaker for Dolby Atmos®, 
DTS
:x®, and 
AURO
-3d®, can also be used as 
S
ide or 
R
ear 
S
urrounds, or as 
M
ain (LCR) 
Left + Center + Right
 speakers
The SVS Prime Elevation speaker for home theatre applications is designed to make one feel that sound matters. Referred to as the most versatile speakers, the pair is engineered to play almost any role in a home theater surround sound system. With its angled front baffle, Prime Elevation can be used as left or right fronts, a center channel, side surrounds or even rear surrounds to suit architectures of all shapes.

The ultimate combination of high performance and low price makes it a top choice for getting the most out of Dolby Atmos, DTS:X, and Auro-3D. SVS has focused on higher-end components to deliver the best 3D immersive audio experience one can have.

Warranty
5-years manufacturer's warranty

Key Features:

Elegant, compact 2-way bookshelf-style speaker
Sloped baffle enables numerous mounting options- up-firing, sideways or down-firing orientations.
Designed to easily mount directly to the wall or ceiling with multi-angle wall bracket
Directly overhead (for what's commonly known as "Voice of God" speaker with Auro-3D)
Key Benefits of SVS Prime Elevation Speaker :
SVS Takes Immersive Three-Dimensional Surround Sound to New Heights

Home theatres running height effects speakers with Dolby Atmos, DTS:X and Auro-3D carry the potential to completely transform the cinema experience at your home. A flash of tremendous insight, Prime Elevation speaker direct radiating with the charged dynamics, pinpoint accuracy and subtle enhancement of a high-end bookshelf speaker. Finally, SVS took a step forward and engineered a height effects speaker to deliver the ultimate sound experience without the compromises of ceiling bounce or in-ceiling speakers. These speakers create an unprecedented 3D experience that really adds the next level of convincing sound to the home theatre experience.
One Speaker, Endless Possibilities

Here are the most common Prime Elevation applications. The more creative you get, the more you witness its versatility.

Down-Firing Height Effects Speaker - Placed high on a side wall, the directly radiated sound is a huge improvement over "ceiling bounce" solutions which are pretty compromising.

Up or Down-Firing Front, LCR or Center Channel Speaker - Placed above or below the viewing area, directed at the listener, when placement at ear level isn't manageable.

Side or Rear-Firing Surround Speaker - Placed on the side wall for rear effects or rear wall for side effects when optimal placement isn't feasible.

The more differently you place or mount it, the more surprised you will be with its pristine full range sound capabilities from all angles. When you know that it's meant to suit rooms of all shapes, we wonder what's keeping you from welcoming this pair at your home. Order now for an immersive, breathtaking sound experience!

Build a complete Prime system

Bookshelf speakers: SVS Prime Bookshelf
Floor-standing speaker: SVS Prime Tower
Center channel: SVS Prime Center
Powered subwoofer: SVS SB-1000 or SVS SB-2000
Product highlights:

Height effects speaker for Dolby Atmos®, DTS:x®, and AURO-3d®, can also be used as Side or Rear Surrounds, or as Main (LCR) Left + Center + Right speakers
2-way design
1" aluminum dome tweeter
4-1/2" polypropylene mid/woofer
Frequency response: 55-25,000 hz (±3db)
Recommended power: 20-150 watts
Sensitivity: 87 db
Nominal impedance: 8 ohms
Bass-reflex cabinet with rear-firing port
Designed to mount on the wall or be placed on stands
Multi-angle wall bracket system allows speaker to be wall-mounted in any of four positions
1/4" threaded brass insert for use with other mounting brackets
Elastomer stick-on bumper feet
5-way binding posts accept bare wire, pins, spade lugs, and banana connectors
Removable cloth grille
5-1/2"W x 9-5/16"H x 7-7/8"D
Weight: 7.8 lbs.
Warranty: 5 years
What's in the box:

SVS prime elevation owner's manual
2 Surround loudspeakers
2 Grilles (pre-installed)
2 Speaker brackets
2 Wall-brackets
4 Wall-anchors
2 Machine screws
8 Self-tapping screws
8 Self-adhesive rubber bumpers
Owner's manual
SVS brochure
Online product registration card
Wall-mounting template