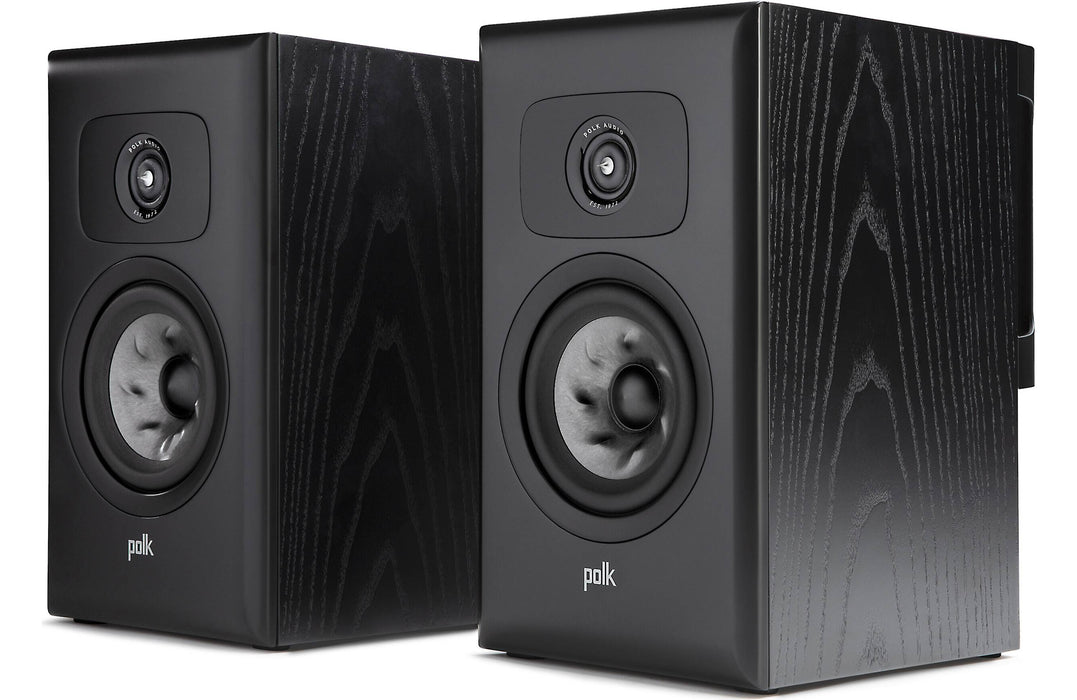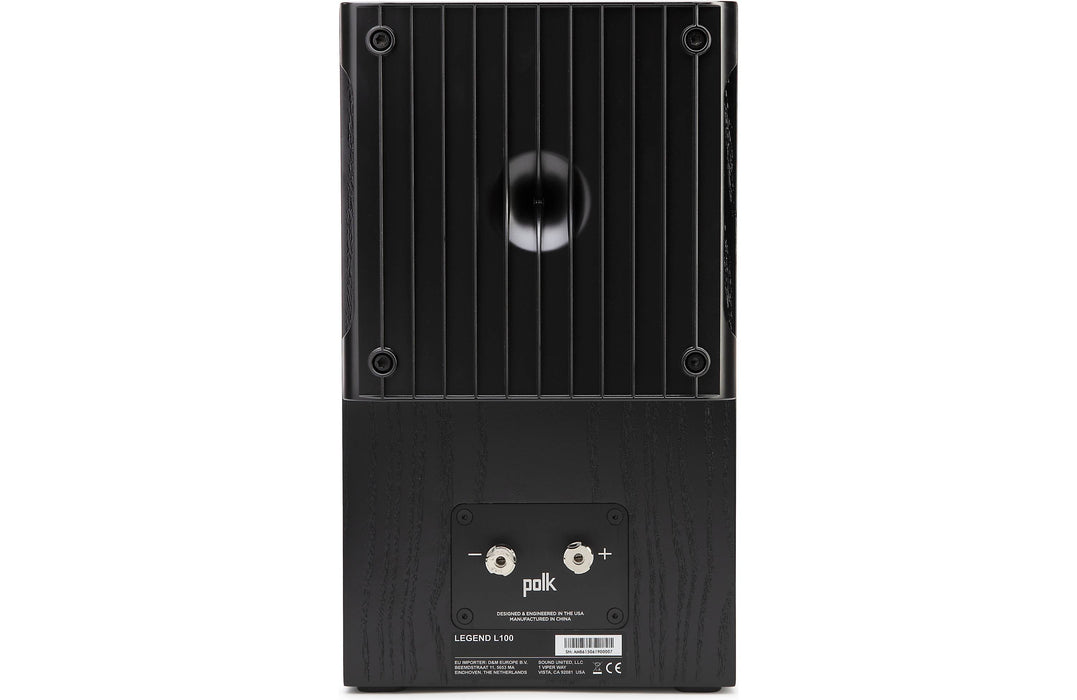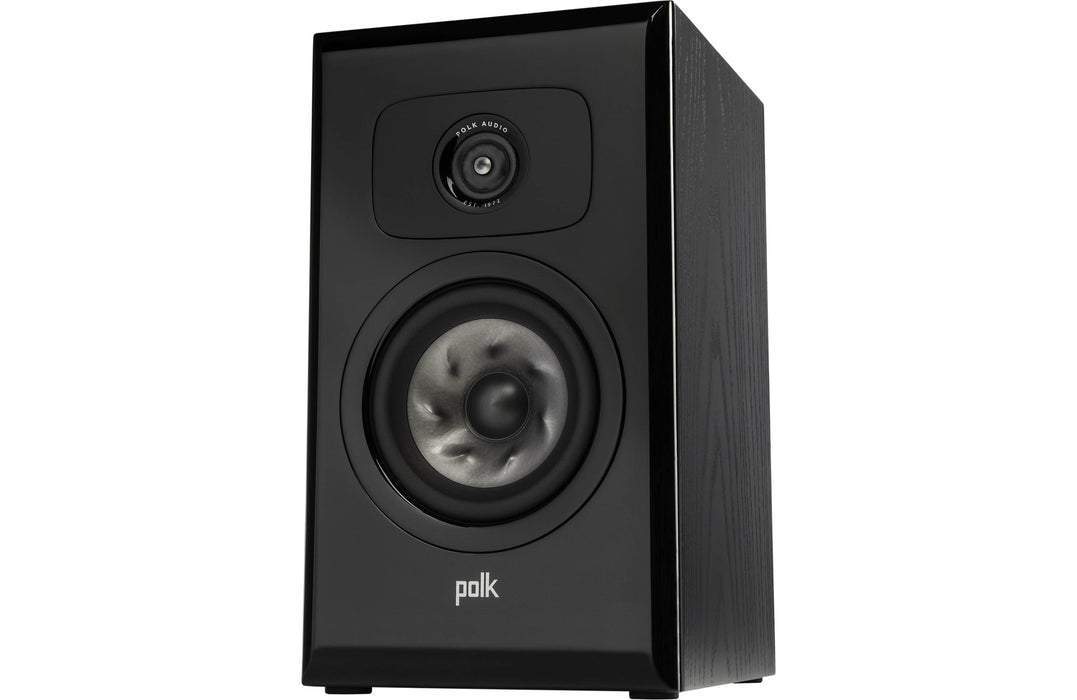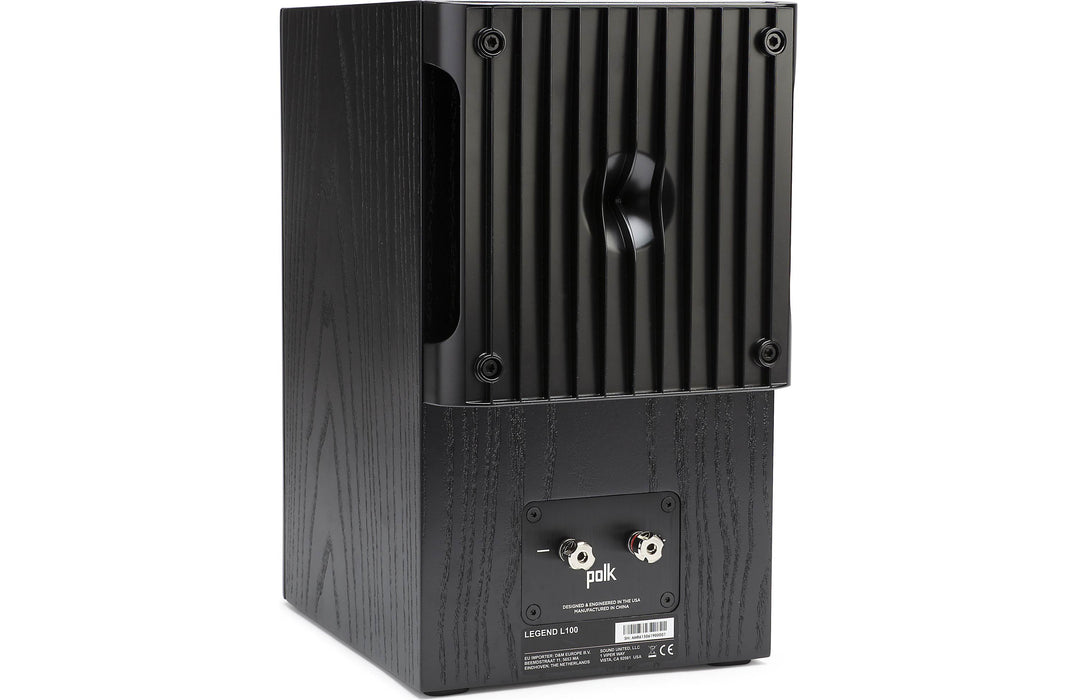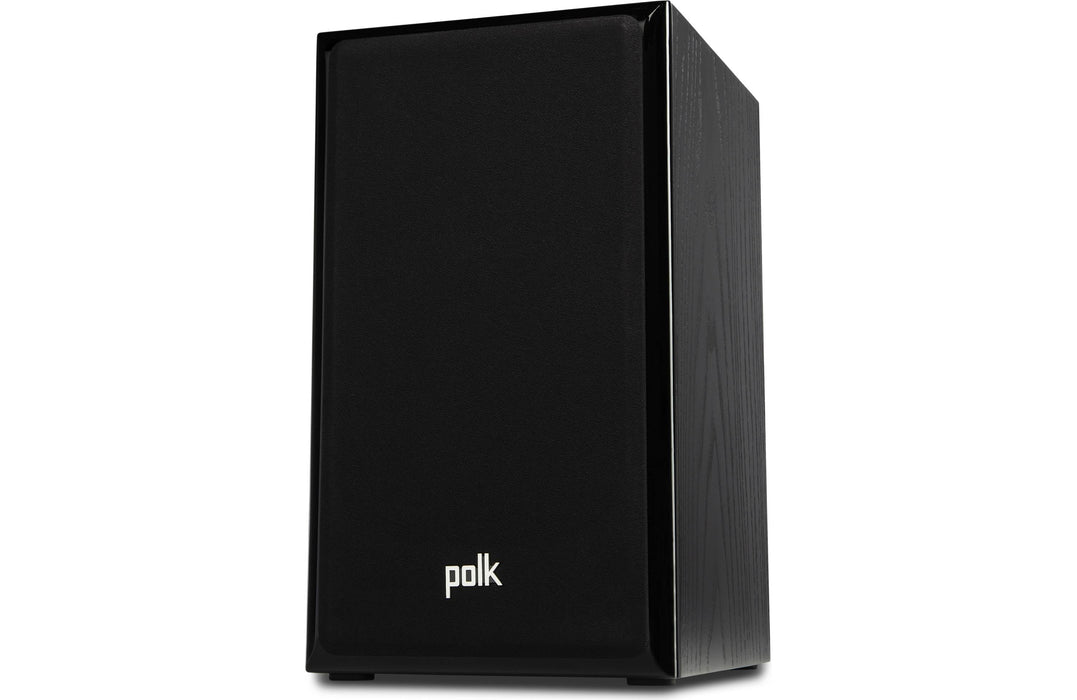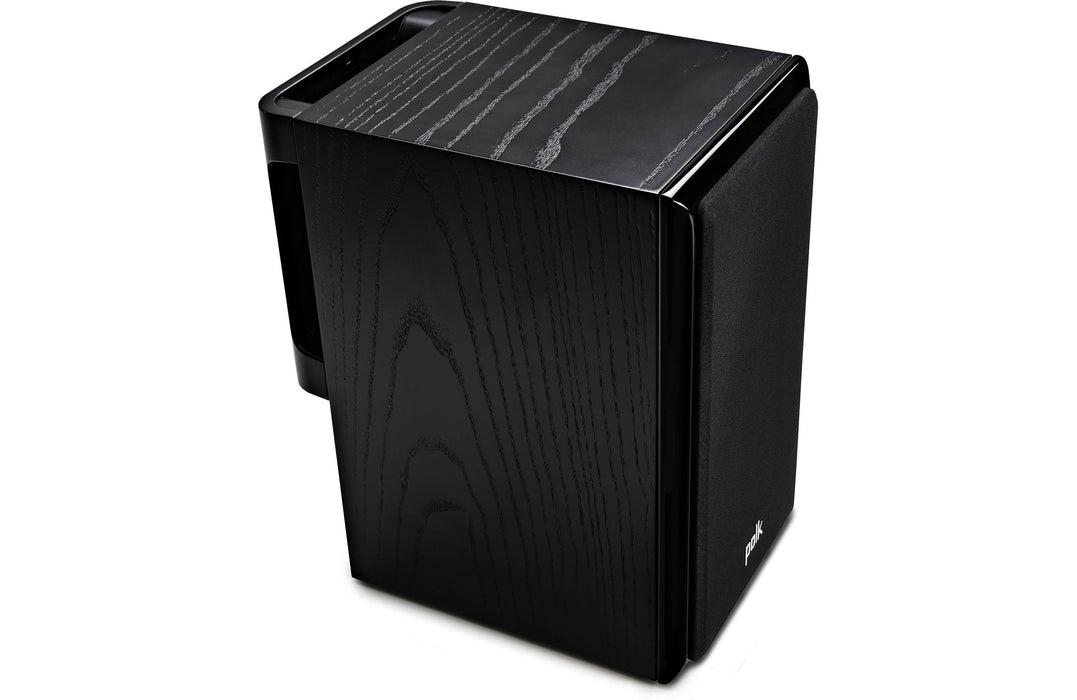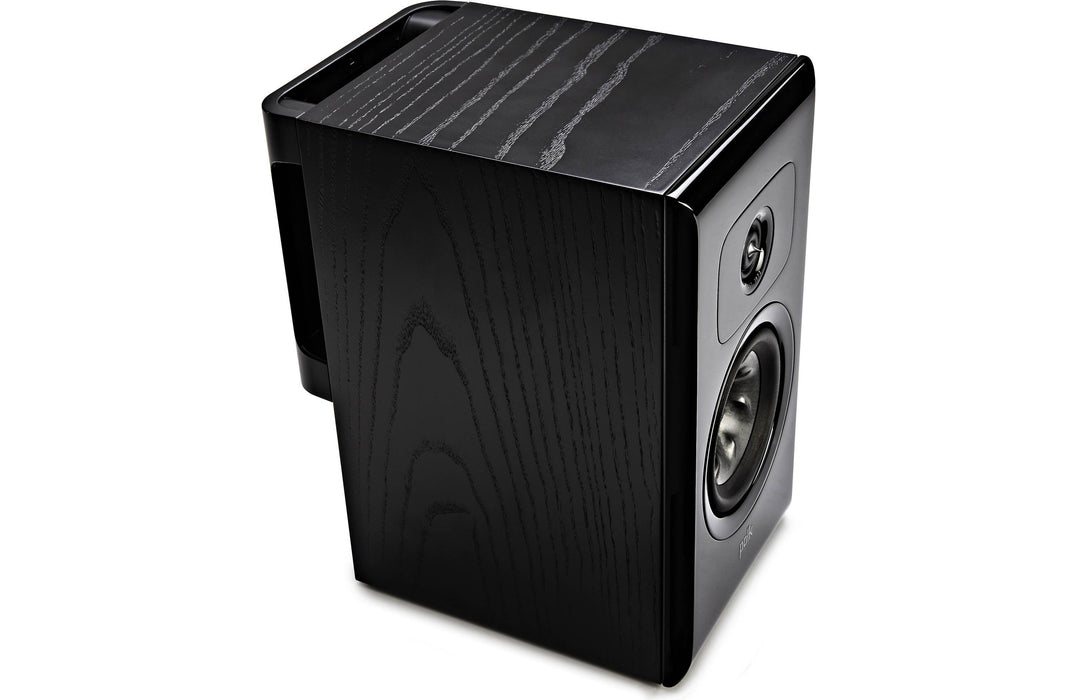 Polk Audio Legend L100 Bookshelf Speakers (Pair)
POLK AUDIO LEGEND L100
Legend Series Premium Bookshelf Speakers
Drawing from more than 45 years' experience in developing loudspeakers, the Legend Series defines the next generation of Polk.
Legend stand mounts reveal every detail from the delicate finger taps on a guitar's fretboard to the deep bass of an orchestra's kettle drum.
The L100 delivers power without sacrificing detail and fidelity—perfect for stereo listening or as a front stage in any home theater setup.
The L100 features a newly designed high resolution 1" Pinnacle ring radiator tweeter and 5.25" Turbine Cone mid/bass driver with Enhanced Power Port.
L100 PREMIUM BOOKSHELF SPEAKER

Sound so big, you'll wonder 'where is the rest of the speaker?' With its 1" tweeter and a 5.25" woofer, your significant other won't mind the size and you won't sacrifice any sound quality. There's no going back to traditional bookshelf speakers after you hear the L100's. New Polk technologies like the High Definition Pinnacle Tweeter, Turbine cone, and enhanced Power Port will give you an uncompromised listening experience. Polk Legend bookshelf speakers deliver deep effortless bass, amazingly smooth and detailed mid-range and ultra-clear imaging. The L100 is the little bookshelf that competes with speakers twice its price.
Polk's goal since its founding has been to build great loudspeakers that virtually transforms the listener's room into the scene of the recorded performance. To meet this challenge, Polk engineers and designers must constantly innovate and agonize over every detail. Nothing is left to chance and nothing unnecessary is ever added. The results are best-in-class loudspeakers that outperform their competition for half the price, earning numerous awards, patents, and most importantly Polk speaker owners that swear by the brand. Don't take our word for it – go listen and you'll believe.
NEW HIGH RESOLUTION PINNACLE RING RADIATOR TWEETER

40 plus years of tweeter innovation, design and prototyping has led to the development of the new 1" high definition Pinnacle ring radiator tweeter. Developed by Polk Audio, it delivers ultra-clear, crisp highs without unwanted coloration or distortions. The Pinnacle tweeter features a finely tuned waveguide that dramatically improves the dispersion of high frequency energy ensuring a broad "sweet spot" and while the critically damped rear-chamber helps to defeat any unwanted resonances. Hi-Res certified, the Pinnacle Tweeter is designed for today's two-channel music listening as well as multi-channel 3D audio found in music, movies, sports, and video games soundtracks.
NEW 5.25″ TURBINE CONE

Polk developed the new Turbine cone specifically for the Legend series to ensure the natural reproduction of the mid-range, the frequencies our ears are so sensitive to. The Turbine cone combines Polk's proprietary foam core and the molded Turbine geometry which dramatically increases stiffness and damping, without adding mass, resulting in a smooth, detailed mid-range and effortless bass – hear every detail.
BETTER BASS BY DESIGN ENHANCED POWERPORT

Traditional bass ports make noise (chuff) and mask the low frequency bass notes you want to hear. The new enhanced Power Port® design smoothly transitions air flow from the speaker into your listening area for louder, cleaner bass while minimizing turbulence, distortion, and port noise. Polk refined their current Power Port technology specifically for the Legend series by fine-tuning the geometry of the port flare. Hear and feel the difference; Polk Enhanced Power Port® produces less port noise and more powerful clean bass than traditionally ported loudspeakers.
COMPLIMENTS YOUR HOME THEATER

Can be used for the front stage of any home theater, as well as side and rear surrounds. Legend Height Module (L900) are only compatible with floor standing models.
PREMIUM, LARGE 5-WAY BINDING POSTS

Perfect for easy setup, they ensure the most direct, efficient, and loss-less connection possible.
POWER RECOMMENDATION

70W or more per channel power amplification is recommended to experience the best quality and performance from these speakers.
ANTI-DIFFRACTION MAGNETIC GRILLE

Comes with a grille to cover the front baffle and a second grille for the top to cover the optional height module when installed. Computer modeled for a precision fit and to minimize sonic interference. The acoustically inert magnetic grilles offer a clean aesthetic without sacrificing sound.
HIGH-RESOLUTION CERTIFIED

Your sound is only as good as your source. With High-Resolution certification, the Polk Legend L100 delivers clear and detailed high-end response. Female vocals are smooth and detailed without coloration. Plus, a minimum support of 40kHz perfectly reproduces the latest high resolution audio files with improved audio extension.
EXPECT GREAT SOUND ENGINEERED BY POLK USA
For over 45 years, Polk Audio has been designing, engineering and voicing amazing sounding loudspeakers, sound bars and smart speakers. Polk engineers, prototypes, tests, and listens to every aspect of its loudspeakers in their Baltimore Maryland USA engineering facility. From innovation in tweeter design to the legendary Stereo Dimensional Array (SDA) speakers, Polk audio delivers great sound that's accessible to all.
LIMITED WARRANTY, BUILT TO LAST

The Legend speaker series is built to last. Featuring a best-in-class 5-year limited warranty, with a free 5-year extension when you register your product (non-transferable).
CABINETS BUILT FOR BETTER PERFORMANCE

Polk believes cabinets should be beautiful but add nothing to the playback. Polk Legend cabinets, braces, and internal enclosures are carefully engineered to minimize unwanted internal standing waves and eliminate unwanted resonances. The result is a cabinet that rigidly holds the transducers while faithfully reproducing recordings.
REAL WOOD CABINETS

From the first hand-made cabinets built in 1972 to today's new flagship speaker series, Polk has been designing wooden cabinets with real wood for over 45 years. Inspired by our heritage, Legend carries forward that tradition of classic design of a high-performance loudspeaker. Available in two real wood veneer finishes: brown Walnut and black Ash.
Specifications
Total Pieces
Pair
Orientation
Vertical
Height
13.64" (34.65 cm)
Width
7.78" (19.76 cm)
Depth
11.29" (28.68 cm)
Weight (each)
16.9 lbs (7.67 kg)
Driver Enclosure Type
Power Port Bass Vented
Driver Complement
• (1) 1" (2.54 cm) d (Round) Pinnacle Ring Radiator - Tweeter
• (1) 5.25" (13.34 cm) d (Round) Turbine Cone - Mid/Woofer
Recommended Amplifier Power Setting
70W
Total Frequency Response
43 Hz → 50,000 Hz
Nominal Impedance Range
3 ohms → 4 ohms
Sensitivity (1 watt @ 1 meter)
85.5 dB
Lower and Upper -3dB Limits
57 Hz → 38,000 Hz
Type
2-Way Orth Crossover
Peak Power Handling
160 watts
Tweeter/Midrange Crossover Frequency
2900 Hz
Power Handling (per channel)
30 watts → 160 watts