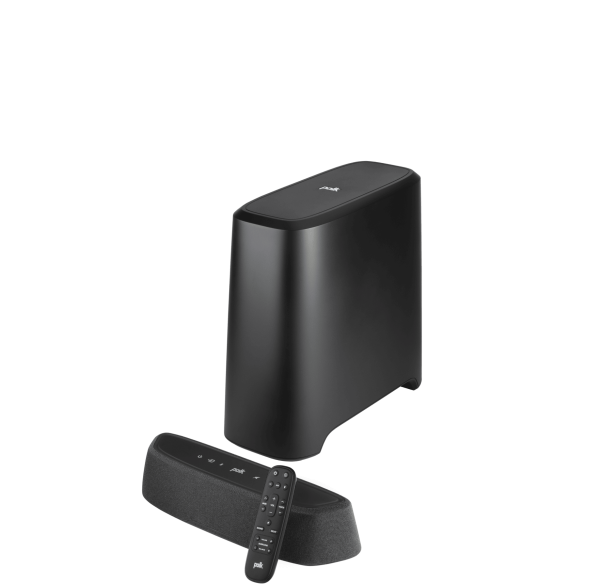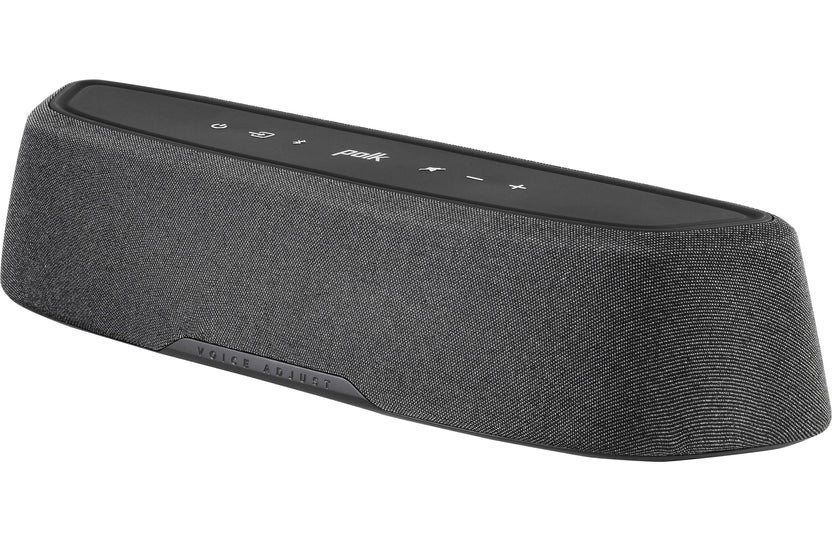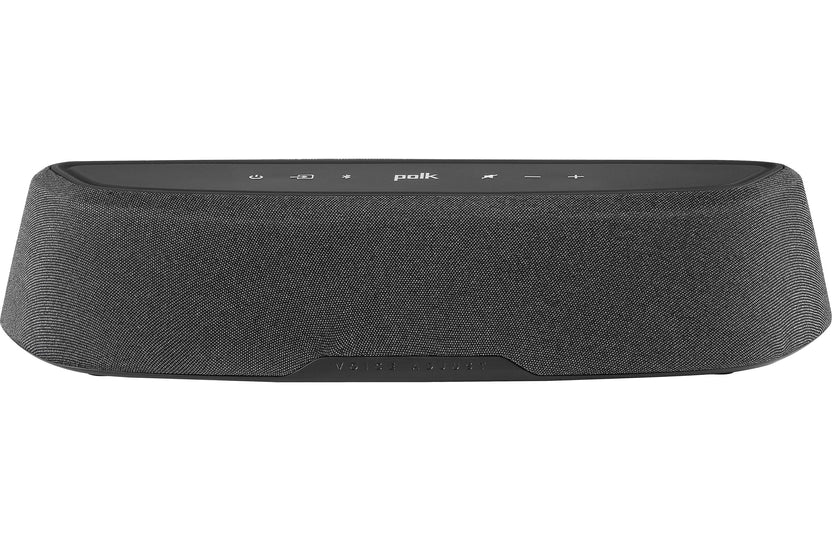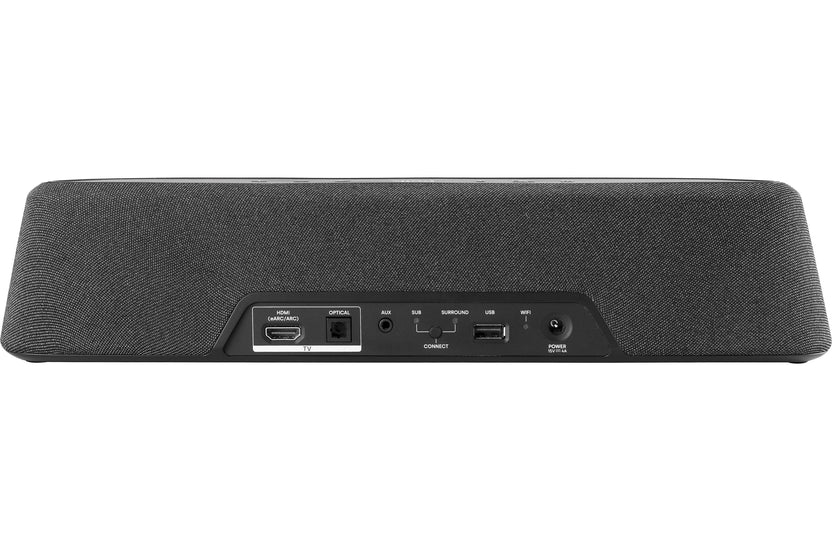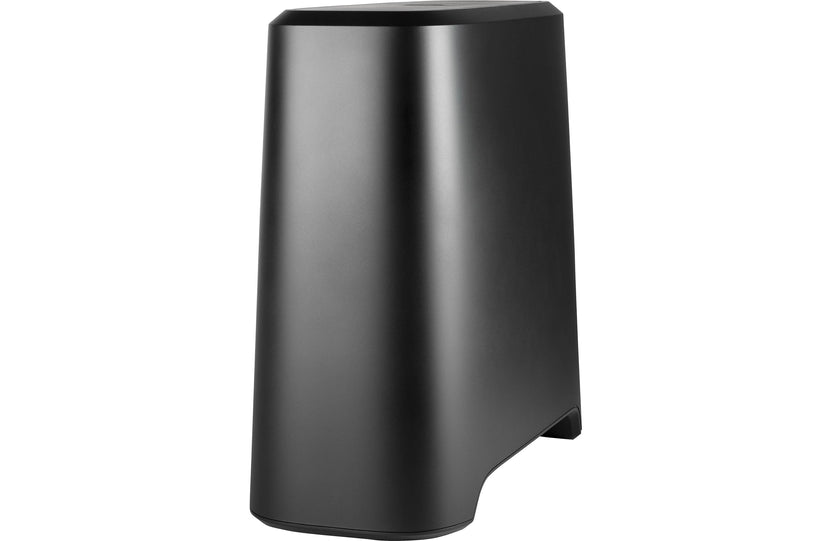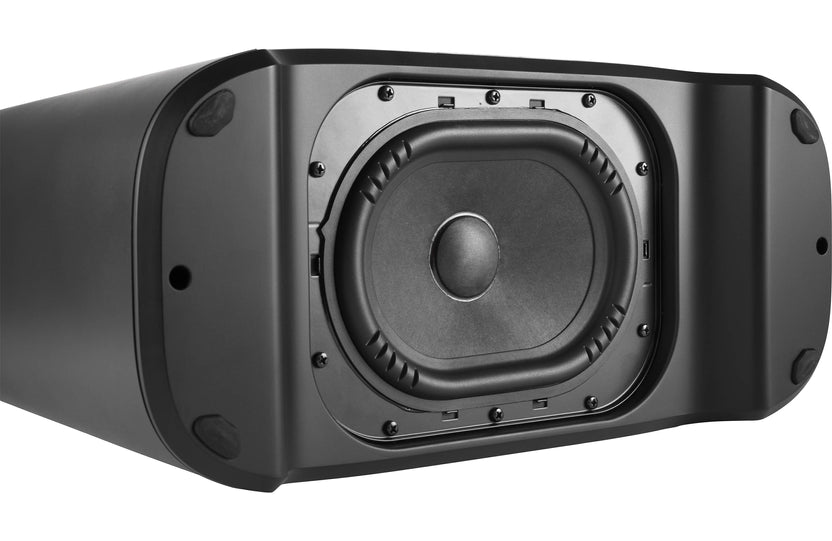 Polk Audio Magnifi Mini AX Soundbar With Wireless Subwoofer Bring to life Dolby Atmos and DTS:X Surround Sound.
Polk Audio Magnifi Mini AX SoundbarWith Wireless Subwoofer  Bring to life Dolby Atmos and DTS:X Surround Sound.
Bring movies, TV, music, and games to life in true Dolby Atmos and DTS:X sound with 11 speakers, SDA technology, wireless streaming, and a 10" subwoofer.
11-speaker array with height drivers delivers true Dolby Atmos and DTS:X sound
Stream music via Wi-Fi (Chromecast, AirPlay 2, Spotify Connect) or Bluetooth
Experience deep bass you can feel with included 10" wireless subwoofer
Streamline your setup with 3-in/1-out 4K HDMI switching with eARC
Elevate Your TV Sound
Experience the heart-pounding, cinematic thrills of immersive sound that envelops you from every angle. MagniFi Max AX combines an Atmos-enabled speaker array with up-firing drivers for overhead action and Polk SDA technology for a more expansive soundstage.
Better Music Streaming
MagniFi Max AX's robust 11-speaker array and powerful 10" subwoofer uncover the true sonic potential of your favorite songs, whether you stream music over Bluetooth or Wi-Fi via Apple AirPlay 2, Google Chromecast, Spotify Connect, or any Works with Alexa music service.
Customizable Sound
TV, Movie, Music, and Night modes optimize your sound at the push of a button. Polk's VoiceAdjust™ technology lifts voices above the mix so you'll never miss a word of critical dialogue. Polk BassAdjust balances the low-end response of the soundbar and subwoofer for maximum (or minimum) bass impact.
Great Sound for All
For more than five decades, Polk has led the way in innovating speakers that provide great sound at an accessible price. MagniFi Max AX delivers flagship performance at a fraction of the cost of comparable sound bars.
Experience Movies, Music, And Games In True Dolby Atmos/dts:x Sound
An 11-driver array with built-in height drivers works in concert with Polk's patented SDA technology to deliver movies and music in 5.1.2 Dolby Atmos and DTS:X 3D sound with an accurate and expansive soundstage.
Complete Wireless Home Audio Entertainment
Enjoy high-quality Wi-Fi music streaming from your phone, tablet, or computer with Apple AirPlay 2, Google Chromecast, Spotify Connect, or any Works with Alexa- compatible music service. Connects via Bluetooth, too. Also, with these services, multiple MagniFi AX Series sound bars can be used for multi-room music listening.
Maximum Bass With A Powerful 10" Wireless Subwoofer
The 10" down-firing MagniFi Max AX subwoofer—our most powerful sound bar sub—delivers the deep, effortless bass that Polk is famous for. Wireless connection allows for convenient placement. Dial in the ultimate sound with BassAdjust.
Polk Voiceadjust™ Hear Every Word
Tired of riding the volume control? Never miss a word of dialogue again. Polk's patented VoiceAdjust™ speech-clarifying technology works with MagniFi's integrated center-channel speaker to bring up the volume of voices over other elements of the soundtrack.
Optimize Audio For Any Listening Scenario
One-click sound modes optimize bass, clarity, and soundstage for movies, TV, or music. Night Mode turns up dialogue and turns down bass for late-night watching without disturbing the neighbors.
Connect All Your Devices With 4k Video Switching
Simplify your setup with 3-in/1-out high-speed, high-bandwidth 4K HDMI connectivity with eARC and input switching. Connect gaming consoles, Blu-ray players, steaming boxes, and more to enjoy them with MagniFi Max AX's superior sound quality.
Sets Up Quickly And Works With Any Tv
Set up with any TV via HDMI eARC/ARC or optical connection. (HDMI cable included.) MagniFi Max AX includes a remote and works with most TV remotes out of the box. It's also Roku TV Ready for easy configuration and control. Sits on your TV console or is wall mountable.
Get Total Immersion With Polk Sr2 Wireless Speakers
Expand the surround capabilities of MagniFi Max AX with Polk SR2 Wireless Rear Surround Speakers, available separately or included with the MagniFi Max AX SR 7.1.2 Sound Bar System.
A Room Full Of Sound, Without A Room Full Of Speakers
Experience music, movie, TV shows, and games in immersive, cinematic sound with powerful, chest-thumping bass.
True Dolby Atmos And Dts:x Sound 
Bring cinematic sound to new heights with MagniFi Max AX's up-firing drivers, which provide the critical overhead element of Atmos and DTS:X sound. Rain will never sound the same.
A Room Full Of Sound, Without A Room Full Of Speakers
Polk's patented SDA technology creates an ultra-wide, multidimensional soundstage that expands beyond the sound bar to fill the room.
Experience Music, Movie, Tv Shows, And Games In Immersive, Cinematic Sound With Powerful, Chest-thumping Bass
MagniFi Max AX's 10" wireless powered subwoofer provides deep low-end thunder you'll feel in your bones.
Specifications:
Total Pieces 2
Remote Deluxe Remote
Remote Type Infrared (IR)
Included Accessories
(1) High-speed HDMI cable
(1) Deluxe Remote
(2) AAA Batteries
(2) Sound Bar wall mounting brackets (screws and fasteners not included)
(1) Sound bar wall mount template
(1) Sound bar power cord
(1) Subwoofer power cord
Quick Start Guide
Registration card
Carton 1 (H x W x D) 22.4 x 48 x 14.1 in 56.9 x 121.8 x 35.8 cm
Soundbar
Qty Included 1
Height 4.6 in (118 mm)
Width 45 in (1143 mm)
Depth 2.8 in (72 mm)
Weight 12.85 lb (5.83 kg)
Driver Complement
Left/Right Channels (4) 1 x 3 in (25 x 76 mm) racetrack mid-woofer drivers
(2) 0.75 in (19 mm) soft dome tweeters
Center Channel (2) 1 x 2.5 in (25 x 64 mm) racetrack mid-woofer drivers
(1) 0.75 in (19 mm) soft dome tweeter
Left/Right Height Channels (2) 2.5 in (64 mm) full-range drivers


Bluetooth Bluetooth 5.0
Wireless Yes
Wireless Protocol Wi-Fi (802.11 a/n/ac 2.4 GHz & 5 GHz)
Wi-Fi Streaming Platforms Apple AirPlay 2
Google Chromecast for Audio
Spotify Connect
Works with Alexa
Inputs/Outputs (3) HDMI 4K (60Hz)
(1) HDMI eARC 4K (60Hz)
Toslink Optical
USB (for firmware updates)
Video Pass-through 4K HDMI
HDR
Dolby Vision
Ethernet No
Mounting Type Flush-Mount Wall Bracket
Available Orientations Horizontal
Wireless Subwoofer
Qty Included 1
Height 16 in (407 mm)
Width 11.9 in (302 mm)
Depth 15.7 in (399 mm)
Weight 26.3 lb (11.9 kg)
Subwoofer Array Driver Enclosure Type Downfiring, Ported
Subwoofer Array Driver Complement (1) 10 in (25.4 cm) Round Woofer
OPTIONAL
*Also available with 2 Wireless Speakers SR-II  ( EXPENSIVE  AUDIO-VIDEO RECEIVER NOT REQUIRED) for Cinema like Surround Sound.