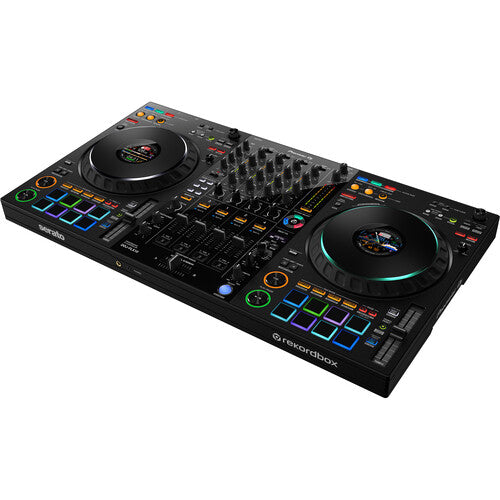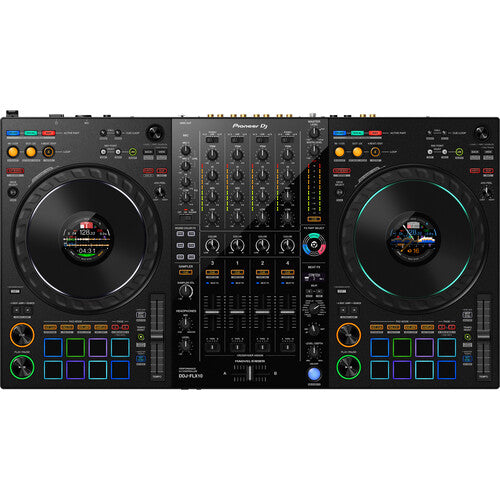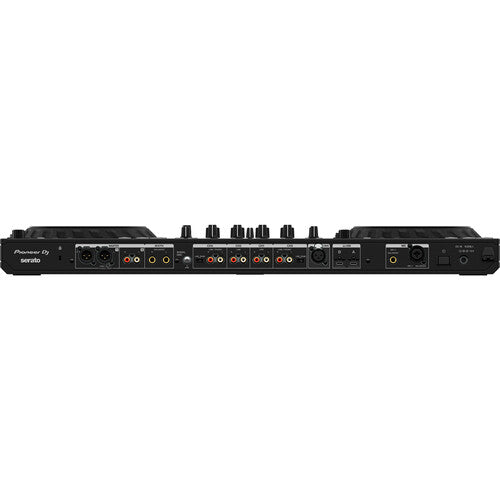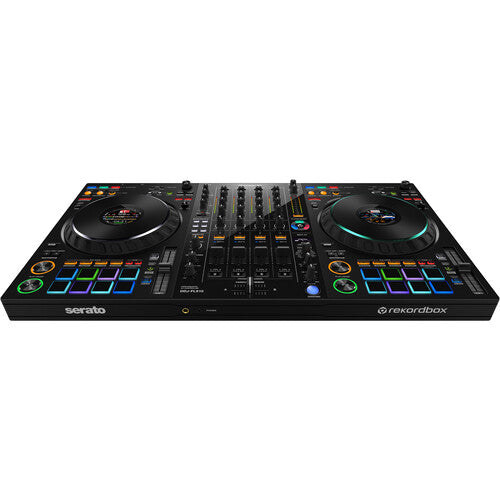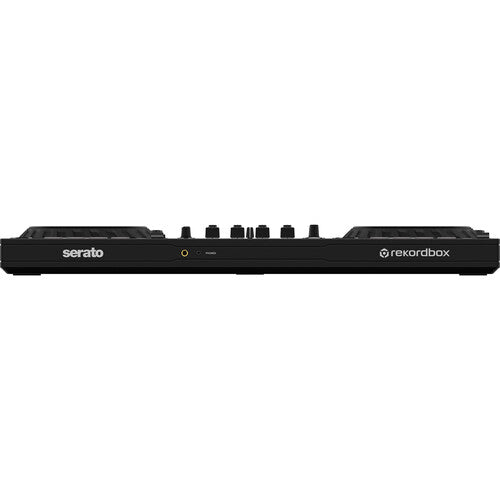 Pioneer DDJ FLX10, 4-channel DJ performance controller for multiple DJ applications (Black)
ey Features

Real-Time Track Separation (Stems)
Vocal, Drums, and Instrument Separation
Jog Wheel and Layout from CDJ and DJM
On-Jog Display with Four Display Modes
Eight Performance Pads per Deck
Mix Point Link for Automixing
3-Band EQ on Each Channel
3-Pin DMX Output for Intelligent Lights
Includes USB Cable and Power Adapter
Includes Serato Pitch 'n Time
DJs looking for a next-generation 4-deck controller with cutting-edge technology will appreciate the black Pioneer DDJ-FLX10, a 4-channel DJ performance controller for rekordbox and Serato DJ Pro. The controller unlocks both rekordbox DJ and Serato DJ Pro software without the need for a subscription. The format of the controller borrows heavily from the flagship DJM and CDJ line of equipment. Full-sized jog wheels feature on-jog displays with four modes including Deck Info, Waveform Mode, Artwork Display, and DJ Logo Display.

The DDJ-FLX10 features track separation technology, allowing DJs to load songs from their music library and use the controller to manipulate the tracks vocals, drums, and various instruments for live remixes and mashups. DJs can also take advantage of the Mix Point Link, a new feature for setting your next track to start automatically, allowing your hands to remain free for creating mashups and performance effects. Other notable features include a dedicated DMX out for intelligent lighting and an updated MAGVEL FADER system with four sensors.

The controller's ergonomic design features 8 multicolor and velocity sensitive performance pads on each deck with four modes of operation including hot cue, roll, slicer, and sampler. You can load samples and tracks into Serato DJ Pro or rekordbox DJ and play with the onboard pads. The center panel of the DDJ-FLX10 is a 4-channel mixer with a built-in soundcard with four stereo RCA inputs as well as XLR and stereo RCA masters and a pair of 1/4" booth outputs. Two sets of headphone outputs (1/4" and 3.5mm) are available for any headphone style. The Pioneer DDJ-FLX10 ships with a USB-C cable, power cord, AC adapter, and a voucher for Serato DJ's Pitch 'n Time.

Track Separation of Innovative Performances
The DDJ-FLX10 includes track separation technology, allowing DJs to load songs from their music library and use the controller to manipulate the track's vocals, drums, and various instruments for live remixes and mashups. There are dedicated color-coded buttons to control each part, so DJs always have a clear visual grasp of what's playing.

Active Part and Part Iso: individually adjust the volume for the vocals, drums, or instruments, including bass and synths, to mix in creative new ways. DJs can also choose to mute any combination of the 3 parts to make live mashups with other tracks.
FX Part Select: select which part on a track to apply effects. For example, DJs can add echo to the vocals, but leave the other parts alone.
Part Instant Doubles: isolate a specific part of the track and transfer it to another deck to scratch it.
Expanded On-Jog Display
The DDJ-FLX10 On-Jog Display keeps everything in one place by customizing information on the jogs. Choose from 4 modes as detailed below, some of which show 3Band Waveforms (rekordbox only), the same as the CDJ-3000 flagship multi player. DJs can also keep an eye on rekordbox vocal position analysis information, pad mode status, the optional rotating digital marker, and Mix Point Link information.

Deck Info mode: shows information, including the overall waveform. (When using Serato DJ Pro, this mode shows the virtual deck of Serato DJ Pro.)
Waveform mode: shows the zoomed waveforms for two decks.
Artwork display: shows the artwork for the playing track.
DJ Logo display: shows personal logo or image on each deck after using the Image Transfer Tool for PC/Mac.
Mix Point Link for rekordbox

DJs can take advantage of a completely new playback concept that enables them to create a slick musical progression in their sets by linking mix points on tracks, so the next song kicks in at the perfect moment.
DJs might set the next track to start from the beginning of its melody when the vocal of the current song ends, ensuring a seamless transition without a sound clash. There's no need to count down or press play manually, which also leaves their hands free to create mashups or add effects.
DMX Output for rekordbox Lighting Function
Simply connect DMX-compatible lighting equipment to the controller directly and use rekordbox to create custom lighting effects or set the software to automatically adapt the color and movement of the lights to progress with the music. There is no need for an external DMX interface with the DDJ-FLX10.
MAGVEL FADER 4-Sensor System
The DDJ-FLX10's new evolved MAGVEL FADER uses a 4-sensor system compared to its predecessor's two sensors. This allows users to make volume adjustments no matter how small the movement of the crossfader.
rekordbox and Serato Compatibility
The DDJ-FLX10 offers free plug-and-play compatibility with rekordbox and Serato DJ Pro. DVS support is available through a rekordbox Core, Creative, or Professional plan subscription, or via a paid license/subscription to Serato DJ Expansions or Serato DJ Suite.
Additional Features

Multicolored jog ring: Pioneer DJ's first-ever multicolored jog ring indicates both the different parts of the track that are playing when using the track separation features and customizes the colors to a DJ's preferred look.
Intuitive design: the new track separation control features make a circle from three different, color-coded LEDs and reflect three layers overlapping.
USB-C terminal: connect a PC/Mac directly with a single cable to the controller's USB-C terminal.