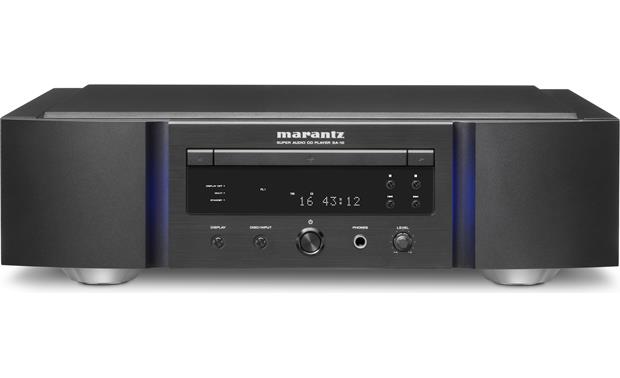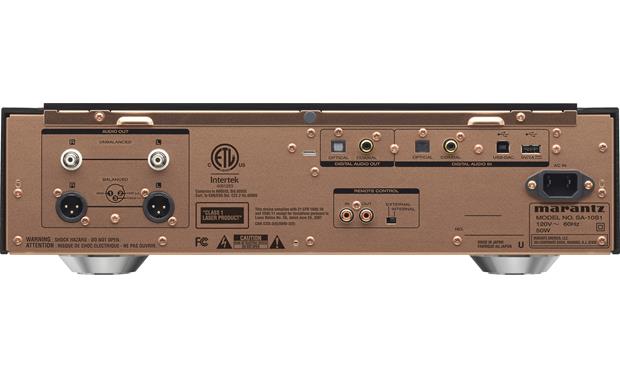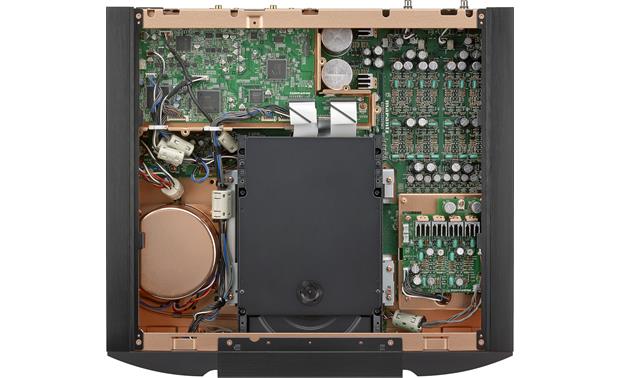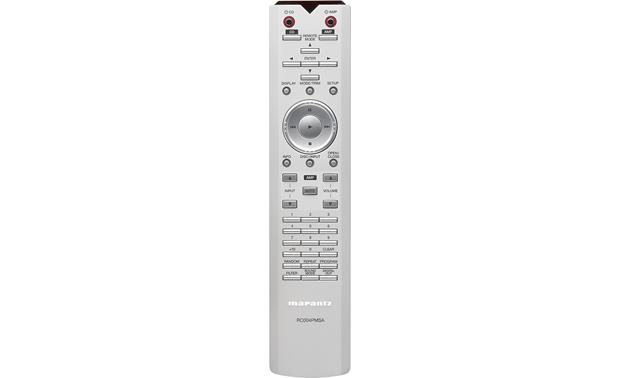 Marantz SA-10 -Reference Series SACD/CD Player with USB DAC
About the Marantz SA-10
Reference-quality CD Sound Reinvented
Marantz Reference Series components are the very best this renowned audio manufacturer has to offer, drawing on expertise developed over decades of research, testing, and critical listening. The SA-10 Super Audio CD player is the latest in a long line of high-end Marantz CD players. This premium player represents a complete re-invention of the category, in which practically every part has been redesigned for the best possible reproduction of music.

At the heart of the SA-10 is a unique new SACD-M3 disc transport designed specifically for SACD/CD playback. This new mechanism promises the very best sound quality from conventional CD and SACD discs, and it also allows for playback of high-resolution FLAC and DSD music files stored on DVD-ROM discs. That means you can create compilations of your favorite high-res tracks using your computer's DVD burner, and then play them in all their glory on the SA-10.
Built to Sound Amazing
The SA-10's hefty chassis and double-layered bottom plate with aluminum feet create an incredibly stable platform, virtually eliminating vibrations. The beefy toroidal power supply delivers a constant stream of clean current. The nickel-plated copper RCA stereo outputs are widely spaced so you can easily connect high-quality patch cords. And when using the analog connections, you can disable the digital outputs so there's no chance of stray emissions impacting the analog circuitry. The result is a lively, true-to-life reproduction of all your favorite tunes.
It's a killer Outboard DAC, Too
Marantz knows that in this day and age, lots of your favorite music may not be on a shiny disc at all. That's why they've enabled the SA-10's advanced DAC to work on its own with other digital audio sources, including your computer, USB thumb drives, iOS® devices, and conventional audio components with coaxial or optical digital outputs.

The player's advanced conversion circuitry upsamples all PCM-based sources to ultra-high-frequency 1-bit DSD signals at 11.2 MHz, which then pass through Marantz's advanced filtering stages to give you the purest, most accurate sound possible.
Features
SACD-M3 Transport Mechanism:
At the heart of the Marantz Reference Series SA-10 is an all-new SACD-M3 transport mechanism, engineered solely for the best possible performance when playing SACDs, CDs, and music stored on data discs. Not only does this new mechanism promise the very best sound quality from conventional CD and SACD discs, but its extended ability with the playback of music files stored on DVD-ROM discs also makes it possible for users to create their own high-resolution audio compilation discs using a computer DVD burner. The SA-10 can play FLAC files from 44.1kHz to 192kHz at up to 24-bit resolution, DSD2.8MHz and DSD 5.6MHz music files, as well as ALAC (Apple Lossless), AIFF, and MP3 files.
Compatible Discs: The SA-10 supports playback of SACD, CD-Audio, CD-R/RW, DVD-R/RW, and DVD+R/RW discs.
Compatible Files: Compatible audio files include MP3 (44.1/48kH; 32-320kbps), WMA (44.1/48kHz; 48-320kbps), AAC (44.1/48kHz; 16-320kbps), WAV (44.1-192kHz; 16/24-bits), FLAC (44.1-192kHz; 16/24-bits), ALAC (44.1-96kHz; 16/24-bits), AIFF (44.1-192kHz; 16/24-bits), and DSD (2.8/5.6MHz; 1-bit) - the player can recognize 1,000 folders per disc and 2,000 files per folder.
High-Resolution DAC:
In addition to an SACD/CD player, the SA-10 is also a fully-functional digital-to-analog converter (DAC) for music stored on a home computer, as well as having conventional digital inputs for existing source components. The optical & coaxial digital inputs can handle files at up to 192kHz/24bit. In addition, the player's digital input section includes a USB-B asynchronous input for the direct connection of a computer and is compatible with PCM and DXD music files at up to 384kHz/32bit, as well as DSD2.8MHz, DSD5.6MHz, and DSD11.2MHz. There is also a USB-A input for connecting a USB MSC device or Apple iOS device.
Isolated Signal Path: What's more, the digital input section is completely isolated, to avoid any electrical noise from connected components, a particular problem when computers are used as a source, from finding its way into the signal-path.
1-Bit Conversion Technology: The digital-to-analog conversion also takes full advantage of the 1-bit conversion technology found in past flagship Marantz players and incorporates brand-new filtering and upconversion to take advantage of this simple, but elegant solution.

Note: When USB, Coaxial, or Optical inputs are selected, the player will turn off the optical drive to achieve the higher quality sound.
Marantz Music Mastering (MMM) Filtering:
PCM and DXD inputs are all upconverted to DSD at 11.2MHz using the proprietary MMM-Stream converter within the player, and then the high-frequency signal produced is processed by the unique MMM-Conversion stage, used in place of a conventional DAC, to produce the analog output. The MMM-Stream section of the process replaces the oversampling filters normally used in the digital-to-analog conversion and allows the implementation of the Marantz Musical Mastering filtering. You can select between two Filter modes - one providing a slow roll-off and very short impulse response, the other offering the option of a medium roll-off with short pre-ringing and longer post-ringing.
Two System Clocks:
Two system clocks are used to ensure the most accurate upconversion of the incoming signal; whether it is from disc or the digital inputs. 44.1/88.2/176.4kHz files are upsampled to 11.2896MHz, while 48/96/192kHz files are taken up to 12.288MHz for maximum performance. All of this conversion is done using Digital Signal Processing with 32-bit floating-point precision for accurate, detailed sound. Combining this with the reduction to a 1-bit signal straight after the oversampling filter and Sigma Delta Modulation allows a pure DSD audio signal to be passed to the conversion section in the form of a very high-frequency stream of pulses, requiring only a very high-quality low-pass filter to remove all the superfluous high frequencies and pass the purest possible audio to the player's output stage.
USB Inputs:
The Marantz SA-10 is equipped with a rear-panel USB-B and USB-A input for music playback. The USB-B lets you playback music stored on your Windows PC or Mac computer, while the USB-A input supports music playback from USB MSC devices (such as a USB thumb drive) and select Apple iOS devices. You'll be able to control playback & search functions from the included remote control, as well as view song/artist/album information on the player's front-panel display.
USB-B Asynchronous Input (Windows & Mac Compatible): The USB-B Asynchronous input lets you playback the music library of your Windows PC (7/8/8.1/10) or Mac computer (OSX 10.9/10.10/10.11). A Windows PC will require the installation of a dedicated USB driver. Compatible music files include PCM and DXD music files (44.1-384kHz; 16/24/32-bits), as well as DSD2.8MHz, DSD5.6MHz and DSD11.2MHz (1-bit).
USB-A MSC Input (Apple iOS Compatible): The USB-A input lets you playback compressed music files including MP3 (44.1/48kH; 32-320kbps) / WMA (44.1/48kHz; 48-320kbps) / AAC (44.1/48kHz; 16-320kbps), and high res music files including WAV (44.1-192kHz; 16/24-bits) / FLAC (44.1-192kHz; 16/24-bits) / ALAC (44.1-96kHz; 16/24-bits) / AIFF (44.1-192kHz; 16/24-bits), / DSD (2.8/5.6MHz; 1-bit) stored on a USB MSC (mass storage class) devices formatted in FAT16/FAT32, such as a USB thumb drive or portable digital audio player. It can recognize up to 1,000 folders and 2,000 files per folder. The USB-A input also supports playback of music files and music apps on select Apple iOS devices (including the iPod classic, iPod nano 3rd gen and newer, iPod touch 4th gen and newer, as well as the iPhone 3GS and newer). The USB-A input will also charge your portable digital audio player or Apple iOS device while connected. The USB-A input does support music playback from Android devices.
Optical & Coaxial Digital Inputs:
The SA-10 is also outfitted with a coaxial and optical digital input for connection to other digital audio sources. The coaxial and optical digital inputs support 2ch Linear PCM signals from 32kHz to 192kHz (16/24-bits). Dolby Digital/DTS signals are not supported.
Balanced & Unbalanced Analog Outputs:
The Marantz Reference Series SA-10 SACD player features balanced XLR and unbalanced RCA outputs. Balanced connections guard against induced noise and allow long cable runs without compromising sound quality. The analog RCA output terminals are hand-made from a solid pure copper core and plated with a nickel substrate.
Note:
In order to minimize noise from peripheral circuitry which could interfere with the analog audio signal, this unit is equipped with a peripheral circuitry off function which turns off the digital output circuit, the display, and the illumination lamp.

Discrete Headphone Amp: For music lovers enjoying their favorite recording via headphones, the SA-10 features a high-quality headphone stage with dedicated Marantz-own HDAM-SA2 amplifier modules. This unique circuit ensures a high Signal-to-Noise ratio, minimum interferences, and an overall rich sound. To work with a wide variety of headphones the gain factor can be changed from low to mid to high. It drives low to high impedance headphones effortlessly for the ultimate private listening experience. The SA-10 features a front-panel, full-size 1/4" headphone jack.
Note: The headphones circuit operation can be turned off to minimize noise from the headphones circuit which could interfere with analog audio output signals.

Custom-Made Block Capacitors: The SA-10's analog circuit is fed by an oversized power supply with customized block capacitors (4.700μF each). This guarantees in any situation of playing demanding music that no detail gets lost or diminished. In addition, the capacitor holders have been made out of copper (not brass). These improvements deliver exceptional performance under all musical conditions.

Toroidal Transformer: This unit features a toroidal transformer that produces less vibration and magnetic leakage flux compared to conventional power transformers. The materials and manufacturing process of the ring-shaped core are strictly controlled to reduce vibration, while the short-ring attached to the perimeter of the transformer reduces magnetic leakage flux.

Copper & Aluminum Construction: Like the partnering PM-10 integrated amplifier (sold separately), the SA-10 is constructed to the highest possible standards, with a double-layered copper-plated chassis for excellent rejection of mechanical and electrical interference, and casework constructed from thick non-magnetic aluminum panels and 5mm thick top lid. The player also sits on aluminum machining feet.

Front-Panel Display: The player's front-panel, the low-noise display indicates track number, playback time, and song/artist/album information (when available. The display circuit operation can be turned off to minimize noise from the LCD screen and the display circuit which could interfere with analog audio output signals.

Remote Control: The SA-10 comes with an IR remote control for wireless operation of the SACD player. The remote also operates playback & search functions for your USB connected device - including thumb drive, select Apple iOS devices, Windows PC, and Mac computer. Two RCA jacks (1 in/1 out) are provided for connecting this player and another Marantz component for system remote control purposes.

Auto Standby: The player will automatically enter standby mode when there is no input signal for approximately 30 minutes.
Warranty
1-year Manufacturer's Warranty
Specifications:
Product Highlights:
Stereo playback for SACDs, audio CDs, CD-Rs, CD-RWs, and DVD-Rs (including MP3 and WMA discs)
Rear-panel USB input (type A) for USB flash drive, iPod®, iPhone®, or iPad®
Rear-panel asynchronous USB input (type B) for audio playback of stored computer or streaming music files

USB-DAC function supports high-resolution PCM files up to 32-bit/384kHz, DSD files up to 11.2 MHz, and DXD files
Windows® PCs require free driver download from Marantz website prior to computer audio playback

The new SACD-M3 transport mechanism for the best performance and sound quality
Marantz's Hyper Dynamic Amplifier Modules (HDAM) offer exquisite detail and dynamic range while reducing noise
Selectable digital filters for fine-tuning sound
All PCM- and DXD-based sources are upsampled to 1-bit DSD at 11.2 MHz
Toroidal transformer with copper-plated shielding
Rigid double-layered copper-plated chassis and aluminum feet
Balanced XLR outputs
Stereo RCA outputs
Optical and coaxial digital audio inputs for use in DAC mode

Accept high-res PCM audio up to 24-bit/192kHz

Optical and coaxial digital audio outputs for CD
Full-size headphone output with volume control
High-quality headphone amplifier featuring HDAM SA2 amplifier modules
SACD specs:

Frequency response: 2-60,000 Hz
Signal-to-noise ratio: 112 dB
Dynamic range: 109 dB

CD specs:

Frequency response: 2-20,000 Hz
Signal-to-noise ratio: 104 dB
Dynamic range: 98 dB

Remote control
Detachable power cord
17-3/8"W x 5-1/16"H x 18-1/4"D
Weight: 18.55KG.
What's in the Box:
SACD player
Wireless remote (RC004PMSA)
2 "AAA" batteries
6' AC power cord
5' Stereo RCA cable
29" Mono-RCA cable
Owner's Manual
Warranty Information