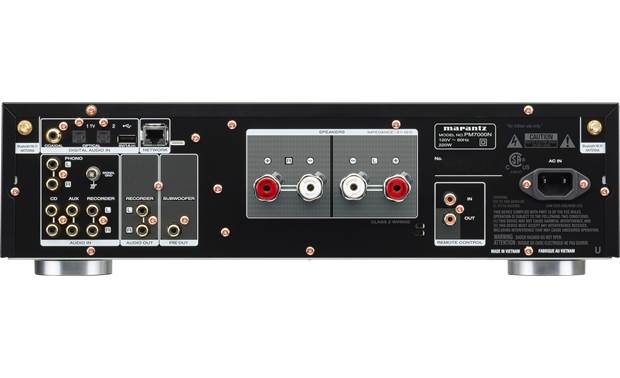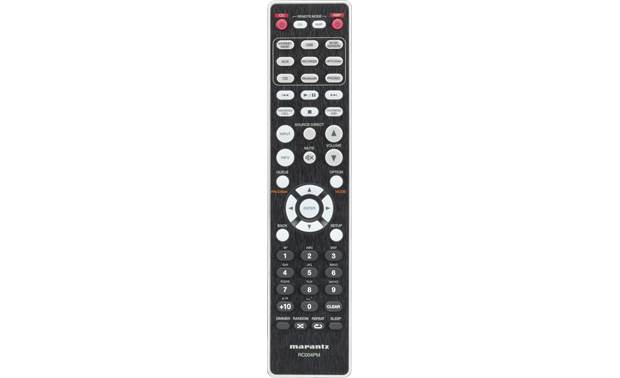 Marantz PM7000N - Integrated Stereo Amplifier with HEOS Built-in, Bluetooth®, and Apple® AirPlay® 2
About the Marantz PM7000N
High-quality Analog and Digital Sound
The Marantz PM7000N integrated amplifier specializes in delivering music accurately, with plenty of clean power for precise, dynamic stereo sound. This integrated amp can handle audio sources that you plugin, like a turntable and CD player. Plus, its HEOS Built-in technology makes it easy to listen to your favorite music streaming services and your collection of digital audio files.


Drive Your Speakers With High-current Power
The PM7000N's power supply features a beefy toroidal transformer with high-current storage capacitors, so the amplifier can handle demanding 4-ohm speakers. There's plenty of power in reserve to faithfully render dynamic peaks in the music.

Convenient Wired Connections
The PM7000N has plenty of analog and digital connections. It features four stereo RCA inputs, including an input for your turntable that's compatible with moving magnet phono cartridges. The back panel also has a coaxial digital and two optical inputs for connecting digital sources. And there's a Type-A USB port for connecting a thumb drive full of music, too.

Digital sources benefit from a 24-bit/192kHz digital-to-analog converter that provides high-performance playback.
Set Up a Wireless Whole-home Audio System With HEOS
With built-in HEOS technology, the Marantz PM7000N can be easily integrated into a wireless multi-room audio system. Stream music to HEOS wireless speakers and components in different rooms, and control each room's speakers independently with the free mobile HEOS app. The app lets you control playback, browse music sources, and select which rooms you want to use. Play the same music throughout your home, or listen to something different in each room.

Key Features
Power to Suit Your Audio Preference:
2ch fully discrete current feedback integrated Hi-Fi amplifier; 60W per channel (8-ohm, 20Hz – 20kHz)
Wide range of connectivity:
Four analog inputs, one analog output, one coaxial input, two optical digital inputs and one USB-A for high resolution audio files
Marantz Proprietary HDAM-SA3 Circuit:
Wider dynamic range with lower distortion for the output stage
Flexibility for all Configurations:
Tone control to tune sound to your exact specifications and dedicated subwoofer output for evenly dispersed bass, no audible peaks or dips
Newly Designed Electric Volume Circuit:
Use the latest volume control IC to realize better channel separation, dynamic range, and distortion-reduction
Play Vinyl with Exceptional Clarity:
Integrated phono input with newly design FET input stage to improve signal purity and sound
Premium Marantz SPKT-1+ Speaker Terminals:
Improved connection to speakers
Stream Music From Your Favorite Sources:
Play songs from TuneIn, Internet Radio, Pandora, Spotify, SiriusXM, Amazon Prime Music, TIDAL and more via AirPlay 2, Bluetooth and the HEOS app (music streaming services may vary by region)
Speak Your Commands:
Supports Amazon Alexa, Google Assistant and Apple Siri voice agents for seamless voice control
High-performance, High-resolution Audio Playback:
Ability to decode high-resolution audio ALAC, FLAC and WAV lossless files up to 24-bit/192-kHz — plus, DSD 2.8MHz and 5.6MHz tracks for high-resolution listening
Built-in Bluetooth and Wi-fi With 2.4ghz/5ghz Dual Band Support:
Improved network stability even in Wi-Fi crowded homes
Works with your TV Remote:
Program the PM7000N to work with your TV remote and easily adjust volume up, volume down, mute and source selection

Features:
Audio Section
Current Feed Amplification:
Current Feedback amplification, a renowned Marantz-proprietary circuit technology, is thoughtfully designed to match the requirements of Super Audio hi-res music for wide-bandwidth, high-speed reproduction. The impedance at the Current Feedback point is limited, generating a very low phase shift. Marantz Current Feedback amplifiers reduce the need for phase compensation by minimizing Negative Feedback (NFB). This simplifies the signal path and results in a high through-rate, excellent transient response and superb sonic transparency across the full bandwidth. Unlike conventional Voltage Feedback topology, Current Feedback renders the power amplifier nearly immune to difficult loudspeaker loads.
8-Ohm Rating: 60 watts x 2 channel at 20Hz to 20kHz with 0.02% THD
4-Ohm Rating: 80 watts x 2 channel at 20Hz to 20kHz with 0.02% THD
Marantz HDAM-S3 Technology:
Marantz developed its own discrete circuit boards called Hyper-Dynamic Amplifier Modules, or HDAMs, to replace the chip-based amps used elsewhere. Using discrete surface mount components with short mirror-image left and right signal paths, HDAMs outperform the regular integrated Op-amps dramatically in Slew Rate and noise level. The result is much more dynamic, accurate and detailed sound. Over the years, Marantz developed different HDAMs to fit the particular requirements of each player and amplifier. The PM7000N uses the high-grade SA3 version.
Toroidal Transformer:
A Toroidal transformer offers several advantages that derive from its efficiency and power capability. The shape of it lends to low levels of electromagnetic radiation and mechanical vibration, producing improved sound quality over what you might experience with dated transformer models.
Separate Power Supply Circuits:
In order to reduce power consumption in stand-by, the PM7000N features dual separate power supply circuits. While in standby the digital SMPS power supply is active so the network can wake up the PM7000N. When switching to operation mode, the SMPS power is switch off and the toroidal transformer is activated to supply the necessary high-current to reproduce the Marantz sonic signature.
Electronic Volume Control with HDAM:
A newly developed electric volume control uses the latest volume control IC couple with Marantz HDAM to deliver better channel separation, dynamic range, improved S/N ratio and distortion-reduction, while retaining the operational feel of an analog volume control device. The amplifier employs new Marantz-designed electric volume control for high linearity and best-in-class channel separation.
Shielded Digital Circuit:
To preserve the analog circuit from digital interferences or noise radiation, the digital circuit is installed into a shield case, preventing interference. The wireless digital boards can also be completely switched off independently using "Pure Modes" to avoid any interferences.
Audio Controls:
The Marantz PM7000N integrated amplifier offers Bass & Treble adjustment, 3 Pure Modes, a Source Direct Function, and an adjustable Volume Limit.
Bass & Treble: You can manually adjust the integrated amplifier's Bass (50Hz) and Treble (15kHz) from -10dB to +10dB.
Pure Modes: The PM7000N is equipped with three "Pure Modes", alloying you to disable entire broadcasting audio blocks and prevent interference when listening to analog sources. Pure Modes can be individually switch offed between network & USB-A, WiFi and/or Bluetooth to provide the best musical experience.
Source Direct Function: To ensure the shortest signal path and utmost fidelity, the PM7000N features Marantz Source Direct function, which bypasses the tone and balance control circuitry for a straight path, delivering elevated sound purity.
Volume Limit: The integrated amplifier's Volume Limit can be set to 80, 85, 90, 95, or Off (100/Max).
Optical & Coaxial Digital Inputs:
The Marantz PM7000N is outfitted with two optical (Toslink) digital inputs and one coaxial (RCA) digital input. The optical and coaxial digital inputs support 2ch PCM audio files, up to 24-bit/192kHz (not compatible with Dolby Digital or DTS). The integrated amplifier powers up automatically when sensing a digital input from a TV.
Analog Inputs & Outputs:
The Marantz network integrated amplifier features three stereo RCA line-level analog inputs and one stereo RCA line-level analog output.
MM Phono Input:
The Marantz PM7000N is equipped with an MM Phono input to connect a turntable. The PM700N integrates an FET (field-effect transistors) in its Phono input stage. This provides high input impedance, eliminates the need for AC coupling capacitors, and simplifies the signal path, lowering distortion and noise vastly improving the signal purity overall.
High-Quality Binding Posts:
The network integrated amplifier features a set of heavy-duty, dense brass binding post speaker output terminals with thick silver plating to provide the best possible contact and signal transfer with your speaker cables. The binding post terminals will accept bare wire (up to 10AWG, pin-connectors, and banana plus (single only). You can connect a pair of 8-ohm or 4-ohm loudspeakers.
Mono Subwoofer Output:
The Marantz PM7000N is outfitted with a mono-RCA subwoofer output for connecting a powered subwoofer. The integrated amplifier has a variable low pass subwoofer crossover that can be set to 40, 60, 80, 100, or 120Hz.
1/4" Headphone Jack:
The PM700N features a front-panel 1/4" headphone jack to plug in your set of headphones (the speakers will automatically mute when headphones are plugged in).
Network & HEOS Audio
Wired or Wireless Network Connection:
The Marantz PM7000N offers a wired or wireless network connection. Either network connection gives the network integrated amplifier access to HEOS music apps (like Pandora, Amazon, or Tidal), TuneIn Internet Radio, Spotify Connect, your music library on your Apple iOS or Android device, as well as music content on your Windows PC or DLNA music server.
Ethernet Jack: The Marantz PM7000N network integrated amplifier is fitted with an RJ-45 Ethernet (LAN) port to make a wired connection from the network integrated amplifier to your home network.
Built-in WiFi: The network integrated amplifier also offers built-in WiFi (IEEE 802.11 a/b/g/n; 2.4/5GHz) for a wireless network connection; WPS, WEP, WPA-PSK (TKIP), WPA-PSK (AES), WPA2-PSK (AES) security protection is supported. Wireless network setup can be done via WPS button, Access Point Scan, Manual, or shared through your Apple iOS device (7.0+).
TuneIn Internet Radio:
The Marantz PM7000N includes access to more than 100,000 free internet radio streams from all corners of the globe via the built-in TuneIn online music service. Simply select TuneIn from the network integrated amplifier's menu using the included remote and browse among the 100,000 stations neatly organized into popular categories and select a station that appeals to you.
Spotify Connect:
If you subscribe to Spotify and have the Spotify App on your Apple iOS or Android mobile device, you can stream Spotify to the Marantz network integrated amplifier. Spotify is a digital music service that gives you on-demand access to one of the largest music libraries in the world (over 15 million tracks and counting). Spotify makes it easier than ever to discover, manage, and share music with your friends. You can browse music by artist, album, track, or most popular; and create your own music library with customized playlists.
HEOS Music Apps:
With built-in HEOS technology and the HEOS app (for Apple iOS 9.0+ and Android OS 5.0) on your compatible Apple iOS or Android mobile device, you'll be able to stream a wide variety of online music services (fees may apply), plus the music library of your mobile device through the Marantz network-integrated amplifier.
Online Music Services: Using the HEOS app, you'll be able to stream your favorite online music services like Amazon Music (including HD), Pandora, TIDAL, iHeart Radio, SiriusXM, Napster, TuneIn, & Spotify (some services will require a paid subscription, purchases, and/or other fees). The HEOS app on your Apple iOS or Android device will serve as the controller for these apps and provide song/artist information with Album Art. You can create a "Favorite" station list, so you can quickly access your favorite internet radio stations and online music channels.
Mobile Device Streaming: Using the HEOS app on your Apple iOS or Android mobile device, you are able to stream your device's music library to the Marantz network integrated amplifier. You'll be able to browse your music library by Artist, Album, Genre, and Song; control music playback functions like Play/Pause and Previous/Next Track; and view song/artist info with Album Art from the app on your compatible mobile device. You can even type in an artist name or song title to find music in your mobile device's library.
Notes:

Prior to using the HEOS system, you'll need to setup up your free HEOS account. Your HEOS account remembers all your settings and preferences such as all your music service logins and HEOS playlists. When you'd like to add multiple smartphone or tablet controllers to your system, you only need to sign in to each new device with your HEOS user name and password. Instantly all your music services and HEOS playlists are available in the new controller too.
If you prefer, HEOS supports multiple accounts in a single household. This way, each family member can enjoy their own personalized Pandora, Spotify, or other online music account settings and still share all the same speakers in the home.
HEOS Wireless Multiroom Audio:
Built-in HEOS technology enables the PM7000N to become part of the HEOS wireless multi-room audio eco-system, allowing you to stream and control all of your local and online music effortlessly from anywhere in your home with the HEOS App on your compatible Apple iOS or Android mobile device over a wireless WiFi network connection. The HEOS system is a true multi-room audio system that automatically synchronizes audio playback between multiple HEOS devices so that your music (up to 24-bit/192kHz Hi-Res audio) coming from different rooms is perfectly in sync and always sounds amazing. You can play the same audio source in every room or any combination of rooms you choose, including a different song in every room.
Systems & Groups: The HEOS wireless multi-room sound system can support up to 32 HEOS speakers, receivers, players, amplifiers, and/or pre-amplifiers (all sold separately) on a single wireless network (IEEE 802.11 g/n; 2.4/5GHz). You can join or group up to eight individual HEOS devices into a group that functions as if they were a single source. The HEOS eco-system is flexible enough where you can create up to 16 Groups (2 Heos devices per Group). You can easily group 16 rooms together with Party Mode by simply using a "pinch" gesture.
Compatible Sources: The following sources can be distributed through the HEOS multi-room audio system -

TuneIn Internet Radio & Spotify Connect
HEOS music apps (including Amazon, Pandora, Tidal, and more)
Windows PC & DLNA music servers
Bluetooth & USB audio (AirPlay is not supported)
Music libraries stored on your Apple iOS or Android mobile device.
Analog & Digital inputs (including Optical, Coaxial, Line-Level, and Phono)
DLNA 1.5 Certified:
The PM7000N is DLNA (Digital Living Network Alliance) 1.5 and Windows 7/8/10 compliant for audio networking. This means it's easier for you to access and enjoy digital music stored on your Windows PC. The network-integrated amplifier can wirelessly playback High-Res music content from your PC while using the included remote control to browse your music library. The unit supports ID3-Tag (ver.2) and META tag information; so song title, artist name, and album name can be displayed on the unit's front-panel LCD. The Marantz PM7000N supports the following audio formats, sampling frequencies, and bit rates via its wired network connection.
AirPlay/Bluetooth/USB Integration
AirPlay 2:
AirPlay 2 is an advanced and easy-to-use wireless multiroom audio platform for iTunes, Apple Music, and other compatible Apple iOS apps. With AirPlay 2 you can play any audio from your Apple iOS device (running iOS 11.4 or later) or Mac computer (running OS X 10.13.2) on the network integrated amplifier and other compatible AirPlay, 2 speakers, throughout your home. You can choose to play audio in one room, play the same audio in grouped rooms, or play the same audio in every room. If you are an Apple Music subscriber, you can even play different music in different rooms (you can control and group directly from Apple's Music App and Home app on your Apple iOS device). You'll be able to ask Siri-enabled devices (like your Apple iPhone, iPad, or Watch) to control the playback of your Apple Music content on the network integrated amplifier. You can even watch videos and movies from YouTube and Netflix on your compatible Apple iOS device or Mac computer with perfectly synced audio on the network integrated amplifier.
Built-in Bluetooth:
The Marantz PM7000N features built-in Bluetooth 4.1 with a 98.4' wireless range for music streaming (A2DP 1.2) and control (AVRCP 1.5). You'll be able to wirelessly connect to smartphones (including iPhone & Android), tablets (including iPad & Android), laptops (including Microsoft Surface & Macbook), computers (including Windows PC & Mac), and other Bluetooth-enabled devices. Up to eight Bluetooth devices can be remembered by the PM7000N, so family members, as well as friends, can enjoy their favorite tracks (only one device can be used at a time).
Wireless Music Streaming: You'll be able to wirelessly stream stored music, music apps, and other audio content from your Bluetooth-enabled source device to the Marantz network integrated amplifier. The network integrated amplifier supports the Bluetooth SBC codec only.
Wireless Music Control: You will also be able to control basic playback functions (Play/Pause, FF/RW, Skip) using the network integrated amplifier's remote control. Advanced music operation will still need to be handled from your Bluetooth-enable device. There is no song/artist information display on the network integrated amplifier. Continue to use your Bluetooth device's screen to view song/artist info.
Notes:

Bluetooth hands-free communication for making and answering phone calls is not supported.
Due to the differences in Bluetooth technology, some Bluetooth enabled devices may be incompatible, function improperly, or may not support all features when used with the Marantz network-integrated amplifier.
Rear-Panel USB Input:
The Marantz network-integrated amplifier is equipped with a rear-panel USB (type-A) port that allows you to enjoy a variety of music files from a USB mass storage class memory device; such as a USB thumb drive or portable HDD (a portable hard disk drive will require an external power supply). Compatible USB storage devices must be formatted in FAT 16 or FAT32 (a FAT16 device can have up to 2GB of storage, while a FAT32 device can have up to 2TB of storage). The unit can recognize up to 500 folders/500 files. You can use the network integrated amplifier's remote control to navigate your stored music files on your connected USB memory device. Song/artist information will display the network integrated amp's front-panel LCD. USB devices that can be charged via USB will be charged when plugged into the network integrated amplifier's USB port (5V/1A); even in standby mode.
App, Voice, & Remote Control
HEOS App:
You'll need to download the HEOS App (for Apple iOS 8.0+ and Android OS 4.0) onto your compatible Apple iOS or Android mobile device to enjoy HEOS functionality through the PM7000N network integrated amplifier. Using your compatible mobile device and the HEOS app, you can setup, browse, explore, and control HEOS system right in the palm of your hand, from anywhere in your home. Your compatible Apple iOS or Android device must be connected to the same home wireless (WiFi) network as the network integrated amplifier and your entire HEOS system. The HEOS app consists of 4 control screens.
Settings: The "Settings" screen enables you to connect one or more HEOS speakers, network integrated amplifiers, amplifiers, and/or pre-amplifiers to your home's wireless network.
Rooms: From the app on your Apple iOS or Android device, you can select which rooms you want playing. You can play the same music in multiple rooms by grouping rooms together, or you can listen to a different source in each room.
Music/Sources: You can select what music and which source you want to listen to from the app. Choose from online music services like Pandora, Spotify, TuneIn, Tidal, etc.; your music library on your Apple iOS or Android device; Windows PC or DLNA music server, and USB or Bluetooth audio. You can also select music from Playlists you've created, Favorites you've saved, and your recent listening History.
Now Playing: The "Now Playing" screen displays song, artist, and album information; along with Album Art. You also get basic playback controls like Play/Pause and Previous/Next Track, plus Volume controls Up/Down and Mute. In addition, the "Now Play" screen functions unique to the selected online music service or music library.
Alexa Compatible:
HEOS and Amazon Alexa customers can now enjoy the convenience of Alexa voice control plus high-quality wireless home audio. In addition to controlling your HEOS components with the HEOS app on your mobile device or tablet, you can now control them with Amazon Alexa voice technology and an Amazon Alexa device (such as the Echo or Echo Dot, sold separately). Your HEOS components and the Alex-enabled devices must be on the same network. Voice control features include -
Alex voice commands include Volume (up/down, specific volume number, & mute); Playback (Play, Pause, Stop, Next, Previous, Resume); and Power on/off. And thanks to the latest firmware update, you can even use Alexa to switch inputs on HEOS enabled receivers and sound - bars.
You can group your HEOS-enabled devices using the HEOS app with an Alexa-friendly name. Once they are grouped, Alexa voice commands will control the group as a whole. If you want to play audio content from only one HEOS-enabled device in the group, you must ungroup the device within the HEOS app.
You are able to use voice commands to search for songs, albums and artists and even podcasts and internet stations from HEOS & Alexa compatible music apps - like Amazon Music, Pandora, TuneIn, iHeartRadio, Spotify Connect, & SiriusXM.
Google Assistant Support:
Ask your Google Home, the Google app (for Apple iOS 11.0+ and Android OS 5.0+), or other devices with Google Assistant built-in to control HEOS content across your listening environment. Once you start music in the HEOS app, you can ask the Google Assistant to control volume, play, pause, skip tracks, and more. Once you have grouped your HEOS-enabled devices using the HEOS app, you can use the Google Assistant and voice commands to control a group of HEOS devices as a whole. Make sure the unit has the latest HEOS software and firmware update installed.
IR Remote Control:
IR Remote Control: The Marantz PM7000N includes an ergonomic IR remote control for wireless operation of the network integrated amplifier and its various audio sources. The PM7000N also features IR Learning, enabling you to turn volume up, down, on or off with your TV remote. In addition, there are 3.5mm IR control jacks (In/Out) used to connect a CD player with a remote control jack.
Convenience Features
Front-Panel Display: The front-panel display indicates source selection, song/artist/album information (no album art), sampling frequency data, and menu settings. The display brightness can be adjusted between four levels. Switching the display off reduces a source of noise that affects sound quality, enabling higher sound quality playback.

Favorites: The Favorite function allows you to register your favorite stations and files in the Favorite List in advance so that you can call and listen to the stations or files right away. The content that you can register and recall are Internet radio stations, online music services, DLNA music servers, and USB. You can register up to 50 items in the Favorite List.

Gapless Playback: Many live and classical albums have no gaps in the music. Gapless playback ensures that there are no pauses between audio files. This provides playback with no interruptions, the way it was meant to be heard. Compatible with FLAC, WAV, ALAC, and DSD music files via USB or DLNA.

Sleep Timer: This function allows you to automatically set the power to standby after a predetermined amount of time has passed; set the sleep timer up to 90 minutes in 10-minute increments.

Auto-Standby: If there is no input signal or operation for 1 to 99 minutes, the Marantz network integrated amplifier will automatically go into Standby mode.

Software Updates: Using the amplifier's network/internet connection, you can check for and update the latest firmware from the online Marantz server. You can also set the integrated amp automatically download the latest firmware and software updates when it is in standby mode. Visit Marantz's Owner's Circle for access to downloads to keep the Marantz integrated amplifier up-to-date.
Specifications:
Product Highlights:
60 watts x 2 channels into 8 ohms (20-20,000 Hz) at 0.02% THD
80 watts x 2 channels into 4 ohms
4-ohm capability allows use with a wide range of speakers
24-bit/192kHz digital-to-analog converter for high-performance playback of digitally connected sources
Supports high-res PCM-based files up to 24-bit/192kHz and DSD files up to 5.6MHz
High-current toroidal power transformer for clean playback and smooth handling of demanding speaker loads
Hyper Dynamic Amplifier Module and current feedback amplification for accuracy and control under high-drive conditions
Built-in Bluetooth® for streaming music from compatible phones, tablets, and computers
Built-in headphone amplifier
Front-panel tone controls (treble and bass)
Source Direct mode bypasses tone control circuits for a cleaner sound
Frequency response 5-100,000 Hz (±3dB)
Signal-to-noise ratio: 115 dB (line-in), 87 dB (phono)
Remote control included
HEOS Built-in technology:
Built-in Wi-Fi for listening to music from a networked PC, internet radio, and music services
Includes support for Pandora®, SiriusXM, and Spotify® (subscription required for some services)
Free HEOS app offers easy Wi-Fi control, settings adjustments, and music selection and playback
Works with Amazon Alexa and Google Home voice control assistants
Apple AirPlay 2 lets you stream directly from an iPhone® or iPad® and ask Siri to play Apple Music
Supports multi-room audio with compatible wireless speakers
Connections:
2 optical digital and 1 coaxial digital audio inputs
Type-A USB port on the rear panel for connecting a portable drive
4 stereo RCA audio inputs (including a phono input for use with a moving magnet cartridge)
Stereo RCA audio outputs for recording
1/4" headphone output on the front panel
Binding-post speaker terminals
Mono RCA subwoofer output
Ethernet port for connection to a wired network
Dimensions and Warranty:
17-3/8"W x 4-15/16"H x 14-15/16"D
Weight: 10.80KG. 
What's in the Box:
Integrated amplifier
6' AC power cord
Remote control (RC004PM)
2 "AAA" batteries
2 Bluetooth/WLAN antennas
Quick Start Guide Safety Instructions
Notes on Radio
Warranty Information
Spotify note
Heos brochure