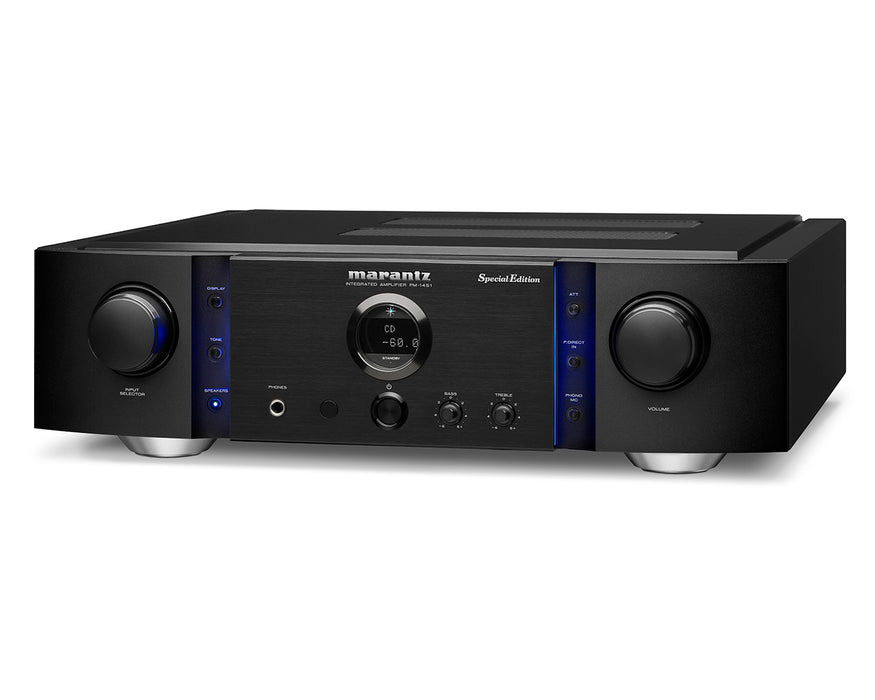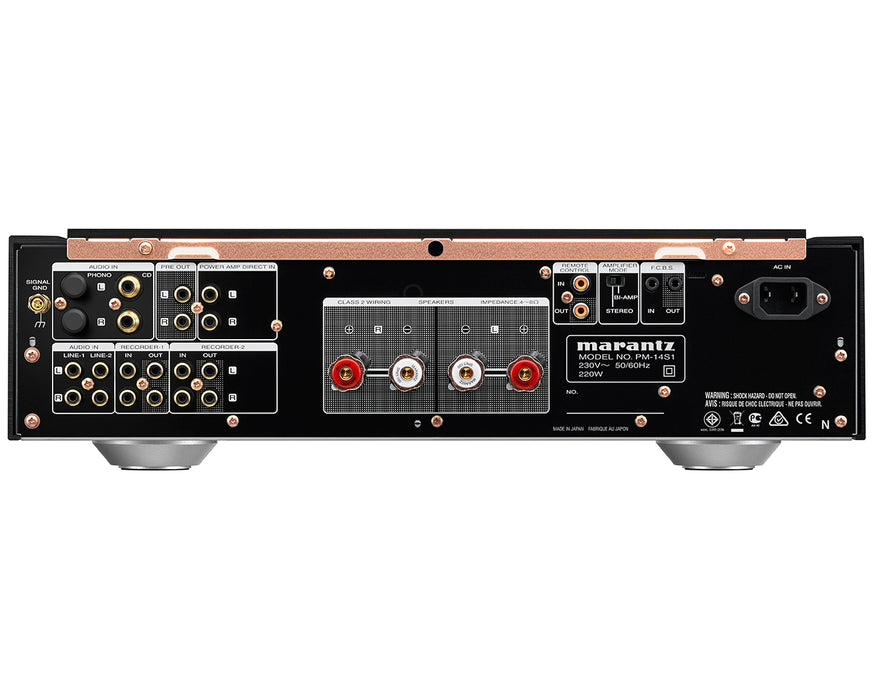 Marantz PM-14S1SE Integrated Stereo Amplifier
About the Marantz PM-14S1SE
New Premium Products from Marantz are always a reason for the audiophile community to celebrate. And the new 14 Series Special Edition thrusts the audio experience to new levels? because this Special Edition has been lovingly fine-tuned and passionately optimized for High-Resolution files: marking the new era in music adoration. Available in black or champagne color, the new 14 Series Special Edition is the epitome of extreme quality and is, quite simply, a masterpiece. As you would expect from such an elite amp, it includes exceptional quality components such as Toroidal transformer and subsystems throughout its construction. The heavy 5mm thick aluminum top lid and highly rigid feet minimize vibration to guarantee purest audio signal treatment. In addition, it incorporates improved customized components, Marantz own developed HDAMs and the use of a more efficient electrical signal path. These elevate the audio quality to an even more sublime level. The PM-14S1 Special Edition comes with a remote controller, which features a stylish black anodized aluminum top, and which can also control the SA-14S1 Special Edition Player. The final touch of elegance is supplied by the special Marantz-made solid copper speaker terminals, for effortless and powerful signaling to your loudspeakers. This is luxury to the extreme.
Features:
Marantz HDAM Technology
Featuring discrete circuit components, as opposed to an integrated circuit, our exclusive HDAM technology preserves analog signal purity, delivering wideband audio with expansive dynamic range along with an inaudible noise floor. A total of 24 HDAM SA2 and SA3 units are employed in the phono, line level, headphone output, pre-amp, and power amp stages.

Fully Discrete High Current Amplifier Stages
For compatibility with the widest range of speaker impedance, the power amplifier stages feature high current power output devices. For maximum channel separation, each amplifier stage features segregated circuitry along with individual massive extruded aluminum alloy heat sinks with a large effective radiating area that provide fan-less and noise-less heat dissipation. The amplifier is rated at 90 watts per channel into 8 ohms and 140 watts per channel into 4 ohms, assuring high stability and wide dynamic range, even with lower impedance speakers.

Rigid chassis, thick Aluminium top cover, and heavy feet
It is all about creating a good foundation before starting to take care of the processing and amplification of sensitive audio signals. With a solid base, we ensure that vibration will be kept to a minimum not influencing the audio signal by micro-phonic effects to keep it unaltered.

Multiple Analogue Inputs and Outputs
In addition to the phono and CD analog inputs, there are two additional line-level inputs and two pairs of recorder input/output jacks that together let you connect multiple sources and recorders. There's also a power amp direct input that lets you use the PM-14S1 Special Edition as a standalone stereo power amplifier for additional system configuration versatility, along with stereo pre-amp outputs that let you connect the PM-14S1 Special Edition to an external power amplifier

Dedicated Headphone Output
Employing our exclusive HDAM discrete modules, the headphone circuit delivers superb audio fidelity with the widest range of headphone types and impedance, including low impedance headphones.

Gold Plated Connectors
The analog input and output connectors are gold plated for optimum signal transfer and long term stability.

Customized Speaker terminals
The carefully treated and amplified audio signal reaches the connected speaker cables through customized speaker terminals made out of pure copper. The perfect transmission chain will preserve every note.

Source Direct Mode
For the purest audio fidelity, the PM-14S1 Special Edition is equipped with Source Direct function, which bypasses unneeded audio circuits for a straight-through signal path.

System Remote Control
The elegant remote control can also be used to control the matching SA-14S1 Special Edition Super Audio CD Player. The PM-14S1 Special Edition features remote control input and output jacks for additional remote control configuration flexibility.
Warranty
1-year Manufacturer's Warranty
Specifications:
Product Highlights:

Channels: 2
Current Feedback Topology: Yes
Phono EQ: Standard / Current Feedback / Constant Current Feedback: No/No/Yes
HDAM Version: SA3, SA2
Power Transformer: Toroidal / El: Yes/No
High-Grade Audio Components: Yes
Customized Components: Yes
Symmetric PCB Layout: Yes
Aluminum extrusion heat sink: Yes
Balance / Bass / Treble / Loudness: Yes/Yes/Yes/NO
General:
Metal Front Panel: Yes
Power Consumption in Watt: 220 W
Standby Consumption in Watt: 0,2 W
Auto Power Off: Yes
Detachable Power Cable: Yes
Remote Control: RC001PMSA
System Remote Function: Yes
Tech:

Power Output (8 / 4 Ohm RMS): 90 W / 140 W
Frequency Response: 5 Hz-100 kHz
Total Harmonic Distortion: 0.02 %
Damping Factor: 100
Input Sensitivity: MM: 2.7 mV / 47 kOhm
Input Sensitivity: MC: 270 µV / 100 ohm
Signal to Noise Ratio: MM / MC 86 / 75 dB
Input Sensitivity: High level: 240 mV / 20 kOhm
Signal to Noise Ratio: High level: 106 dB (2V input)
Input Sensitivity: Power Amp Direct IN 1,7V / 20 ohm
Signal to Noise Ratio: Power Amp Direct IN 125 dB
Input/Output:
Audio Inputs: 6
Phono Input: MM / MC: Yes / yes
Audio Outputs: 2
Pre-out / Main-in: 1 / No
Power Amp Direct IN/Yes
Gold Plated Cinch: Yes
Speaker Terminal: Screw / Marantz / WBT No / Yes SPKT-100 / NO
Number of Terminals: 2
D-Bus: Yes
Floating Control Bus (3.5 mm mono jack x 2): Yes
Headphone Out: Yes
Weight: 19.1 kg
Depth: 17.83"
Height: 5"
Width: 17.32"