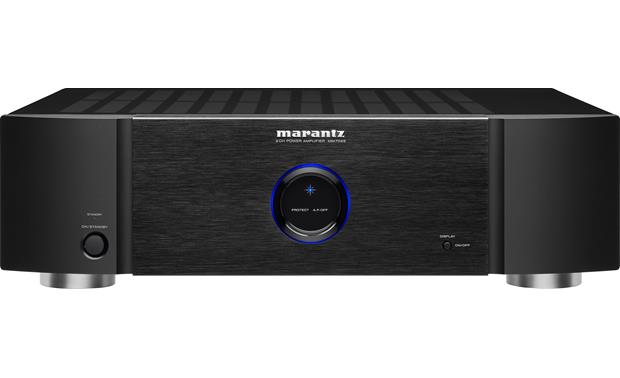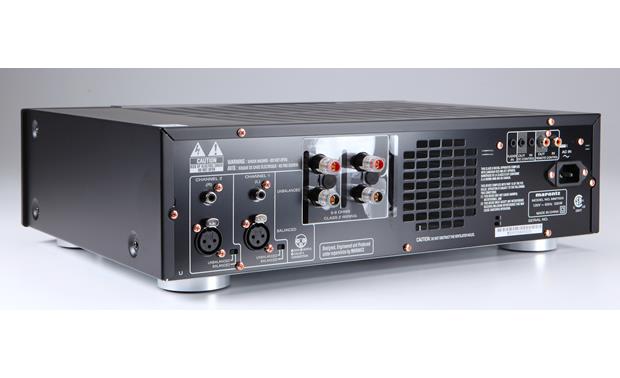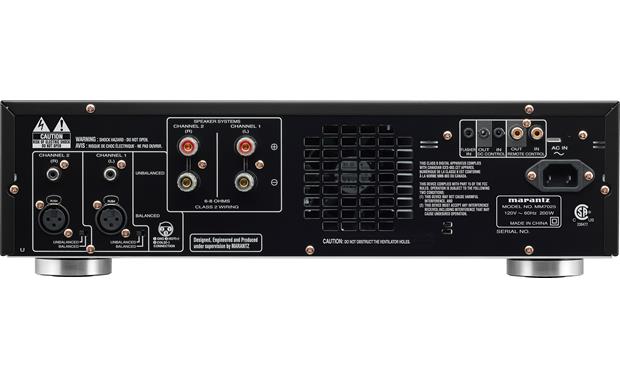 Marantz MM-7025 Power Stereo Amplifier 140 Watts x 2Ch.
About the MARANTZ MM-7025 
Massive Power for a Wide Range of Audio Applications
Connect this 2 x 140-watt beast to the preamp outputs of a receiver or a wireless music player such as the the Sonos ZP90. Add a pair of speakers that can handle the high power, and get ready for a breathtaking sonic thrill ride.

Use the MM7025 in your main listening room to drive your primary speakers. Expect to hear tighter, weightier bass, and wider dynamic swings that bring you closer to the sound of live music. (If your speakers can be biamped, this Marantz makes a superb choice for driving the low-frequency half of your system.)

Audiophiles using a preamp or A/V processor with XLR outputs can connect to this amp's XLR inputs and take advantage of the superior sound quality they provide. You could also use this amp to power a second zone. If you're using a speaker selector to divide the second-zone power among multiple rooms, don't worry. There's plenty of juice here to go around.

The MM7025's current-feedback amplifier design provides for nuanced reproduction of fine musical detail and plenty of sonic muscle to support chest-thumping transient peaks. HDAM-SA3 circuits provide high-speed signal response for precise sound.

Features:
Current Feedback: The MM7025 is equipped with a current feedback circuit and uses the same complimentary push-pull circuit as the far more expensive SM-11S1 power amp, providing minimal phase shift and excellent detail resolution. The current/voltage conversion section has a Wilson current mirror circuit to improve circuit stability and high-speed processing.


Instant Power Supply: The final stage of the power amp uses the same LAPT (high efficiency power transistor) as the SM-11S1, offering instant power supply capability. The power section has a large transformer and Marantz original 15,000 μF / 71 V x 2 block condensers to provide a powerful, presence filled sound.

Heat Dissipation: The chimney-shaped heat sink efficiently processes the heat emitted from each side of the amp and a quiet cooling fan removes the heat from the chassis. A high-sensitivity temperature sensor IC is used to control the cooling fan's rotation speed to match the amount of heat generated by the amp.

Auto Standby: With the Auto Standby Mode is turned on this unit will enter standby mode after approximately 30 minutes (continuous) with no input signal.

Speaker Outputs: The speaker output terminals are binding posts; they are not 5-way posts, but will accept single banana plugs, pin connectors, and bare wire. A plastic collar prevents their use with spade lugs and they're too far apart for dual banana plugs.

Inputs: There are RCA (unbalanced) and XLR (balanced) inputs. Separate switches for the left and right channels specify which is engaged; useful if you're not using the MM7025 as a stereo amp.

Display: A blue indicator on the front panel display and a blue ring around the display light when the power is on; the blue ring around the display can be turned off if you prefer. Separate red indicators on the display light when the protection circuit or Auto Standby feature is engaged.

Remote Power Control: This unit is equipped with a remote power control function; when a compatible Marantz preamp is connected, this unit's power can be switched on and off simultaneously with the preamp. The RCA Remote Control input is connected to the preamp and the Remote Control output can be connected to other compatible Marantz components; CD player, DVD player, Tuner, etc.

Flasher Input: The IR flasher input is useful with universal remote controls; power and mute remote codes are available for the MM7025.

DC Control: The 3.5mm mini-jack input allows the MM7025's power to be controlled by another device (5-15 V). The DC Control output allows the MM7025 to control the power of another compatible device (12 V/44 mA).

Specifications:
Amplifier Type: Class AB
Power: (20 Hz-20 kHz, 0.08% THD, both channels driven)
8 Ω: 140 watts x 2
6 Ω: 170 watts x 2
Input Sensitivity:

RCA: 1.2 V/22 kΩ
XLR: 2.4 V/30 kΩ
Signal to Noise Ratio: 105 dB
Power Consumption: 330 watts
Standby Power: 0.2 watts
Product Highlights

2-channel Power Amplifier
140 Watts X 2 Into 8 Ohms (20-20 Khz At 0.08% THD); 170 Watts X 2 Into 6 Ohms
Frequency Response: 8-100,000 Hz (±3 Db)
Signal-to-noise Ratio: 105 DB
Discrete Current Feedback Circuit For Accurate, Natural Sound At All Volume Levels
Oversized Power Transformer For High Current Levels
One RCA And One XLR Input For Each Channel
Dc Trigger Input/output
IR Flasher Input
Gold-plated Binding Post Speaker Terminals
Detachable Power Cord
17-3/8"W X 5"H X 15"D
Weight: 10 Kg
Warranty: 1 Years
Features And Specs
General
Number Of Channels : 2
Power Output Per Channel (8 Ohms) : 140
Power Output Per Channel (6 Ohms) : 170
Power Output Per Channel (4 Ohms) : ---
Frequency Response : 8-100k
Thd : 0.08%
Speaker Outputs : 2
Width (Inches) : 17-3/8
Height (Inches) : 5-1/16
Depth (Inches) : 15
Parts Warranty 1 Years
Number Of Inputs : 2
Level Controls : No
Speaker Connectors : Posts
What's In The Box
2-channel Power Amplifier
68" AC Power Cord
User Guide (English/ French/ Spanish)
Warranty Information