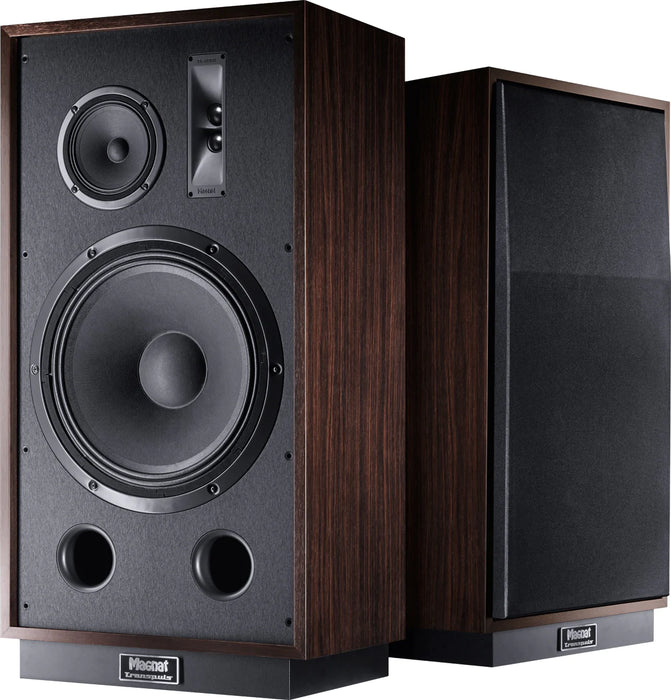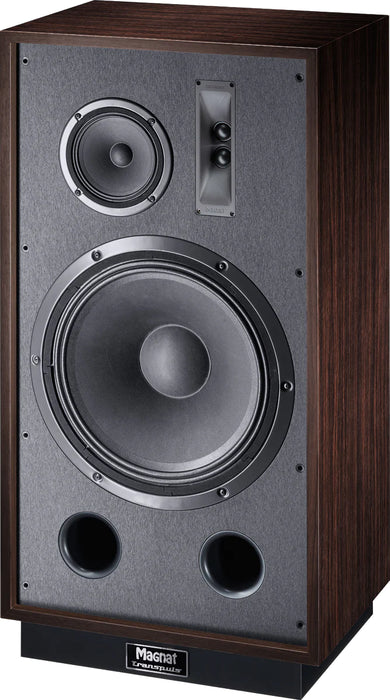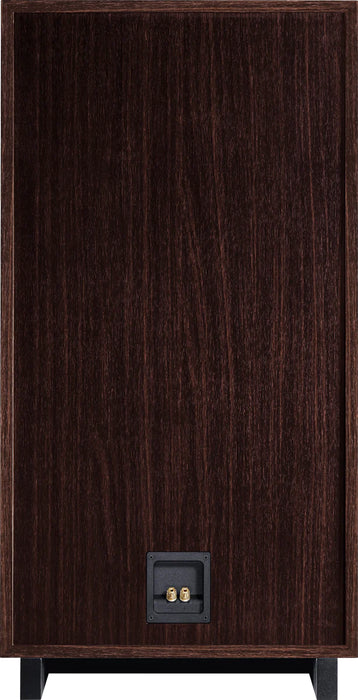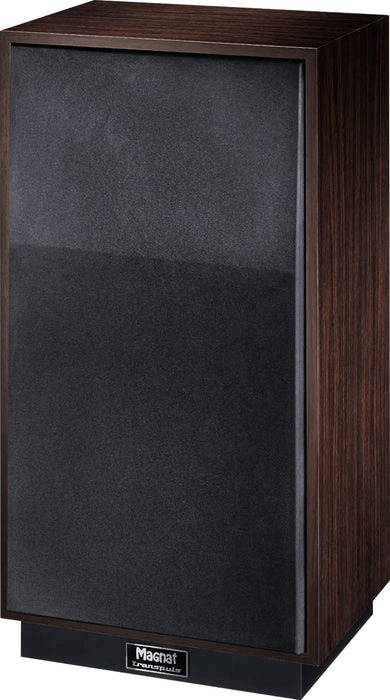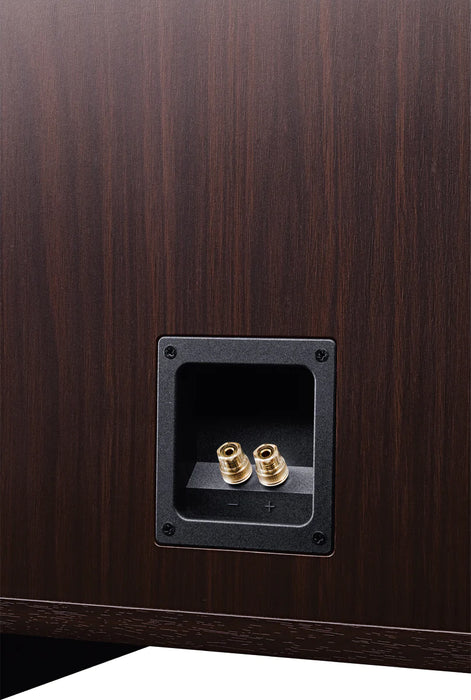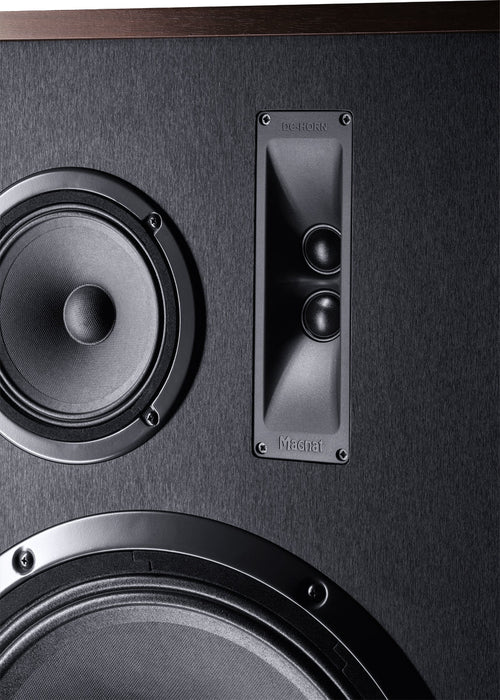 Magnat Transpuls 1500 Floor Standing Speaker (Pair)
Magnat Transpuls 1500 
Features
State-of-the-art technologies offer a powerful, lively sound and a very strong bass
Double-compression tweeter horn with two 1" fabric domes for excellent dynamic and natural sound
Performance-optimized midrange for high efficiency
Deep and precise bass reproduction by a 15" woofer in a unique Controlled Reflex bass cabinet
Sturdy MDF cabinet with high-quality dark wood décor and removable cloth cover in retro design
Full-size retro floor-standing speaker with 15" woofer and dynamic tweeter horn
The Magnat Transpuls 1500 is equipped with classic components of this loudspeaker category, but developed using modern development tools such as our Klippel® laser measuring system. The premier class caliber of 38 cm/15 inches has been used in the woofer. We did not want to compromise on size at the heart of the Transpuls 1500. But it is not only the diameter of the woofer that determines the bass power and dynamics; for perfect functioning, the internal volume also has to be precisely defined and implemented structurally.
The speaker our parents always warned us about
Music has a new name: Transpuls. Behind it are pure musicality, brute force, a wonderful joyful nature and an appearance that embodies all of these features to the very last detail. A Transpuls speaker stands out from various trends, such as slim column speakers, and calls out: "Here I am! Let me play!" Transpuls is the speaker that our parents always warned us about, because it simply makes you addicted. Addicted to more, addicted to music. Nevertheless, we set up two versions. Both are ravishingly beautiful and so dynamic that it will leave the competition trembling.
Classic State Of The Art Technology
The Transpuls series not only has a look that is inspired by the glorious era of the 70s and 80s, but we have also taken the technical ingredients from yesteryear and given them an update. The high-power woofers and mid-range drivers are made of the finest, hardened paper; a membrane material that is just as important today as it was back then. Sturdy, easy to control and, when used in the right form and composition, provides an unbeatable basis for a neutral sound. All woofers and mid-range drivers are equipped with a PA fabric mount. This allows them to perform dynamic feats and gives them a high level of stamina. Probably more than you´ve got. In any case, definitely more than your neighbors!

A horn, as it was back then, is still the method of choice to generate a lot of sound with little power in the treble range, especially when a neodymium magnet takes over proceedings (as is the case with our horns), because it is small, yet incredibly powerful. We have refined the construction of the single-compression horns to such an extent that they not only guarantee impressive levels, but also ensure maximum efficiency for an unadulterated sound; after all, every Transpuls speaker is a genuine Magnat speaker and is therefore committed to an authentic sound.


Party Speaker ? Personal Audio Speaker ?
The term ´party speaker´ doesn't do justice to the Transpuls series, because it has thorough audiophile requirements in terms of sound. Having said that, however, its resilience and level ensure it is more than suitable for any party. Ingredients such as the heavy-duty fabric mount are also used in PA technology; we have, of course, coordinated the Transpuls so that it more than meets Magnat´s high demands in terms of sound.

The rest of the ingredients used are also tried and tested. A sturdy MDF housing with carefully positioned struts is the foundation for a precise deep bass range. A finely coordinated crossover ensures that each chassis is supplied with the exact frequency range that is intended for it. No more and no less. Sturdy connecting terminals mean that you can also connect a Transpuls speaker to your hi-fi system with proper cables.


A Design With History & One For The Future 
Slim column speakers may be "en vogue", but a Transpuls is for eternity. With its characteristic appearance, it also says a lot about you. About the fact that you appreciate timeless music as much as the latest songs, but you´re not worried about chasing every trend. When you remove the fabric grille, the look of which is reminiscent of the hi-fi´s heyday in the 70s and 80s (and thus classic stereo speakers), you can enjoy a look that not only does justice to this origin on one hand, but can also be seen as a new icon on the other. A design that has a high recognition value and sets standards. Right down to the elegant solid metal logo at the base of the speaker.

Technical specifications
PRINCIPLE
3-way CRA bass reflex
DRIVERS
2 x 1" horn-dome tweeters 
1 x 15" woofer
1 x 6.5" midrange
POWER HANDLING (RMS/MAX.)
250 / 500 Watts
SENSITIVITY (2.8V/1M)
95 dB
IMPEDANCE
4 – 8 Ohms
FREQUENCY RESPONSE
16 - 35000 Hz
CROSSOVER FREQUENCIES
920 Hz, 4800 Hz
RECOMMENDED AMPLIFIER OUTPUT
30 – 500 Watts
DIMENSIONS (WXHXD)
514 x 1000 x 385 mm
WEIGHT
37 kg