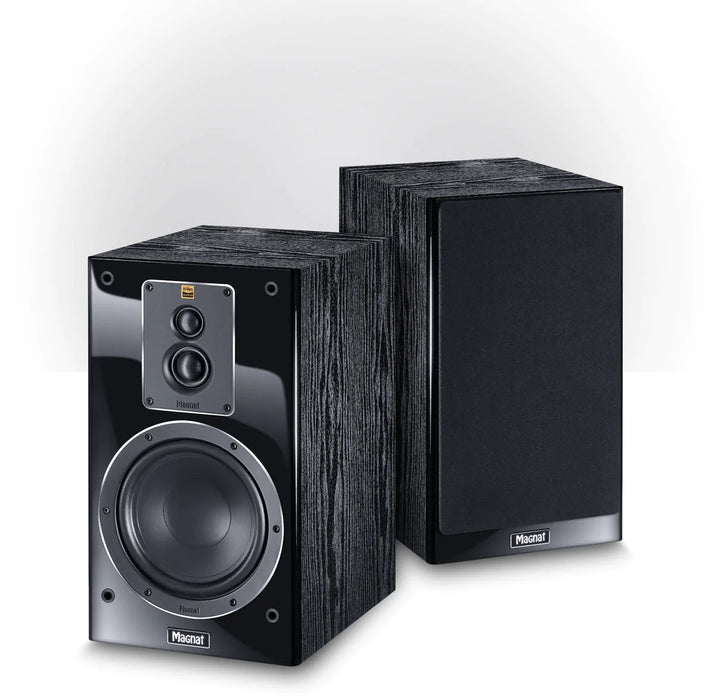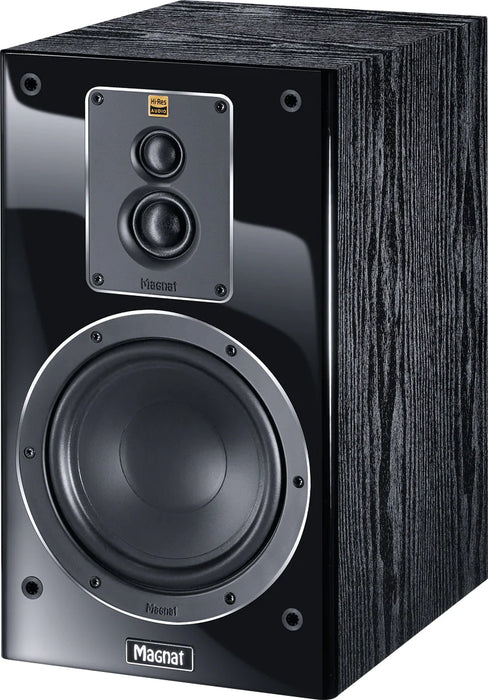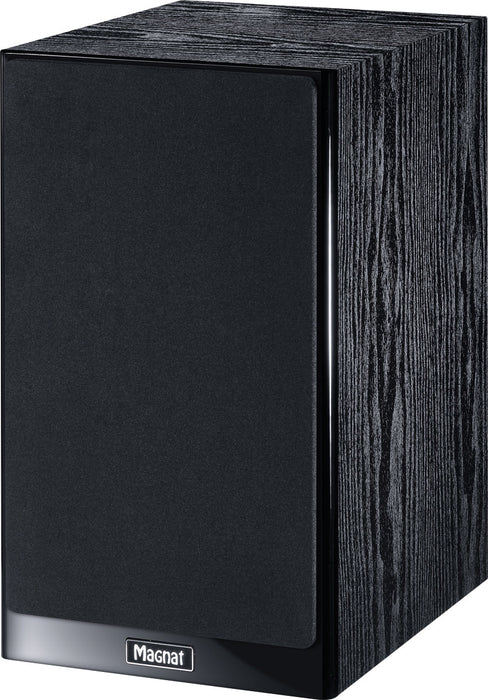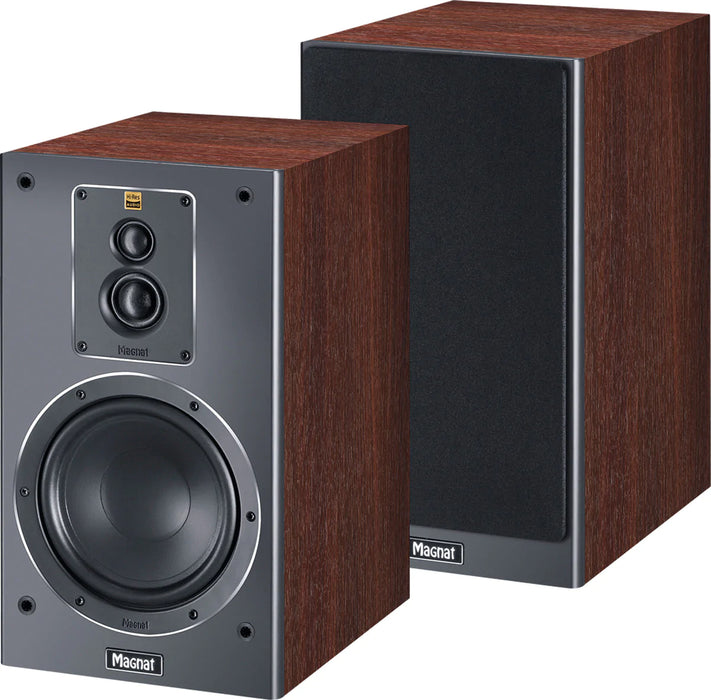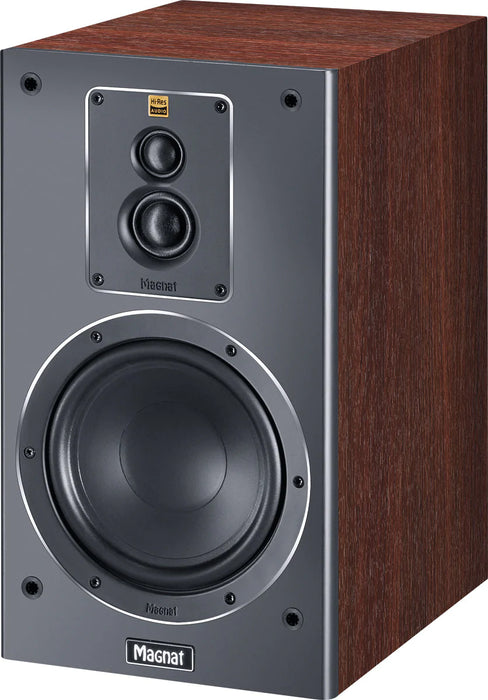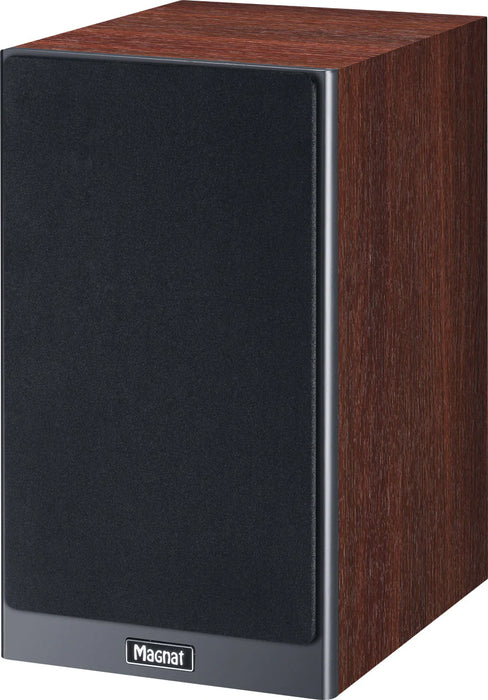 Magnat Signature 503 3-WAY Bookshelf Speaker (Pair)
Magnat Signature Center 53
3-way shelf-top model for entry into the Signature world
The Signature 503 is, as a shelf-top speaker, the most compact representative of the new 500 range. As a three-way system, it combines the hi-res dual tweeter module with a 17 cm bass-midrange unit. It unites all this in a footprint smaller than an A4 sheet of paper and a height of 365 mm. The sturdy MDF housing is available in two elegant finishes: black ash or mocca. It is just as practical as a compact stereo solution as it is when using it as a surround sound speaker in a home cinema set-up. Thanks to identical components like the front panel systems, it delivers an absolutely homogeneous soundscape. The Signature 503 is the best proof that perfect sound does not necessarily require huge speakers.
Features
Hi-Res certified dual tweeter module with two fmax domes
Three-way speaker with bass reflex technology
Klippel-optimized bass-midrange unit
Ventilated voice-coil unit for maximum resilience and dynamics
SIGNATURE 500 – ENTRY INTO THE SIGNATURE CLASS
The Magnat Signature 500 is the entry level to the world of audiophile hi-fi. Here, elaborate chassis with the latest technologies are combined with production quality that is second to none in this class. And all of this with a system - because, from the audiophile stereo set-up to the ambitious, perfectly sounding home cinema with active subwoofer, everything can be combined entirely to your liking in the Signature entry-level class.
ELABORATE CHASSIS TECHNOLOGY
The heart of the fabulous high-frequency reproduction is our new hi-res module with two, yes two fmax tweeters.
CAN BE COMBINED IN A VARIETY OF WAYS
The Signature 500 is available in various versions. This means that fans of pure stereo playback can combine different setups, while home cinema enthusiasts can also choose the perfect combination.
EXCEPTIONAL PRODUCTION QUALITY
Amply dimensioned terminals not only allow use of the highest-quality cables, they also facilitate bi-wiring and bi-amping, i.e. the use of different cables or amplifiers for bass and treble ranges.
WOOFER & MIDRANGE

Klippel®-optimised overall design
FE-Dynamics woofer-midrange
Coated paper cone
Ventilated voice-coil unit for maximum resilience
Solid metal basket with generous ventilation openings
Solid decorative rings, fixed by six screws
TWEETER & SUPER-TWEETER

Newly developed high-res tweeter module with two fmax dome tweeters
1.2" dome tweeter with extra-thick surround for low frequency coupling to the midrange
Additional 20 mm super dome tweeter for ideal omnidirectional sound distribution and extended reproduction up to 50 kHz
Powerful neodymium ring magnet systems for best dynamics
Front panel with dedicated sound guidance for optimum dispersion properties
ENCLOSURE
Very solid low-resonance construction made of E1 MDF panels
High-gloss lacquered baffle (black version) or satin lacquered baffle (mocca version)
Detachable fabric grille
Airflex port with rounded reflex opening for reducing wind noises
Resonance-damping rubber feet included
(Signature 505/507)
CROSSOVER

Amplitude- and phase-optimised crossover with acoustic 24 dB filters and high-quality components
Big Bi-Wiring/Bi-Amping connecting terminal with big screw connectors and gold-plated contacts
WOOFER

300 mm high-power long-throw woofer with Klippel®-optimized magnet system
Ventilated high-performance voice coil to guarantee highest operational reliability
The coated paper cone ensures a profound audio reproduction
Solid metal basket with generous ventilation openings
Klippel®-optimised overall design
AMPLIFIER

High performance class-D amplifier
Adjustable volume and crossover frequency
Phase adjustable from 0° to 180°
Active frequency response equalization up to 120 Hz (LPC circuit) for seamless integration in AV environments
Automatic standby function with low power consumption <0.5 watts (can be switched off)
Selectable mains voltage 100-240V
Mains switch
CABINET

"Front-fire" construction
Sturdy and low-resonance case design with E1 MDF wooden boards
High-gloss lacquered baffle (black version) or satin lacquered baffle (mocca version)
Detachable fabric grille
Airflex port with rounded reflex opening for reducing wind noises
Resonance-damping rubber feet included
Specifications
PRINCIPLE

3 way, dual 6.5" woofer-midrange, bass reflex

DRIVERS

1.2" dome-tweeter 0.75" super-tweeter 2 x 6.5" woofer-midrange

POWER HANDLING (RMS/MAX)

110 / 180 watts

IMPEDANCE

4 – 8 ohms

FREQUENCY RESPONSE

32 – 53000 Hz

CROSSOVER FREQUENCIES

2600 Hz / 17500 Hz

RECOMMENDED AMPLIFIER OUTPUT

> 20 watts

SENSITIVITY

91 dB

CABINET SURFACE

Front: Piano black / Cabinet: Ash decor black

Front: Anthracite satin / Cabinet: Ash decor mocca

DIMENSIONS (WxHxD)

550 x 205 x 282 mm

WEIGHT

9.1 kg