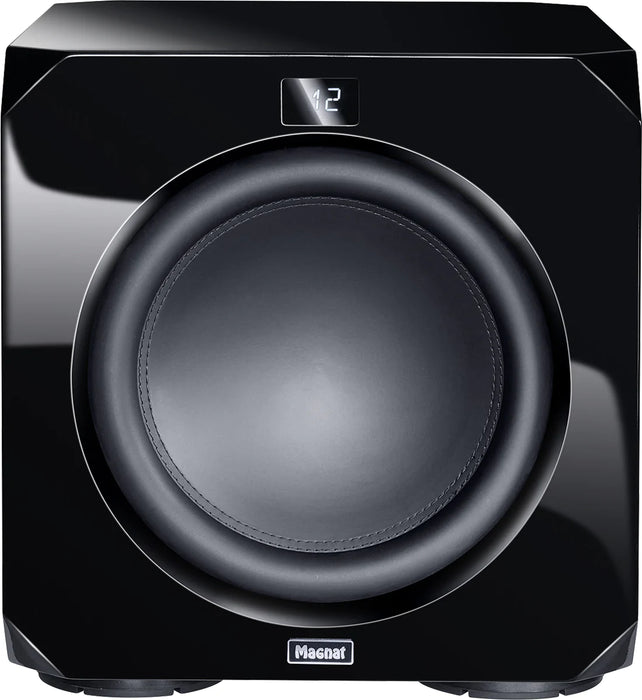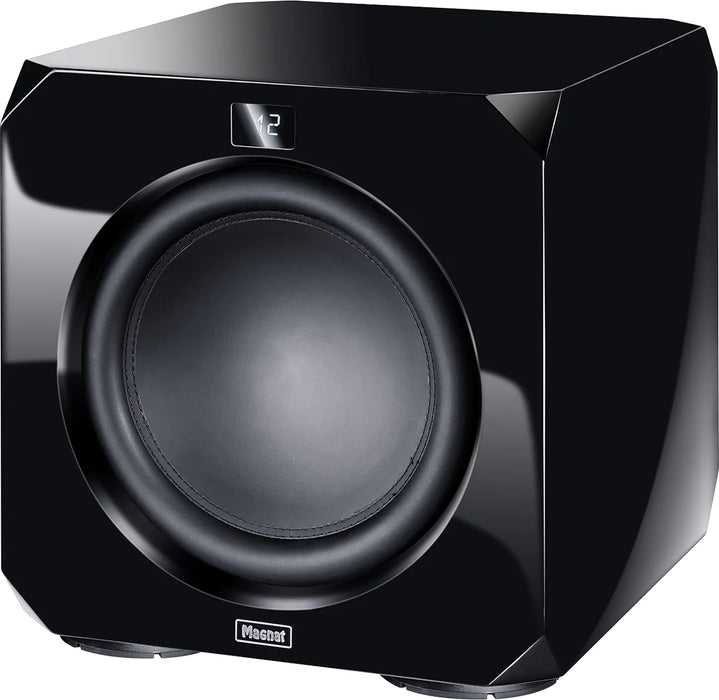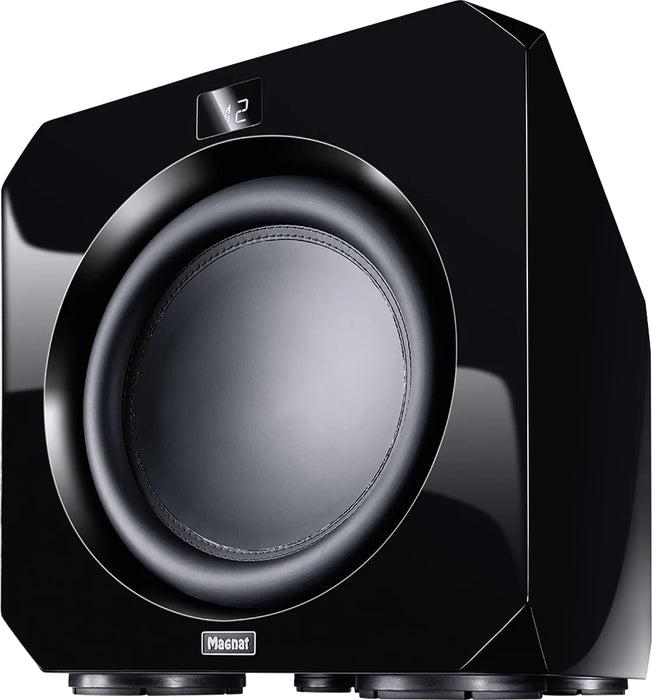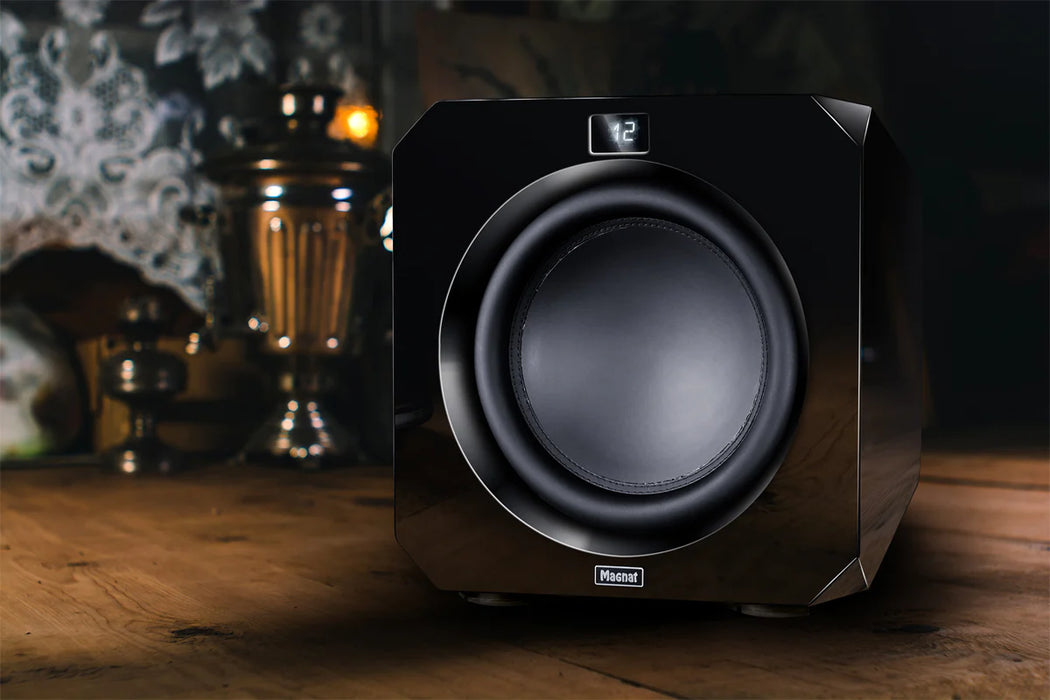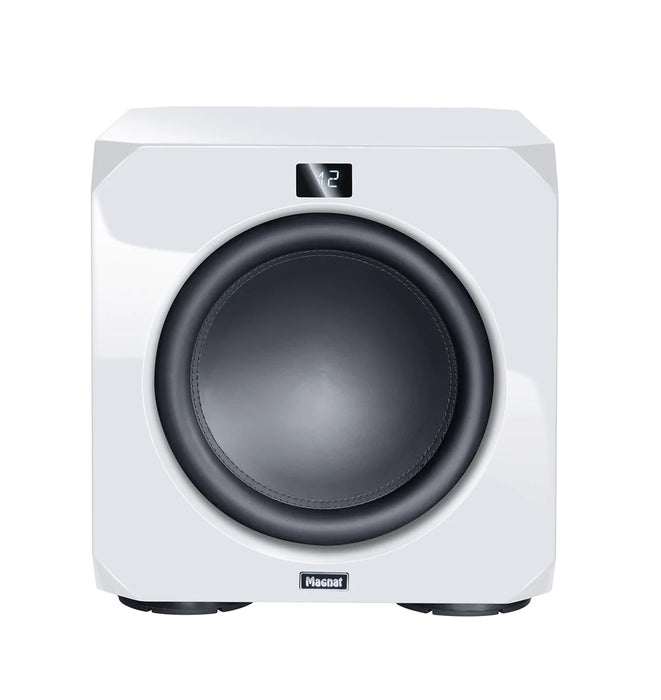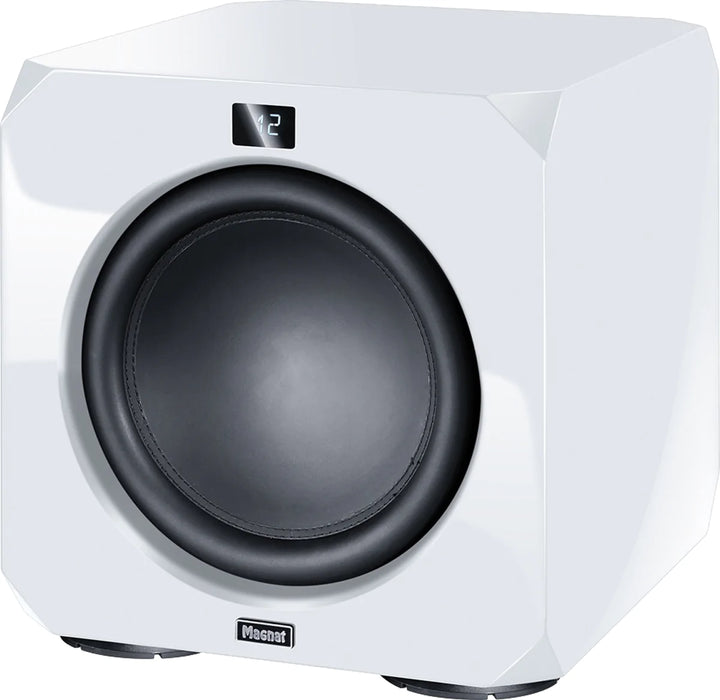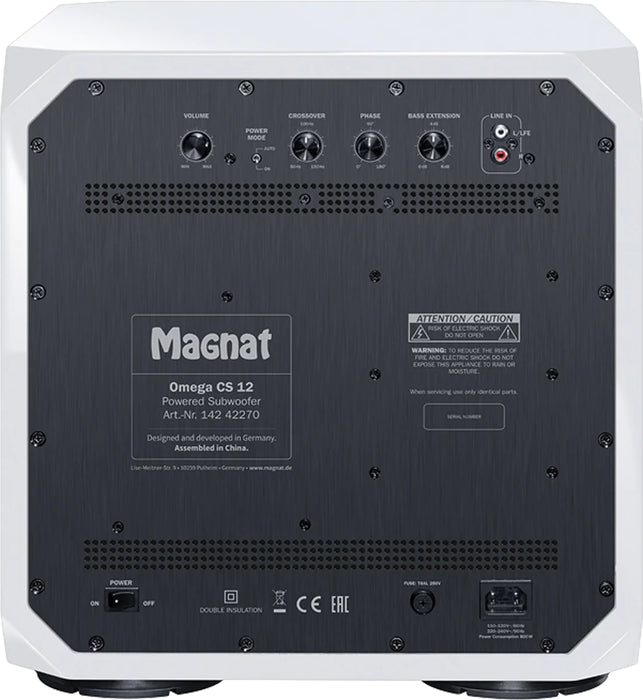 Magnat Omega CS 12 12"Powered Subwoofer
Magnat Omega CS 12
Key Features
Remote control for level adjustment
12 inch (30 cm) chassis consisting of a hardened and specially coated dual cone
Class-D amplifier with 525/1100 watts of continuous/peak power
DSP for extensive adaptation to existing speakers and a room´s acoustics
Solid MDF housing in a black high-gloss finish
Active subwoofer with a 12 inch cone and a 525/1100 watt amplifier
Thanks to a cone construction that has been specifically developed for the deep bass range and an extremely powerful amplifier, the Magnat Omega CS 12 active subwoofer is the perfect addition to any hi-fi or home cinema system.

EVERYTHING FOR THE BASS
The specially hardened and coated material has been constructed in a dual cone configuration measuring an impressive 30 cm in diameter. The drive is provided by a 70 mm high-performance coil and a 170 mm ferrite magnet. Together with the bonded and additionally stitched longthrow surround, the overall result is a sub that has been optimized using Klippel laser technology and can optimally reproduce frequencies between 18 and 200 Hz.
UP TO 1100 WATTS OF BRUTE POWER
The integrated Class-D power amplifier delivers a brutal 525 watts in continuous operation and up to 1100 watts of peak power. The high-speed DSP also linearizes the frequency response and enables continuous adjustment of the crossover frequency, the phase and the adjustable bass extension at 35 Hz. This means all of the prerequisites are in place for harmonious integration of the Omega CS 12 into a hi-fi or home cinema system.
TIMELESS, COMPACT, SOLID
It couldn´t be much more compact: The developers have constructed an ultra-solid MDF housing that is hardly any larger than the 12 inch chassis. The enclosed construction radiates sound towards the front of the unit and thus minimizes room interference. In its high-gloss black finish, the Omega CS 12 is discreet yet elegant at the same time, immaterial whether it´s located in a prominent position or set up discreetly in the background.
Regardless of whether you have audiophile shelf speakers, floor standing speakers or a home cinema solution - one or more active subwoofers such as the CS 12 are always a welcome addition. They relieve existing speakers of their duties in the deep bass range and inspire them to achieve acoustic feats.
Specifications 
OMEGA CS 12

The perfect addition to any hi-fi or home cinema system

PRINCIPLE

Active closed subwoofer, 'frontfire'

DRIVERS

1 x 12" powered subwoofer

POWER HANDLING (RMS/MAX)

525 / 1100 watts

FREQUENCY RESPONSE

18 – 200 Hz

CROSSOVER FREQUENCIES

50 – 150 Hz adjustable

PHASE

0° - 180° adjustable

CABINET SURFACE

Piano black

DIMENSIONS (WxHxD)

Cabinet: 385 x 400 x 450 mm

Cabinet dimensions incl. amplifier: 385 x 400 x 465 mm

WEIGHT

24 kg