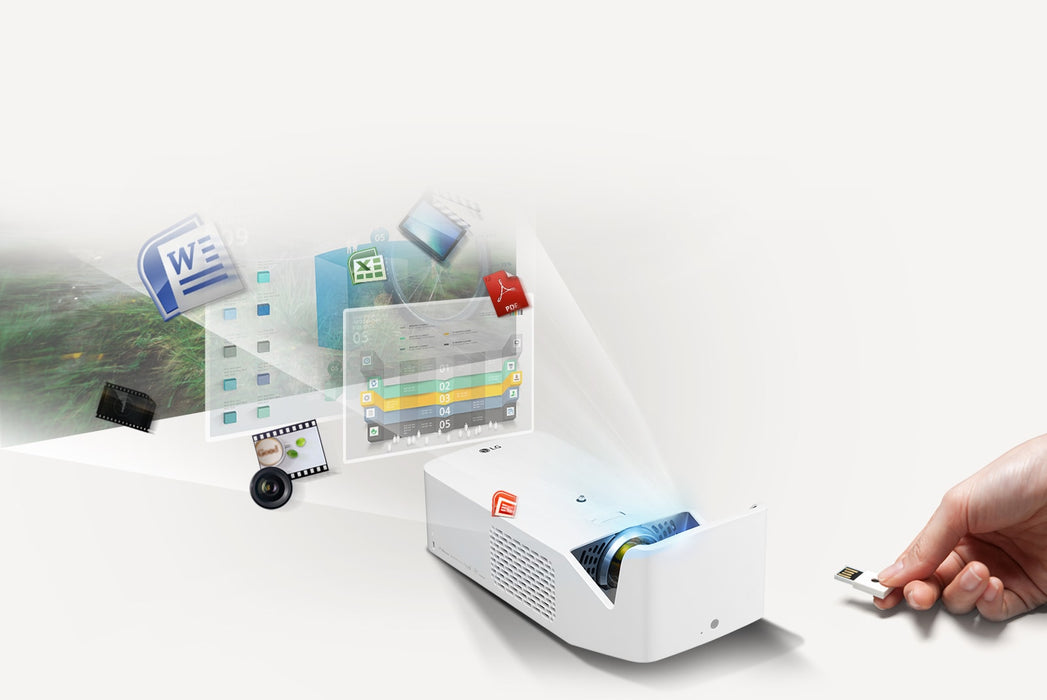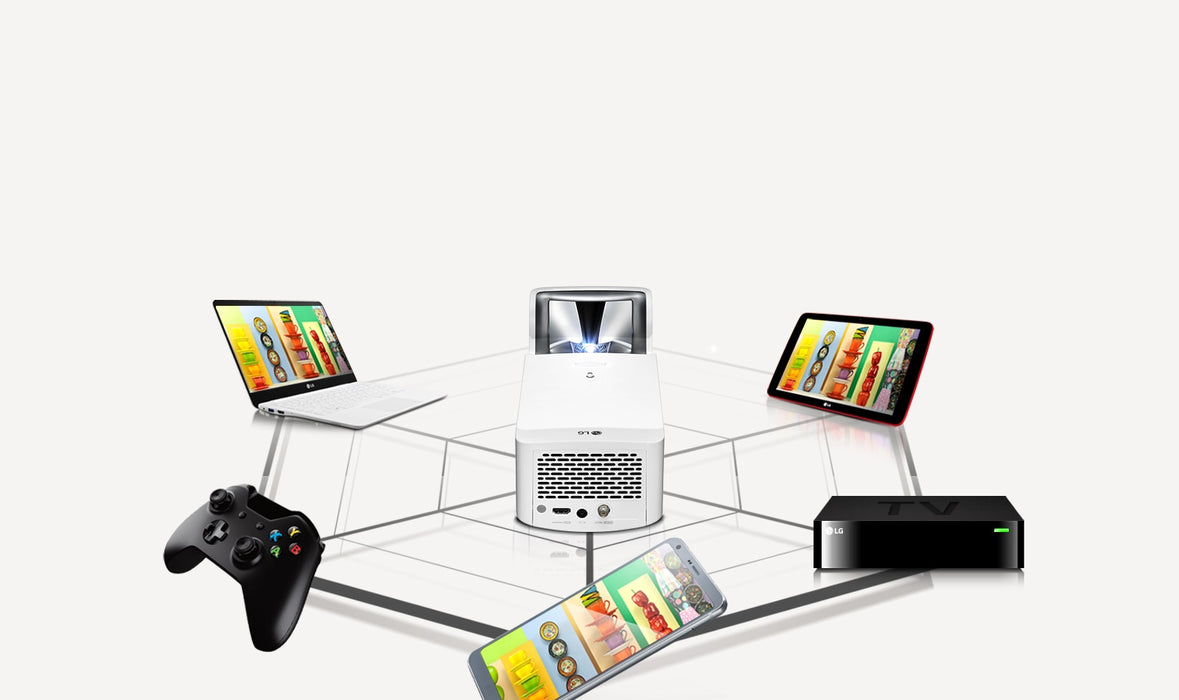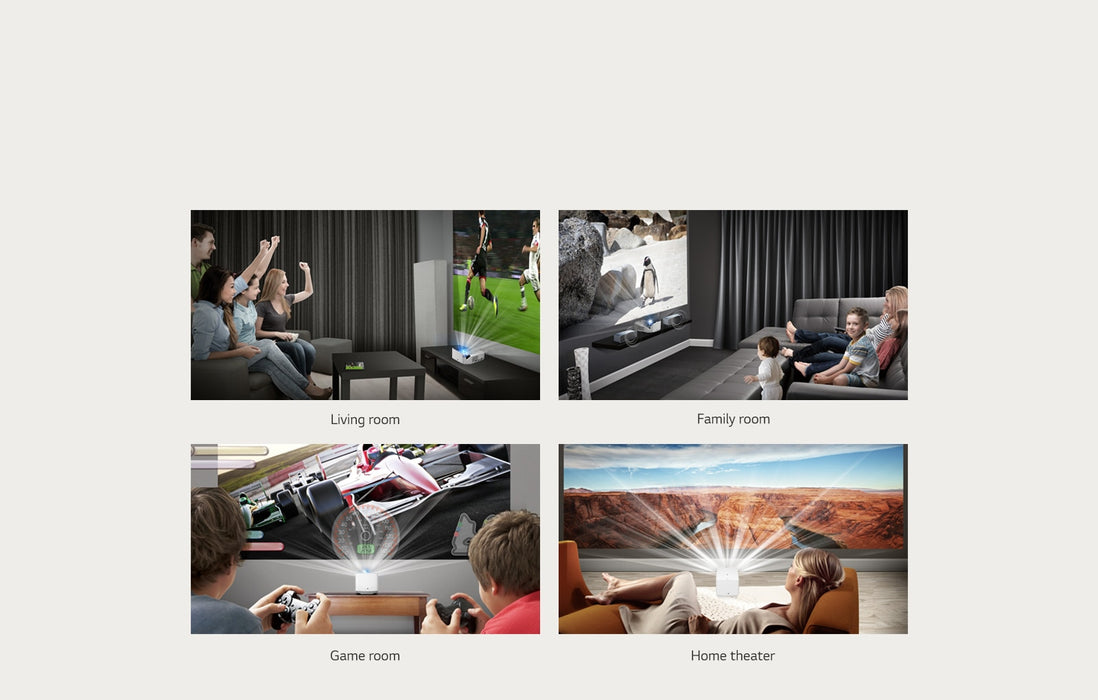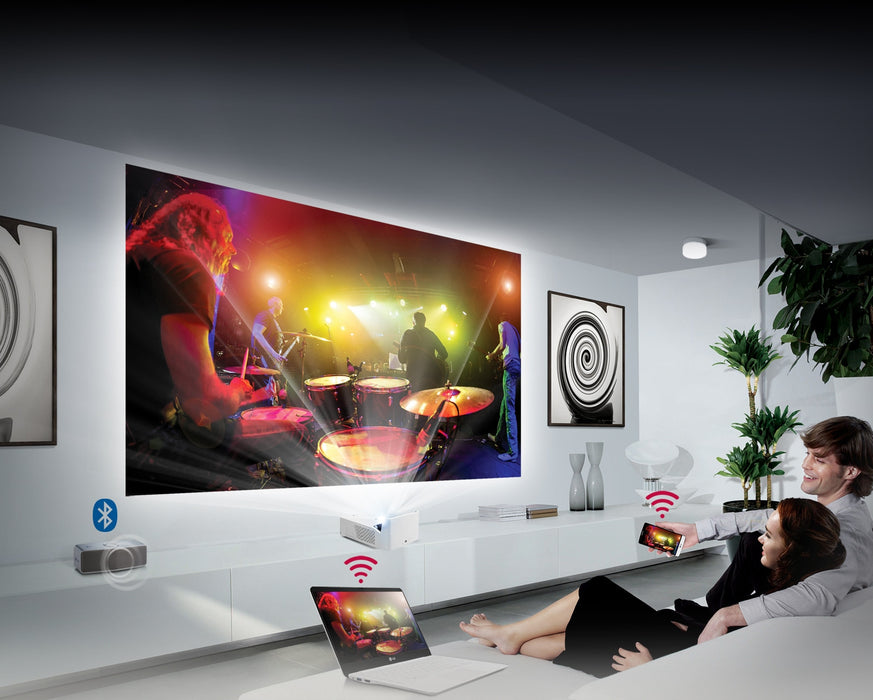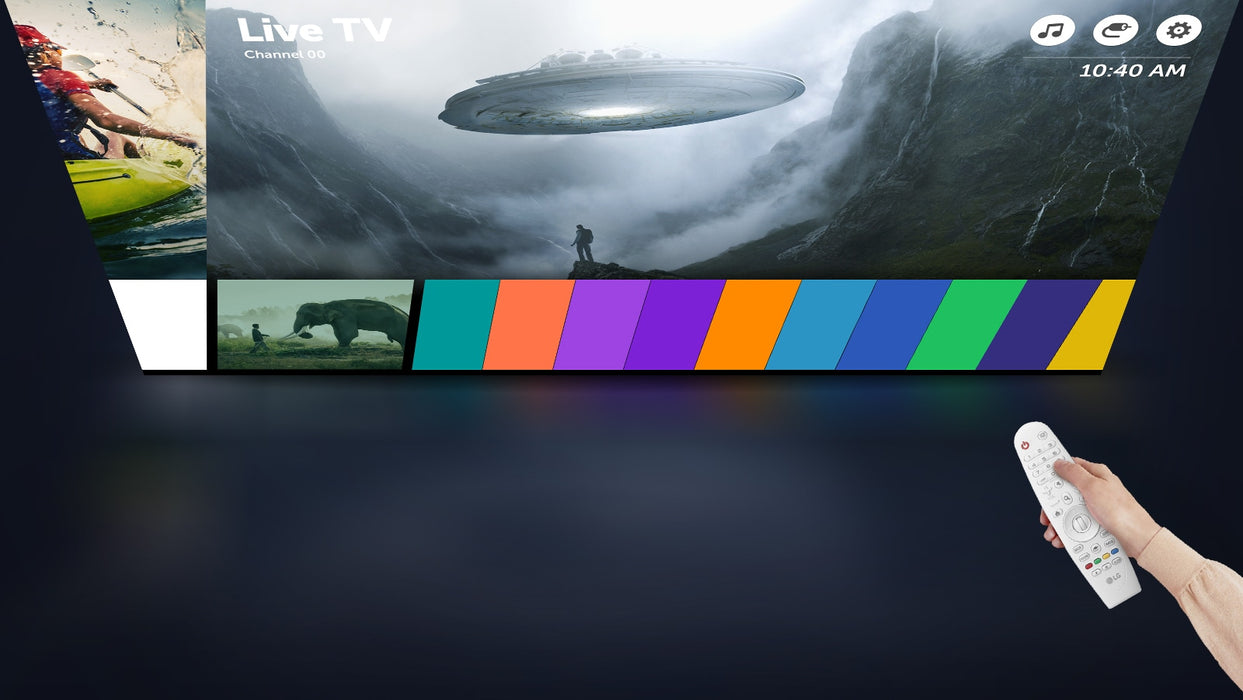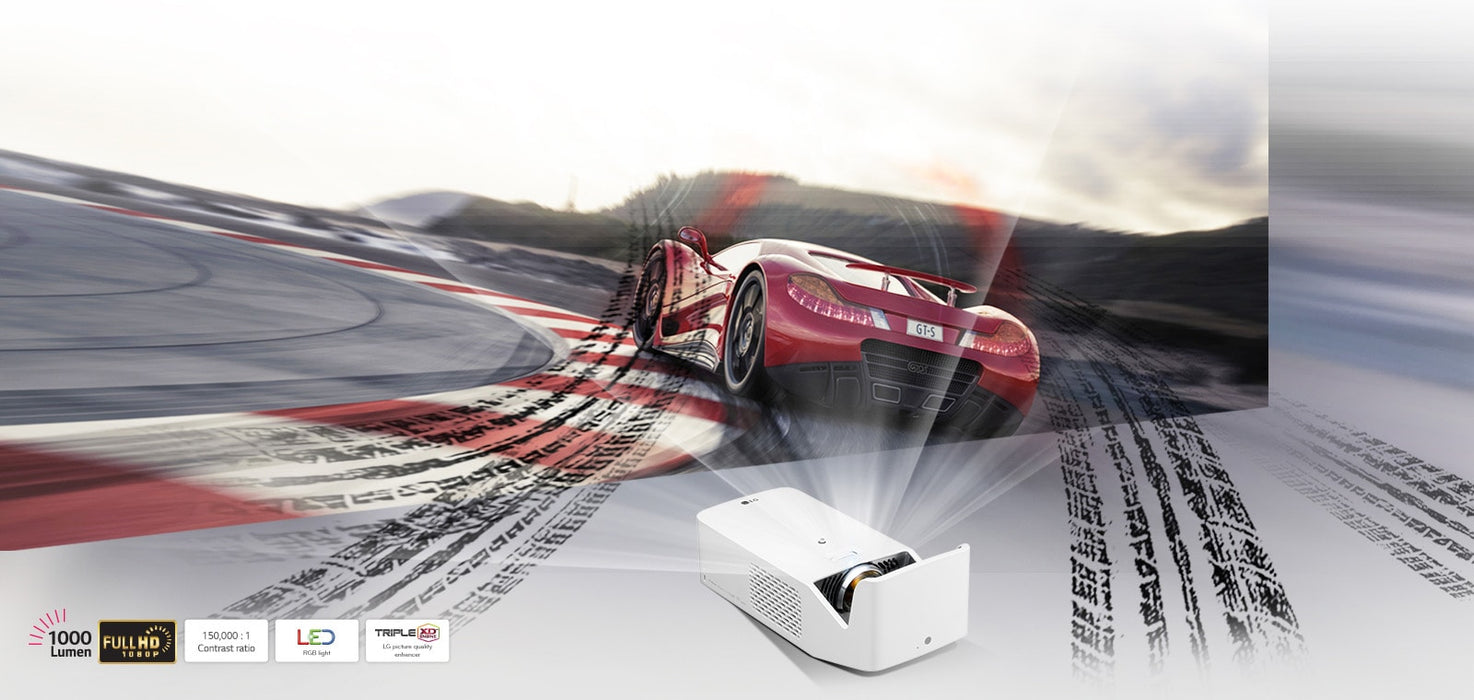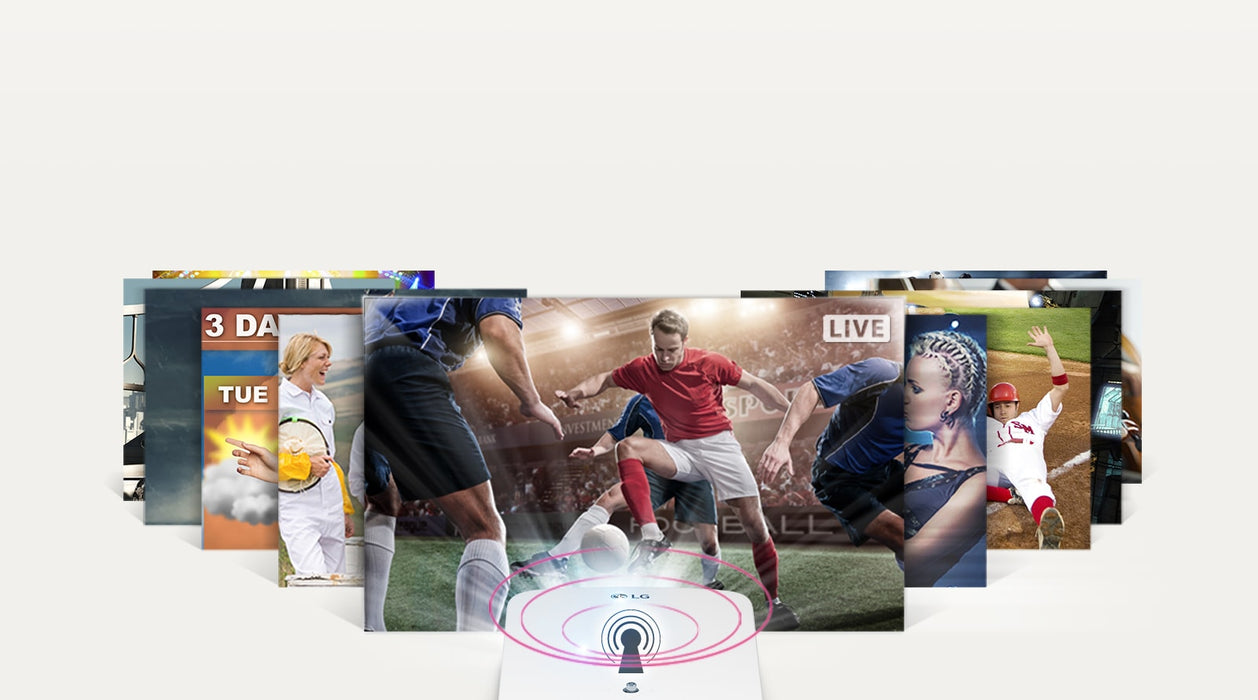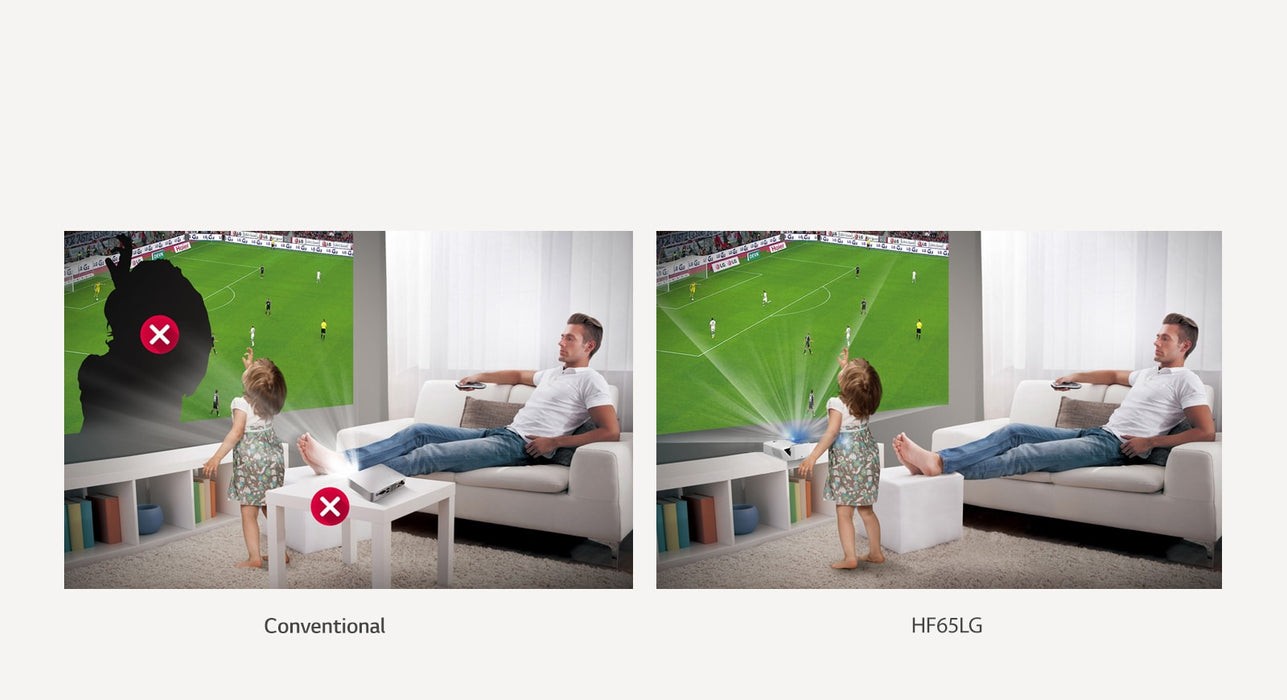 LG-HF65LG CineBeam UST LED FHD Laser Projector RGB LED 150,000:1
Highlight:
Ultra Short Throw LED Laser Projector
Viewing Experience up to 100 (254cm) Size
1,000 Lumen Illuminated
Full HD Picture Quality
TruMotion
Wireless Screen Share
Only 38cm to Get 100 (254cm) Big Picture
HF65LG is whole new type of projector for home cinema. It only needs 38cm to get 100 (254cm) cinematic size. Without distance calculation, just put HF65LG on your existing furniture in front of wall and play.

Designed for Harmonic Interior
If you are not satisfied with conventional projector with messy wires on middle of your table or ugly ceiling bracket, CineBeam Ultra Short Throw will be perfect solution for you. Just put in on your furniture near the wall, then you get neat and tidy interior immediately.

No Shadow on the Screen
You don't need to worry about shadow on the screen, because there is no need to walk around in front of projector.

Live TV Anywhere
LG CineBeam HF65LG is a portable projector with TV functions. Be it the TV tuner, HF65LG is able to receive over-the-air TV signals to enjoy real-time sports games and TV shows with up to 100 (254cm) class size.

Vivid and Clear Picture Quality
LG CineBeam HF65LG offers clear Full HD picture quality with 1,000 Lumen high brightness*, 150,000:1 contrast ratio, LED light and triple XD Engine. Innovative 1,000 Lumen high brightness provides more clear visibility.

TruMotion
Free From Judder
MEMC (Motion Estimation and Motion Compensation) Technology, a type of video processing where animation frames are generated between existing frames, makes animation look and feel more fluid.

WebOS Makes it Even Smarter
Enjoy optimized SMART UI for the big screen and smart functions. Content navigation is easy, with a UI design based on TV customer feedback.

Go Wireless
Unlike conventional projectors, LG's Screen Share* provides wire-free experiences when connecting PC, smartphone, tablets or bluetooth speaker.

Bring Your Favorite Devices to Big Screen
With various wired support*, HF65LG can connect with various devices such as TV set-top box, console game, lap top, tablet, and smartphone.

No Laptop Required
It is no longer need to connect PC anymore. Just plug and play USB to watch movies, picture, music and office files like PPT, Excel, and Word.

4 Corner Keystone
Easily Adjustable Image
If you want more squarely organized picture, 4 corner keystone will help you to adjust it corner by corner. It corrects horizontal distortion and vertical distortion of your picture.

Semi-permanent LED Illumination System
LG's high-efficiency LED light source will last up to 30,000 hours. It means you can use it 20 years when using 4 hours a day. Don't spend lamp replacement cost anymore.