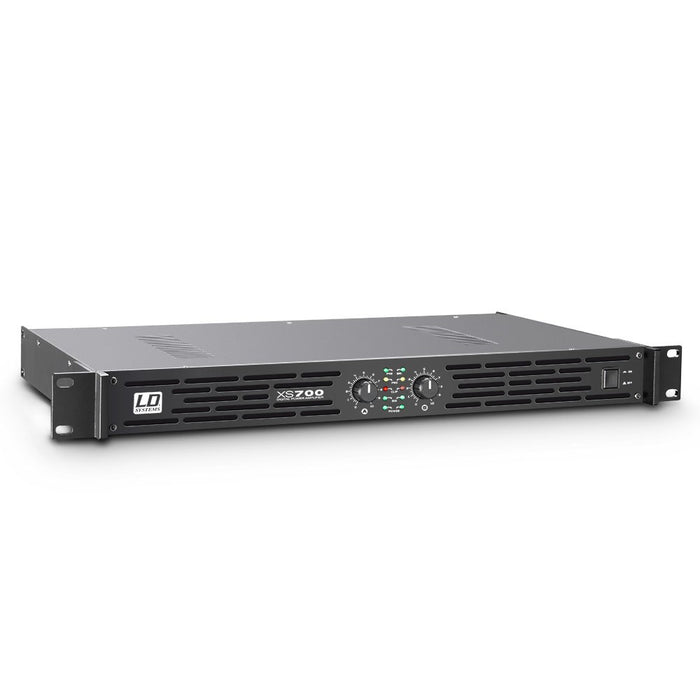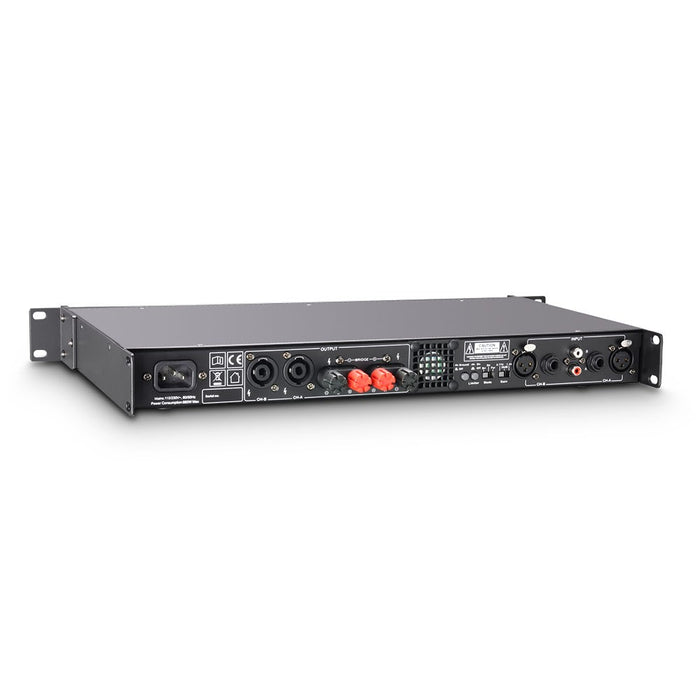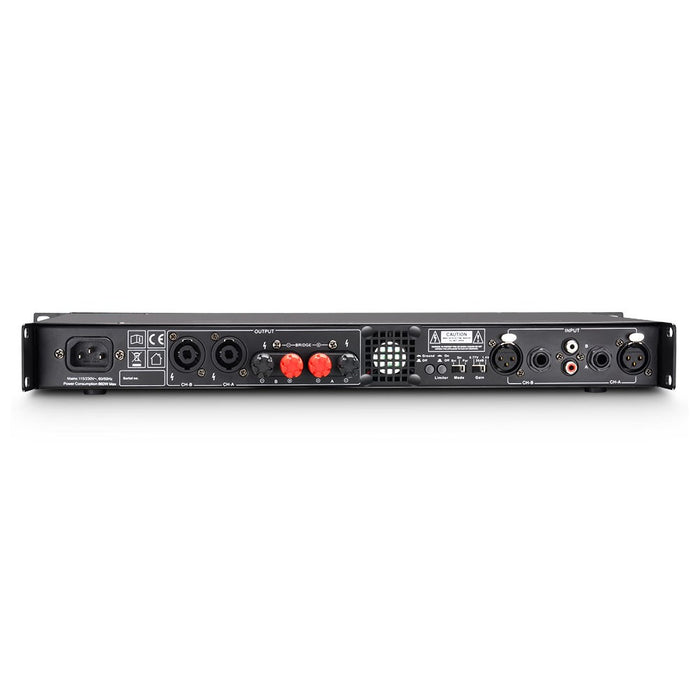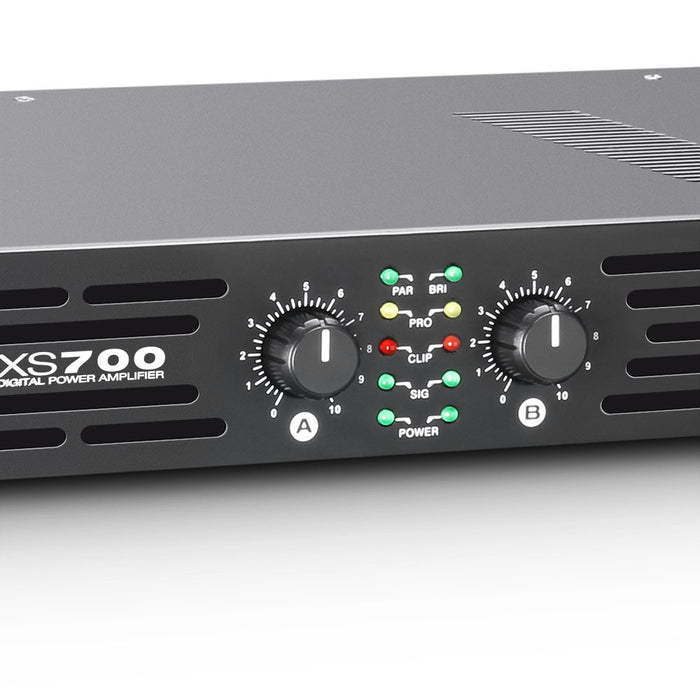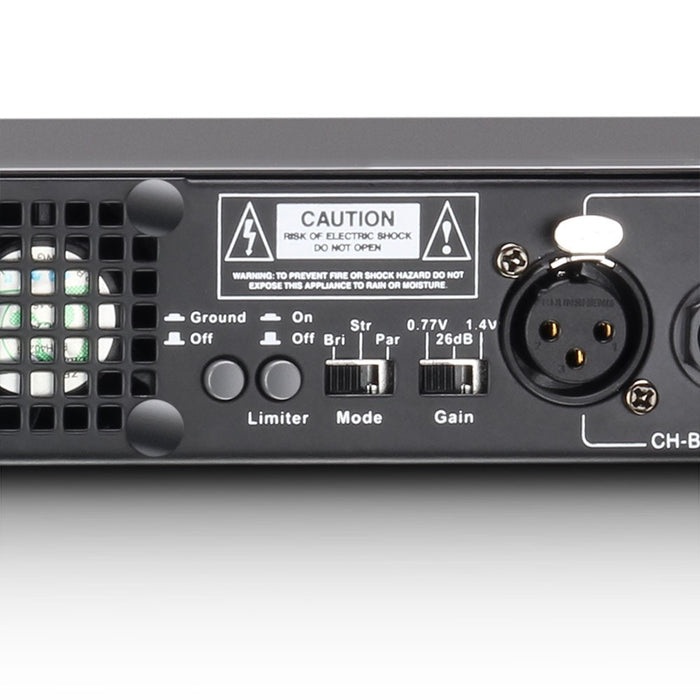 LD Systems XS700PA Power Amplifier Class D 2 x 350 W 4 Ohms
XS 700
PA Power Amplifier Class D 2 x 350 W 4 Ohms
Item No.: LDXS700
Series: XS
Versions: 2 x 350 W
LD Systems XS700 Power Amplifier
The XS700 is the flagship of the XS series of power amplifiers and an absolute flyweight with just 1U and 3.4kg. Our Class D power amplifier technology makes it possible to pack high performance into a minimum of space without generating unnecessary loss energy. The power amp has an output of 350W per channel at 4 ohms, 2x 200W at 8 ohms, and 700W in bridged mode. It is conceived for all professional applications in which ease of transport and space is essential, whether mobile or in permanent installations.

The XS700 has all protection circuits against short-circuiting, DC, overheating, and overloading and has a soft-start delay.

The amplifier features XLR, RCA and jack input connectors, with Speakon-compatible sockets and screw terminals as outputs. On the rear panel, it is possible to select the mode of operation and gain and activate the limiter and ground-lift function. LEDs on the front indicate power, signal, clipping, triggering of the protection circuit, and the mode of operation. The XS700 impresses with operational dependability and a transmission range of 20Hz – 20kHz, which is reproduced transparently and dynamically with high impulse fidelity.
Specifications
General
Product type Power Amplifiers
Type PA Power Amplifiers
Rated ouput power (1kHz @ 4 Ohms) 2 x 350 W
Rated ouput power (1kHz @ 8 Ohms) 2 x 200 W
Rated ouput power (1kHz @ 8 Ohms, bridged) 700 W
Output circuitry Class D
Frequency response 20 - 20000
Total Harmonic Distortion (THD) < 0.1 %
Gain 36 dB / 27 dB / 31 dB dB
Input sensitivity 0.6 V / 1.7 V / 1.1 V V
Protection circuits DC, over-current, short circuit, soft start, thermal overload
Controls Gain, ground lift, limiter, Mode, On / Off, volume
Indicators clip, Mode, Power, Protect (protection circuit engaged), Signal
Line inputs 2
Line input connectors 6.3 mm jack, RCA
Loudspeaker outputs 2
Speaker output connections Speakon compatible, Terminal posts
Cooling low-noise fan
Operating voltage Switching power supply
Power consumption @ full load 860
Operating voltage 115 V AC / 230 V AC (switchable)
Width 482 mm
Height 44 mm
Depth 244 mm
Weight 3,4 kg
Note: Accessories/Mounts/Stands are not part of this offer.