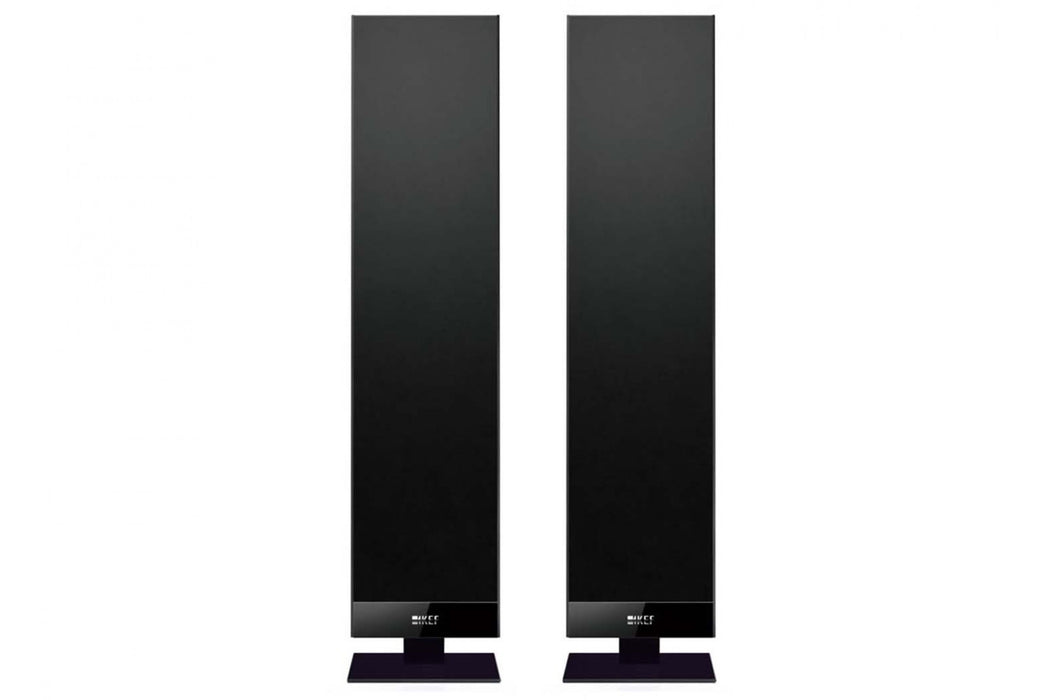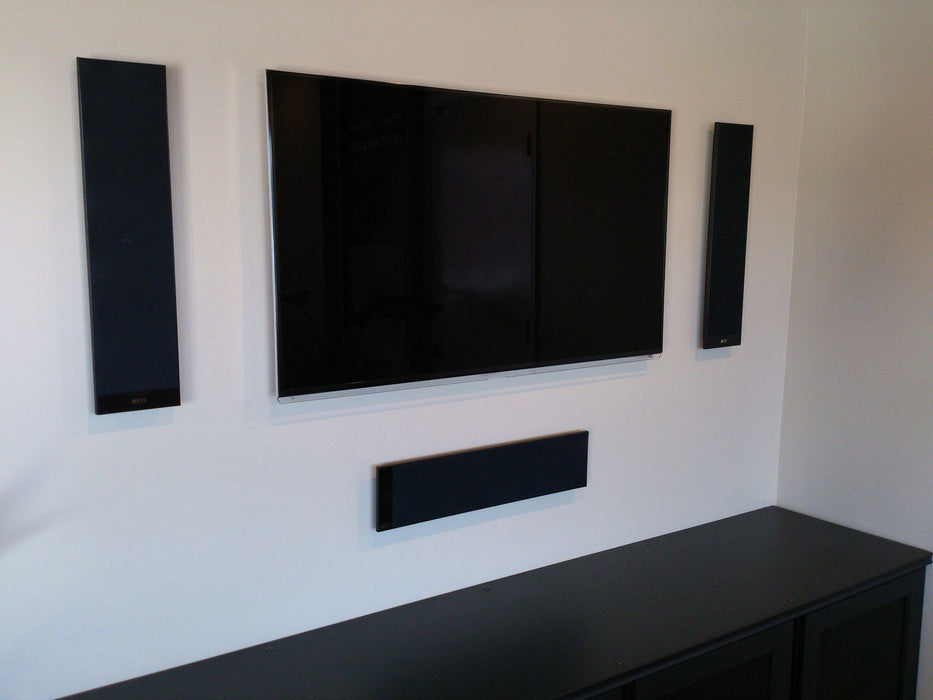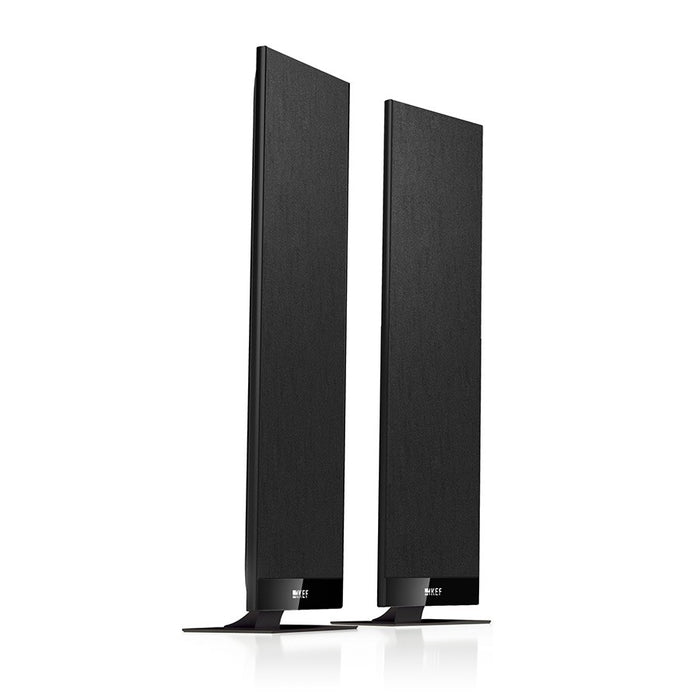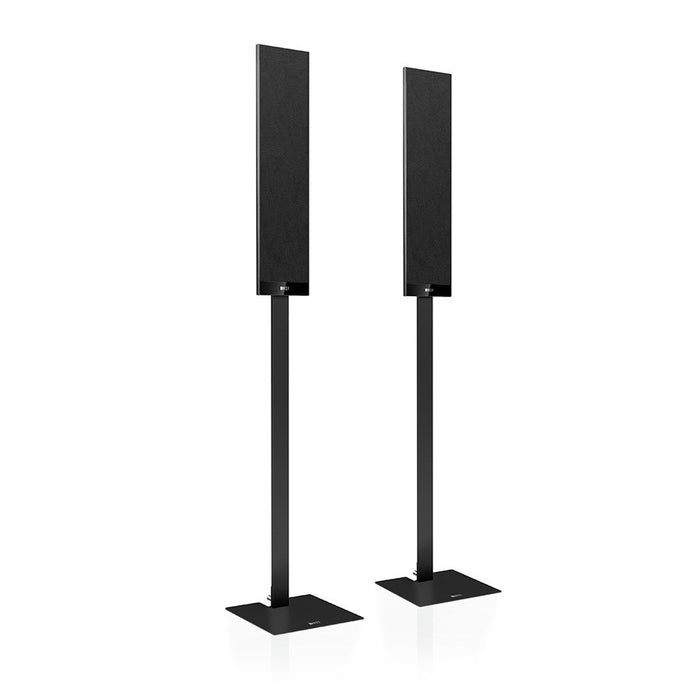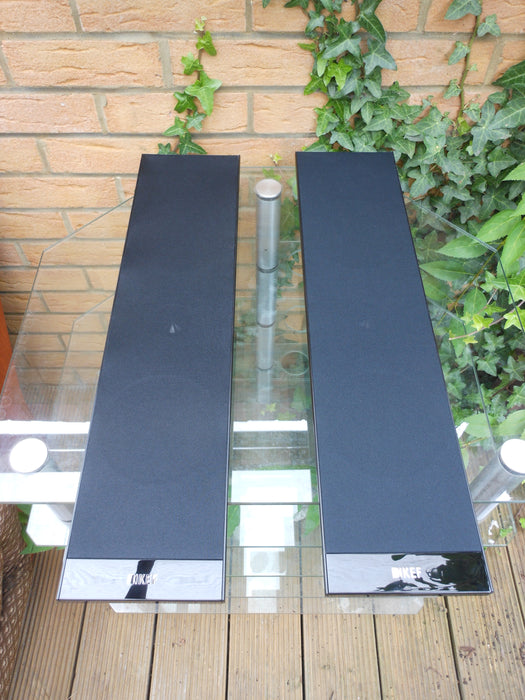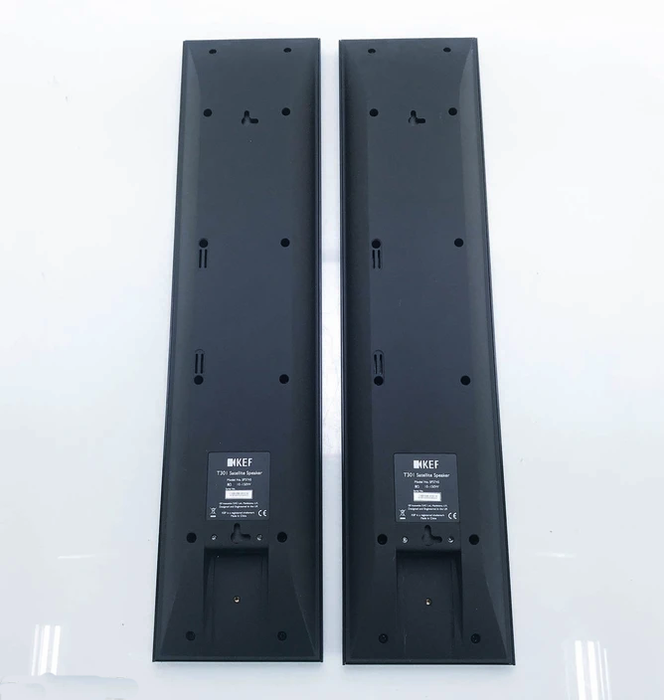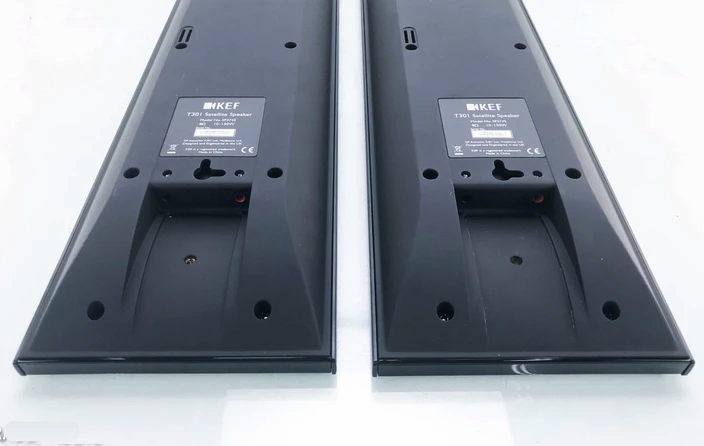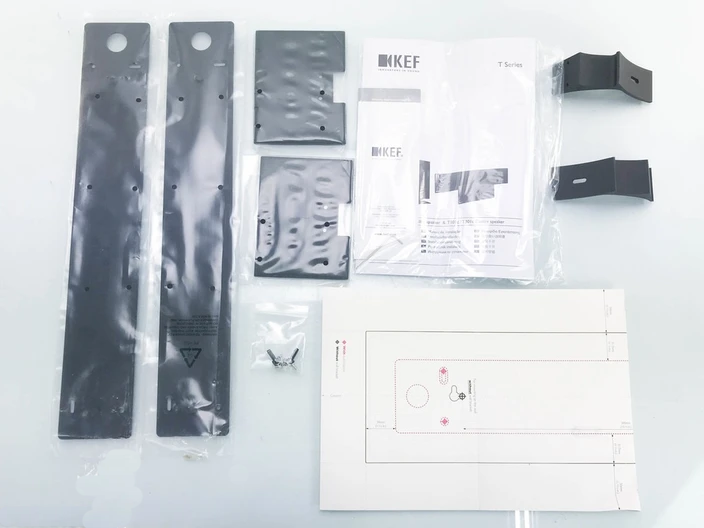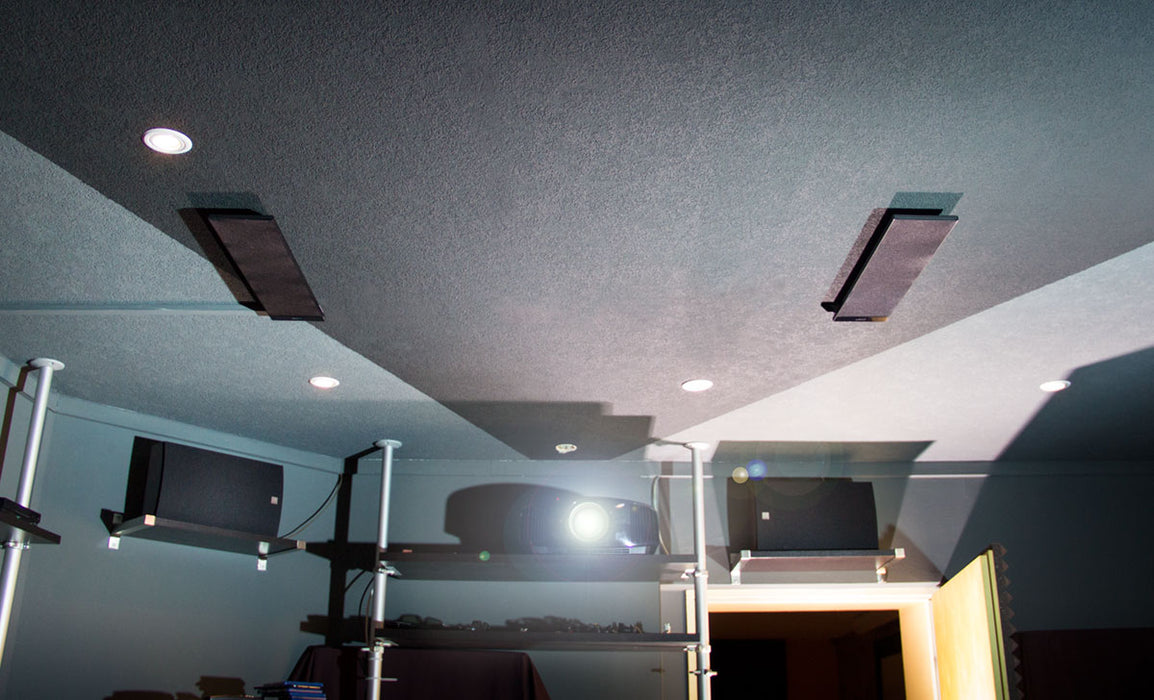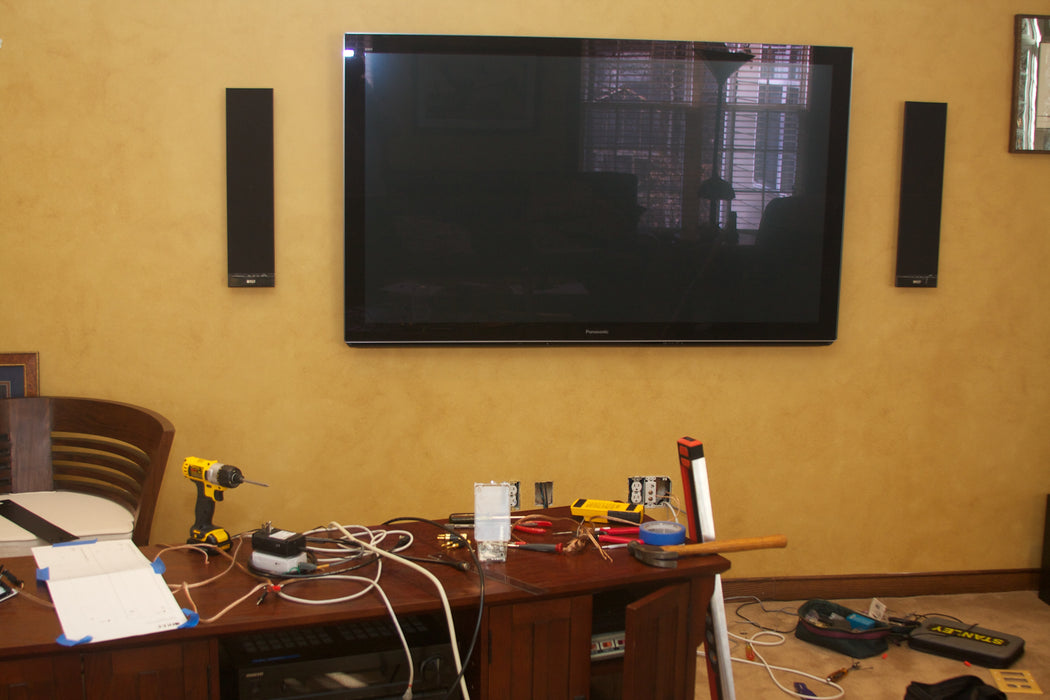 KEF T-301 Ultra-Thin OnWall-Mountable Home Theater Speaker – Pair
Product highlights:
Pair of ultra-thin wall-mountable speakers for home theater
1" vented aluminum dome tweeter with waveguide
Dual 4-1/2" midrange drivers
Frequency response: 80-30,000 hz (±3 db)
Sensitivity: 91 db
Impedance: 8 ohms
Recommended amplifier power: 10-150 watts
Acoustic suspension (sealed) design
Concealed input terminals for low-profile installation
Includes wall-mount hardware and desktop stands
5-1/2"W x 23-5/8"H x 1-7/16"D
Weight:1.49 kg. (each)
Warranty: 3 years
What's In The Box:
2 Satellite Loudspeakers
2 Pedestal Bases
2 Pedestal Necks
2 Wall-brackets
2 Large Screws
4 Small Screws
2 Hex-keys
Intallation Manual
Wall-mount Template
Warranty Registration Card
Reason #7
Hands-on Product Research
Product Research
(The Most Accurate Info Around)
Features and Specs
Enclosure : Sealed
Number of Speakers : 2
Bipole or Dipole : No
Tweeter : Dome
Midrange size (inches) : 4-1/2
Connector Type : Screw-down
Power Range : 10-150
Sensitivity : 90 dB
Impedance (Ohms) : 8
Height (inches) : 23-5/8
Width (inches) : 5-1/2
Depth (inches) : 1-7/16
Weight (pounds) : 1.45 kg. (each)
Mounting Bracket Included : Yes
Warranty : 3 Years
About Kef....
Innovation is what sets kef apart. It's why we were founded, and why we've always attracted some of the world's most gifted acoustic engineers.
The results are plain to see, in long lists of breakthroughs that no other manufacturer can match - and we have the patents and academic papers to prove it.
Right from the start, we pioneered the use of synthetic materials for diaphragms and driver surrounds to maintain consistent sound quality across the frequency range.
In the mid-sixties, we were the first to commercially exploit the stability of bextrene as a cone material, with a range of drivers that found their way into many leading audiophile speakers.
A hugely important breakthrough came a few years later, when kef became the first company to use computers in loudspeaker testing and design.
Having led the industry in the digital analysis of speaker behaviour ever since, this unrivalled capability is what still underpins kef's technological supremacy. 
The next decade saw the appearance of kef's signature technology, the uni-q point source driver array. Using nasa-developed magnets ten times more powerful than conventional materials allowed us to engineer a tweeter small enough to mount at the acoustic centre of the bass unit voice coil so that both acted as one. 
With the advent of 5:1 home theatre recordings in the nineties, kef was once again ahead of the game by applying the performance advantages of uni-q to the uk's first dedicated centre speaker, the model 100. 
Other kef firsts include the first motorised ceiling speaker and acoustic compliance enhancement technology, which achieves truly full-bodied bass performance from small enclosures. 
Kef innovation
Kef was founded on innovation and new technology.
We are recognised in the history of loudspeaker development as one of the most important contributors and a great deal of our research has been published at well respected professional institutions, including the audio engineering society and the institute of acoustics.
Kef's research legacy includes contributions from some of the greatest and most respected loudspeaker designers of the last five decades.
Today, kef are the company to beat in computer analysis of loudspeakers. The software that we use to run our analyse is also used to power eighty-five percent of the world's super computers.