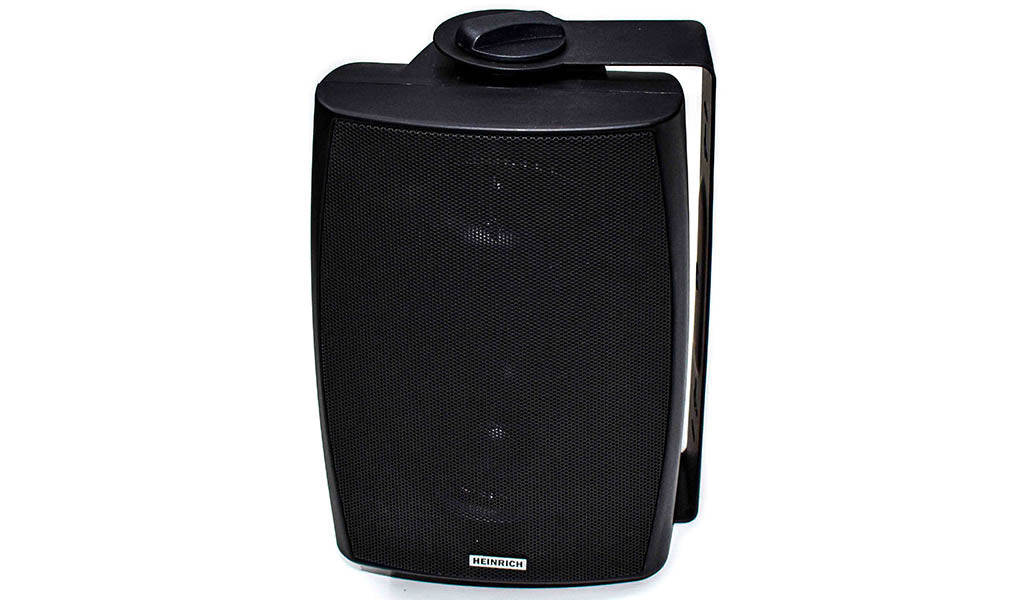 Heinrich WS45 6" Two Way 45W Wall Mount Speakes
The Heinrich WS-15 4" Two Way 15W Wall Mount Speakes
     HEINRICH all speakers support EASE, CATT, ULYSSES models for acoustic studies. This means the acoustic  model can be designed to simulate the sound quality and distribution prior to installation All HEINRICH loudspeaker have undergone trogh testing procedure to ensure that all products compliance with LOW VOLTAGE
DIRECTIVE (BS EN 60065, 2003) and EMC (BS EN 61000-6-Part 1/2/3/4).

     The WS-45 is a wall mount speaker built-in 70v/100v transformer. The 70v/100v transformer technique reduces line losses on longer distance and allows easy parallel connection of multiple loudspeakers. The built-in 6"+1.5" two ways speaker driver is designed of wide frequency response 100-15kHz, the RMS45 watts power outputs are suitable for most of the applications. The metal grille, ABS enclosure and stainless mounting bracket are of black color. Easy and secure wall mount installation through the supplied mounting bracket. It is ideal choice for industrial and commercial applications in hotel, school, office and factory where background music and paging is needed.
FEATURES
• Built-in 100v/70v transformer
• Wall mount type loudspeaker
• 6" +1.5" two ways speaker unit
• RMS 45W @100V
• Metal grille, ABS enclosure and stainless mounting bracket
• Fashion speaker of black color
 SPECIFICATIONS
Model
WS-45
Power Taps @ 100V
45W
Power Taps @70V
22.5W
Impedance
Black: com,Red: 220Ω
SPL(1W/1M)
91dB

Max. SPL (Rat

110dB
Frequency Response (-10dB)
100-15KHz
Finish
Baffle : ABS, Black /White  Grille : Steel , 

Black /White

Speaker Driver
6'' x 1 1.5'' x 1
Dimensions
298x 215x 225mm
Weight 
3.7Kg

Mounting

Flush mount bracket fixed by screw