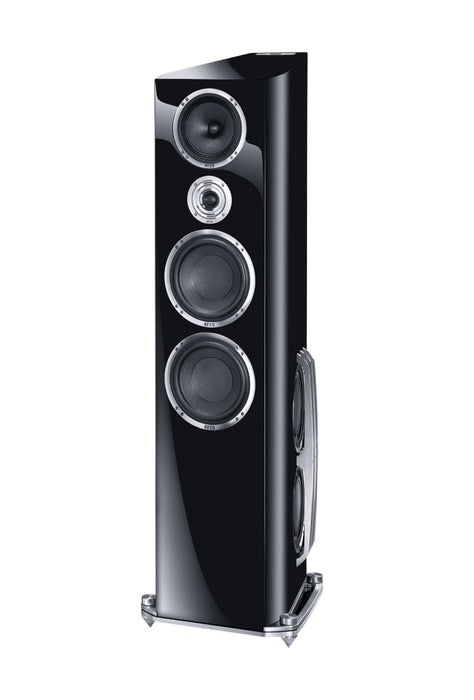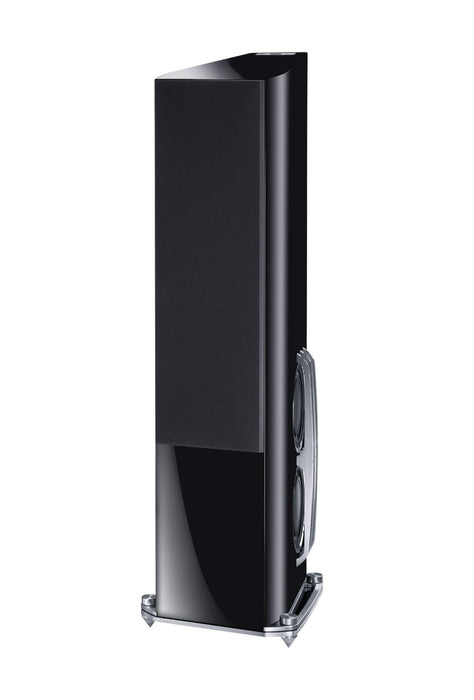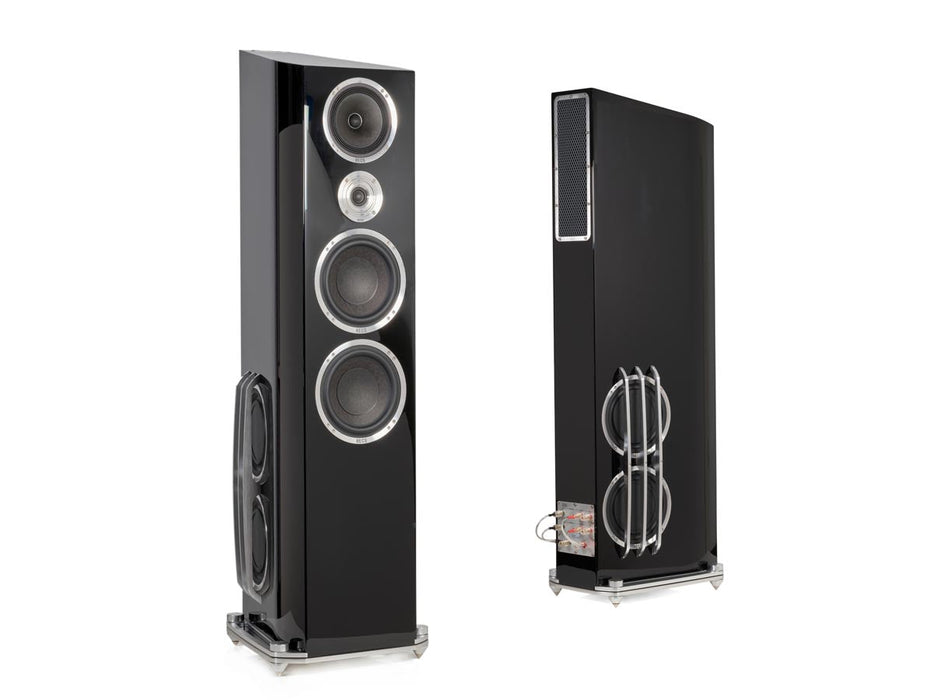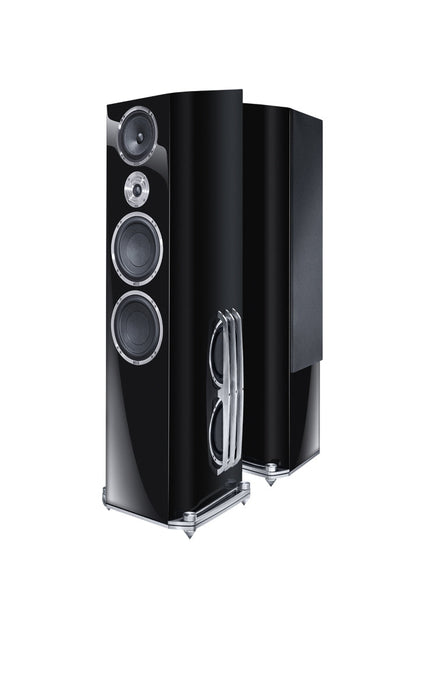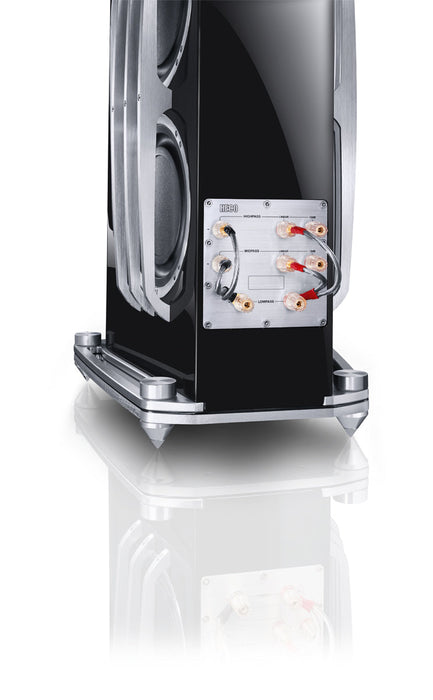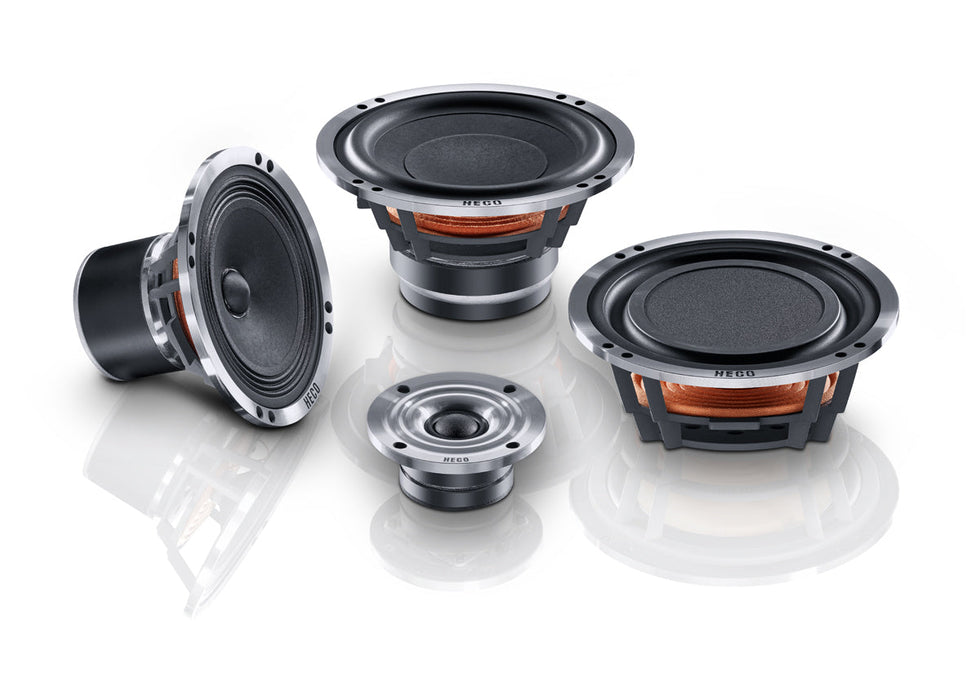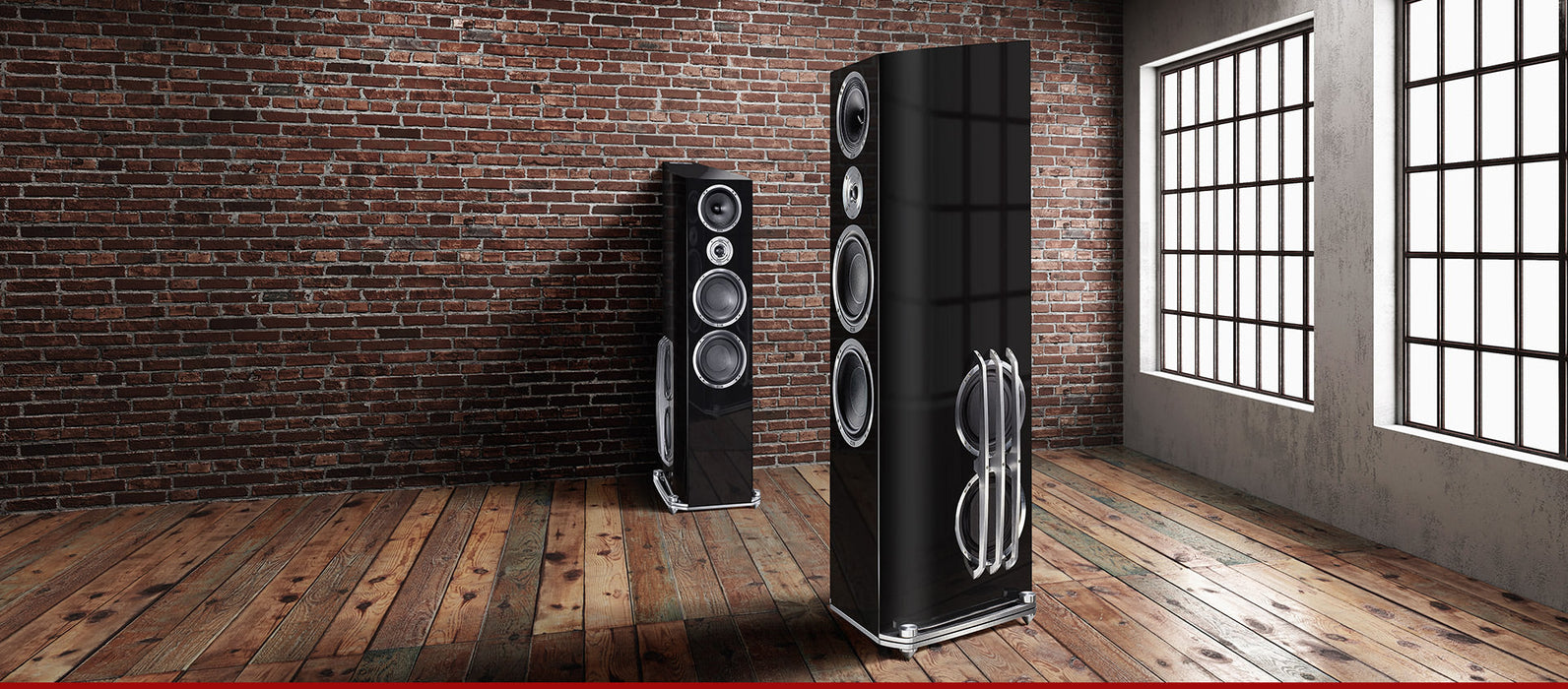 Heco La Diva Tower Speakers Speakers - Pair
HECO La Diva
Key Features
State-of-the art chassis technology: Fluktus tweeter and Kraft-paper diaphragms in the mid and low-range frequencies
2 x 200 mm woofers plus 4 x 200 mm bass radiators, midrange driver with Alnico magnet
Connection terminal with bi- and tri-wiring and bi- and tri-amping option
Enclosure with a genuine piano lacquer finish
Solid enclosure with streamlined cross-section prevents resonances
Base plate with protective side elements made of solid aluminum
3-WAY SPEAKERS WITH PASSIVE RADIATORS
The flagship of the Heco product range combines the full experience and expertise of the brand. Traditional materials that represent state-of-the-art technology through consistent development, together with components perfected with the latest technology to guarantee maximum sound quality. All of this combined with perfect craftsmanship and packed in a timeless, yet contemporary exterior.

The 30 mm polyfibre compound dome reproduces frequencies well above 50 kHz, while the midrange driver with its strong AlNiCo magnet represents a reference standard in terms of dynamics and resilience. The lower end of the frequency scale is defined not only by 2 x 200 mm woofers, but also four passive radiators in the same format - down into the subsonic range. 
All of this is packaged in a solid enclosure with an acoustically perfect cross-section and workmanship that is second to none. Cool black, in exquisite piano lacquer of course, contrasts with solid aluminum elements, which set standards not only visually, but also in terms of construction.
LOUDSPEAKER TECHNOLOGY TAKEN TO THE EXTREME
When developers are allowed to make the most of technology, when material costs only play a minor role and product designers have creative freedom, that is when 'high end' is created in its purest form. La Diva, our new top model, fulfills all of these requirements and is extremely 'personable' in spite of its name.
HIGH AND MID TONE PAR EXCELLENCE
The be-all and end-all of excellent sound are first-rate selected components - and the La Diva has these in abundance. Used in the treble range is a second-generation Fluktus tweeter. The 30 mm polyfibre compound dome sits in a solid aluminium front panel with special wave geometry to ensure that the tweeter displays perfect dispersion characteristics. A powerful double-magnet system guarantees pure unadulterated performance up to the highest levels. The elaborately designed midrange driver is powered by an AlNiCo magnet system. The combination of aluminum, nickel and cobalt, from which it gets its name, offers extremely high magnetic field strengths and is extremely temperature-stable, which makes our midrange driver unsurpassed in terms of dynamics and resolution. The 25 mm voice coil provides the thrust for the hard-packed membrane made from HECO's legendary kraft paper. This is produced from pre-selected Nordic softwoods with particularly strong fibres, making it vastly superior to conventional paper membranes by virtue of the strong fibers, together with wool threads produced in Germany, forming a tightly bonded fibre braid that combines maximum stability with minimal weight. The separate midrange housing is open at the rear and aperiodically damped.
PERFECT ENCLOSURE
All of this is packed in an enclosure that is second to none. Solid and with a streamlined cross-section, it actually nips resonances in the bud inside. With its exquisite and timeless piano lacquer, the La Diva is an eye-catcher in any home environment. However, it gets its special charm from the details made of solid aluminum. Both the base plate with its adjustable metal cone tips, which guarantee safe and precise stability on any surface, and the lateral struts, which protect the passive radiators from accidental contact, are made of high-tech material. All of this adds up to an overall weight of an impressive 49.8 kg per speaker, perfectly proportioned at 124 cm high, 38.5 cm wide and 46.5 cm deep.
BASS TO THE POWER OF SIX
It goes without saying that the bass diaphragms of the HECO La Diva are also made of kraft paper, with 2 x 200 mm specimens featuring 32 mm voice coils operating synchronously in the baffle. But there's more: Four bass radiators, two each on the right and left, provide for even deeper bass down to 17 Hz. The connection terminals, which not only offer the option of tri-wiring and tri-amping separately for each frequency range, but also facilitate direct adjustment of the high-frequency range by +2 dB and the mid-tone range by -2 dB, demonstrate that the technical care and diligence does not end with the details. It goes without saying that behind all this there is an elaborate crossover with components displaying the ultra-tight tolerances.
Technical specifications
PRINCIPLE
3 way, quad bass radiator
SENSITIVITY (2.8V/1M)
93 dB
EQUIPMENT
2 x 8" woofer
6.5" midrange
1" dome-tweeter
4x 8" bass radiators (sidefire)
IMPEDANCE
4 – 8 Ohms
CROSSOVER FREQUENCIES
290 Hz, 2.750 Hz
POWER HANDLING (RMS/MAX)
300 / 550 Watts
FREQUENCY RESPONSE
17 - 52.500 Hz
RECOMMENDED AMPLIFIER OUTPUT
30 - 550 Watts
DIMENSIONS (WXHXD)
295 x 1310 x 435 mm 
Dimensions (wxhxd) incl. terminal and feet
385 x 1340 x 465 mm
WEIGHT
49.8 kg