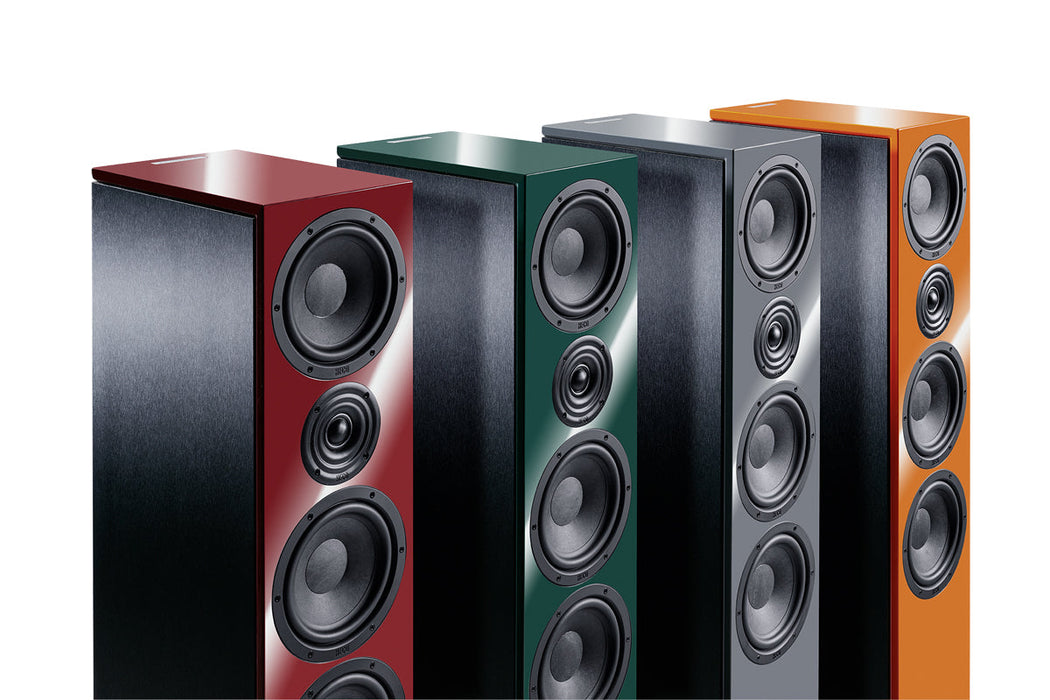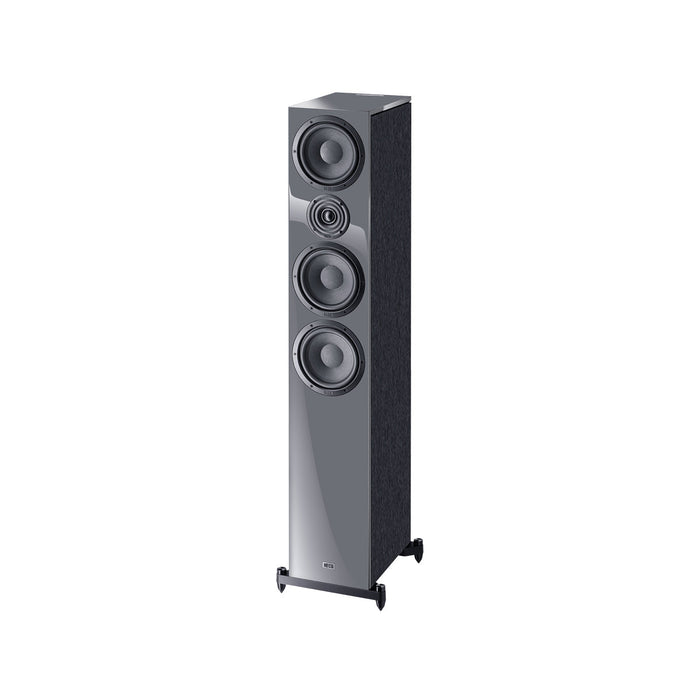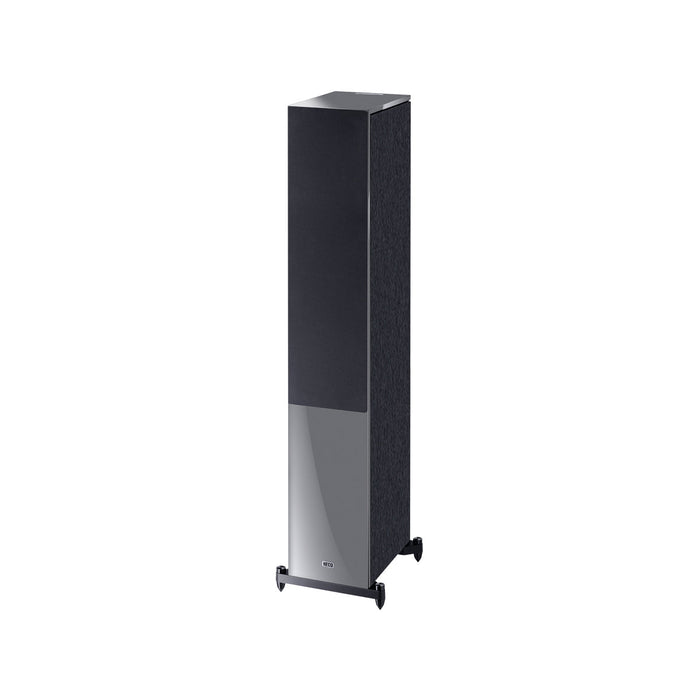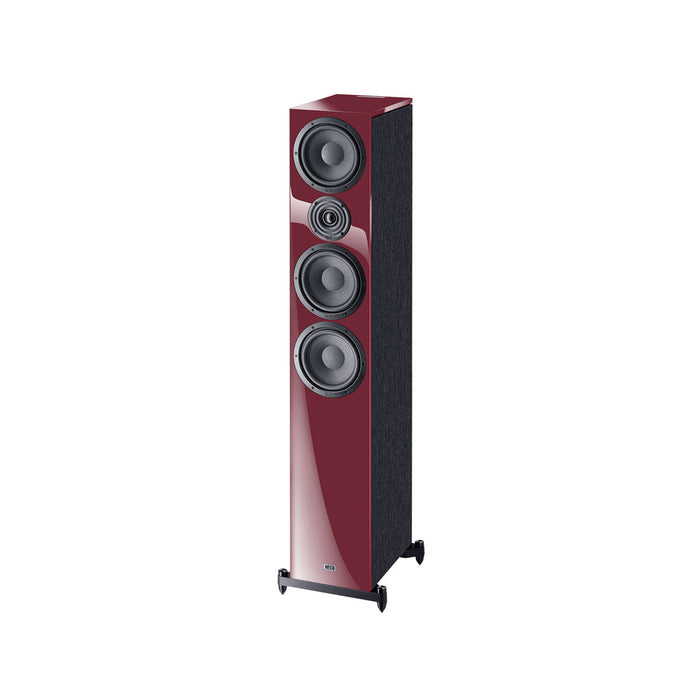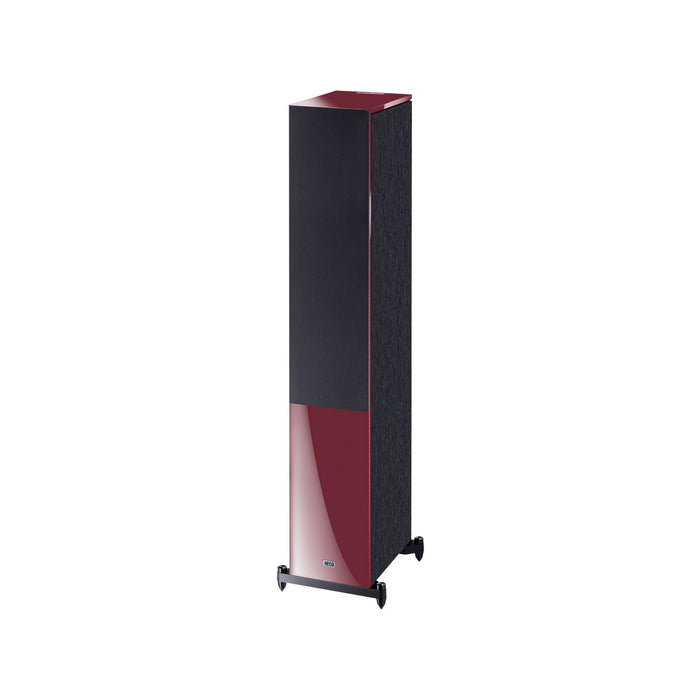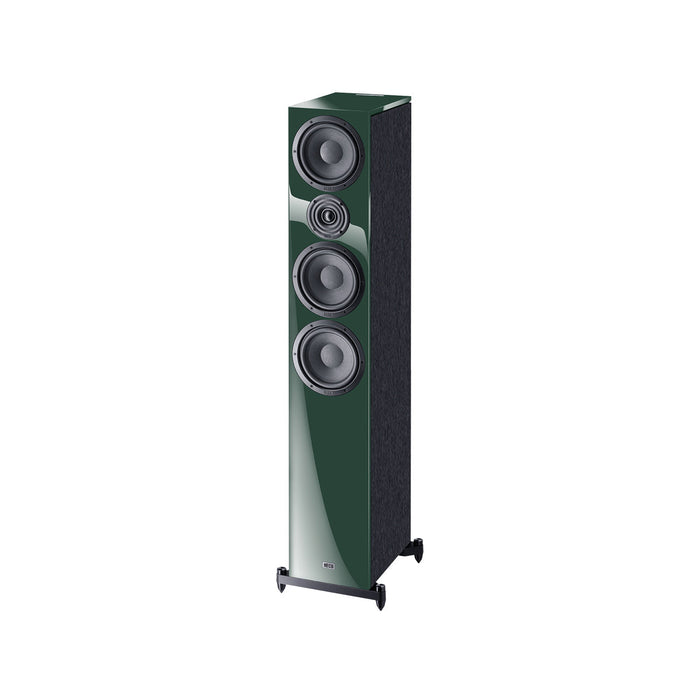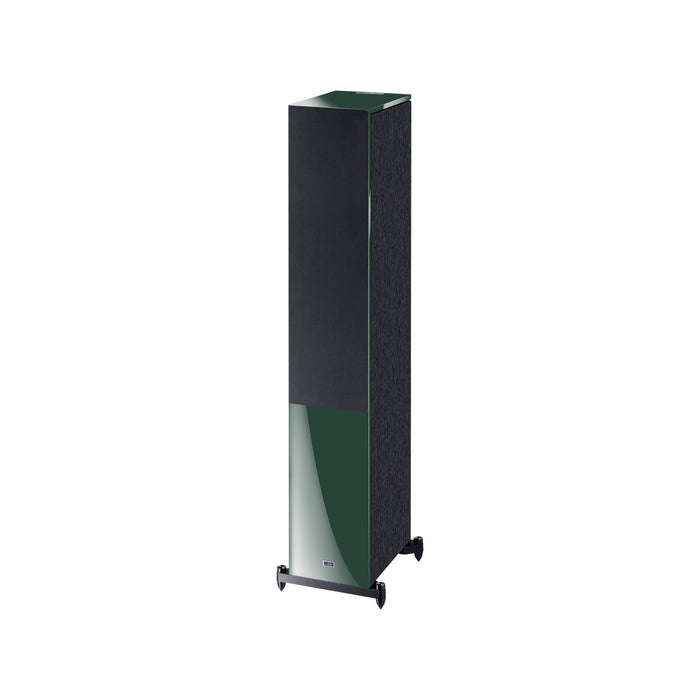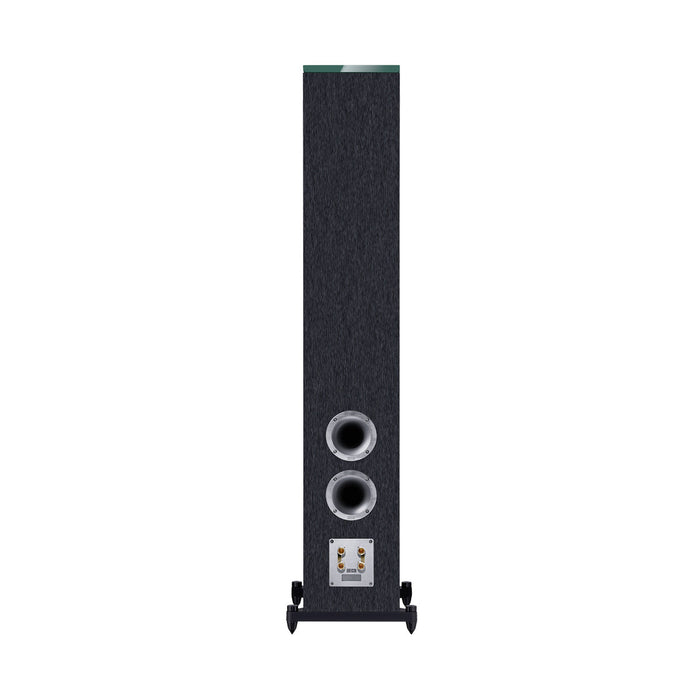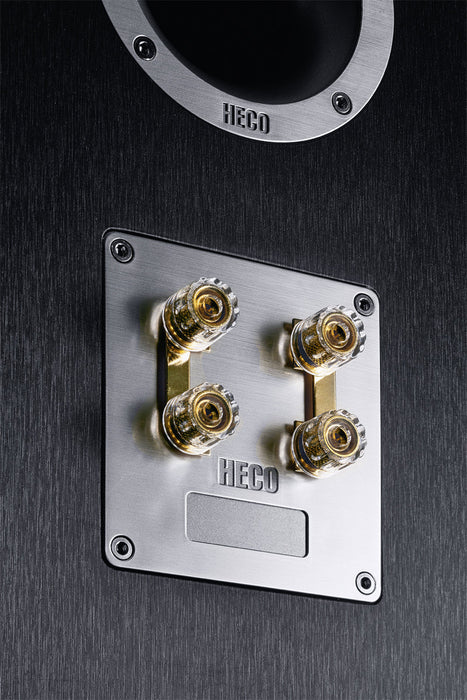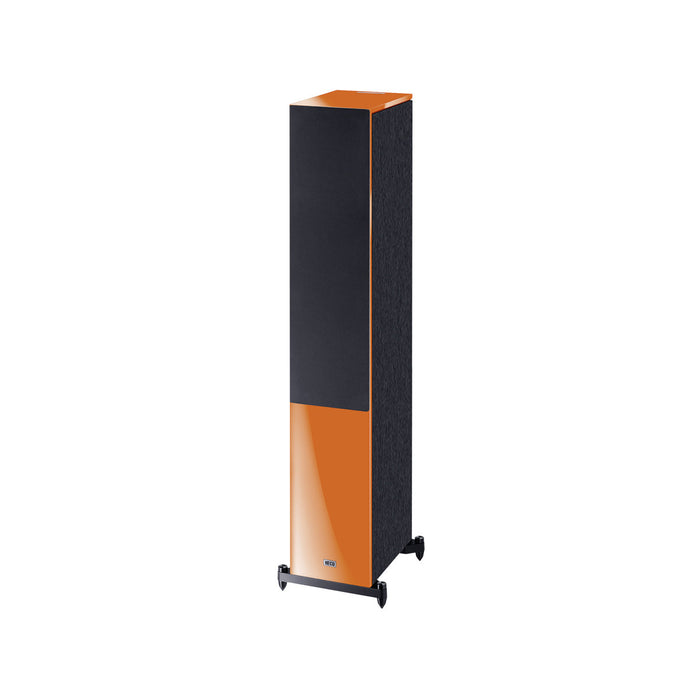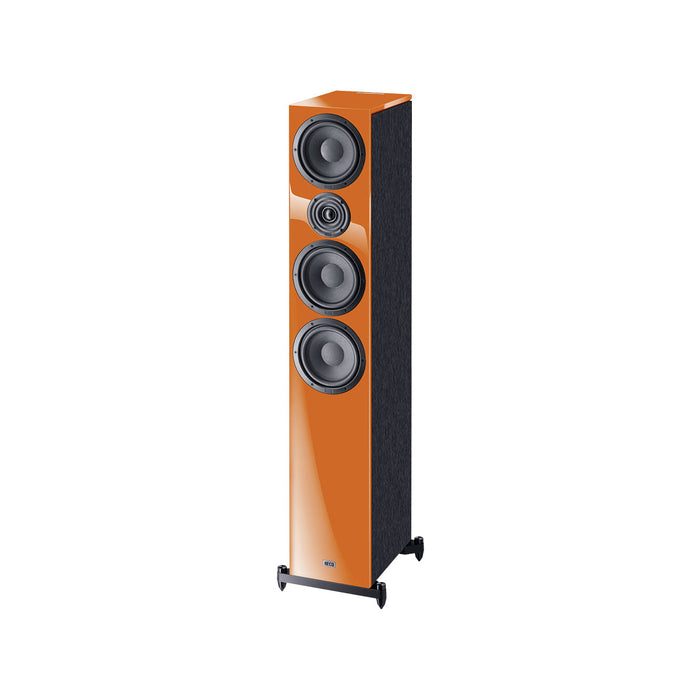 Heco Aurora 700 Colors 3-WAY HI-FI Floor Standing Speakers (Pair)
HECO Aurora 700 Colors
Trendy high gloss lacquer in 4 different colors combined with modern wood decor
New Fluctus tweeter with 28 mm fabric dome and computer-optimised multi-corrugated front panel for perfect dispersion characteristics
Woofer and midrange with HECO kraft paper membranes for neutrality and natural tones
Cloth protection cover with hidden magnetic mount
Solid crossbeams at the base with height-adjustable massive aluminum cone spikes
Elegant 3-way hi-fi speakers in a fascinating range of colors
The Heco Aurora 700 Colors is a fully-fledged floorstanding speaker with 3-way technology. It is available in four exclusive colors, namely: Cranberry Red, Speed Green, Sunrise Orange and Cool Grey. The body is finished in silk-matt anthracite, while the baffle and top panel exhibit a high-gloss finish in the respective color. The textile front grille is magnetically attached without any visible mounts.
Heco Aurora 700 – fully-fledged, yet slim
Standing 1100 mm tall, 195 mm wide and 325 mm deep, it offers perfect proportions, as the Fluktus tweeter and mid-range driver are perfectly positioned at ear level. The slim housing, on the other hand, is not even as wide as an A4 sheet of paper.
Two 170 mm woofers in the precisely coordinated bass reflex housing ensure an impressive deep bass response that delves down to 25 Hz. The mid-range and woofer cones are made of kraft paper. The long-fiber material mix of paper and textile fibers results in an extremely sturdy cone that is lightweight at the same time.
Heco Aurora 700 Colors – These speakers add color to your life
You didn´t want it any other way. You kept asking whether we could bring out speakers in some cool colors - and we listened. You are now even more spoiled for choice, because the Aurora 700 Colors series is available in four unbeatable colors. Cranberry Red, Speed Green, Sunrise Orange and Cool Grey finishes enrich the product range and allow you to set real accents in any environment, or simply to find the color that blends in perfectly with your surroundings.
HECO AURORA 700 COLORS IN CRANBERRY RED
Red may be the color of love, but it also radiates power, activity, dynamism and strength. When choosing this color we wanted a tone that was a little more "sophisticated", so we opted for Cranberry Red. While our fancy floor standing speakers can´t quite offer the same health-promoting ingredients as the superfood, everyone knows the positive effects of good music. This is something the Aurora 700 offers in abundance.
HECO AURORA 700 COLORS IN SUNRISE ORANGE
Orange stands for a "joie de vivre" and is the color of extroverts. Is that you? Even if it´s not, this version of the Aurora 700 Colors series is certainly an eye-catcher in virtually any environment. We can see these speakers literally shining into the room in front of a chic gray concrete wall. It would be worthwhile staging them perfectly with a few specially positioned spotlights. Do you dare?
HECO AURORA 700 COLORS IN SPEED GREEN
Dark green tones have always stood for speed - and cultivated speed at that. It is not without good reason that the famous "British Racing Green" is a color that goes perfectly with cars of all sizes and class, from the tiny, classic mini to the modern hyper sports car. Our dream scene? A garage that has been restyled into a man cave, complete with one or two selected vehicles. A classic British seating ensemble and a hi-fi system, at the end of which our green Aurora 700 floor standing speaker delivers just the right sound. Isn´t that a turntable we can see spinning in the corner?
HECO AURORA 700 COLORS IN COOL GREY
Are you not a particular fan of color? Then gray is the perfect ´non-color´ for you, as it stands for inconspicuousness, neutrality and restraint. You decide on the first point with regard to the environment and, as far as restraint is concerned, the Aurora will take care of the rest. Cranking up the amplifier, however, proves it´s also quite adept at all levels with a degree of neutrality that nicely covers the second point. Let´s put it this way: The Aurora, in its high-gloss gray finish, is something like a trendy turtleneck sweater. You are always well dressed with a casual vibe.
NOT ONLY BEAUTIFUL, BUT ALSO PERFECTLY PROCESSED
Like all of Heco´s speakers, the Aurora 700 is also characterized by a perfectly processed housing. The bass reflex housing is internally braced at multiple locations to stop any unwanted vibrations from occurring. The two bass reflex tubes are screwed securely in place with a flow-optimized construction at both ends to prevent the incoming and outgoing air from causing any noise. Sturdy crossbeams on the base ensure a secure footing on any surface and the solid and height-adjustable conical spikes, which are made of aluminum, decouple the Heco units from the surface. Depending on the floor covering that you are dealing with, the spikes can be complemented with either metal or rubber tips.The rear and side panels of our hi-fi speaker are provided with an elegantly textured anthracite finish, which is the same for all versions. The baffle and top panel of the 110 cm tall speaker exhibit a high-gloss finish in the respective color. Of course, there is also a textile front grille that can be easily attached and removed thanks to the invisible magnetic mounts. You won´t find any unsightly attachment points on the Aurora 700.
EXCELLENT TECHNOLOGY
Heco´s tried and tested technology, which has won numerous awards, is naturally also incorporated in the colored versions of the Aurora 700 hi-fi speaker. The new Fluktus tweeter, which features a 28 mm fabric dome, is responsible for all of the frequencies from around 3,500 Hz and operates up to 42,000 Hz and beyond in a neutral manner. Like all Fluktus tweeters, it exhibits a distinctive front panel and a wave shape that ensures all annoying refractions and reflections of the sound are avoided. The woofer and bass-midrange drivers are made of legendary long-fiber kraft paper and are therefore not subjected to any disruptive partial oscillations, as the cone is extremely sturdy, yet very light. In combination with the powerful driving magnets, the result is an impressive degree of dynamism. All of this is sorted by the elaborately designed crossover, which divides the music signals at 290 and 3,300 Hz. The amplitude and phase-optimized circuitry helps to ensure all of the sounds reach the listener at the same time. Solid, gold-plated terminals round off the technical configuration. Of course, there are two sets of these, meaning that the Aurora 700 can be used in bi-wiring or bi-amping mode without any problem whatsoever. This allows you to use different cables or even your own amplifiers for the treble and deep bass range.
THE HECO AURORA 700 PUT TO THE TEST
The Heco Aurora 700 has already proven itself repeatedly in tests conducted by the specialist press. The renowned test magazine "Audio" awarded it 78 points in its issue dated 4/2019 and certified it to be very good value for money. We quote: "Heco´s unit revealed the aura, the details of the concert hall and the atmosphere in the stands. Another class speaker, which is actually far too cheap. "Technology magazine SFT awarded it a rating of "very good - score 1.2" in issue 8/2018 with the following review: "Silky, with a high-resolution and cultivated manner that is never hasty or impulsive - this is the best way to sum up Heco´s Aurora speakers from our point of view.""Heimkino" also tested a surround set with the Aurora 700 in issue 5/6-2018 and awarded it an "outstanding" accolade and a score of 1.1. "The exquisitely designed Aurora models from Heco are thoroughly compelling with their seductive price point and excellent sound properties.
Highlights
FEATURES
New Fluctus tweeter with 28 mm fabric dome and computer-optimised multi-corrugated front panel for perfect dispersion characteristics
Woofer and midrange with HECO kraft paper membranes for neutrality and natural tones
Modern design: Silk-matt lacquer combined with modern wood decors
Floor-standing loudspeaker with double-bass components provides for richly detailed and powerful sound
Solid crossbeams at the base with height-adjustable massive aluminum cone spikes
Removable cloth protection cover with hidden magnetic mounts
CABINET
Exchangeable metal/rubber spike tips for an optimum adaptation to the floor type
Solid crossbeams at the base with height-adjustable massive aluminum cone spikes
Solid construction using elaborated struttings
Removable cloth protection cover with hidden magnetic
CROSSOVER
Elaborated phase and amplitude optimized crossover with high-quality components
High-quality connecting terminal with solid, gold-plated and capsulated screw connectors
Bi-wiring/Bi-amping-Option
Specification
Principle

3-way bass reflex

Drivers

2 x 6.5" woofer

6.5" midrange

1" dome-tweeter

Power Handling (RMS/Max)

200/300 W

Impedance

4 - 8 Ω

Frequency Response

25 - 42 500 Hz

Crossover Frequencies

290 Hz, 3 300 Hz

Recommended Amplifier Output

30 - 300 W

Sensitivity

92 dB

Cabinet surface

High-gloss lacquer / Decor black

Dimensions (WxHxD)

Cabinet: 195 x 1100 x 325 mm

Incl. spikes and Terminal: 265 x 1158 x 343 mm

Weight

19.9 kg