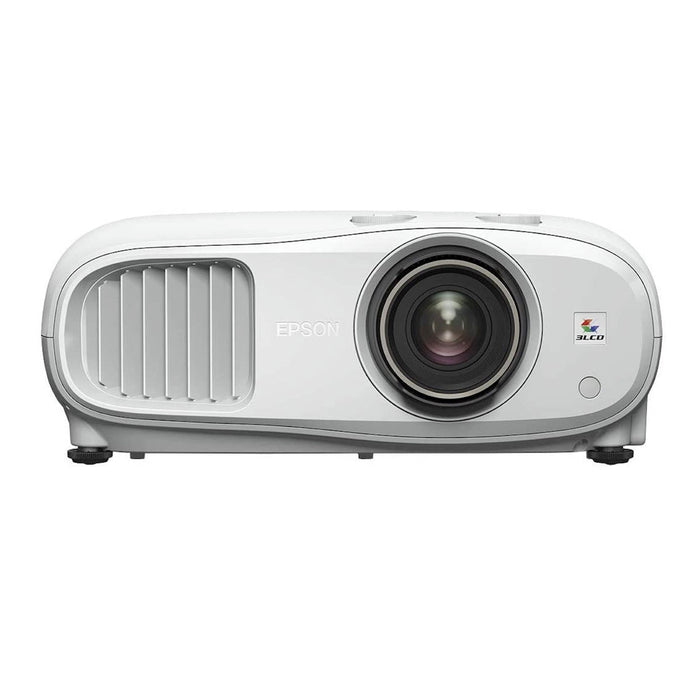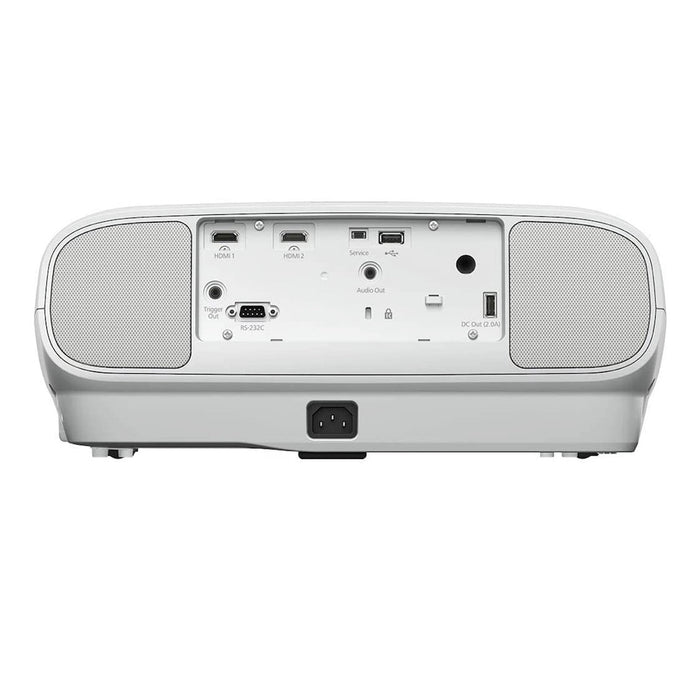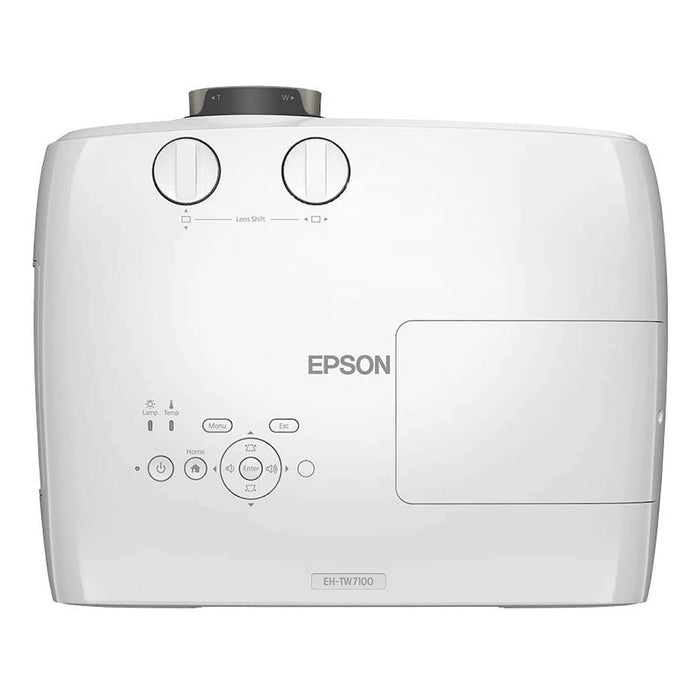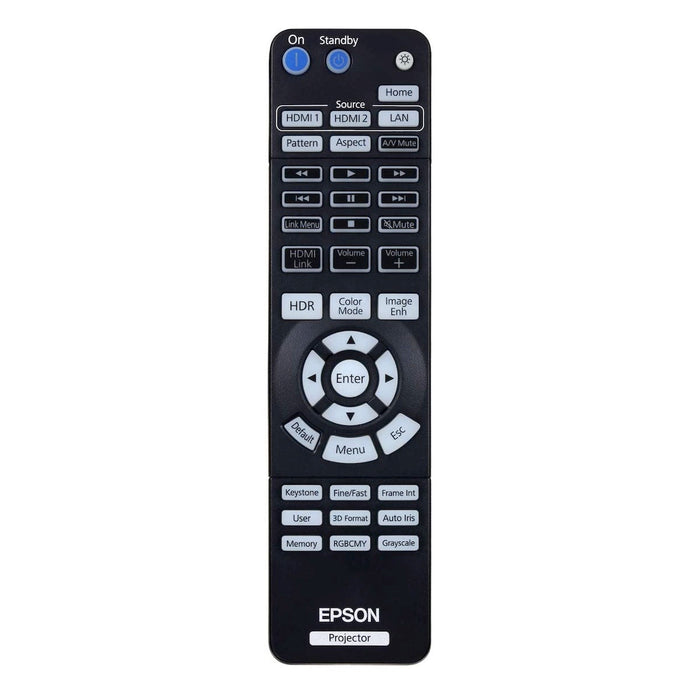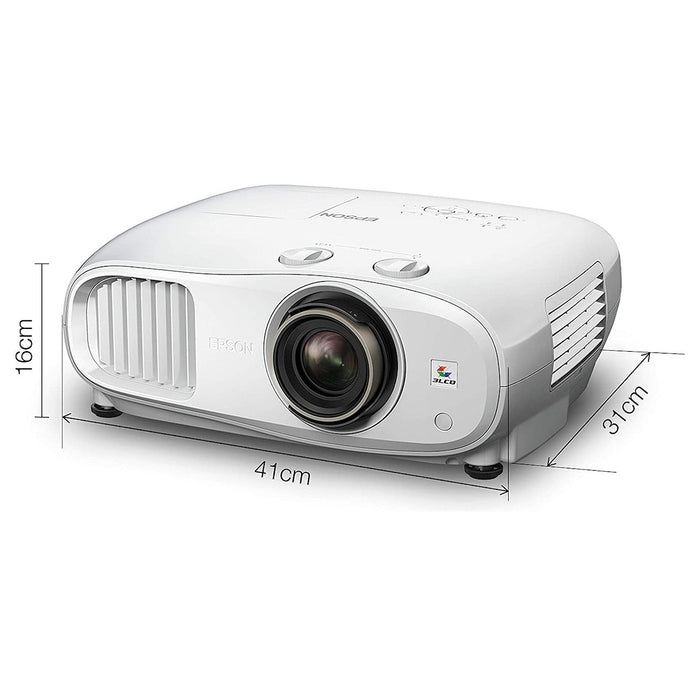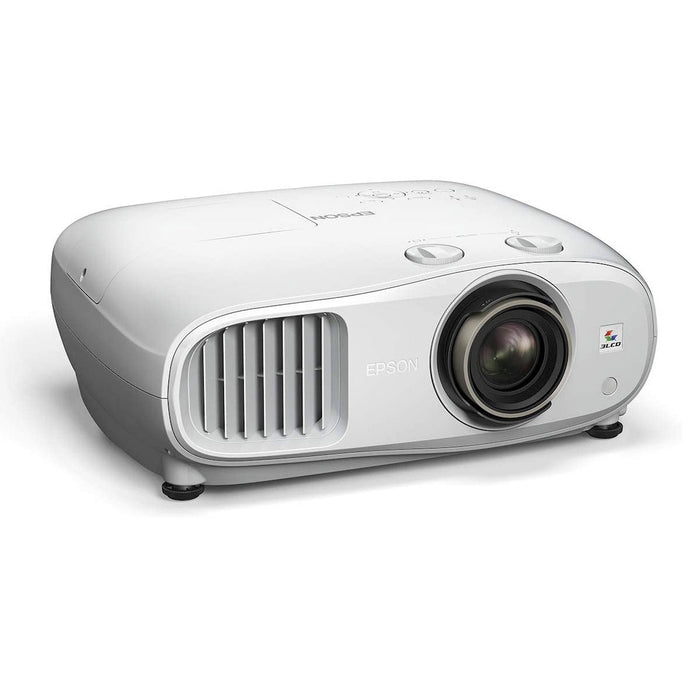 Epson EH-TW7100 - 4K Pro-UHD Projector
EPSON EH-TW7100 - HOME CINEMA PROJECTOR
Elevate your home entertainment 
Get advanced, high-end features at an affordable price with this 4K PRO-UHD1 projector. With a display that reaches up to 500", you can enjoy the latest 4K content, with superior image quality and a high contrast ratio. Lining up the picture is effortless using lens shift, optical zoom and keystone correction. It's easy to set up, stream content and get sound with built-in speakers or Bluetooth. 
The complete picture 
Experience bright, vivid colours with this affordable 4K PRO-UHD1 projector. By delivering an equally high White and Colour Light Output of 3,000 lumens, it achieves both a high brightness and intense colours. The high contrast ratio of 100,000:1 delivers deep blacks and clearly defined shadows, and the frame interpolation gives sharper fast-moving images.
Big screen experience 
Feel immersed in your home entertainment with an engaging big screen experience. This projector can create a display size of up to 500", can play 2D and 3D content, and boasts noise-cancelling technology. Lens shift, zoom and keystone correction ensure that your picture is exactly where you want it to be.
Stream content easily 
Plug and play 4K1 content simply by inserting a streaming device into the back of the projector so it's ready to go at a moment's notice. You can also display 4K1 content from a games console, set-top box, Blu-ray player, tablet or other device via the two HDMI ports. Connect sound bars wirelessly via Bluetooth.
Enjoy up to seven years2 of movies 
Watch a movie every day on the big screen for the next seven years2 thanks to its incredibly long lamp life that minimises replacements. Epson projectors are known for their reliability, so you don't have to worry about missing a minute of your favourite film, game or programme.
See beyond resolution 
With Epson's 4K PRO-UHD1 projectors, you get a holistic approach to image performance over and above the ability to receive, process and project 4K1 content. Great images are the result of a combination of technologies coming together, including equal colour and white brightness, 3LCD technology, contrast control, HDR10 and colour processing.
Brighter, vivid projection 
White brightness alone cannot bring the true colours you see everyday to life. The 3LCD technology found in Epson's projectors delivers an equally high white and Colour Light Output (CLO), so that you can experience vivid and lifelike images.
Innovations that matter 
Epson projectors have a significantly higher colour brightness than 1-chip DLP projectors thanks to 3LCD technology. As such, Epson's projectors offer up to three times brighter colours3, resulting in more vivid and colourful images.
Flicker-free images 
1-chip and LED projectors can be subject to the 'rainbow effect', which describes how some people can see a disruptive flicker in fast-moving images. Ensuring smooth images, Epson's projectors use 3LCD technology, which means that the 'rainbow effect' can never occur.
Key Features
4K PRO-UHD1for crisp, clear images: Watch native 4K and upscale non-4K content

Easy to set up and access content: Stream content by plugging devices into either of the two HDMI ports

High-quality and affordable: Flexible features that deliver a 4K experience at an affordable price

Engaging big screen experience: Get the best out of movies, sports and gaming

Watch a movie a day for seven years2: 5,000 hours lamp life in Eco mode
If the projector is suspended from a ceiling or wall mount and installed in an environment with heavy oil smoke or places where oils or chemicals are volatilized, places where a lot of smoke or bubbles are used for event staging, or where aroma oils are frequently burned, it can make certain parts of our products susceptible to a material degradation which over time could break and cause the projector to drop from the ceiling. 

If you are concerned about the environment in which your projector is installed, or if you have any other questions, please contact our support department and they can provide additional assistance.
SPECIFICATIONS
| | |
| --- | --- |
| Projection System | 3LCD Technology, RGB liquid crystal shutter |
| LCD Panel | 0.61 inch with C2 Fine |
| Color Light Output | 3,000 Lumen |
| White Light Output | 3,000 Lumen |
| Resolution | 4K PRO-UHD, 16:9 |
| High Definition | 4K enhancement |
| Aspect Ratio | 16:09 |
| Contrast Ratio | 100,000 : 1 |
| Light source | Lamp |
| Lamp | UHE, 250 W, 3,500 h durability, 5,000 h durability (economy mode) |
| Keystone Correction | Manual vertical: ± 30 °, Manual horizontal ± 30 ° |
| Colour Video Processing | 10 Bits |
| 2D/3D Frequency Image | 240 Hz / 480 Hz |
| 2D Vertical Refresh Rate | 192 Hz - 240 Hz |
| 3D Vertical Refresh Rate | 400 Hz - 480 Hz |
| Colour Reproduction | Upto 1.07 billion colours |
| Throw Ratio | 1.32 - 2.15:1 |
| Zoom | Manual, Factor: 1 - 1.62 |
| Lens | Optical |
| Lens Shift | Manual - Vertical ± 60 %, horizontal ± 24 % |
| Screen Size | 40 inches - 500 inches |
| Projection Distance Wide/Tele | 2.95 m - 4.77 m ( 100 inch screen) |
| Projection Lens F Number | 1.49 - 1.77 |
| Projection Lens Focal Length | 18.2 mm - 29.2 mm |
| Projection Lens Focus | Manual |
| Interfaces | USB 2.0 Type A (2x), USB 2.0 Type Mini-B, HDMI in (2x), Stereo mini jack audio out, Bluetooth |
| Epson iProjection App | Ad-Hoc / Infrastructure |
| Security | Kensington lock |
| 3D | Active |
| 2D Colour Modes | Dynamic, Natural, Cinema, Bright Cinema |
| 3D Supported formats | Side by side, Top and bottom |
| Other features | 3D depth adjustment, 4K enhancement, Frame interpolation, Horizontal and vertical keystone correction, Quick Corner, Wireless LAN capable |
| Video Color Modes | Automatic, Cinema, Dynamic, Natural, Bright Cinema |
| Power consumption | 387 Watt, 297 Watt (economy), 0.5 Watt (standby), On mode power consumption as defined in JBMS-84 323 Watt |
| Supply Voltage | AC 100 V - 240 V, 50 Hz - 60 Hz |
| Product dimensions | 410‎ x 310 x 157 mm (Width x Depth x Height) |
| Product weight | 6.9 kg |
| Noise Level | Normal: 32 dB (A) - Economy: 24 dB (A) |
| Supported Temperature | Operation 5° C - 30° C, Storage -10° C - 60° C |
| Supported Humidity | Operation 20% - 80%, Storage 10% - 90% |
| Options | Air filter ELPAF38, MB22 ceiling mount, Wireless LAN unit |
| Loudspeaker | 10 Watt, Stereo: Stereo |
| Room Type / Application | 4K Gaming, 4K Streaming, Home Cinema, Sports, TV & Box sets |
| Positioning | Ceiling Mounted, Desktop |