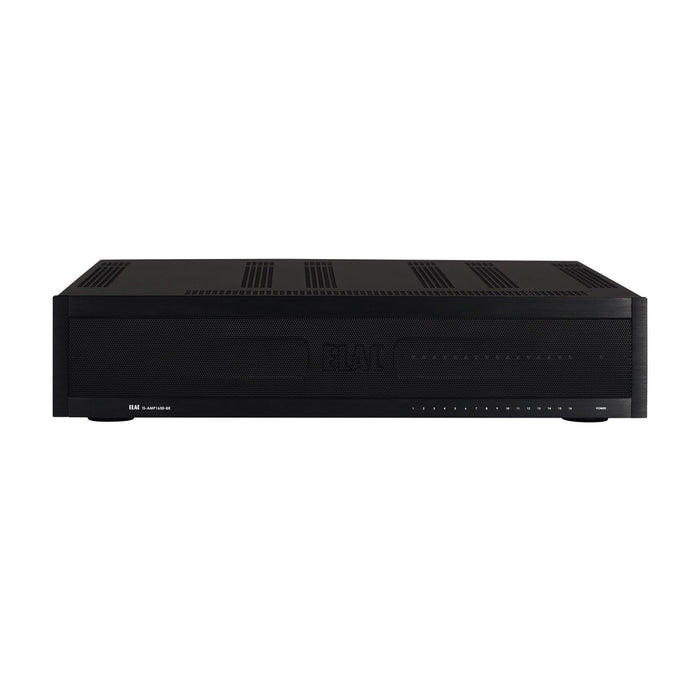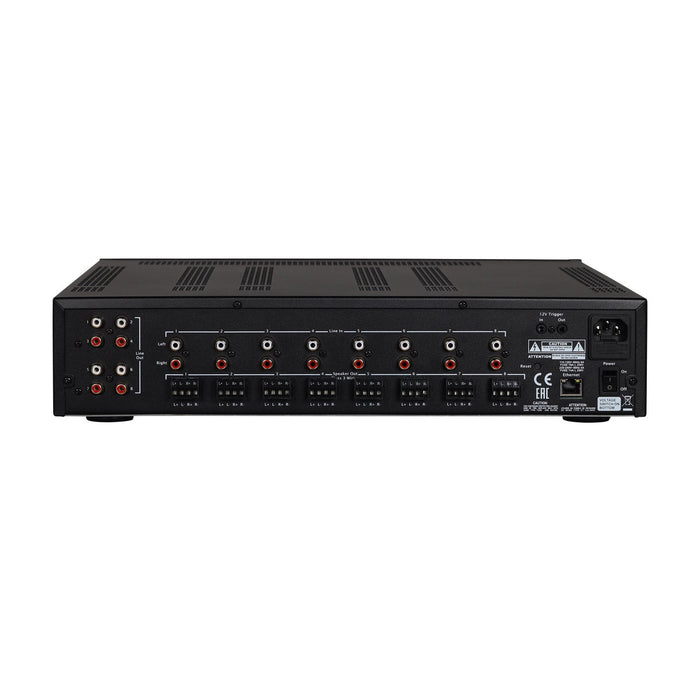 Elac Integrator IS-AMP1650-BK 16 Channel DSP Amplifier
IS-AMP1650-BK
Our multi-channel amplifiers provide full matrix capability, any input to any output.
The Integrator Series Rack Mount Amplifier with Matrix Switching and Assignable Outputs
Discrete Class D amplifiers ensure robust power even under the most demanding loads. Unique assignable outputs allow for the easy addition of powered subwoofers and amplifiers to multiple zones
FULL MATRIX AUDIO ROUTING
Route any input to any output. Our WEB based GUI makes customizing the amplifier simple.
8, 12, OR 16 CHANNELS OF PREMIUM POWER
Each ELAC Multi-channel amplifier uses a modular design and efficient Class D amplifiers. The 8 Channel Amplifier delivers up to 100 Watts per channel, while the 12 Channel delivers up to 75 Watts and the 16 Channel delivers up to 75 watts.
CONFIGURABLE AUDIO OUTPUTS
All of our multi-channel amplifiers feature assignable outputs (8-Channel 4 Outs), (12/16- Channel 8 Outs) allowing for extremely flexible projects. Power a room off in-ceiling speakers with the built-in amplifiers and assign one of the outputs to a powered subwoofer in the same room. You can even apply highpass filters to the in-ceiling/in-wall speakers.
ADVANCED DSP
Our advanced DSP allows for great flexibility when setting up each zone. A full Parametric Equalizer can be used for each output or simply use one of our presets for ELAC speakers to simplify the setup.
WEB GUI
Our WEB GUI allows for easy setup and tuning of the amplifier. A status screen shows the current state of each channel along with both input and output levels for each channel. Settings can be saved for easy replication of projects.
Features & Specifications
INPUT CHANNELS:16
OUTPUT CHANNELS:16
ASSIGNABLE OUTPUTS:8
POWER OUTPUT PER CHANNEL @ 4W:50W
POWER OUTPUT PER CHANNEL @ 8W:50W
TOPOLOGY:Discrete Class D
FREQUENCY RESPONSE:20 Hz – 20 KHz
DIMENSIONS WIDTH X LENGTH:425.45 mm x 346.08 mm
RACK SPACING:2 RU
REMOTE LEARNING:No
IP COMMANDS AVAILABLE (THIRD PARTY CONTROL):YES
DSP:YES
ETHERNET CONNECTION:YES