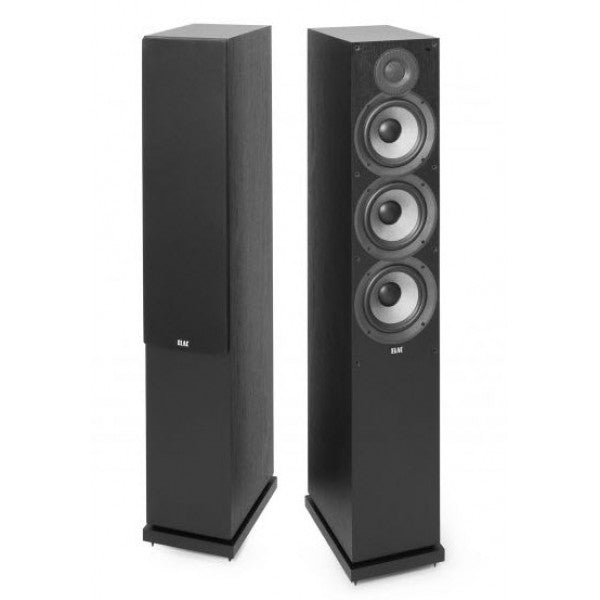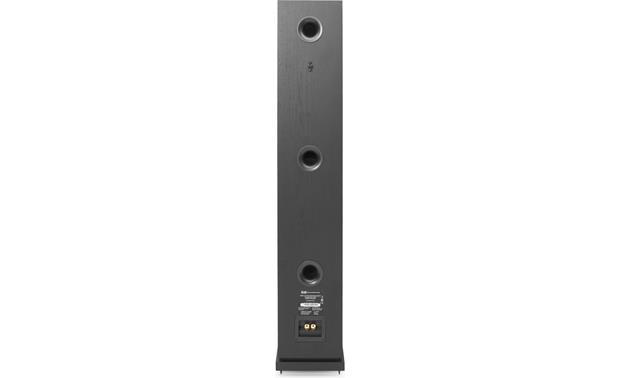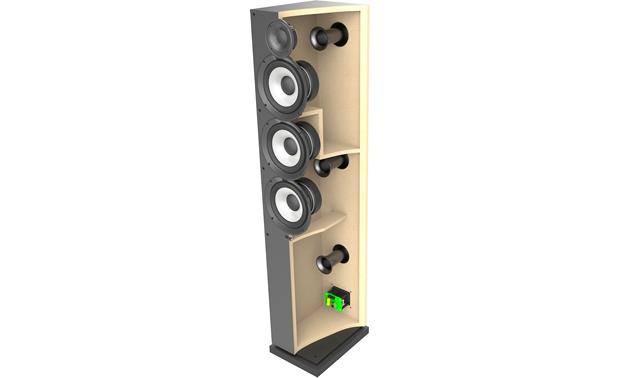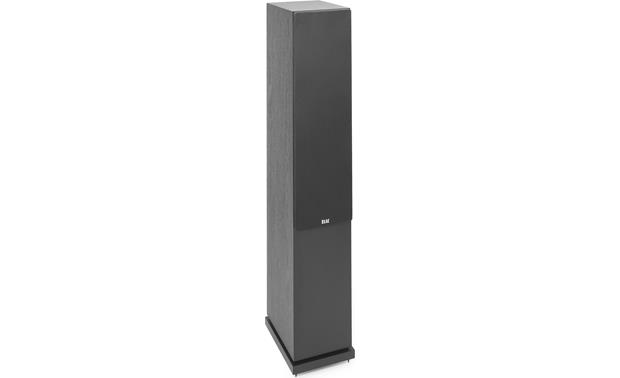 Elac Debut 2.0 F6.2 Tower Speaker - Pair
About the Elac Debut 2.0 F6.2
ELAC's Debut 2.0 Series Flagship
ELAC's original Debut F6 floor-standing speaker was a true customer favorite, garnering high praise and stellar reviews. The newly designed Debut 2.0 F6.2 offers even better performance in a taller, slimmer cabinet. This new tower also sports an improved 1" silk dome tweeter for extended high-frequency response and a trio of updated 6-1/2" aramid-fiber woofers for smooth mids and punchy bass.
Custom-Built For Excellent Sound
Fans of ELAC know that renowned speaker designer Andrew Jones has been at the helm of the Debut series since the beginning. Jones himself designs the magnets, woofers, crossovers, and enclosures for each Debut speaker, which allows for high-quality components without the added cost of outsourcing parts and supplies.
A High-quality Crossover Directs Traffic 
One of the F6.2's performance secrets is its custom-designed multi-element crossover. Jones uses this important component to ensure smooth frequency distribution between each of the drivers. The result is full, natural sound from a floor-stander that won't wreak havoc on your budget. Use a pair of the F6.2s as part of a great-sounding stereo or Debut 2.0 Series home theater system.
Warranty: 1 year
Product Highlights:
3-way design
1" silk dome tweeter with wide-dispersion waveguide for smooth, accurate Highs and extended high-frequency response
6-1/2" aramid-fiber dedicated midrange driver with oversized magnet and vented pole piece
Dual 6-1/2" aramid-fiber woofers for punchy bass
Frequency response: 39-35,000 Hz
Sensitivity: 87 dB
Impedance: 6 ohms
Recommended amplifier power: up to 140 watts
Bass-reflex (ported) cabinet with rear-firing ports
Custom multi-element crossovers with high-grade components to ensure a smooth transition between drivers
5-way binding post speaker terminals
Thick MDF cabinet walls with black ash vinyl finish
Cabinet walls are internally braced for reduced resonance and improved stability
8-1/8"W x 44-5/16"H x 11-5/8"D
Weight: 44 lbs.
Warranty: 1 year
What's in the Box:
ELAC Debut 2.0 F6.2 Owner's Manual
Floorstanding loudspeaker
Grille
4 Spikes (hex-nuts attached)
Operating Instructions
Features
Three-Way Driver Design: The Elac Debut 2.0 series DF62 floor-standing loudspeaker features a three-way driver design with a 1" tweeter, one 6.5" midrange driver, two 6.5" bass woofers, and a 90Hz/2200Hz crossover network. The tweeter, midrange driver, and woofers have been custom designed by Andrew Jones to deliver an exceptional audio experience that can't be delivered with typical off-the-shelf parts.

Cloth Dome Tweeter w/ Wave Guide: The 1" silk soft-dome tweeter features a wide-roll surround that improves power handling and a waveguide that improves directivity control by eliminating cabinet diffraction inherent in traditional box enclosures. The 1" silk soft-dome tweeter candle handle high frequencies up to 35,000 Hz.

Woven-Aramid Fiber Woofers: The floor-standing speaker features three 6.5" woven aramid-fiber cone woofers (1 midrange driver/2 bass woofers) with rubber surround, oversized magnet, and vented pole piece. The revised shape of the aramid cone offers even greater stiffness and damping; far superior to polypropylene or paper. The added strength allows more flexibility in design to achieve a smoother, extended low-frequency response.

Custom Crossover: A custom nine-element crossover (90Hz/2200Hz) with audio-grade components is implemented to ensure a smooth transition between the tweeter, midrange driver, and bass woofers.

Bass Reflex MDF Cabinet: The Elac Debut 2.0 series DF62 floor-standing loudspeaker uses a bass reflex cabinet with three rear-firing flared ports for greater efficiency and bigger bass response. The cabinet is made of MDF (Medium Density Fiberboard) to strengthen and stiffen the cabinet, helping minimize unwanted vibrations that can discolor music or movie content. The MDF outer walls of the cabinet are covered with a black ash wood-grain vinyl finish. A detachable cloth grille is included.

5-Way Binding Posts: The Elac Debut 2.0 series DF62 floor-standing loudspeaker is fitted with a set of 5-way binding-post terminals that will accept bare-wire (up to 10AWG), pin connectors, spade lugs, and banana plugs (single or dual).

Spike Feet: The Elac Debut 2.0 series DF62 floor-standing loudspeaker features an integrated plinth (base) and comes with 4 spike feet. The spikes screw into the speaker cabinet's integrated plinth (base). The spike feet work great on carpeted flooring. You should place protective discs (not included) under the spikes if you are placing the speaker on hardwood or tile flooring (no rubber feet are included).

Dimensions with Spike Feet: 8.125" (w) x 44.3125" (h) x 11.625" (d)
Dimensions without Spike Feet: 8.125" (w) x 43.4375" (h) x 11.625" (d)
Note: There is a pre-installed safety clip on the back of the speaker cabinet for securing the floor-standing speaker to a wall to prevent tip-over. Wall-mount hook, screws, and cord are all sold separately and can be found at your local hardware store.

Applications: The Elac Debut 2.0 series DF62 floor-standing loudspeaker can be used in a 2ch stereo application, or used as your front speakers and/or rear surround speakers in a multichannel home theater application.

2Ch Stereo or Front Speaker Placement: For optimum stereo imaging, place the speakers so that an equilateral triangle is created between the speakers your main listening position. You can also angle ("toe-in") the speakers towards the listening position to gain a more focused central image.

Rear Surround Placement: In a 5.1channel surround setup, avoid placing the speakers forward of your listening position. The speakers should be spread apart wider than the front speakers.
Note: In either application, the speaker should be placed 1' to 2' away from boundaries such as walls and corners. Close proximity to a side or rear wall will enhance bass performance, but being too close may result in the bass that is unnatural.

Elac Debut 2.0 Series: The Elac Debut 2.0 series family of loudspeakers consists of two floor-standing loudspeakers (DF52/DF62), two bookshelf loudspeakers (DB52/DB62), two center-channel loudspeakers (DC52/DC62), a Dolby Atmos-enabled loudspeaker (DA42), and two powered subs (S10EQ/S12EQ).