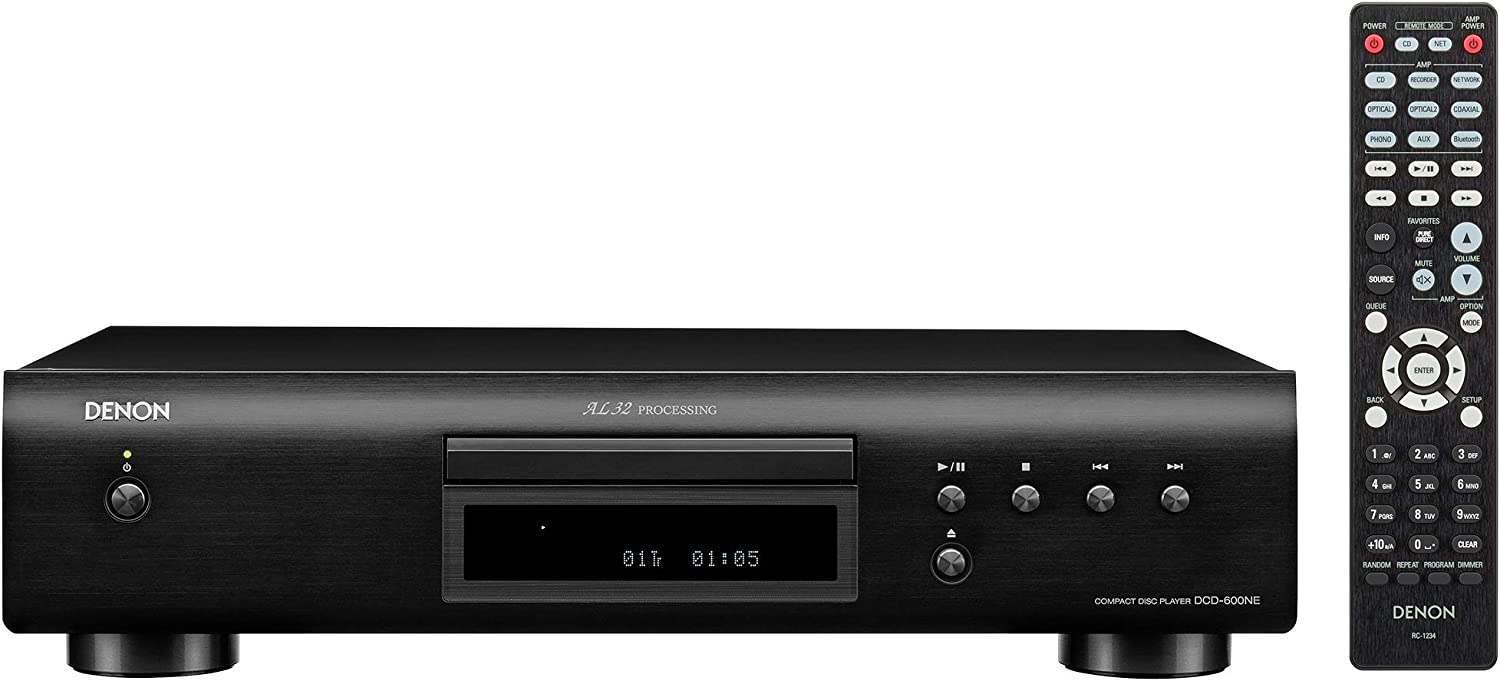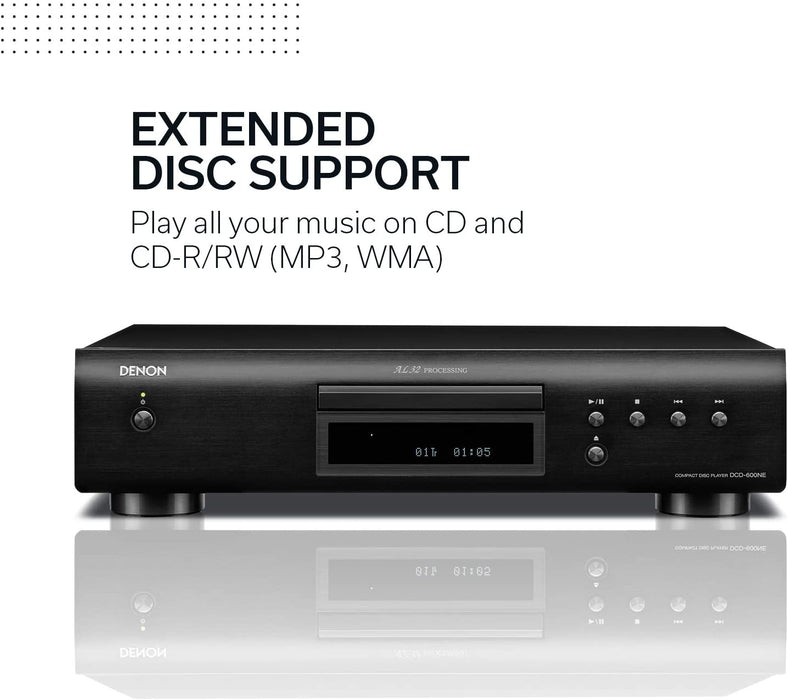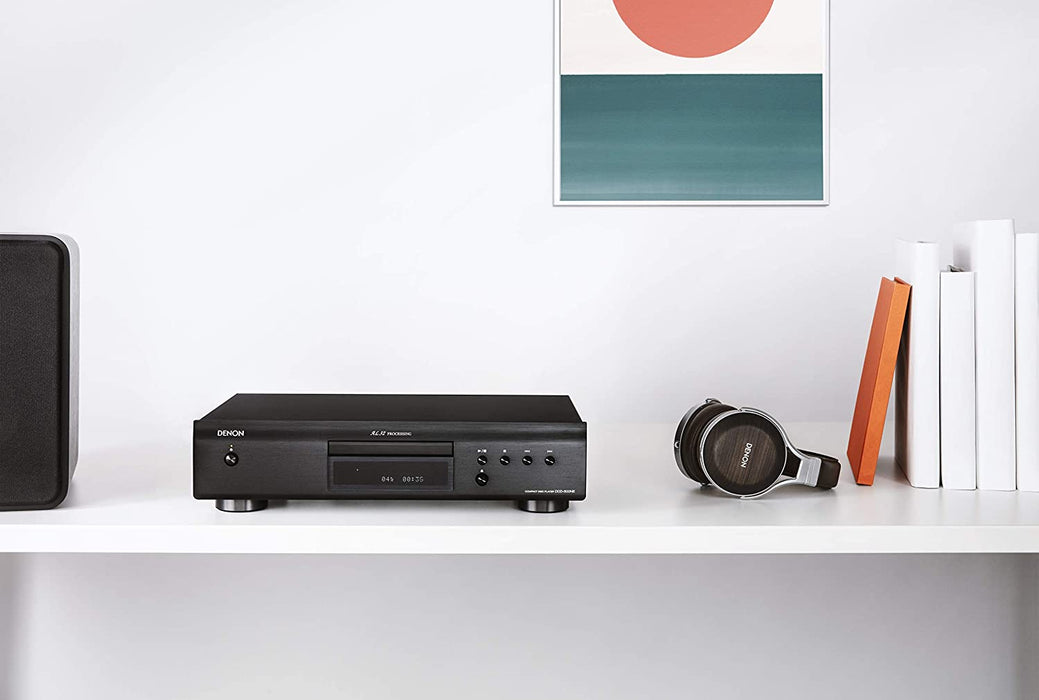 Denon DCD-600NE Compact CD Player in a Vibration-Resistant Design | 2 Channels | Pure Direct Mode | Pair with PMA-600NE for Enhanced Sound Quality | Black
About the Denon DCD-600NE
Excellent compact disc sound
The Denon DCD-600NE is designed to do one thing well: make your compact discs sound great. It features a high-performance 32-bit/192kHz digital-to-analog converter and proprietary AL32 processing that ensures smooth, detailed playback. Its metal chassis and internal construction reduce unwanted vibration.

There's a Toslink optical digital output on the back panel, plus a gold-plated analog stereo RCA output.

Experience the DCD-600NE
There's something inherently satisfying about the sleek simplicity of the Denon DCD-600NE CD player. Its solid construction brushed metal faceplate, and functional button layout suit my needs perfectly. 
Recommendations:
Matched with the Denon PMA-600NE integrated amplifier and a very nice pair of K.E.F LS50 speakers.

I used this excellent setup to demo tracks from a very familiar album — Peter Gabriel's landmark 1986 release So. The album was released in the boom years of CD production, when I was a music-loving teen, so I wanted to revisit it with the benefit of 30-plus years of technological advancement. Familiar anthems like "Sledgehammer," "Big Time" and "Red Rain" were as big and bouncy as I remembered, but I was eager to listen to some of the disc's more quiet, restrained numbers for a true test.

When Gabriel's voice blended with that of Kate Bush on "Don't Give Up," each artist's unique vocal timbre shone through with pristine clarity. In that tune, and the slow, mournful "We Do What We're Told," the spare arrangements can reveal surface noise when I listen to my vinyl copy of this album. The noise floor on this digital recording, with the help of the DCD-600NE, was pretty much nil, which preserved the reflective quality the artist likely intended. Which is exactly what I want from a CD player.
Product highlights:

Plays CDs, CD-Rs & CD-RWs plus MP3, WMA, and AAC CDs
High-performance 32-bit/192kHz digital-to-analog converter
Advanced circuitry design for clean, transparent sound reproduction
Proprietary AL32 processing ensures smooth, detailed playback
Pure Direct Mode bypasses processing
Vibration-resistant design
Remote control included
Performance specifications:

Signal-to-noise ratio: 112 dB
Frequency response: 2-20,000 Hz (-3dB)
Total harmonic distortion: 0.003%
Dynamic range: 101 dB
Connections:

Toslink optical digital output
Gold-plated stereo analog RCA output
Remote control input/output (for use with compatible receivers and amps)
Dimensions and warranty:
17-1/8"W x 4-1/4"H x 11-15/16"D.
Warranty: 1 year
What's in the box:
Denon DCD-600NE owner's manual
CD player
Remote control (RC-1234)
Two "AAA" batteries
47" Stereo RCA cable
Owner's Manual on CD-ROM
Quick Start Guide
Warranty Information
Safety Instructions