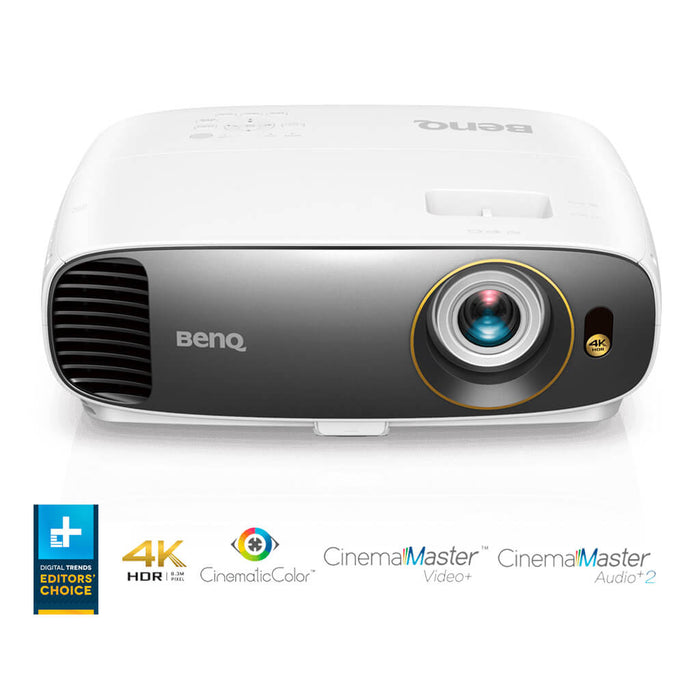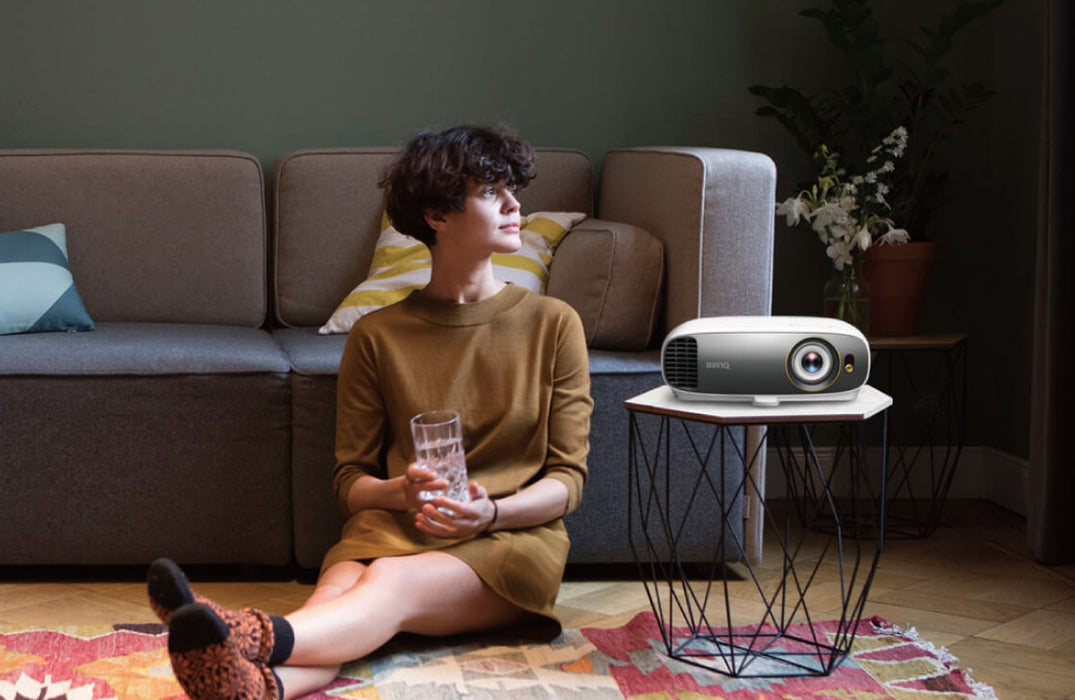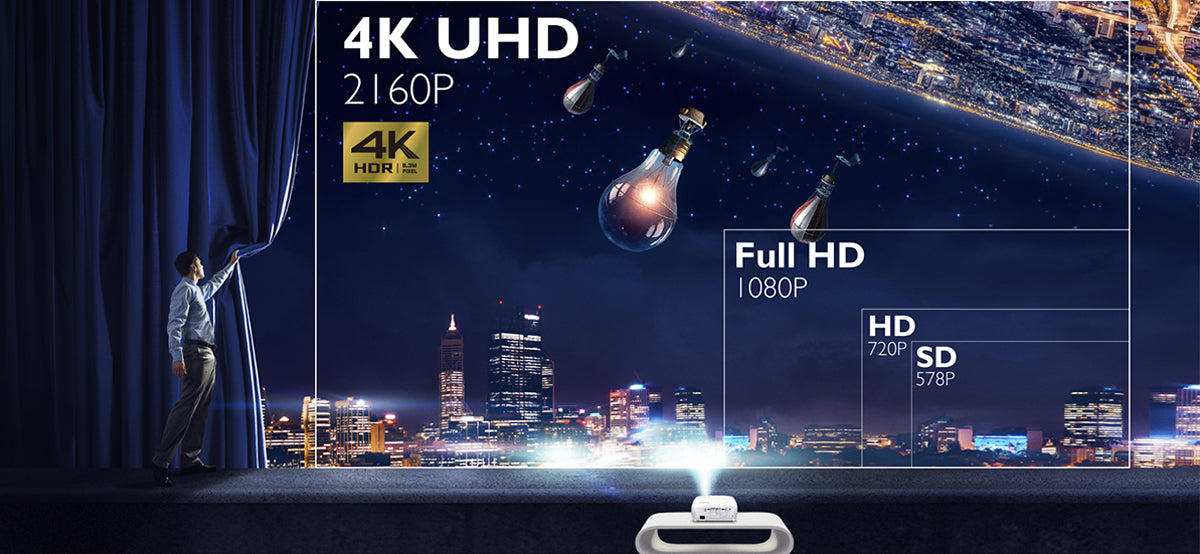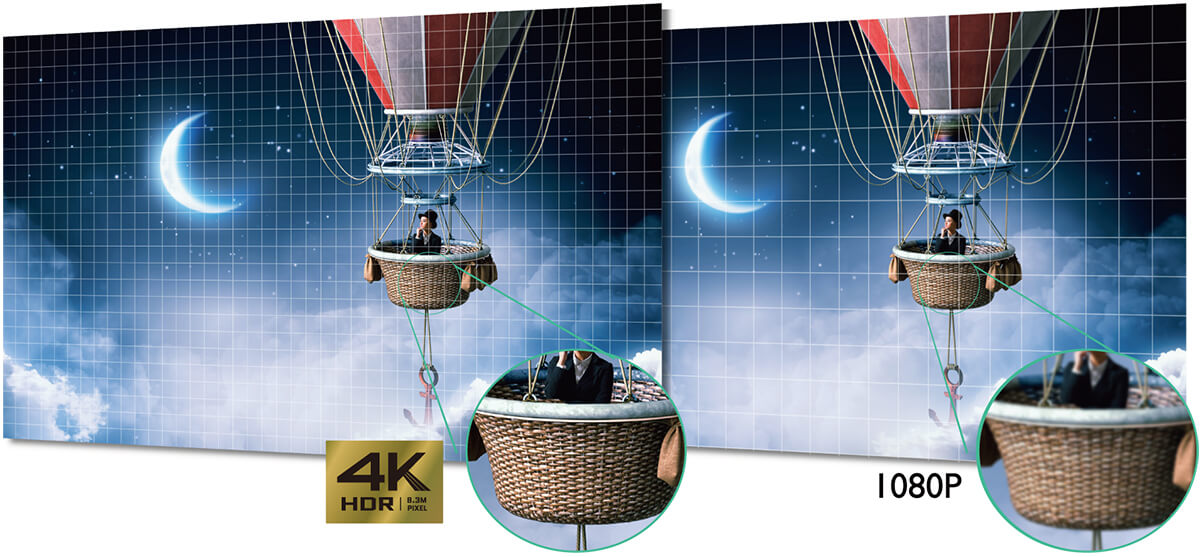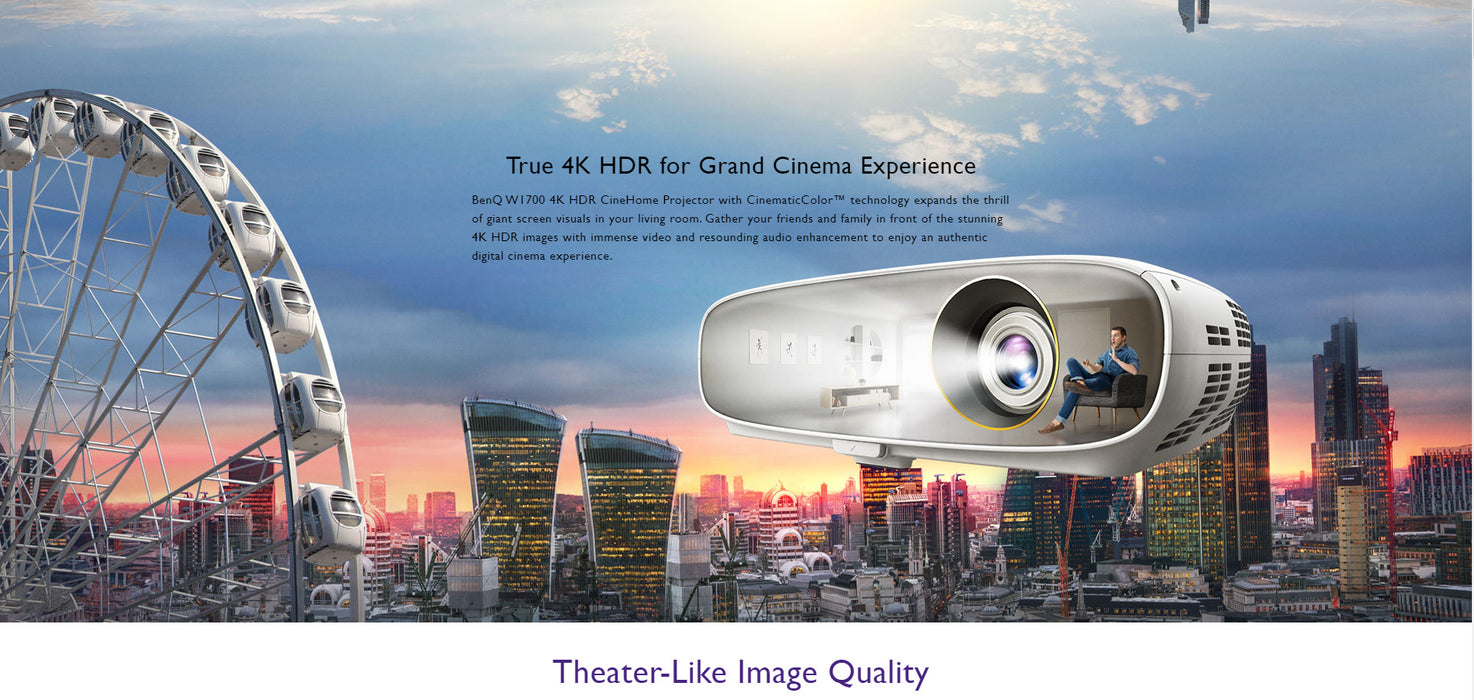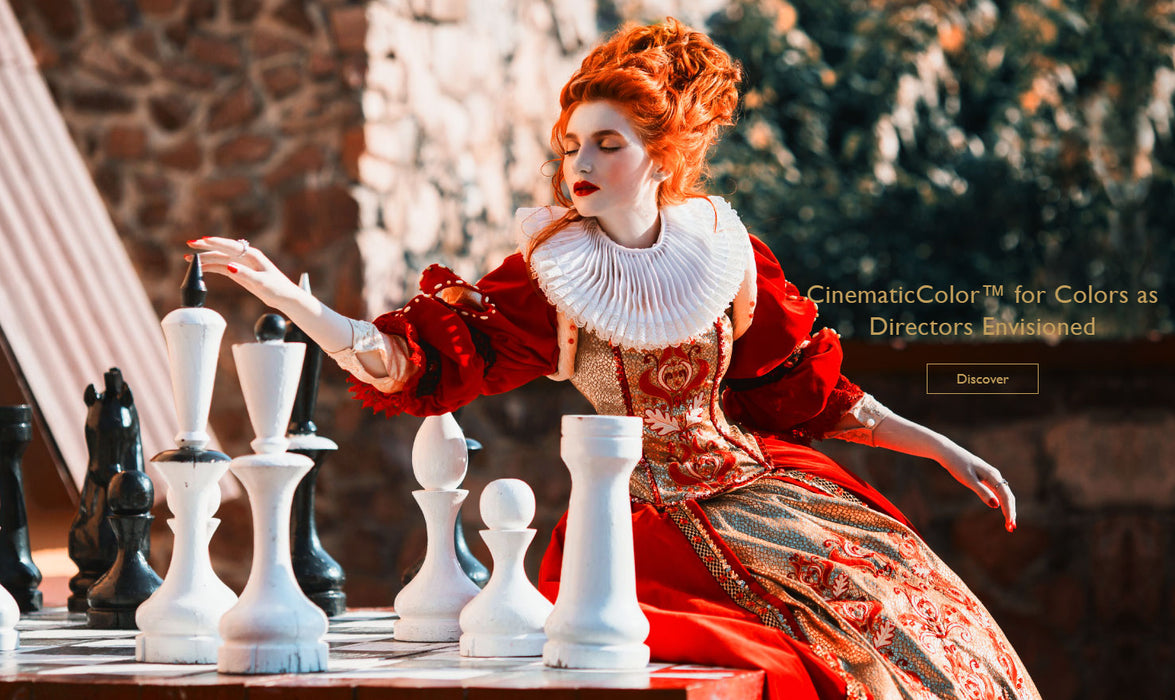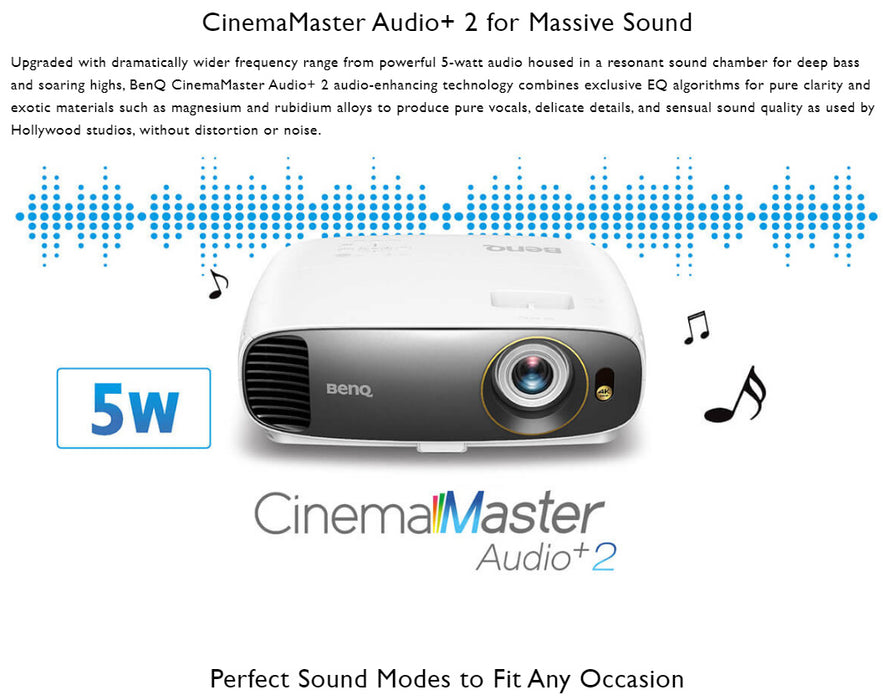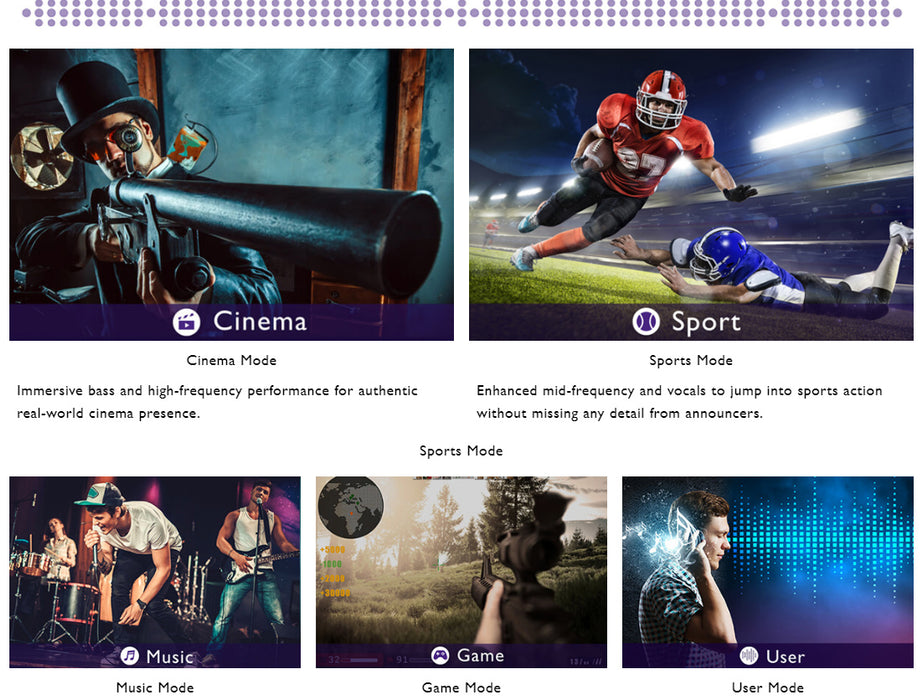 BenQ W1700 4K UHD & HDR Home Theater Cinema Projector
BenQ is the No.1 Bestselling DLP Projector Brand
Digital Light Processing (DLP), awarded 2015 Academy Award of Merit (Oscar® statuette), is the leading projection technology used in 90% of world's digital cinemas and 100% of IMAX theaters. With DLP dominating over 50% worldwide projector market share, BenQ is today the #1 bestselling DLP projector brand, delivering unmatched world-class performance.
 BenQ W1700 4K HDR Cine Home Projector with Cinematic Color™ technology which helps expands the thrill of giant screen visuals in your living room. Organize movie nights or stream music videos on your projector and gather your friends and family in front of the stunning 4K HDR images with immense video and resounding audio enhancement to enjoy an authentic digital cinema experience. 
Click Here >> For More Informaions and Technical Specifications
Warranty
2-year BENQ warranty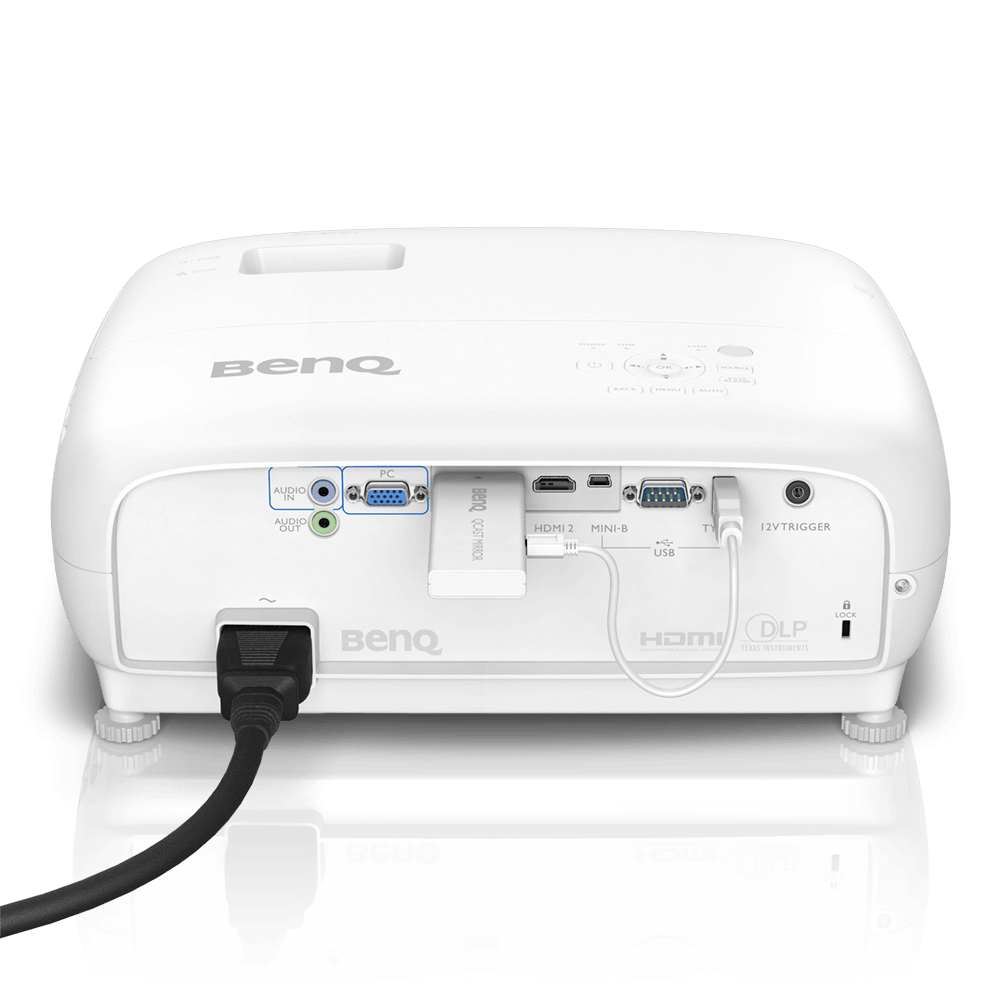 Key Features: 
4K UHD with Razor-Sharp True 8.3 Million Pixel Detail
Hyper-Realistic Video Quality with Projector-Optimized HDR
Rec. 709 HDTV Standard for Finest Cinematic Color Accuracy
4K UHD True 8.3 Million Pixel Perfection

This amazing home theatre projector produces 4K UHD 3840x2160 resolution with 8.3 million distinct pixels for each frame. Additionally, W1700 utilizes revolutionary 0.47" single-DMD DLP technology to minimize the projector's sleek, compact profile to suit the modern lifestyles. With four times the resolution of Full HD 1080p, 4K UHD reduces pixel blur for awe-inspiring clarity and crisply defined fine details for an elevated cinematic experience.


Accurate Color and Image Integrity

The BenQ W1700 comes equipped with single DMD DLP technology to avoid inherent alignment issues of multiple panels. Furthermore, it ensures immaculate image integrity and colour accuracy. The W1700 also generates razor-sharp images and accurate colours devoid of issues such as blur, shadowing, and interference patterns for immaculate clarity.


Flawless Optics for Superb Image Quality 

The BenQ 4K optical system uses only the highest grade glass for superior light penetration and realistic image quality. It comes with a proprietary low-dispersion lens coatings that minimize chromatic aberration, so you can enjoy your favourite 4K UHD content in brilliant clarity.
Hyper-Realistic Video Quality with HDR 
Charged by HDR10 support with BenQ exclusive Auto HDR Color Rendition and Cinema-Optimized technology, W1700's High Dynamic Range performance offers superior brightness, contrast range, and image optimization in a single step, and bringing out every detail in 4K video content. You need not look anywhere else for a hyper-realistic cinema experience.


Auto HDR Natural Color Rendition for Lifelike Color Realism
A lot of HDR projectors come with biased colour temperature and oversaturated greens and reds. BenQ on the other hand is equipped with Auto HDR Natural colour rendition technology that unleashes breath-taking 4K HDR visuals with with perfectly lifelike colour performance automatically tuned to reflect nature.
Cinema-Optimized HDR Performance Preserves Dark Details in Total Clarity 
While other HDR projectors can lose details and display incorrect greyscales, BenQ features cinema-optimized HDR technology to perfectly balance colour saturation and rich colour scale, preserving dark details in total clarity and that is exactly what you need in your home projector system!
See the Wonders with CinematicColor

You can experience the magic of Cinematic Colour™ technology with the W1700 from BenQ. It enhances optimal colours for precise picture quality. Moreover, the Cinematic Colour™ technology delivers Rec.709 HDTV colour accuracy, RGBRGB colour wheel technology, and high native ANSI contrast ratio to produce incredible image performance with crisp visuals and sharp details for you!