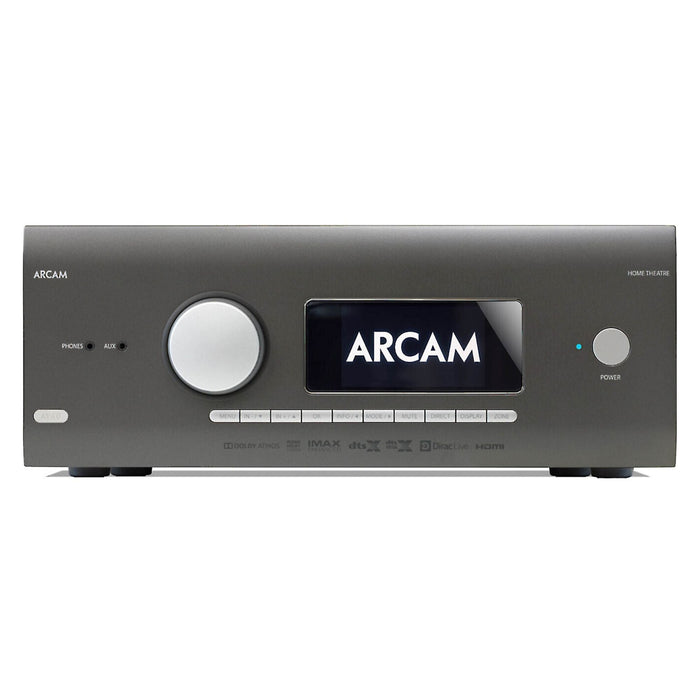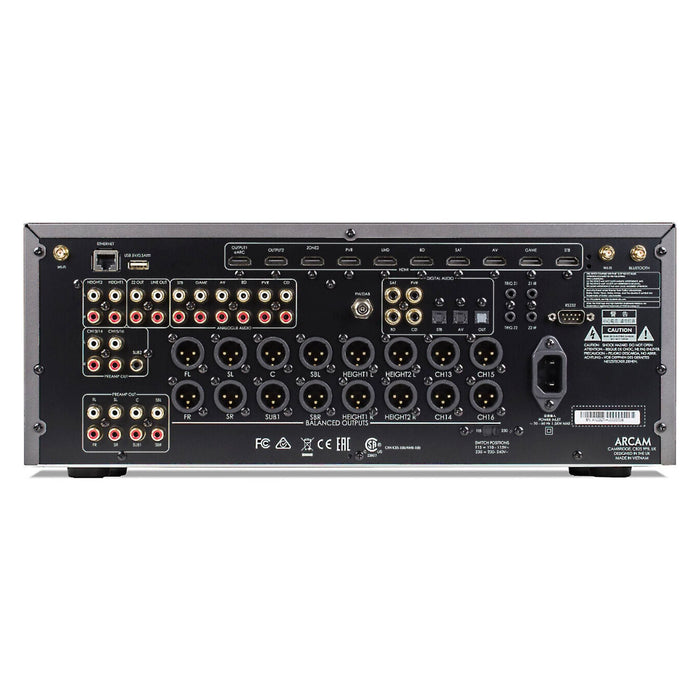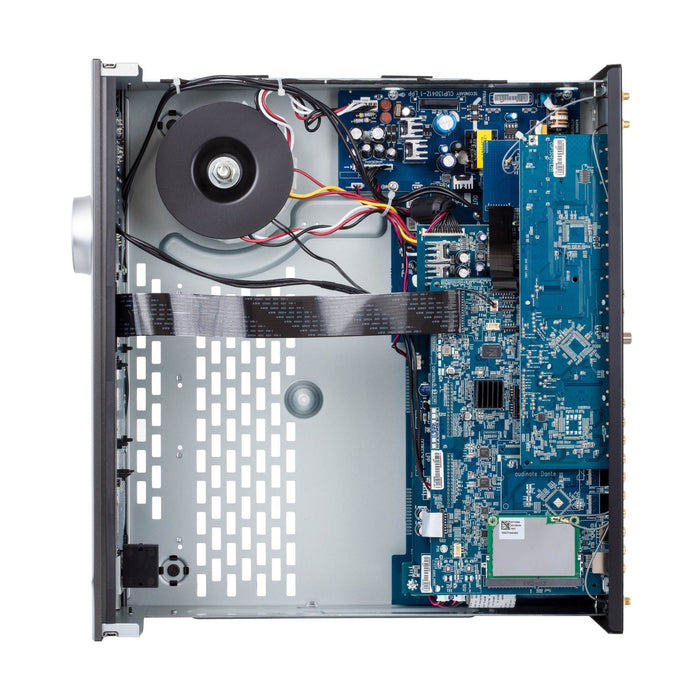 Arcam AV40 - Home Theatre Preamp/Processor
Arcam AV40



Home theater preamp/processor with 9.1.6-channel processing, Dolby Atmos®, and Dirac Live® room correction
Planning your dream home theater? The AV40 is a worthy contender as the audio/video centerpiece of your system.
Create a true home theater experience
There is, I believe, a certain magic to watching a movie in your very own home theater. The Arcam AV40 can help you get there, and then some, thanks to an incredible 16 channels of surround sound processing.
Use this high-performance preamp/processor as the centerpiece of your Dolby Atmos® or DTS:X® surround sound system. You'll enjoy a spectacular show every time you take your seat.
Surround sound your way
There are a couple of main reasons to go with "separates" for your home theater system, instead of going with a traditional A/V receiver.
The first is that it allows you to upgrade your preamp without replacing your amplification at the same time. If you have an amp system that you love, there's no need to replace it just because a new audio or video format has emerged.
The second is that it allows system customization that's just not possible with most A/V receivers.
This pre/pro lets you go all-out with a 9.1.6-channel surround sound system out of the gate. (That's up to nine traditional surround sound speakers, six speakers dedicated to overhead effects, plus a powered subwoofer). Or expand your system over time, adding additional surround or overhead effects channels to taste.
The AV40 supports up to 16 independent channels of audio (that's a whole lotta sound, friend). To connect to external power amps, you have the choice of using balanced (XLR) or unbalanced (RCA) cables. 
Sound from every corner of your room
One reason the AV40 performs so well is the advancement of "object-based" surround sound formats like Dolby Atmos and DTS:X, which place sound effects in space around you with pinpoint accuracy. 
The AV40 excels at decoding and processing these object-based soundtracks. You'll hear the movie's score and special effects above, behind, in front of, and beside you — just like you would in an actual theater.
The AV40's advanced video processing ensures a vivid, highly detailed picture with movies, sporting events, and video games. Use it with confidence with your giant TV or projector-based home theater system.
Legendary room correction
The AV40 includes Dirac Live®, one of the industry's best room correction platforms. Once you download the Dirac software to your Windows® or Mac® laptop, and connect the supplied microphone, you can take precise acoustic measurements of your room.
Then Dirac creates a customized correction curve that fine-tunes the output of your speakers and subwoofers based on the unique sonic characteristics of your space. 
The resulting sound is clear, smooth, and ultra-detailed, with tighter bass and more impactful dynamics than before.
Product highlights:
Processing:
Dolby®, DTS®, and Auro-3D surround sound decoding

supports up to a 9.1.6-channel Dolby Atmos or DTS:X setup with external power amps

IMAX Enhanced certification for improved performance with IMAX Enhanced content

Dirac Live® room correction tailors the sound to your room's acoustics (microphone included)

independent calibration for up to 15 speaker channels, plus a subwoofer
Dirac Live software requires a Windows® or Mac® laptop

ESS 9026PRO audiophile digital-to-analog converter for ultra-clear sound from stereo and surround sources
Connections:
HDMI 2.0b audio/video switching: 7 in, 3 out

dual HDMI outputs for sending signal to both a TV and a projector
zone 2 HDMI output for sending signal to another part of the house

HDCP 2.2 technology ensures compatibility with 4K Ultra HD sources and TVs

HDR-compatible for extended picture contrast and brightness with compatible 4K TVs and HDR-encoded content

eARC (Enhanced Audio Return Channel) supports the most advanced surround sound formats, including Dolby Atmos and DTS:X, via a single HDMI connection to your TV

passes full-resolution surround sound signals from over-the-air broadcasts and streaming media

digital audio connections:

2 Toslink optical and 4 coaxial inputs
1 Toslink optical output

6 analog RCA stereo audio inputs, plus front-panel 3.5mm minijack input

15.1-channel balanced XLR outputs, including one for a powered subwoofer

15.2-channel unbalanced RCA outputs, including 2 connections for powered subs

zone 2 stereo preamp and line-level outputs

no phono input — to connect a turntable you'll need to add a phono preamp

Ethernet port for network connection

RS-232, IR (infrared), and 12-volt trigger connections for use with optional 3rd party controllers

front-panel 3.5mm mini headphone output

detachable power cord
General features:
free Arcam MusicLife and UPnP (Universal Plug and Play) control apps let you use your iOS® or Android™ device as a wireless remote control through Wi-Fi

wireless music streaming through Bluetooth®, Apple AirPlay® 2, and Chromecast built-in

built-in FM tuner

remote control included

17-1/16"W x 6-3/4"H x 16-3/4"D

weight: 23.4 lbs.

warranty: 5 years with registration
What's in the box:
9.2.6ch AV preamplifier/processor

5' AC power cord

Remote control

2 "AAA" batteries

Auto calibration microphone

6.5' miniUSB-to-USB cable

2 WiFi antennas

Bluetooth antenna

FM wire antenna

Handbook

Registration Information

"Mandatory Software Update" letter

Software Release Notes
SPECIFICATIONS
General Features

Bluetooth:Built-in

Apple AirPlay:AirPlay 2

Alexa-compatible:No

Google Assistant-compatible:Yes

Chromecast built-in:Yes

DTS Play-Fi:No

App Remote Control:Yes

Auto Speaker Calibration:Dirac Live

Multi-room Audio/Video

Preamp Multi-room Audio Output:Yes

Multi-room HDMI Output:Yes

Total Number of Zones:2

Playback from Digital Audio Inputs:No

Playback from Streaming Sources:Yes

Surround Processing

Dolby Digital:DD, TrueHD, DD+

Dolby Atmos:Yes

Dolby Atmos Height Virtualization:Yes

DTS:DTS, HD, HDMA, ES, 96/24

DTS:X:Yes

DTS Virtual:X:Yes

Inputs & Outputs

Phono Input:No

Audio-Video Inputs:7

Audio-only Inputs:2

RCA Analog Stereo Inputs:6

XLR Analog Stereo Inputs:None

Component Video Inputs:None

Component Video Monitor Outputs:None

Optical Digital Inputs:2

Coaxial Digital Inputs:4

XLR Digital Inputs:None

Optical Digital Outputs:1

Coaxial Digital Outputs:None

XLR Digital Outputs:None

Number of HDMI Inputs:7

HDMI Monitor Outputs:3

Subwoofer Outputs:2

Discrete Subwoofer Outputs:Yes

Multi-Channel Analog Input:No

Multi-channel Preamp Output:9.2.6, Zone 2

XLR Analog Preamp Outputs:16

Ethernet Port:Yes

USB Connections:Yes

Removable Power Cord:IEC 2-prong

Supports Wireless Rear Speakers:No

HDMI Features

HDMI Version:2.0b

VRR (Variable Refresh Rate):No

ALLM (Auto Low Latency Mode):No

4K/120Hz-Capable Inputs:None

Audio Return Channel:eARC supported

Video Upscaling:No

HDR (High Dynamic Range) Support

HDR10:Yes

HDR10+:No

HLG:Yes

Dolby Vision:Yes

Other Specs

Multibrand Remote Control:Yes

Learning Remote:Yes

Width (inches):17.0625

Height (inches):6.75

Depth (inches):18.5625

Weight (pounds):23.4

Parts Warranty:5 Years

Labor Warranty:5 Years