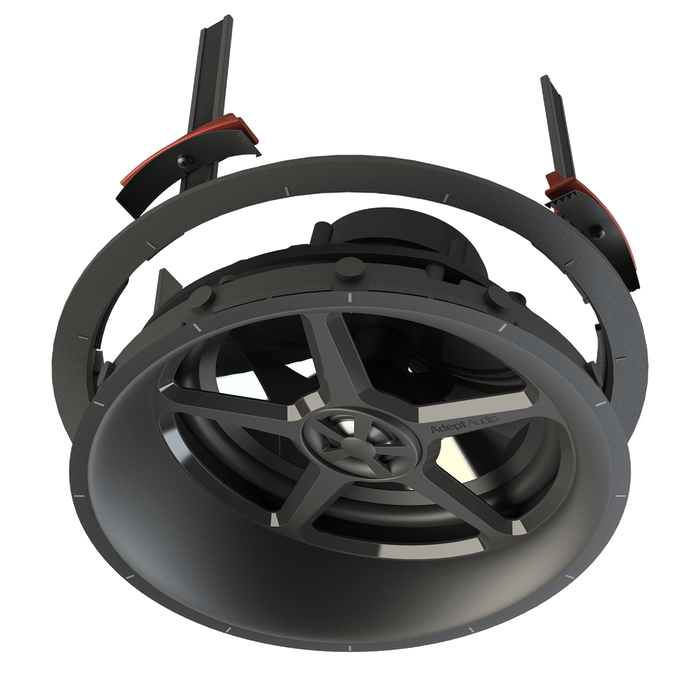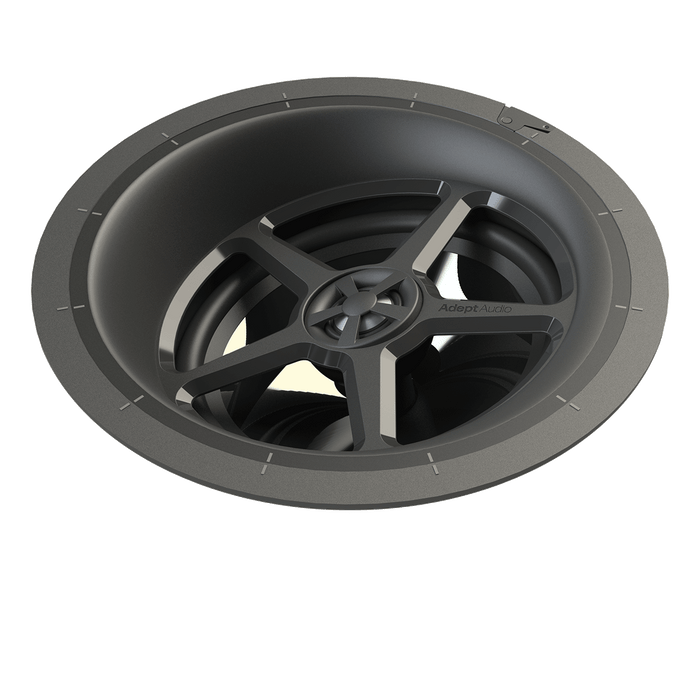 Adept Audio ICLCR86 8-inch Graphite-Angled LCR Ceiling Speaker High Quality - Each
Product Details
The ICLCR86 is the perfect speaker for clients who demand maximum performance but won't compromise the look of their home. This speaker delivers state-of-the-art sound quality but mounts in the ceiling, above the screen. Use three ICLCR86s for the left, center and right channels of a home theater system, and a few more (or any of our other ceiling speakers) in the sides and rear for surround. Because the speaker's angled, you can point it directly toward the listeners—and the pivoting tweeter lets you dial it in just the way you want it.
Because our team of the world's most experienced architectural engineers used our best woofer for the ICLCR86, it delivers awesome deep bass—so a subwoofer's a great addition, but not absolutely necessary. The 8" woofer uses an IMG graphite cone, which is one of our favorite woofer materials because it's stiff enough to deliver powerful lows without distortion, yet light enough for crystal-clear reproduction of movie dialogue and sound effects. Our engineers mated the woofer to a rugged 1" aluminum dome tweeter that delivers detailed, delicate highs even at full home theater volume.
Despite its awesome power, the ICLCR86 is a piece of cake to install. It uses the same In the Ring toolless mounting system found in all of our ceiling speakers. It's so simple—just put the ring in the hole, point it in the direction you want the sound to go, and squeeze the four mounting clamps into place. Now twist the speaker into the ring, pop on our magnetically attached grille and you're ready for action—no screwdriver needed!
SPECIFICATIONS
Woofer 8" Injection-Molded Graphite
Tweeter  1" Pivoting Aluminum-Dome
Frequency Response  38Hz-20kHz
Power Handling  175 Watts
Cut-Out Diameter 8 ¾"
Grille (outside) Diameter  10"
Mounting Depth  4 ⅞"