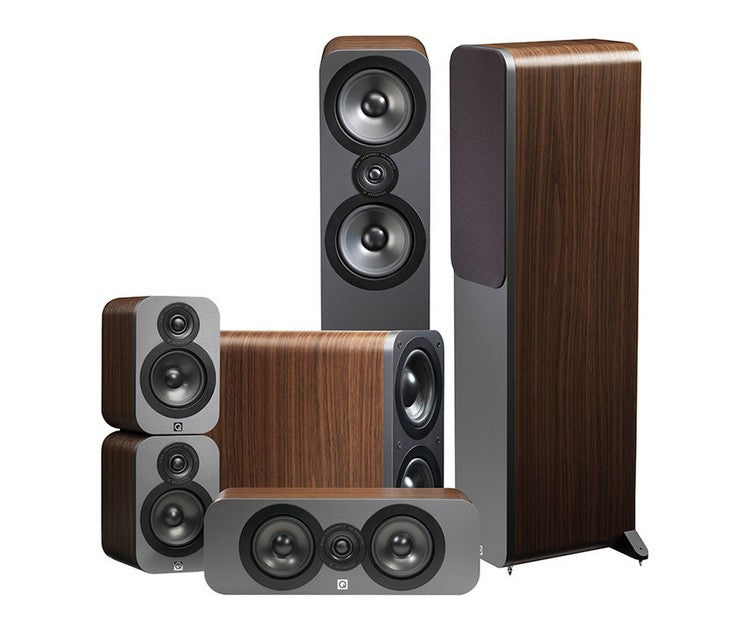 5.1 Speaker Placement Explained
5.1 Speaker Placement Explained
Generally speaking, this is pretty simple. A lot less complicated than bigger systems! Your center speaker goes directly below and in front of your TV. Your front left and front right speakers (which are sometimes floorstanding speakers) go on either side of it. The remaining two satellite speakers go on either side of your listening position, usually bolted to the wall, or on separate speaker stands.
The subwoofer takes a little bit more work. You need to connected up, and place it in your listening position – in other words, on the couch. Then, playing some bass-heavy content, like music, you need to crawl around on the floor, and see where you like the sound of the bass best. That's when you place your subwoofer. Yes, it sounds strange, but this particular manoeuver is known as the subwoofer crawl, and it works. By the way, don't be too stressed about having to lift a heavy subwoofer – most of the ones that come with 5.1 systems are relatively light. The one that ships with the SVS Prime Satellite 5.1 system.
To experience your system at its best, you might need to fine-tune your setup after some initial listening. Here are a few extra tips. Create a clear path between you and your speakers - if you can't see the speaker, sound is most likely being blocked and the resulting audio performance might be far from its best, due to external acoustic factors and not to the system itself. You can also achieve a far more balanced sound by minimizing bare walls and floors. Having said that, many
AV receivers
have flexible settings and presets, allowing you to adjust levels - not only between speakers, but also between the volume of movie dialogue or background music and special effects. This can make a huge difference to your viewing experience. If and when available we recommend using the built-in room calibration which normally involves the use of a measurement microphone (supplied with the receiver). You don't need to be an acoustician or a sound engineer - just leaving the mic in the recommended position and pressing a button is all that's needed. The internal acoustic DSP processing measures frequencies and levels from the subwoofer and each satellite speaker and optimizes them to suit your room! By the way, if you're worried about how to connect your receiver, don't be. We've got you covered. Oh, and one more link, which you'll need if you hit any issues: our handy guide to the ten most common home theater problems, and how to solve them. You're welcome.