Yamaha WXA-50 MusicCast Wireless Streaming Amplifier With Wi-Fi®, Bluetooth®, and Apple® AirPlay®
Yamaha WXA-50 MusicCast Wireless Streaming Amplifier With Wi-Fi®, Bluetooth®, and Apple® AirPlay®

About the Yamaha WXA-50
Easy music streaming meets high-quality Yamaha amplification
Yamaha's WXA-50 MusicCast amplifier makes it easy to enjoy your favorite Internet music streaming services, audio files, and more in any room of your house. Just connect a pair of speakers and use your existing Wi-Fi network to access your tunes with the free MusicCast mobile app. This stereo amp packs 55 watts per channel into a compact-but-sturdy metal chassis that fits in tight spaces. You can place it horizontally on a shelf, or even stand it upright to save.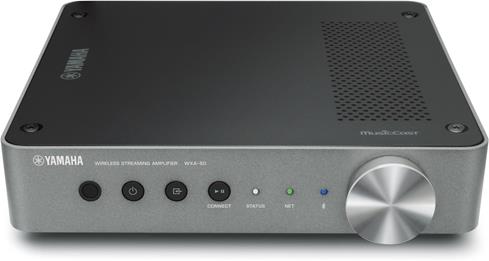 Add a pair of speakers to the WXA-50 MusicCast streaming amplifier and enjoy wireless music in any room.
MusicCast lets you choose how to listen



MusicCast gives you lots of sources to choose from. Access your personal digital music library, Internet radio, and popular streaming services. There's support for Pandora® and SiriusXM. If you're a Spotify® Premium subscriber, Spotify Connect lets you access all your favorite albums and playlists. MusicCast even supports high-resolution audio formats. Built-in Bluetooth lets you listen to content streaming directly from your mobile device, and even send those Bluetooth streams to other MusicCast players on your Wi-Fi network.
A free app puts the control in your hand
Control all your MusicCast speakers and components with the free app for Apple® and Android™ smartphones or tablets. It lets you select rooms, browse music sources, and start and stop playback with an intuitive interface.

Product highlights:
Built-in stereo amplifier: 55 watts x 2 into 8 ohms (20-20,000 Hz) at 0.06% THD
Built-in Wi-Fi® for listening to music from a networked PC, free Internet radio, and music services)

Includes support for Pandora, Rhapsody, and SiriusXM Internet Radio (subscription required for some services
Spotify Connect lets you play Spotify's streaming music library through the receiver via your smartphone or tablet (requires Spotify app and a premium subscription)

Built-in Bluetooth for wireless music streaming and transmission
Apple AirPlay for streaming music from an iPhone®, iPad®, iPod touch® or computer running iTunes
MusicCast wirelessly connects compatible Yamaha components for whole-home audio
Bree MusicCast app lets you control the player and play music with your Apple or Android device
DLNA is certified for streaming music with compatible devices and computers
Plays high-resolution digital music files via USB storage device or a networked computer
Built-in music enhancer for smoothing out the sound of over-compressed MP3 files
Multi-zone synchronous playback (same music plays in multiple zones simultaneously) or multi-stream playback (each plays individually selected music)
Can be placed horizontally or vertically to fit in nearly any space
Front-panel volume and playback controls
Ethernet port for wired network connection
Back-panel switch for turning off Wi-Fi and Bluetooth
Rear USB input for connecting a thumb drive or portable music player
ESS Sabre DAC for detailed, accurate sound
High-quality binding post speaker connectors
Minimum impedance: 4 ohms
Subwoofer output
Optical digital and analog RCA inputs
Remote input and 12 volt-trigger in/out for use with external controllers
8-3/8"W x 2"H x 9-5/8"D (4-7/8"H with Wi-Fi antenna raised; 1-5/8"H without antenna or feet)
4.28 lbs.
Warranty: 1 year
What's in the box:
Wireless streaming amplifier
59" AC power cord
WiFi/Bluetooth antenna
Remote control (ZU09200)
CR2025 3V battery (installed in remote)
2 Stands
6 Non-skid pads
Basic Owner's Manual
Warranty Card
Online Product Registration Card
"Yamaha Worldwide Representative Offices" note
"MusicCast" brochure
"Spotify Premium" sheet
 Dimensions
| | |
| --- | --- |
| Width (Inches) | 8.4375 |
| Height (Inches) | 2.0625 |
| Depth (Inches) | 10.5 |
Audio Section 
Wireless Streaming Amplifier: The Yamaha WXA-50 is a wireless streaming amplifier that is part of Yamaha's MusicCast multiroom audio eco-system. Start with the MusicCast WXA-50 amplifier and add more MusicCast devices over time (like wireless speakers, AV receivers, and sound-bars from Yamaha) for a wireless multiroom audio solution. Up to 32 MusicCast devices and 10 groups can be connected.
Discrete Stereo Amplifier: The Yamaha WXA-50 is equipped with a discrete stereo amplifier with low-impedance drive capability, dynamic power, minimal distortion, and excellent sound quality. The amplifier is stable down to 4Ω.
4Ω:

 

105W x 2Ch (20Hz-20kHz, 0.06% THD)
6Ω:

 

70W x 2Ch (20Hz-20kHz, 0.06% THD
8Ω:

 

55W x 2Ch (20Hz-20kHz, 0.06% THD)
Superior Audio Technology: Yamaha's relentless pursuit of sonic purity is clearly evident in the engineering of its WXA-50 wireless streaming amplifier. The WXA-50 features a solid metal body with an aluminum cover and a slim, compact design that fits just about anywhere. Under the hood, you'll find high-performance components and advanced circuitry that deliver powerful, sonically-pure amplification.
High Performance DAC:

 

The amplifier circuitry uses the same high-performance ESS Sabre digital-to-analog converter (DAC) found in Yamaha's high-end Yamaha AV receivers.
Precision Volume Control:

 

A 48-bit digital volume control provides much greater precision and quality than conventional controls.
Proprietary Power & Ground Architecture:

 

A proprietary power supply ground configuration prevents sound degradation.
Rigid Chassis:

 

A highly-rigid metal chassis supplies the stability necessary for clear, powerful music reproduction.
Yamaha Proprietary Sound Processing: The WXA-50 wireless streaming amplifier incorporates a variety of Yamaha proprietary sound processing technologies - like Compressed Music Enhancer, Volume-Adaptive EQ, & Advanced Bass Extension. You can also choose to bypass this digital audio processing.
Compressed Music Enhancer:

 

The Compressed Music Enhancer greatly improves sound reproduction from smartphones or other compressed sources, like MP3 files.
Volume-Adaptive EQ:

 

Volume-adaptive EQ automatically adjusts the bass/treble balance according to the volume level.
Advanced Bass Extension:

 

Advanced Bass Extension Processing provides a deeper, richer low-end sound - great for use with compact or in-wall speakers.
Direct Playback Mode:

 

Direct playback mode allows you to play back high-resolution audio sources just as they are, without any processing.
 Note: These audio settings are accessible only from the MusicCast app on your compatible Apple iOS or Android mobile device.
Advanced Audio Features: The Yamaha WXA-50 offers additional audio adjustments to get the most out of the speaker and your music.
Ultra Low Jitter PLL:

 

Sets the strength of the jitter removal applied to the audio input being played back, in order to adjust the audio quality. When the level is set high, the jitter removal is more effective, but the sound may cut out on low-speed networks. When the level is set low, the jitter removal is less effective, but the signal is more reliable for lower speed networks.
3-Band EQ:

 

The amplifier's 3-band EQ (High/Mid/Low) can be adjusted from -6 to +6dB in 0.5dB steps, so you can tailor the sound to your preference.
Speaker Type:

 

Optimizes the WXA-50's audio output for the type of speakers you have connected - Compact, Bookshelf, Floorstanding, In-ceiling, or In-Wall.
 Note: To access the above listed audio features, you will need to access the internet and use the Web Control screen on your mobile device or computer.
Volume Levels: The WXA-50 provides a variety of volume level controls, settings, and adjustments.
Initial Volume:

 

Set the volume level when the power is turned on. You can choose between Off (same as the volume when the unit was turned off), Mute, and -80dB to + 0dB in increments of 0.5dB.
Max Volume:

 

Set the receiver's maximum volume level. This feature is useful to avoid turning the volume too loud by mistake. You can set the Max Volume from -20dB to 0dB in 5dB steps.
L/R Balance:

 

Adjust the balance of the volume between the left and right speakers from -12 to +12 in 1 steps.
Input Trim: Adjust the volume level of each input. This is useful to balance the level of each input to avoid sudden changes in volume when switching between input sources. The range is from -6dB to +6dB in 0.5dB increments.
Subwoofer Volume:

 

Adjust the volume of the amplifier's subwoofer output independently from the main volume. Adjustable from -6dB to +6dB in 0.5dB steps.
Analog & Digital Inputs: The WXA-50 wireless streaming amplifier is fitted with analog & digital inputs. There is one stereo RCA input for connecting an analog audio source. There is one optical (toslink) digital input for connecting digital audio sources. The optical digital input supports 2ch PCM audio up to 32-bit/192kHz.
USB-A Port: The Yamaha WXA-50 is equipped with a rear-panel USB-A 2.0 port that allows you to enjoy a variety of music files stored on a USB mass storage class memory device, such as a USB thumbdrive or portable digital audio player (not compatible with USB HDDs). Your USB mass storage class device must be formatted in FAT 16 or FAT32. USB portable audio devices that can be charged via USB will be charged when plugged into the AV receiver's USB port (5V/0.5A); even in standby mode. Compatible music files include:
DSD (2.8MHz/5.6MHz)
FLAC (up to 192kHz/24-bit)
AIFF (up to 192kHz/24-bit)
WAV (up to 192kHz/24-bit)
ALAC (up to 96kHz/24-bit)
MP3 (up to 48kHz/320kpbs)
AAC (up to 48kHz/320kbps)
WMA (up to 48kHz/320kbps)
Binding-Post Speaker Outputs: The WXA-50 wireless streaming amplifier is fitted with four binding post terminals for connection of a single pair of 4 to 16-ohm speakers. The binding-posts will accept bare wire (up to 10AWG), pin-connectors, spade-lugs, and banana plugs (single or dual).
Aux Output (Fixed): The stereo RCA auxiliary output (fixed) allows you to daisy-chain the WXA-50's audio signal output to another integrated amplifier with volume control.
Subwoofer Output: The WXA-50 is equipped with a mono-RCA subwoofer output for connecting a powered sub (sold separately). The subwoofer output is full-range; you will need to use a powered sub with a built-in low-pass crossover.
Wireless Streaming
MusicCast from Yamaha: MusicCast from Yamaha, brings music to every room in your home wirelessly with control provided by a free app on your Apple iOS or Android device. Designed to easily work with your existing home WiFi network, MusicCast offers access to a huge range of audio content. This content includes select online music services, Internet radio, digital music libraries, and Bluetooth audio. Yamaha AV receivers and sound-bars which feature MusicCast even offer multiroom streaming of connected external sources; such as TVs, cable/satellite boxes, Blu-ray/DVD Disc players, CD/SACD players, and USB thumbdrives. MusicCast can even select terrestrial AM/FM radio stations for playback throughout the home when linked to a tuner-enabled MusicCast device (like an AV receiver). MusicCast is enabled on many 2015-up Yamaha components like their AV receivers, wireless speakers, sound-bars, and other HiFi components (up to 10 MusicCast devices can be connected).
Compatible Multiroom Audio Sources:

All MusicCast music services (including Airable by TuneIn, Pandora, Tidal, Spotify, SiriusXM, Deezer, and Napster).
Music libraries on your Apple iOS or Android smartphone running the MusicCast Controller app, as well as on your DLNA compliant computer, laptop, or NAS drive.
Bluetooth audio (SBC codec only).
Analog & Digital inputs.
A radio station from a MusiCast AV receiver's AM/FM tuner can even be distributed to multiple rooms.

Incompatible Multiroom Audio Sources:

AirPlay cannot be multiroom distributed via MusicCast.
MusicCast App: The free MusicCast app can be downloaded for Apple (iOS 10.0+) iPod/iPhone/iPad and Android (OS 5.0+) smartphones/tablets. The MusicCast app puts control of your whole home listening experience in the palm of your hand from your Apple iOS or Android device. You'll be able to quickly select the room or rooms you want to listen to music in, select the source or sources you want to listen to, browse music content from your music library and online music services or Internet Radio, plus control music playback functions.
Rooms:

 

Choose which room or rooms you want to listen to music in. You can select a different source for each room, group certain rooms together for playback of the same source, or link all rooms together so the same source is played back throughout the house.
Source Selection:

 

From the app you can select which source or sources you want to listen to; choose from network-connected devices, select online music services, Internet Radio, Bluetooth, USB, plus analog & digital inputs for the WXA-50. You can also select a Phono input from a MusicCast compatible Yamaha AV receiver.
Music Browsing:

 

You can browse music libraries from your network-connected devices; like your smartphone, tablet, computer, or laptop. You can also browse music content from select online music services and search Internet Radio stations from the MusicCast app. If your MusicCast device features a USB port, you can also browse music files on your USB-connected thumbdrive.
Playback & Song/Artist Info:

 

From the MusicCast app on your compatible Apple iOS or Android device you get Volume Up/Down, Play/Pause, and Previous/Next Track; as well as song/artist information and album art.
Favorites:

 

Internet radio stations, content from select online music services, plus playlists and songs from your network-connected device's music library can be saved as "Favorites" for quick recall within the MusicCast app.
Personalization & Customization:

 

With the app's unique personalization features, you can choose from preloaded room images or change the color of buttons to represent each room in the home, or even take pictures of your own home and assign the images to each button. The content source buttons can also be customized to rename, remove or reorder selections for easier operation.
High Resolution Audio: MusicCast supports true high-resolution audio formats to deliver more accurate reproduction of sonic details. The MusicCast eco-system is compatible with Apple Lossless (ALAC) up to 96kHz/24-bit, as well as FLAC, AIFF and WAV music files up to 192kHz/24-bit. The WXA-50 amplifier even supports DSD high-res audio, up to 5.6MHz. It also supports lower resolution music files like MP3, WMA, and AAC up to 48kHz.
 Online Music Services:
The Yamaha WXA-50 amplifier offers access to Internet Radio through built-in Airable by TuneIn; your Spotify account through Spotify Connect on your Apple iOS or Android device; and your Pandora, TIDAL, SiriusXM, Napster, or Deezer music account through Yamaha's MusicCast Controller app.

Airable by TuneIn: You can listen to Internet radio stations using Airable by TuneIn. Search worldwide internet radio content by Genre, Language, Location, Quality, Popularity, or do a keyword search.
Spotify Connect:Anyone with a Spotify account (whether free or premium) can enjoy the wireless freedom of streaming the Spotify app (for Apple iOS or Android) to to the MusicCast-enabled amplifier. All files on Spotify can stream up to 320kbps, which is MP3 quality.
Pandora: Pandora is accessible through the Yamaha MusicCast Controller app for Apple iOS & Android. Pandora is personalized radio that plays music and comedy you'll love. Just start with the name of one of your favorite artists, songs, comedians or composers and Pandora will create a custom station that plays similar tracks. You can also rate (thumbs up/thumbs down) songs as they play, and Pandora will adapt stations to your feedback. You can even bookmark stations and easily switch between favorites.

TIDAL: Tidal is accessible through the Yamaha MusicCast Controller app for Apple iOS & Android. TIDAL is a global streaming service that offers over 30 million songs in high-fidelity CD sound quality. TIDAL has two pricing tiers; either $9.99 or $19.99 a month. Both pricing levels allow you to access TIDAL's entire music library. The $19.99 tier has the added benefit of high-fidelity sound at CD-level quality.
SiriusXM: SiriusXM Internet Radio is accessible through the Yamaha MusicCast Controller app and lets you listen to over 120 channels of commercial-free music, talk radio, news, sports, entertainment, and more. Subscription fees will apply.

Napster: Napster is also accessible through the Yamaha MusicCast Controller app. This streaming music subscription service (starting a $10 per month) allows you to play the full-length songs you choose on demand from a collection of over 10 million songs, without ads and without having to purchase or download the music.

Deezer: Deezer is an online music service offering over 43 million tracks starting at $9.99 a month and is accessible through the Yamaha MusicCast Controller app. Discover the perfect playlist or make your own, as well as browse curated collections by genre.
Bluetooth Audio: The Yamaha MusicCast WXA-50 offers built-in Bluetooth (v.2.1+EDR) for wireless music streaming & control. This allows you to stream stored music and music apps on your Bluetooth-enabled Apple iPod/iPhone/iPad, Android smartphone/tablet, Windows Phone/PC, Mac computer/laptop, and more to the MusicCast amplifier.

SBC + AAC Codecs: In addition to support for the standard SBC Bluetooth audio codec, the WXA-50 amplifier offers support of AAC. By supporting AAC, the WX-030 offers better audio performance of the music streamed from your Apple iPod, iPhone, or iPad.
Linked Playback Mode: With Linked Playback Mode, music streamed via Bluetooth to one MusicCast device can then be wirelessly streamed to multiple MusicCast devices for multiroom audio. Bluetooth is limited to the SBC codec during Linked Playback mode.
Bluetooth Output: The Bluetooth Output feature allows you to wirelessly stream audio from a non-Bluetooth source of the MusicCast amplifier to another Bluetooth speaker or headphones (regardless of manufacture), making it even more convenient to add the MusicCast eco-system to your existing audio gear. Bluetooth is limited to the SBC codec during "Bluetooth Output" Playback mode.
AirPlay: AirPlay lets you stream your favorite songs directly from your Apple iOS (4.3.3+) device or from your iTunes (10.2.2+) library on your Windows PC or Mac computer to the Yamaha MusicCast WXA-50 amplifier, over your home's WiFi network connection. From your Apple iOS device you are able to stream stored music and music apps on your device to the Yamaha MusicCast amplifier. From your Windows or Mac you can stream your stored iTunes music library on your computer to the MusicCast amplifier.
Convenience Features
Front-Panel Controls: The WXA-50 features a rotary volume knob and three push-buttons (Power, Source, & Play/Pause) on the front-panel. Pressing any button on the front panel turns the unit on and initiates playback of the previously selected source providing quick and easy access to your favorite music.
IR Remote: The amplifier also comes with an ultra-slim remote offering six presets, so you can quickly access your favorite Internet radio stations even when your smartphone or tablet's not handy. Remote control functions include Power, Source, Volume, Mute, Presets, Play/Pause, and Previous/Next Track.
Alexa & Google Voice Control: Alexa and Google Home enabled devices (sold separately - see Accessories Tab) are able to control key functions of Yamaha's MusicCast system using voice commands. With Alexa & Google Home voice control integration, all you have to do is ask. The MusicCast WXA-50 offers full compatibility with Amazon's and Google's range of voice control devices. Yamaha offers two Skill platforms that work hand-in-hand to give you a wide range of voice command possibilities, allowing you to control either a single MusicCast product or a whole MusicCast system. The Yamaha MusicCast WXA-50, other MusicCast components, and Alexa/Google-enabled devices must be on the same WiFi network.
MusicCast Smart Home Skill:

 

The MusicCast Smart Home skill supports the most common, everyday voice commands you would use to control a single MusicCast component. These basic commands include power on/off, volume control, play/pause/skip/previous, mute/unmute and input selection. This skill supports simple, Alexa and Google standardized commands such as "Alexa" or "Ok Google", "volume up in the Kitchen."
MusicCast Skill:

 

The MusicCast skill goes beyond the basics, giving you enhanced control of unique MusicCast functions such as room linking, multiple room control, playback of MusicCast Favorites/Playlists and more. The commands are customized for MusicCast, for example "Alexa" or "Ok Google", "ask MusicCast to link the Kitchen with the Living Room."
Echo Source Input:

 

In addition or alternatively, an Echo device can be used as a music/audio source for a MusicCast system. All MusicCast devices offer a Bluetooth input. Just pair your Echo device with any MusicCast component and the sound will play from the MusicCast device. Many MusicCast products also offer inputs which can be connected to Echo Dot via its line output, if a wired connection is preferred over Bluetooth. Using the MusicCast Controller app, you can select the Bluetooth or wired input and link multiple MusicCast devices for playback, allowing you to hear sound from Echo Dot throughout your home.
Trigger In/Out & Remote In: The WXA-50 is fitted a 3.5mm Trigger In and Out for liked power/on and off functionality with other components that also features a 3.5mm Trigger In/Out. By connecting an infrared receiver (sold separately) to the amplifier's Remote In jack (3.5mm), you can operate the unit using the supplied remote control even if the amplifier is stored out of sight.
Web Control: With the Web Control screen displayed in a web browser on your Windows PC or Mac computer, you can control the amplifier's music playback, as well as modify various network and audio settings. Recommended web browsers include Internet Explorer 11-up and Safari 9-up.
Wireless Radio Off Switch: You can disable the amplifier's Bluetooth wireless radio and/or WiFi wireless radio when they are not being used to reduce interference. After making the switch, be sure to disconnect the unit's power cable from the AC wall outlet and plug it in again.
Mounting Options: At only 2.0625" tall and 8.4375" wide, The WXA-50 amplifier can be placed horizontally or vertically, allowing it to fit neatly in almost any space. Rubber feet are included for horizontal placement and plastic stands are included for vertical installation. With the feet removed, the WXA-50 is only 1.6875" high, allowing it to be placed on a rack shelf within a 1U high rack space. Two units can be placed side-by-side on a 19" wide shelf.
Horizontal Mount:

 

8.4375" (w) x 2.0625" [4.875" w/ antenna] (h) x 10.5" (d)
Vertical Mount:

 

3.625" (w) x 8.625" [11.5" w/ antenna] (h) x 10.5" (d)
Rack Mount:

 

8.4375" (w) x 1.75" [4.625" w/ antenna] (h) x 10.5" (d)
Low Power Consumption: The WXA-50 consumes less than 2W of power in standby mode. When the power is on, power consumption is still a low 15W, and even when used for long periods, power consumption is environmentally friendly.
Auto Power Standby: In addition, the Auto Power Standby feature lets you save energy by automatically turning the power off after 20 minutes, 2 hours, 4 hours, 8 hours, or 12 hours. This feature can also be turned off.
Memory Guard: This feature is used to prevent accidental changes to the audio & network settings.
Firmware Updates: Firmware Updates for the MusicCast WXA-50 amplifier can be made through its network connection and the MusicCast app on your Apple iOS or Android device. The app will notify you when a firmware update is available.