Thonet & Vander KUGEL BT Premium Bluetooth Speakers | German Design | 700 Watts Extra Deep Bass (Black
Prodduct Overview:

BE PART OF A NEW LEVEL OF EXCELLENCE Thonet & Vander has acheived a new level of excellence in home sound with KUGEL. So come and be a part of this new level of excellence in the world of sound.
This product converts your home into a semi-professional rehearsal room. Its acoustic structure, definition and power positions it in a privileged place within Hi-end sound.
Its made of HDAA Wood which is a natural polymer preventING vibration and leakage of sound, enabling a more accurate, efficient and sustainable performance.
It's ergonomic controls are made of cutting edge materials, providing the user with a customizable listening experience. Precisely control the volume, bass, and treble for the best audio experience.
The Mesh Protective Shield allows drivers to be protected from any external damage. This ensures both the sound quality as well as the performance of the equipment.
The Bass Reflex system increases the bass response of the controller and optimizes the efficiency and performance of the low frequencies.
The 1 inch Silk Tweeter is a type of fiber known to be very light and sensitive, which allows the reproduction of high frequencies in a pure and crystalline way.
Kugel's silk tweeters deliver the necessary higher frequencies that add clarity and snap to music. The cool thing is that there's no harshness from the tweeters, no matter how loud the volume is. You can crank up the speakers without degrading audio quality—something not easy to do with many affordable speakers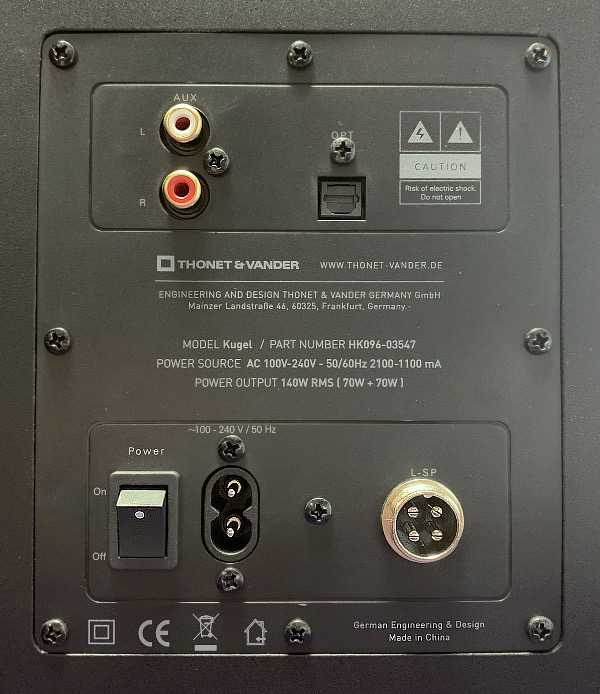 Listening to Kugel speakers is a treat because the powerful built-in amp packs a punch. The 700 watts peak power delivers the necessary volume to blast any indoor party and get people dancing. Keep in mind that mere power isn't everything— it's clean power that matters. This is where Kugel shines. Audio is tamed and clear. There' are bass reflex ports at the rear of each speaker allowing maximum air movement to make the bass sound even more potent. Bass on Kugel is not the sharpest I've heard (you need a dedicated subwoofer for that), but at Kugel's price range, it really can't be beaten. 
Dimensions: 22.52 × 12.24 × 16.61 in

RMS watt: 140 (70 + 70)

Peak power: 700 watts

Frequency response: 45Hz – 20 kHz

Bluetooth: 4.0 aptX

Bluetooth range: 65ft – 100ft

Silk tweeter: 1in.

Glass – Aramid Fiber Subwoofer: 6.5 in.

Color: Black

Warranty : 1 Year
In the Box
Powered and passive speaker
Remote control

3.5mm mini plug to RCA cable

Passive speaker cable