SVS PC4000 Cylinder-Style Powered Subwoofer
More Bass, Less Space
 SVS has crafted an excellent solution for those of us that crave visceral, chest-thumping bass, but are limited in available floor space. The massive PC-4000 adds to the company's popular line of super-cool cylinder-style subwoofers.

Though it might pass as a high-tech hot water heater at a glance, this 92-pound low-frequency titan offers a host of sound technologies that help provide outstanding bass from anywhere in your room. 
An excellent choice for movies, music, and video game immersion
 The beauty of the PC-4000 is its relatively modest footprint. Its tall, slender enclosure houses a down-firing 13-1/2" woofer and 1,200 watt amplifier, which combine for bass output all the way down to 17 Hz (that's dipping into subsonic territory — bass you feel but can't hear).

The PC-4000 isn't only about shaking the walls, though it does it with ease. SVS has ensured it offers impressive control for such a large, ported enclosure. Use the PC-4000 with confidence as part of a high-performance stereo, home theater, or ultra-high-end gaming system.
Wireless Control From Your Phone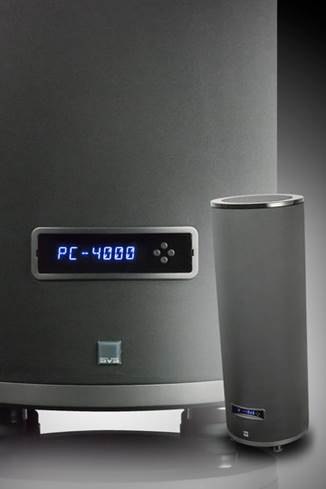 You'll find the PC-4000 simple to operate and control. There's no reaching behind it to fumble with hard-to-see dials and switches. Instead, make settings changes right from the front-panel interface — or easier still, the included IR remote control.

You can also control this sub via a free app on your phone, which lets you select your room's layout, change audio settings, and switch modes right from your seat. 
Bass tailored to your room
SVS knows that a sub's performance is largely determined by the acoustics of your room, and your subwoofer's position within it. Thankfully, this sub doesn't have to be wrangled into a single "sweet spot" in your room. It offers a host of sound adjustments that let you get great sound wherever it's located.

Use the app to adjust crossover frequencies, parametric EQ settings, polarity, room gain, and other bass management functions. You can even save up to three groups of tailored settings as presets. These let you set up and switch between "listening modes" for a particular time of day or entertainment source. For instance, you can easily dial the bass down for nighttime listening.
Warranty: 5 years
Product Highlights:
Cylinder-style design offers tremendous bass output without taking up much space on the floor
Frequency response: 17-200 Hz (±3 dB)
Built-in Class D amplifier delivers 1,200 watts RMS of continuous power (4,000 watts peak dynamic power)
Down-firing 13-1/2" composite paper/fiberglass cone with die-cast aluminum basket for extreme performance and reliability
Bass-reflex (ported) cylinder-shaped cabinet design with three 3-1/2" upward-firing ports
Three port tuning plugs are included to tailor the bass output
Includes SVS SoundPath Subwoofer Isolation System for stability
Decouples and isolates the subwoofer from the floor, resulting in tighter and cleaner sounding bass
Front-mounted Intelligent Feature Control (IFC) panel with blue dimmable/defeatable 8-digit LED display
In-depth control via Bluetooth® for Apple® and Android™ devices
App-based control of crossover frequencies, parametric EQ, polarity, and other bass management functions
Bi-directional feedback shows adjustments in real time in both app and the subwoofer's display
Selectable room gain compensation control with adjustable frequency and slope to better match bass to room size
Three digital Parametric EQ filters with adjustable frequency, cut/boost, and Q values
Variable low-pass crossover
Variable phase control (0-180°)
Line-level/LFE RCA and balanced (XLR) inputs
RCA and XLR outputs
Main power on/off switch plus auto standby/on mode
Infrared (IR) remote control included
Detachable high-current 6-foot power cord
Non-resonant steel mesh grille
16-5/8"W x 47"H
Warranty: 5 years
What's in the box:
SVS PC-4000 owner's manual
Powered subwoofer
Top-cap w/ integrated grille
6' AC power cord
Remote control
4 Elastomer feet
3 Foam port plugs
Owner's Manual
Important Safety Instructions
Features & Specs
Enclosure Bass Reflex
Video Shielded No
Woofer Size (inches) 13 1/2
Woofer Composition Composite/Glass Fiber
Firing Direction Down
Preamp-Level Inputs Yes
Line-Level Inputs  Yes
Line-Level Outputs Yes
Low-Pass Crossover Freq 30-200 Hz
High-Pass Crossover Freq None
Phase Switch Yes
Amplifier Output (watts) 1200
Frequency Response 17-200 Hz
Height (inches) 47
Width (inches) 16-5/8
Depth (inches) 16-5/8
Speaker Parts Warranty 5 Years
Speaker Labor Warranty 5 Years
Amplifier Parts Warranty 5 Years
Amplifier Labor Warranty 5 Years
SVS App Specs:
The most powerful and flexible Bluetooth controlled subwoofer DSP app, works with both iOS and Android operating systems.
Easiest and most convenient way to adjust crossover frequencies, parametric EQ, polarity, room gain and all other bass management functions.
Three convenient custom presets allow for perfect tuning in any room or system, from your favorite seat.
Single tap adjustment for controlling variable port tuning with standard, extended and sealed modes.
Unique bidirectional feedback shows adjustments in real time on both app and subwoofer interface.
Easy-to-follow tutorial provides clear guidance for all functions.
From The Manufacturer.
Reference Caliber Bass with Less Floorspace Required
The SVS PC-4000 powered subwoofer astounds with its ability to command a room with massive low frequency output and deep bass extension that can be heard and felt while maintaining accuracy and control, all from a striking cylinder cabinet that measures only 16" in diameter. There is no subwoofer in the world that comes close to what the PC-4000 can do without taking up 2 or 3 times as much floorspace. With trickle down technology from the 16-Ultra Series, named top subwoofers in the world by nearly every audio publication and industry group in 2017, the PC-4000 shatters expectations and delivers a level of unrivaled subwoofer performance only available from SVS.
High-Excursion SVS Driver – Legendary SVS Output and Control
The PC-4000 subwoofer driver delivers on the full potential of the Sledge STA-1200D amplifier's immense power with precision and control to produce room energizing SPLs and effortless low frequency extension with pinpoint accuracy at all drive levels.
Dual ferrite magnet motor assembly weighing nearly 40lbs generates immense magnetic force and excursion of the 13.5-inch driver to produce massive low frequency output well below the limits of human hearing.
Edge wound voice coil with eight-layer aluminum flat wire minimizes distortion and power compression while providing excellent heat dissipation and linearity ensuring precise control.
Lightweight and rigid composite cone with premium glass fiber dustcap generate massive output with pinpoint accurate frequency response.
Proprietary injection molded gasket and long-throw parabolic surround ensure longevity and allow extreme excursion and SPLs.
Sledge Amplifier – Massive Output, Sophisticated DSP, Advanced Power Management
Rated conservatively at 1,200 watts RMS, and 4,000+ watts peak power, the PC-4000 Sledge STA-1200D amplifier uses an efficient Class D design combined with fully discrete MOSFET output and a sophisticated Analog Devices DSP engine. The result is a level of effortless power and advanced processing not available from any other powered subwoofer manufacturer.
High Current Output of Fully Discrete MOSFETs with Efficiency of Class D Amplifier
The efficiency of a Class D amplifier with the ability to move massive amounts of current through the fully discrete MOSFETs enabling immense output and precise control for outstanding real-world subwoofer performance at all drive levels.
PC-4000 Smartphone App – Easiest Way Ever to Manage Subwoofer DSP and Control
Groundbreaking smartphone app works with Apple iOS® and Android® devices to unleash the full depth, force and nuance of the PC-4000 powered subwoofer by controlling all DSP functions including volume, parametric EQ, low pass filter, phase, polarity, room gain, port tuning, custom presets and system settings.
Connects via Bluetooth for convenient control even when the subwoofer is out of sight.
3-band parametric EQ controller allows precise adjustments for frequency slope and Q factor down to the single Hz level with four different slopes, so users can improve performance by eliminating peaks, nulls and other room issues.
Stores 3 custom presets for movies, music and other listening experiences such as sports or gaming.
2-way feedback shows updates in real time on both the app and subwoofer interface