Polk Audio DSW PRO 660 Powered Subwoofer 12 Inch 400w Class 'D' With Remote Control & Front / Down Firing Option.
Polk Audio....
Whatever you're listening to deserves a big sound that packs plenty of audio punch.

With Polk speakers added throughout your home, you get the ultimate in power, clarity and deep bass impact that elevates all of your favorite movies, TV shows and music from ordinary to extraordinary.
Calling All Ears
What's more, we've always got you covered when it comes to great sound.

Whether you're looking for home theater speakers, subwoofers, sound bars and more, you can find it all right here.
Bring the Theater to Your Living Room
We know that the big theater experience is best explored from the comfort of your couch or chair.

So, get ready to sit back, relax and enjoy high-performance surround sound while the magic unfolds onscreen.

Because what you're watching is always better with Polk speakers driving your favorite home theater audio.
Enjoy the Concert at Home
We believe that when the music plays it should felt—not just heard—like you're roaming the concert grounds or seated at the studio session of your favorite artist.

Hear your favorite songs come alive with added depth, soaring highs, powerful midrange and massive bass. Have fun and play, but prepare to be blown away!
Deep Bass You Can Hear and Feel

Rumbling spaceships, thunderous explosions, the smooth, sonorous tones of a double bass — Polk's DSW PRO 660wi can handle just about anything you throw at it with power and precision.
It features a 12" woofer driven by a potent 400-watt amplifier, capable of filling even a large room with deep, rock-solid lows.
This authoritative sub uses Polk's exclusive Feed Forward™ technology to reduce audible distortion without limiting volume.
You get quick, precise response throughout the sub's entire frequency range, even at room-shaking volume levels.
Sounds Great No Matter Where You Place It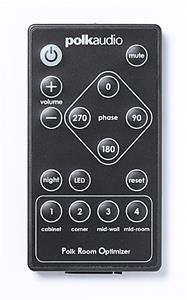 The PRO 660wi also includes the Polk Room Optimizer™, an ingenious feature that lets you specify the location of your sub with one of four options — corner, mid-wall, in-cabinet, or mid-room.
The Optimizer then automatically equalizes the sub's response to ensure smooth, clean bass from that position.
You can easily access this function, as well as the volume control and phase switch, with the included remote, so you can fine-tune the bass from your favorite listening spot.
Removable feet let you position the PRO 660wi for either front-firing or down-firing operation, whichever you prefer.
Product Highlights:
400-watt RMS class D amplifier
12" down-firing woofer (feet can be re-positioned for front-firing operation)
Bass-reflex (ported) enclosure
Feed forward technology maximizes output and improves dynamic performance
Polk room optimizer delivers punchy bass no matter where you place the sub in your room
Night mode dynamic range compression
Frequency response 25-125 hz (-3db)
Continuously variable 60-120 hz crossover
4-position phase switch (0, 90, 180, and 270 degrees)
Auto on/off
Energy star® certified
Speaker-level and line-level inputs and outputs
Unfiltered lfe (low frequency effects) input
Remote control
16-1/2"W x 17-1/4"H x 17-5/16"D
Warranty: 3 years woofer
What's in The Box:
Black powered subwoofer
Ir wireless remote control
Cr2025 3v lithium battery (installed in remote)
9' detachable power cord (iec 2-pronged end)
4 rubber insert feet
Owner's manual
Online registration card
Cardboard features list
Click Here For More Product Info