Definitive Technology DT6.5 LCR, In-Wall Speakers With 8 Inch/300w ProSub800 Powered Subwoofer - Dolby 5.1 Speaker Package # SP004
Definitive Technology....
EXCITE YOUR SENSES WITH INVISIBLE SOUND
DT Series:
Experience sensational sonic performance that seemingly disappears into walls and ceilings.
Every Piece Chosen for a Purpose
DT Series speakers were developed from the ground up with the highest quality materials. Clear, natural sound springs from high definition drivers, as acoustically optimized tweeters reveal the most delicate of details.
All while wafer-thin grilles hide in plain sight. Each component specifically selected to maximize performance.
Surround Sound to Believe In
Envelop your home in rich, high performance sound from built-in speakers that won't encroach on your living space.
Choose from a wide variety of DT Series single stereo and surround loudspeakers to create a complete stealth home theater experience.
5.1 Ch. Package Includes :
5 x DT6.5 In-Wall Speakers
1 x ProSub 800 Sub woofer
DT6.5 LCR - DT
Custom Install Series Rectangular In-Wall Speaker
Exclusive composite mineral-filled polypropylene driver cones offer superior transparency.Annealed aluminum tweeter dome provides great transients and smooth response.
High definition crossover network with Mylar capacitors delivers the purest high frequencies.
Improved sound dispersion and off-axis response casts incredible sound throughout the room
Premium Materials for Optimized Audio
DT Series speakers use exclusive composite-filled polypropylene driver cones with rubber surrounds for superior transparency and longevity.
Designed for Superior Sound
Speakers that visually dominate the room distract from the audio experience.
DT Series speakers have whisker-thin micro-perf grilles with slim bezels that can be custom painted to blend in.
Annealed Aluminum
Great transients and smooth response are the direct result of the perfect rigidity and lightness of an acoustically optimized annealed aluminum tweeter dome.
High Definition Crossover
Crossover is crucial to high-end audio quality. The high definition crossover network in DT Series speakers is how each one delivers the purest high frequencies.
Simple Installation

Perfect-fit templates, swivel tweeter mounts (included with select models) and the rotating cam installation method make setup quick, easy and reliable.
Definitive Performance

The most highly reviewed premium home audio brand in the USA, Definitive Technology creates award-winning products for the most discerning audiophiles, merging iconic style with uncompromising sound quality.
Disappearing Grille

Instantly locked into place using powerful neodymium magnets, micro-perf grilles with slim bezels are wafer-thin and paintable for complete invisibility.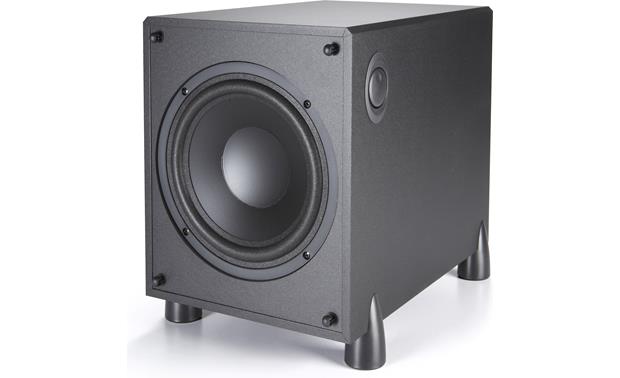 BASS YOU CAN CUT WITH A KNIFE
Definitive Technology ProSub 800
High-Output Compact Powered Sub woofer
Overview:
Massive bass reproduction from an 8" high excursion woofer pressure-coupled to an 8" low bass radiator
Soul-shaking low end comes to life with greater power handling up to 750 watts
Perfect resolution comes from the patented digitally-coupled Infinite Power Source amplifiers
Stunning reproduction of demanding materials is a result of built-in MOSFET output devices
Product Highlights:-
Bass-reflex (passive radiator) enclosure
8" woofer pressure-coupled to an 8" low bass radiator
Built-in 300-watt amplifier
Frequency response 20-150 hz
Continuously variable low-pass 40-150 hz crossover
Automatically powers off when it no longer receives signal from the receiver
Speaker-level inputs and outputs
80 hz fixed high-pass crossover for speaker-level outputs
Lfe input for use with home theater receiver's subwoofer output
Matte black finish
10-5/16"W x 12-7/8"H x 16-5/8"D
Warranty: 1 years