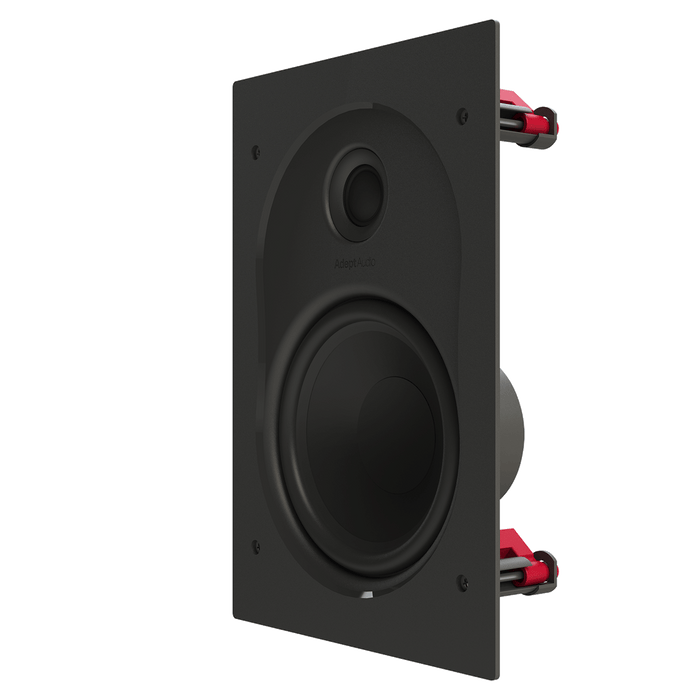 Adept Audio IW62 6.5-Inch 150-Watt Poly In-Wall Speakers - Pair
Product Details
Our engineers were among the first to design in-wall speakers, and in the decades since, they learned a lot about what it takes to make a great-sounding in-wall—and how to make it affordable at the same time. The IW62 is the end result of all their years of work. It's designed and voiced to sound great anywhere it's mounted, and anywhere you sit or stand in the room.
You'll love the way the IW62 pumps out soul-stirring deep bass notes, courtesy of our powerful 6 ½" polypropylene cone woofer. Singing along with the woofer is our outstanding 1" silk dome tweeter, which delivers some of the smoothest, sweetest highs you've ever heard. Thanks to careful tuning by our ultra-experienced engineers, the IW62 sounds good mounted in the middle of the wall, up high … or wherever you want to put it!
We designed the IW62 to go in nice and easy, too. Just push it into the mounting hole, tighten four screws, pop the magnetized grille into place, and move on to the next one. With an installer-friendly design, amazing sound quality and an affordable price, this is one speaker you'll definitely want to keep in stock.
 SPECIFICATIONS  
| | |
| --- | --- |
| Woofer | 6 ½" Polypropylene |
| Tweeter | 1" Pivoting Silk-Dome |
| Frequency Response | 45Hz-20kHz |
| Power Handling | 150 Watts |
| Cut-Out Diameter | H 11 ⅛" x W 7 ⅜" |
| Grille (outside) Diameter | H 12 ⁷⁄₁₆" x W 8 ⅝" |
| Mounting Depth | 3 ⅜" |