Polk Audio S35 Slim Center Speaker American HiFi Home Cinema Signature Series
A flexible, high-performance home theater speaker
Polk's Signature S35 was designed for maximum versatility, with horizontal or vertical placement options.
It performs equally well as a left, right, or center channel speaker.
You can mount it on your wall or simply rest it on your TV stand.
It's a great choice for high-impact surround sound and detailed high-resolution stereo music.
And its sleek, stylish design makes it an attractive addition to your living room.
Polk Signature S35 L/C/R speaker
Built for smooth sound
The S35 is made with high-quality materials for natural, low-distortion sound.
Housed within its cabinet is a 1" high-resolution Terylene dome tweeter for clear, detailed highs and realistic reproduction of vocals.
Six highly efficient 3" Dynamic Balance® woofers are made of lightweight yet durable mica-reinforced polypropylene.
The non-resonant MDF (Medium Density Fiberboard) cabinet and anti-diffraction grille provide an acoustically inert structure for reduced sonic interference.
Polk's exclusive Power Port technology adds low-end impact.
Features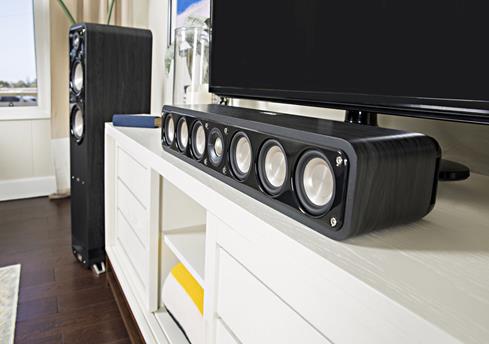 Dynamic Balance Drivers: 

Dynamic Balance is a proprietary Polk Audio technology using laser imaging to determine what combination of speaker materials create the least amount of resonance.
Eliminating resonance in speakers results in a wide, smooth response and low distortion.
Using just the right materials enables Polk to eliminate issues that reduce speaker performance and tune out performance-robbing resonances before they occur.
Dynamic Balance ensures a rich, clean, full-range sound no matter what you're listening to.
The Polk Signature S35 center-channel loudspeaker incorporates a Dynamic Balance multi-driver array with one 1" tweeter and six 3" woofers.
Hi-Res 1" Terylene Tweeter: 
The Signature S35 center-channel loudspeaker utilizes Polk's newly designed 1" Terylene tweeter to deliver clear and detailed high-end response for improved vocals in movies and music.
It will support high frequencies up to 40kHz to perfectly reproduce the latest high-resolution audio files with improved audio extension, earning Hi-Res Audio Certification.
Six 3" Mica-Reinforced Polypropylene Woofers:
The Signature S35 center-channel speaker employs six 3" Dynamic Balance low distortion mica-reinforced polypropylene midrange cone woofers for clean, clear bass, better linearity, and increased dynamic midrange.
These mica-reinforced polypropylene midranges feature butyl rubber surrounds, massive ceramic motor structures, and high-temperature Conex fiber spiders that combine to create drivers of exceptionally high efficiency, for clean, clear bass, better linearity, lower distortion, and greater durability.
Power Port Technology: 

The Signature S35 center-channel incorporates Polk's Power Port technology with two specially designed rear-firing ports.
Power Port technology smoothly transition air flow from inside the speaker into your listening area for deep, extended bass impact while minimizing turbulence and distortion.
Polk's patented Power Port technology delivers 3dB more bass response than a traditional ported speaker.
Non-Resonant Enclosure: 

The center-channel speaker's strong, rigid and acoustically inert enclosure reduces unwanted internal standing waves for less audible coloration.
And non-resonant Meddite MDF construction, extra bracing, and a thick front baffle ensure a more lifelike sound.
The enclosure's curved edges not only look cool, they reduce standing waves inside the cabinet for less audible coloration.
The enclosure features a beautiful black washed walnut finish.
Anti-Diffraction Magnetic Grille: 

The Signature S35 includes an anti-diffraction magnetic grille for unaltered sound.
The integrated magnets make it easy to attach and remove the grille from the center speaker.
Two-Way Crossover: 

The center-channel speaker employs a high-performance two-way crossover array (2.5kHz) for seamless blending and optimum time alignment of the tweeter & woofers, creating a lifelike soundstage.
5-Way Binding Posts: 

The center-channel loudspeaker features 5-way binding posts for a secure connection to your speaker wire.
The 5-way binding posts will accept bare wire (up to 10AWG), pin-connectors, spade-connectors, and banana plugs (single or dual).
The speaker terminals are color coded for easy identification between positive (red) and negative (black).
Applications: 

The Signature S35's primary use is as a center-channel loudspeaker for home theater applications.
But, it can also be used as a left and right front or rear speaker in stereo and home theater setups.
If your AV receiver offers built-in bass management, the S35 should be set to "Small" to filter out low bass frequencies.
Placement & Mounting Options: 

The Signature S35 can be mounted horizontally as a center channel speaker, under or above your flat-panel TV.
You can simply place the center-channel speaker on a table-top or shelf, or wall-mount the center-channel using its integrated keyhole slots on the back.
Because the S35 is only 4.1875" tall, it will not block the screen or IR remote of most TVs (the included rubber increase the height of speaker by 0.125").
The speaker can also be wall-mounted vertically using the integrated keyhole slots.
A wall-mount template is provided (mounting screws not included).
Note: 
The speaker cannot be mounted vertically on a table-top or shelf (only wall-mounted vertically). 
Build a complete Signature system
Add more Polk Signature speakers for seamless surround sound.
Bookshelf speakers: Polk Signature S10, Polk Signature S15, and Polk Signature S20
Floor-standing speakers: Polk Signature S50, Polk Signature S55, or Polk Signature S60
Round out the low end with a Polk powered subwoofer.