Polk Audio RTi A9 Tower Speakers Pair
Audiophile-quality sound from a great-looking tower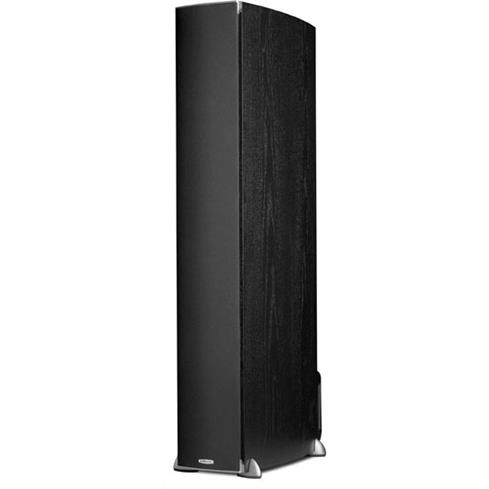 Enjoy exceptional performance with Polk's RTi A9 tower speakers (shown in black)
Meet the flagship speaker in Polk's newly redesigned RTi Series. The RTi A9 floor-standing tower speaker combines a handsome, real wood veneer finish with the kind of performance that pleases even critical listeners.
This speaker's carefully designed drivers undergo laser testing to help identify and eliminate resonance points, ensuring smooth, accurate response. Its asymmetric cabinet helps it deliver rich, clear sound by combating vibration and increasing rigidity.
The A9 also includes Polk's exclusive PowerPort® technology that reduces noisy air turbulence and increases low-frequency output. You'll enjoy clear highs, rich bass, and open, natural-sounding midrange.
Additional high-end features
Two sets of gold-plated five-way binding posts let you biamp or biwire the RTi A9 for the best possible sound.
An anti-diffraction grille helps it deliver a large, three-dimensional soundstage with pinpoint-accurate stereo imaging.
Adjustable spikes provide stability on both carpeted and hardwood floors.
Complete your surround system
For best performance, pair the RTi A9 towers with our recommended center channel speaker: Polk CSi A6  and surround speakers: Polk RTi A3 or FXi A6
Driver Technology
Dynamic Balance:
Dynamic Balance is a proprietary Polk Audio technology using laser imaging to determine what combination of speaker materials create the least amount of resonance.
Eliminating resonance in speakers results in a wide, smooth response and low distortion.
Polymer Composite Woofers: 
The speaker features three 7" polymer composite woofers. Three 7" woofers have the surface area of a single large woofer with the low mass and acceleration of small woofers, resulting in tighter, more accurate bass response. Each woofer uses a butyl rubber surround.
Polymer Composite Midranges:
The speaker has two 5-1/4" polymer composite midranges for wide-range response with low distortion. For high performance durability, each midrange uses a butyl rubber surround.
Silk/Polymer Tweeter: 
The speaker has a single 1" silk/polymer dome tweeter that provides clear, detailed highs.
The tweeter features mylar bypass capacitors in the crossovers to extend high frequency response and improve detail and transparency.
The tweeter also features low viscosity ferro-fluid cooling with a heat sink on the Neodymium magnet for superior heat dissipation, power handling and reliability.
Magnetically Shielded:
The speakers are magnetically shielded, allowing you to place them near your television without distorting the picture.
All-MDF construction with massive asymmetric cabinet bracing ensures a resonance-free enclosure for accurate sound.
The asymmetric design is made from a 6-layer laminate with 5 viscous layers to create the optimal shear damping (OSD) system.
The elegant styling aside, curved cabinets not only result in a stronger, more rigid and acoustically inert enclosure, but the curved walls also produce less audible coloration from panel resonances.
Power Port Venting System: 
The speaker has a rear-firing Power Port venting system built into its back plate for precise deep bass response from the floor-standing speaker's three 7" polymer composite woofers.
This venting system allows air velocity to slow gradually, vastly reducing air turbulence, and delivering greater bass efficiency than conventional ports.
Note: 
The two 5-1/4" midrange drivers feature a sealed cabinet.
Anti-Diffraction Grilles:
The floating anti-diffraction grilles minimize grille diffraction for spacious, 3-dimensional imaging.
The speaker has two sets of gold-plated 5-way binding posts connected by gold-plated jumpers.
Using the dual 5-way binding posts, you can bi-amp or bi-wire the speakers.
The adjustable leveling spike feet that can be screwed onto the bottom of the speaker's attached base provide stability on any type of flooring.
The spike feet adds approximately 0.875" to the speaker's overall height when screwed all the way in.
The overall frequency response is 18Hz-27kHz and the -3dB frequency response is 30-26kHz.
Width:
 The main body of the speaker is 8.6875" wide but the speakers attached feet extend beyond each side of the speaker, giving the speaker and overall width of 10.6875".