Polk Audio RC-60i In-Ceiling Speaker Pair
Terrific overhead sound
Want music around the house without the bulk of free-standing speakers?
How about dynamic overhead sound effects in your home theater?
Polk Audio's RC60i in-ceiling speakers do an awesome job in either application.
These popular speakers feature an aimable tweeter so you can direct sound towards you.
They also come with a lifetime warranty, so you'll enjoy great sound for years to come.
Enjoy music in any room
Putting speakers in the ceiling for music with minimal visual clutter?
Each RC60i is equipped with a 6-1/2" woofer and a 3/4" tweeter.
Polk even uses moisture-resistant materials so you can install these in your bathroom, kitchen or covered porch with confidence. 
Elevate your home theater
Use the RC60is for lifelike overhead effects in a Dolby Atmos® or DTS:X® system.
You'll love how sound moves up and down, instead of just side-to-side and front-to-back.
These speakers are great options for the rear surround channels of your system, too.
DIY installation
If this is a do-it-yourself installation, check out our guide to installing in-ceiling speakers, along with our selection of in-wall speaker wire.
Polk's rotating-cam design makes your in-ceiling installation go smoother. Once you have the RC60is in place, simply use a screwdriver to tighten each cam for a secure grip against the back of the ceiling.
Optional pre-construction brackets are recommended for new construction. Free lifetime technical support is provided with every Crutchfield purchase.
Features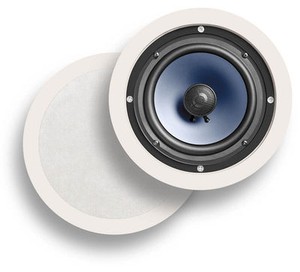 Mounting Options
Specifications
Features
Dynamic Balance Technology:

 


Dynamic Balance drivers are used for wide, smooth response and low distortion.


Woofers:
Each speaker features a Dynamic Balance, mineral-filled polypropylene  woofer for clean midrange and deep, accurate bass. For a smoother  response and improved durability, each woofer uses a rubber surround.


Tweeters:
Each speaker uses a 3/4" Dynamic Balance, metalized soft dome tweeter in a ball-and-socket swivel mount.
The aimable tweeters give you direct high-frequency control, resulting in excellent imaging even for off-axis listening positions.


Infinite Baffle Tuning:

 


Infinite Baffle Tuning uses the virtual enclosure of in-wall space for superior bass response.


Moisture-resistant:

 


Durable, moisture-resistant materials allow you to install the speakers in bathrooms, kitchens, even under the eaves of an enclosed porch. (The speaker is not recommended for exposed outdoor use.)


Mounting Options
Installation:

 


The round shape and flush-design allow the RC60i to mimic the look of a recessed lighting fixture. Each speaker requires a cutout diameter of 7.5625" and a mounting depth of 2.488".
Each speaker frame has a 8.897"  diameter. Once the holes are cut, each speaker is placed in the opening and the Rotating Cams are tightened, allowing you to secure each speaker to the drywall without any extra assembly.
The cam extends 2" deep from the mounting surface of the speaker and will accommodate up to 1.283"  drywall thickness.
When the cams are rotated, each extends 0.634" beyond the 7.5625" cutout diameter.
If you will not be mounting these speakers in drywall, make sure the wall or ceiling material can safely support  the weight of the speakers before installation; each speaker weighs  approximately 2.5 pounds.


Paintable:

 


The grille and flange can be painted, allowing these speakers to match any decor.
Specifications
Frequency Response:
    Overall: 40 Hz-20 kHz
    -3 dB Limit: 60 Hz-20 kHz