Polk Audio LSi M 707 Tower Speaker Pair
Luxurious Sound From Polk's Gorgeous, Flagship Floor-Standing Speaker
Immerse yourself in smooth, high-end sound that envelops and caresses you thanks to Polk's LSi M 707. Building upon the widely acclaimed LSi family of speakers, the LSi M series incorporates the latest developments in speaker technology, fitted into a newly designed enclosure that's beautifully sculpted and luxuriously finished.
You'll hear a wide, deep soundstage with realistic imaging fleshed out in pinpoint detail, and anchored by effortlessly deep bass.
It'll faithfully reproduce your most demanding audio sources from top to bottom, without any help from a separate subwoofer.
It makes an excellent pair in a stereo music setup or becomes the shining star in a knock-out home theater system.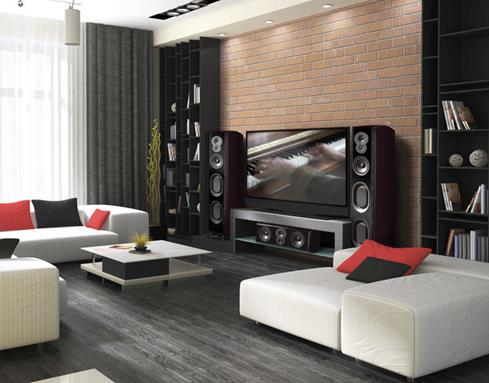 Add incredible sound — and great looks — to your home's entertainment system.
Polk's Dynamic Sonic Engine: The Speaker Within A Speaker
The heart of the LSi M 707 is Polk's Dynamic Sonic Engine. Made up of a 3-1/4" midrange driver and a 1" ring radiator tweeter in its own acoustically sealed enclosure, this tightly spaced duo acts like a "mini-monitor."
The precise alignment of the midrange and tweeter allows them to disperse sound over a wide, uniform area with excellent off-axis response in the critical 200 Hz to 2,000 Hz midrange.
Rich Lifelike Details, With Crisp Mids And Highs
The ring radiator tweeter features several improvements from the version in the earlier LSi line.
A slight reshaping of the tweeter's bullet-shaped phase plug allows it to move even farther out of the baffle, while a redesigned diaphragm has made the tweeter even more efficient
. It even has its own tuned enclosure within the Dynamic Sonic Engine.
These changes result in higher power handling, extended dynamic range, improved dispersion, and extended high-frequency response — all the way up to 30,000 Hz!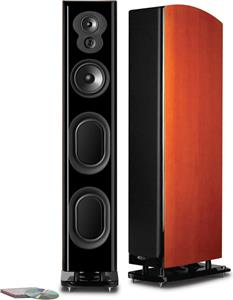 Advanced Driver Material For Even More Realistic Sound
The original LSi speakers featured a light, stiff mineral-filled polypropylene cone that was "puffed up" with injected air to form a honeycomb-like structure.
The new super cell aerated polypropylene uses larger "puffed cells" to create a cone material that's thicker yet lighter than the original.
It's used in both the midrange and midbass drivers, as well as both woofers, allowing them to move faster and with more efficiency.
Dual Woofers Deliver Smooth, Effortless Bass
Low on the '707's front baffle you'll notice dual 6" x 9" woofers. The oval shape helps them produce tight low-frequency music and movie sounds while maintaining a narrow cabinet width.
Plus, each woofer has its own PowerPort® — a unique Polk design that positions specially designed "cones" at the mouth of the bass ports to direct moving air to eliminate bass-stealing turbulence.
No turbulence means no wasted power, which means more efficient bass response.
Four-Way Design For Clear, Low-Distortion Sound
The LSi M 707 features a 4-way design, meaning that the tweeter handles only the highest of frequencies, the midrange handles the middle frequencies, the midbass handles the mid to low frequencies, and the woofers handle only the lowest frequencies.
This separation allows each driver to perform within its optimum range, meaning you'll hear sound with absolute clarity and stunning impact.
And this speaker uses proprietary Orth Crossovers, making it extremely efficient and easier for your receiver or amplifier to drive.
Careful Cabinet Design With A Stunning Real Wood Veneer
The '707 cabinet is made of heavily braced 3/4" thick MDF with an even thicker front baffle (1-1/4") to keep distortion to a minimum.
Each driver has its own separate, non-parallel chamber to increase the efficiency of each driver and eliminate internal resonances and standing waves.
Dual gold-plated binding posts let you bi-amp or bi-wire this speaker for even better performance.
The magnetic grille easily snaps on and off, and it measures less than 1mm thick, so it won't interfere with the sound.
And finally, the curved cabinet is finished with a furniture-grade, real-wood veneer that's hand-polished to achieve a gorgeous glow in your home.
Complete Your Home Theater System
Achieve startling realism and seamless surround effects when you build a complete LSi M system.
All LSi M models feature the same components and tuning, so you can create any combination of towers in the front of your room with a center channel speaker for crisp dialogue, and either bookshelf speakers or dedicated surround speakers in the back of your room for wraparound sound effects.
Driver Technology
Performance objectives of the polk audio lsim series loudspeakers: the lsim series loudspeaker is polk audio's best high-performance loudspeaker.
Polk audio designed the lsim series loudspeakers to create a sound that virtually transports you to the scene of the recorded performance.
It was engineered & created with the following performance objectives in mind.
Pleasing tonality, even during extended listening at performance levels.
Crisp, lifelike impulses, transients & coherent detail without any unnatural ringing or decay.
Natural reproduction of complex low frequency instruments & special effects.
Uniform sonic representation within the listening area & immersive spatial impression.
Reproduce concert/theater levels while maintaining linearity and accuracy.
Compatibility with a wide array of electronics both past, present & future.
Work as promised for many years of enjoyment (5 year parts & labor warranty).
Dynamic Balance:
 Dynamic Balance is a proprietary Polk Audio technology using laser imaging to determine what combination of speaker materials create the least amount of resonance.
Eliminating resonance in speakers results in a wide, smooth response, & low distortion.
4-Way Driver System: 
The Polk Audio LSiM series floor-standing loudspeaker employs a 4-way driver system for crisp, detailed highs; natural, lifelike midrange; accurate, dynamic midbass; & deep, rich bass.
The floor-standing loudspeaker houses a 1" Dynamic Balance Enhanced Ring Radiator Tweeter, a 3.25" Dynamic Balance Super Cell Aerated Polypropylene cone midrange driver, a 6.5" Dynamic Balance Super Cell Aerated Polypropylene cone midbass woofer, & two 6"x9" Dynamic Balance Cassini Oval subwoofer drivers.
Enhanced Ring Radiator Tweeter:
The ring radiator tweeter was a vital element in the success of Polk Audio's original LSi Series.
Polk Audio engineers have made some nuanced improvements in the design of this tweeter.
First, they reshaped the tweeter's bullet-shaped phase plug, allowing it to move farther out of the baffle, improving dispersion and eliminating horn-loading.
Next, they opened up the tweeter's face-plate, then redesigned the tweeter's diaphragm roll to make it more efficient and improve dispersion even more.
Finally, they gave the new ring radiator tweeter its own tuned enclosure (Dynamic Sonic Engine).
This new ring radiator tweeter boasts higher power handling, extended dynamic range, improved dispersion and extended top-end response.
Super Cell Aerated Polypropylene (APP) Cone Woofer: 
If the perfect cone material is lightweight (for faster, more efficient action) and stiff (for less distortion-causing flex), with enough internal damping to suppress and offset any limitations of its lightweight stiffness, then the Super Cell APP Cone Material is about as perfect as cone material gets.
Aerated Polypropylene (APP) is a mineral-filled polypropylene material that's been "puffed up" with injected air to form a honey-comb structure.
Polk Audio's original APP cone approached the ideal balance of lightweight stiffness with high damping, along with good resistance to moisture, UV and temperature extremes.
Next generation LSiM series loudspeakers employ Polk Audio's next generation of APP Super Cell.
In Super Cell APP, the "puffed cells" are larger, for a thicker cone material that actually has less mass than the original APP material.
Super Cell APP has larger cells, for lighter weight and more inherent damping, plus uncompromised stiffness, for unsurpassed transient response and resonance suppression.
Cassini Oval Subwoofer Drivers:
 The Polk Audio LSiM series floor-standing loudspeaker uses dual Cassini oval subwoofer drivers.
The Oval woofer shape increases surface area for deeper, more musical low-frequency response, while allowing for a narrower baffle design.
The overhung voice coil design allows larger excursions & higher power handling. As a result, the bass response is deep & blending is smooth.
Butyl Rubber Surrounds:
 Durable, soft, injection-molded butyl rubber surrounds are tuned to absorb and suppress unwanted cone resonances.
Polk Audio's butyl rubber material is impervious to UV, extreme temps & humidity, for a lifetime of smooth, reliable sound.
Enhanced Voice Coils:
 Allowing lots of movement in a limited space, ELM Voice Coils power the LSiM series speaker's mid-range & mid-woofer drivers to extend their higher-frequency response with much less impedance.
The LSiM subwoofer drivers use Overhung Voice Coils, which allow the larger excursions and greater power handling necessary for big subwoofer performance.
Cast Aluminum Baskets: 
These lightweight, cast aluminum baskets provide a rigid structure for precise alignment of the speaker's active parts, for flat response & low distortion, with no mechanical resonances or ringing.
The open design provides ample venting for unobstructed linear movement.
Orth Crossovers:
 The Polk Audio LSiM series floor-standing speaker employs proprietary engineering, designed and patented by Polk Audio to maintain a lower order crossover design & increase power handling.
Orth Crossovers feature Mylar/polypropylene capacitors for sparkling highs & Air Core Inductors for superior transparency.
Notch Filters and sophisticated Zobel circuits smooth the impedance curve of the system for more efficiency & better high frequency response
Tweeter/Midrange Crossover:

 

3 kHz, 18 dB/oct
Midrange/Midbass Crossover:

 

300 Hz, 12 dB/oct
Midbass/Subwoofer Crossover:

 

100 Hz, 6 dB/oct
Timbre-Match Series: 
You can achieve incredible realism & seamless surround effects when you build a complete Polk Audio LSiM series speaker system.
All LSiM series speaker models feature the same components & tuning for perfect timbre-matching.
Frequency Response Note: 
The overall frequency response is 20Hz to 40kHz & the -3dB frequency response is 38Hz to 30kHz.
Enclosure Design
Real Wood Veneer: 
The Polk Audio LSiM loudspeaker is finished in a real, natural, furniture-grade wood veneer.
MDF Enclosure:
 The enclosure is an integral part of the sound design of the Polk Audio LSiM series loudspeaker.
All LSiM cabinets are made of .75" MDF, with wide-radius baffles of robust 1.25" MDF.
Substantial internal bracing (each driver has its own separate non-parallel chamber) increases efficiency and banishes internal resonances & standing waves, for high power handling and incredible smoothness.
Wide-radius baffles, along with zero-diffraction magnetic grilles, help stabilize imaging for a very wide, well-defined soundstage.
Dynamic Sonic Engine (DSE):
 At the heart of the Polk Audio LSiM series floor-standing loudspeaker is an enclosure-within-the-enclosure design (known as the Dynamic Sonic Engine) that houses the mid-range driver & the ring radiator tweeter.
Molded into one rigid piece, the DSE enclosure tapers to a "turbine" that reduces back-wave reflections.
The DSE combines its two speakers in an aligned, optimized array for wide, uniform dispersion in the critical 200Hz-2kHz midrange, improving transient response.
The combination delivers exact timbre-matching, improved high-frequency dispersion and greater horizontal off-axis response.
Note:
 The ring radiator
tweeter
,
midrange driver
, &
midbass
woofer are housed in a separate internal sealed enclosure from the ported enclosure which houses the two oval subwoofer drivers.
PowerPort Bass Venting: 
PowerPort Bass Venting is a Patented Polk Audio technology that uses a specially designed "cone" at the mouth of the bass port to direct moving air as it exits the port.
Air moving out of a bass port creates turbulence, which can result in boomy distortion & "port noise", especially at high volume. This distortion can cause bass output losses up to 3dB, wasting lots of amp power.
To eliminate bass-stealing turbulence at the mouth of the port, Polk Audio engineers designed the PowerPort. It's unique shape promotes "laminar" airflow even in short tube ports by mimicking the properties of longer, flared port openings.
No turbulence means no wasted power, which means more efficient bass response.
Zero-Diffraction Magnetic Grille: 
The super thin (1mm), zero-diffraction grille has no measurable effect on the speaker's response.
Completely unobtrusive, stylishly sheer; the grille locks into place magnetically.
Connections
Dual Gold-Plated Binding Posts:
 The floor-standing loudspeaker has two sets of gold-plated binding posts connected by wire-jumpers.
The gold-plated binding posts will accept bare wire (16-12 AWG), pin connectors, spade connectors, & banana plugs (single only).
Bi-Wiring/Bi-Amping:
 Using the dual posts, you can bi-wire or bi-amp the speaker.
Bi-wiring or bi-amping the speaker provides improved bass & treble performance.
If you decide to bi-wire or bi-amp, you must remove the jumpers between the terminal posts (failure to do this could result in damage to your amplifier and loudspeakers).
Bi-Wiring:

 

Bi-wiring can provide noticeable improvements in the overall transparency of your loudspeakers.
Run separate speaker wires to the low & high frequency drivers from a single amplifier (the upper set of binding posts are for the high frequency drivers; the lower set of binding posts are for the low frequency drivers).
Bi-Amping:

 

Bi-amping allows you to use separate amplifiers for the high & low frequency sections of your loudspeaker for greater dynamic range & lower distortion.
We recommend that your separate amplifiers have identical gain to preserve the speaker's voicing balance.
Color-Coded: The floor-standing speaker's binding posts are color-coded (red/black) for easy identification between positive & negative.
Mounting Options
Placement:
 To enjoy the most realistic stereo image and lifelike sound, place the floor-standing speakers so that an equilateral triangle is created between the speakers & your favorite listening position.
Angle the speakers toward the middle as necessary in order to support a more solid center image. Experiment with the distance between your speakers & both the back/side walls.
You'll experience some bass boost with the speakers located closer to walls.
Rubber Feet & Adjustable Floor Spikes:
 Rubber feet & adjustable floor spikes are included with the LSiM floor-standing loudspeakers to anchor & stabilize the speaker on any type of floor (carpet, tile, or hardwood).
Spiked Feet:

 

The floor-standing speaker includes 4 pre-installed adjustable spiked feet. These adjustable spiked feet allow you to tilt the speaker backwards or forward a tiny bit in order to optimize your listening area.
Most floor-standing speakers are adjustable only from the bottom of the base & require you to tip the speaker over using two hands to access the floor spikes.
The LSiM floor spikes are adjustable from the top of the base using the included 5mm hex (Allen) wrench.
Rubber Feet:

 

The floor-standing speaker's 4 pre-installed adjustable spiked feet come covered with rubber protection tips to protect your hardwood or tile floor. These rubber tips are removable.