Denon AVR X550 Bluetooth With Polk Audio Blackstone TL-1600 Home Cinema Dolby 5.1 Speaker Package
Denon AVR x550Bt
Features – AVR-X550BT
At 130W of power per channel, the 5.2 channel Denon AVR-X550BT AV receiver delivers quality home theater at an accessible price.
Enjoy movies and shows with Full 4k Ultra HD and Dolby Vision, and five HDMI inputs (and one output) to support your media players. Plus, the AVR-X550BT supports Bluetooth for seamless music streaming.
Overview
The 5.2 channel Denon AXR-X550BT AV receiver delivers quality home theater at an accessible price.
Watch your favorite movies and shows with exceptional picture clarity thanks to Full 4k Ultra HD, Dolby Vision and HDCP 2.2 (supported on three of the five HDMI inputs). Stream music with built-in Bluetooth or play back MP3, WMA, FLAC and MPEG-4/AAC tracks via the front panel USB port.
A guided Setup Assistant and measuring microphone make getting started as simple as possible. And with a more than 100-year history steeped in audio technology, the Denon AVR-X550BT is guaranteed to provide audio fidelity and picture clarity to vastly improve every aspect of your home theater.
Powerful 5-Channel Amplifier With ECO Mode
Featuring discrete high-current amplifiers on all channels, the AVR-X550BT delivers high-power performance at 130 Watts per channel (6 Ohms, 1kHz, 1% 1 Ch. Drive).
Low impedance drivers provide operational stability for a wide range of speakers and create balanced, tonal sound.
The AVR-X550BT features a five-input HDMI section with 4K/60 Hz full-rate pass-through and HDCP 2.2 support on three inputs.
Breathe New Life Into Legacy Sources
The AVR-X550BT features an advanced HDMI section with 5 inputs that offer full 4K Ultra HD, HDR (High Dynamic Range), BT.2020, Wide Color Gamut, 4:4:4 Pure Color sub-sampling, as well as 21:9 and 3D video pass-through, Dolby Vision compatibility and HLG (Hybrid Log-Gamma) pass-through support.
HDCP 2.2 is supported on 3 inputs for copy protected content.
Set-up And Connect With Ease
The included AVR-X550BT Quick Start Guide provides simple, clear instructions for how to get started.
Once you connect your TV to the AVR-X550BT via HDMI, the exclusive Denon Setup Assistant appears on your TV screen to walk you through setup, step by step. A row of color-coded speaker connections is laid out horizontally, making organizing and connecting speaker wires simple.
Plus, the AVR-X550BT comes with a measuring microphone that adjusts critical system parameters for top audio fidelity, custom-tailored for your speaker system and listening space.
Smart Tv Connectivity
Control the Denon AVR-X550BT with your Smart TV remote via the HDMI CEC functionality associated with your Smart TV.
Simply set "HDMI Control" to ON in your receiver, then set "Smart Menu" to ON and begin controlling the AVR-X550BT with your TV remote.
The Smart Menu home screen provides you quick access to source and surround mode selections, the AVR's setup menu and four Smart Selects.
Next Generation Video Formats
The AVR-X550BT supports High Dynamic Range (HDR) video format. It is even ready for Dolby Vision and HLG (Hybrid Log Gamma).
Dolby Vision transforms the viewing experiences with astonishing brightness, contrast, and color. HLG offers HDR technology over broadcast content.
Bluetooth Built-in
Your favorite tracks, at your fingertips. Stream music from your computer or smart devices with the AVR-X550BT and built-in Bluetooth.
It remembers up to eight paired Bluetooth devices, so invite family and friends to share their music and enjoy the audio quality of the AVR-X550BT.
To stream via Bluetooth, simply select the Denon AVR-X550BT from the Bluetooth menu on your smart device.
Denon Avr Remote App For Seamless Control
Better control in your back pocket. The Denon 500 Series Remote app for iOS and Android makes using the AVR-X550BT even easier —adjust volume, turn it on or off, mute the music, and select a source.
Download the Denon 500 Series Remote app today.
Quick Selects For User-Friendly Audio Tuning
The Denon AVR-X550BT front panel features four Quick Select buttons that store your preferred audio settings for each source.
Switch between TV audio, Blu-Ray, media players and more, and the AVR-X550BT adjusts the EQ settings to your preferences for that media source. Use the buttons on the front panel or opt for the same Quick Selects on the AVR remote for faster control.
Front Usb Port For High-resolution Audio
In addition to numerous analog and digital AV connectors, the AVR-X550BT features a USB port on the front panel for convenient audio playback.
It's compatible with a wide range of portable USB devices and supports MP3, WMA, FLAC and MPEG-4/AAC tracks.
Whether you want to listen to your latest MP3 download or soak in the fidelity of audiophile-quality FLAC recordings, you have quick access to your favorite songs.
Compatible With Denon Heos Link
Connect the AVR-X550BT to the Denon HEOS Link (sold separately) for wireless music streaming and the ultimate in sound quality.
The HEOS Link enables the AVR-X550BT to play back nearly unlimited online streaming services like Spotify, TIDAL, and more. With the HEOS Link, you can also add HEOS multi-room audio to your home theater audio system, and play different songs in different rooms or the same song in every room.
Also available is is ability to control your HEOS experience with Amazon Alexa voice commands.
Once connected, use the HEOS app to control the AVR remotely.
Enjoy more music and flexibility with the same great Denon quality.
Polk Audio Speaker Package TL-1600 Black
Budget-Friendly Home Theater Punch
Having trouble getting through movie night without nodding off and spilling the popcorn on the couch? Maybe it's time to upgrade your sound with Polk's Blackstone TL1600 speaker system.
Ideal for small- to medium-sized rooms, this convenient package comes with all the speakers you need to get dramatic, engaging movie theater sound that'll keep your attention focused and your eyes glued to the screen — all at a great value.
The four Blackstone satellite speakers and the center channel use some pretty advanced driver technology, so you experience impressively effortless sound from speakers that take up very little space.
The package also comes with a powerful 50-watt subwoofer to add deep, rumbling explosions and room-thumping bass for all your favorite action flicks.
And if you've got a new flat-panel TV, this system's stunning high-gloss black finish will make an excellent match.
Advanced Technology Produces Astonishingly Realistic Sound
Polk's latest breakthrough is "Time lens" technology, which aligns the drivers in such a way that all the frequencies reach your ears at the same time.
It improves the speakers' soundstaging and imaging, so that you'll start to forget you're watching a movie and really feel like you're part of the action.
This technology makes this system great for video games, too, because you'll be able to clearly pinpoint where sounds are coming from all around you, like monster roars or enemy gunfire.
Polk's Enclosure Design Puts Performance First
The satellite and center channel speakers also use an "Acoustic lens" in their grilles to disperse sound waves in a way that makes your movie and music soundtracks sound larger and more open.
And unlike a traditional port hole, these speakers have something called an "Aperiodic-tuned rear port."
it's more like a breathable membrane that controls air flow in and out of the enclosure, giving them the acoustic benefits of both a sealed and a ported enclosure, including better bass extension and a pleasing mid-bass boost.
It also means you can place these speakers in the open or against a wall, and still get great sound.
Easy Speaker Placement
Each speaker comes with a keyhole slot in the back for easy wall-mounting.
You can also use the discrete threaded insert to fit them to optional speaker brackets or stands.
But no matter how you choose to set up your system, you can expect the kind of detailed, open sound that will make movie night way much more exciting.
5.1ch Speaker Package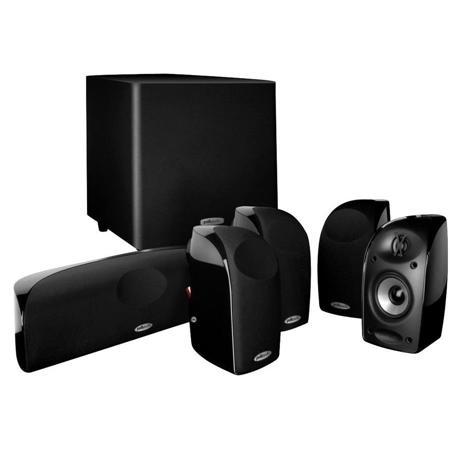 System Overview:
The polk audio blackstone tl1600 high-performance 5.1ch home theater system features 4 matching satellite loudspeakers, a horizontal center-channel speaker, and a powered subwoofer.
The polk audio blackstone tl1600 system offers a compact, high-performance solution for your home theater, music listening, or gaming needs.
Plus you can add individually available, perfectly timbre-matched blackstone tl speakers (107tl1b, sold separately) to expand your home theater experience into 6.1, 7.1, or 9.1 channels.
Note: The system's overall frequency response is 40hz-22khz and the -3db frequency response is 45-20khz.
Satellite & Center-Channel Speakers
Polk Audio Black Stone TL Series:
The polk audio black stone tl series loudspeakers (tl1) feature new innovations specifically designed to enhance compact speaker performance.
The black stone tl1 series speaker is a two-way satellite loudspeaker utilizing a bass-reflex enclosure with a rear-firing port.
The tl1 series loudspeakers are equipped with 5-way binding posts and offer various mounting options.
Dynamic Balance Driver Technology:
Polk audio's patented dynamic balance process allows polk to design their drivers specifically for flatter frequency response, revealing the sharpest details and a more lifelike transparency, with absolutely no strain even at high volume. It's a bold, rich, warm, and lifelike sound.
Time Lens Technology:
The sophisticated laser alignment of the "Acoustic center" of the blackstone tl tweeters with their accompanying drivers results in far superior imaging.
The acoustic centers of the tweeter and mid-range woofer are aligned, creating a crisp accurate soundstage.
The acoustic centers of the tweeter and mid-bass driver are located in the same plane for superior imaging, while the acoustic lens incorporated in the grille smoothes the tweeter's frequency response.
Drivers:
The black stone tl1 satellite & center-channel speakers feature a two-way design.
1/2" Silk Dome Tweeter:
Each polk audio black stone tl1 satellite & center-channel loudspeaker utilizes a 1/2" silk-polymer dome tweeter for crisp, clear imaging, and smooth response that's never tiring.
2-1/2" Long-Throw Woofer:
The polk audio black stone tl1 satellite loudspeakers use a 2-1/2" composite long-throw cone woofer, while the tl1 center-channel employs dual 2-1/2" composite long-throw cone woofers.
Each long-throw woofer utilizes dynamic balance driver technology (polk's patented transducer design process) to produce a flat frequency response, with sharp detail, transparency, and the ability to play loud without strain.
Frequency Response:
The overall frequency response of each satellite loudspeaker is 120hz-22khz and the -3db frequency response is 135-20khz.
The overall frequency response of the center-channel speaker is 95hz-22khz and the -3db frequency response is 125-20khz.
Bass Reflex Enclosure:
The polk audio black stone tl1 satellite & center-channel speaker feature a non-resonant composite enclosure with a curved design, time-aligned geometry, integrated acoustic lens, an aperiodic-tuned rear port, and a beautiful high-gloss finish.
Curved Design:
The polk audio black stone tl1 loudspeakers employ non-parallel surfaces that not only lead to a stronger, more rigid and acoustically inert enclosure, but they also result in less audible coloration from internal surface resonances.
Integrated Acoustic Lens:
An innovative acoustic lens incorporated into the grille produces a high frequency response so smooth that it delivers a balanced, realistic performance.
An acoustic lens is molded into the back of the speaker grille and helps create imaging frequency balance previously impossible in small high-performance satellite speakers.
Aperiodic-Tuned Rear Port:
An aperiodic-tuned rear port enables better blending with a subwoofer.
This design combines the bass extension of an acoustic suspension enclosure with the mid-bass boost of a ported enclosure by controlling airflow through the port for better extension without distortion.
High-Gloss Finish:
The tl1 enclosure features a durable, deep automotive-strength high-gloss finish that matches today's most stylish flat-panel tvs. The tl1 satellites & center-channel speakers are available in a high-gloss black finish.
5-Way Binding Posts:
The polk audio black stone tl1 center-channel is equipped with one pair of 5-way binding posts to ensure a secure connection to many types of speaker cables and connectors.
The binding post terminals will accept banana plugs (single or dual), pin-connectors, spade-connectors, and bare wire (18-12 agw).
Rubber Feet:
Polk audio tl1 satellite & center-channel speakers feature integrated rubber feet so you can sit the speaker on a stand or shelf securely.
Wall Mountable:
The tl1 satellite & center-channel speakers feature keyhole slots on the back of the cabinet for wall-mounting the speakers without any additional wall-mount bracket (mounting screws not supplied).
There is also a 1/4"-20 threaded insert on the back of each loudspeaker for mounting the speaker to the wall using an optional articulating bracket (sold separately).