Denon Avr X250 Bluetooth Avr With Polk Audio Blackstone Tl-1600 Home Cinema Speakers
Denon avr x-250bt
The denon avr-x 250bt is a 5.1 channel receiver, with a capacity of 130 watts per channel.
The receiver can control a 5.1 / 2-channel setup, so dolby atmos and dts: x are not possible.
However, the receiver has support for dolby truehd and dts-hd master audio.
The device is equipped with five hdmi inputs with support for hdcp 2.2 (on three inputs) and support for 4k ultra hd on 60hz, hdr (hdr10 and hlg), arc and hdmi cec.
Streaming is one of the areas that have been saved because there is no wifi and there are no streaming services on board.
So you have to do it with bluetooth, by streaming music from a phone or tablet.
Furthermore, the receiver comes with the well-known set-up assistant from denon and the well-known intelligent eco mode, which makes the energy consumption transparent and adaptable.
Representing the perfect combination of high performance and high value, the denon avr-x540bt 5.2 ch ultra hd av receiver with bluetooth delivers superb sonic fidelity along with a host of advanced features including full 4k compatibility, hdr (high dynamic range), and arc (audio return channel) for the complete home cinema experience.
Thanks to built-in bluetooth, the denon avr-x540bt receives your favourite music wirelessly from any compatible device, and the dedicated denon 500 series bluetooth remote app offers unique control options from your smartphone.
Polk Audio Speaker Package TL-1600 Black
Budget-Friendly Home Theater Punch
Having trouble getting through movie night without nodding off and spilling the popcorn on the couch? Maybe it's time to upgrade your sound with Polk's Blackstone TL1600 speaker system.
Ideal for small- to medium-sized rooms, this convenient package comes with all the speakers you need to get dramatic, engaging movie theater sound that'll keep your attention focused and your eyes glued to the screen — all at a great value.
The four Blackstone satellite speakers and the center channel use some pretty advanced driver technology, so you experience impressively effortless sound from speakers that take up very little space.
The package also comes with a powerful 50-watt subwoofer to add deep, rumbling explosions and room-thumping bass for all your favorite action flicks.
And if you've got a new flat-panel TV, this system's stunning high-gloss black finish will make an excellent match.
Advanced Technology Produces Astonishingly Realistic Sound
Polk's latest breakthrough is "Time lens" technology, which aligns the drivers in such a way that all the frequencies reach your ears at the same time.
It improves the speakers' soundstaging and imaging, so that you'll start to forget you're watching a movie and really feel like you're part of the action.
This technology makes this system great for video games, too, because you'll be able to clearly pinpoint where sounds are coming from all around you, like monster roars or enemy gunfire.
Polk's Enclosure Design Puts Performance First
The satellite and center channel speakers also use an "Acoustic lens" in their grilles to disperse sound waves in a way that makes your movie and music soundtracks sound larger and more open.
And unlike a traditional port hole, these speakers have something called an "Aperiodic-tuned rear port."
it's more like a breathable membrane that controls air flow in and out of the enclosure, giving them the acoustic benefits of both a sealed and a ported enclosure, including better bass extension and a pleasing mid-bass boost.
It also means you can place these speakers in the open or against a wall, and still get great sound.
Easy Speaker Placement
Each speaker comes with a keyhole slot in the back for easy wall-mounting.
You can also use the discrete threaded insert to fit them to optional speaker brackets or stands.
But no matter how you choose to set up your system, you can expect the kind of detailed, open sound that will make movie night way much more exciting.
5.1ch Speaker Package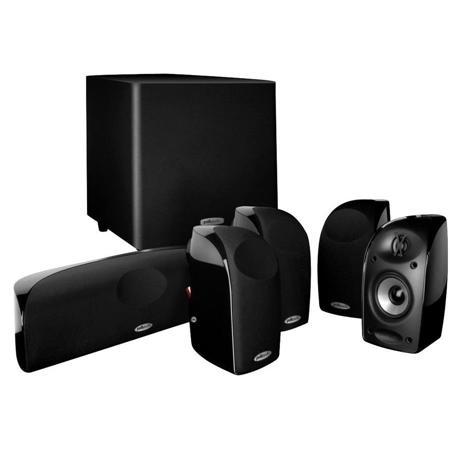 System Overview:
The polk audio blackstone tl1600 high-performance 5.1ch home theater system features 4 matching satellite loudspeakers, a horizontal center-channel speaker, and a powered subwoofer.
The polk audio blackstone tl1600 system offers a compact, high-performance solution for your home theater, music listening, or gaming needs.
Plus you can add individually available, perfectly timbre-matched blackstone tl speakers (107tl1b, sold separately) to expand your home theater experience into 6.1, 7.1, or 9.1 channels.
Note: The system's overall frequency response is 40hz-22khz and the -3db frequency response is 45-20khz.
Satellite & Center-Channel Speakers
Polk Audio Black Stone TL Series:
The polk audio black stone tl series loudspeakers (tl1) feature new innovations specifically designed to enhance compact speaker performance.
The black stone tl1 series speaker is a two-way satellite loudspeaker utilizing a bass-reflex enclosure with a rear-firing port.
The tl1 series loudspeakers are equipped with 5-way binding posts and offer various mounting options.
Dynamic Balance Driver Technology:
Polk audio's patented dynamic balance process allows polk to design their drivers specifically for flatter frequency response, revealing the sharpest details and a more lifelike transparency, with absolutely no strain even at high volume. It's a bold, rich, warm, and lifelike sound.
Time Lens Technology:
The sophisticated laser alignment of the "Acoustic center" of the blackstone tl tweeters with their accompanying drivers results in far superior imaging.
The acoustic centers of the tweeter and mid-range woofer are aligned, creating a crisp accurate soundstage.
The acoustic centers of the tweeter and mid-bass driver are located in the same plane for superior imaging, while the acoustic lens incorporated in the grille smoothes the tweeter's frequency response.
Drivers:
The black stone tl1 satellite & center-channel speakers feature a two-way design.
1/2" Silk Dome Tweeter:
Each polk audio black stone tl1 satellite & center-channel loudspeaker utilizes a 1/2" silk-polymer dome tweeter for crisp, clear imaging, and smooth response that's never tiring.
2-1/2" Long-Throw Woofer:
The polk audio black stone tl1 satellite loudspeakers use a 2-1/2" composite long-throw cone woofer, while the tl1 center-channel employs dual 2-1/2" composite long-throw cone woofers.
Each long-throw woofer utilizes dynamic balance driver technology (polk's patented transducer design process) to produce a flat frequency response, with sharp detail, transparency, and the ability to play loud without strain.
Frequency Response:
The overall frequency response of each satellite loudspeaker is 120hz-22khz and the -3db frequency response is 135-20khz.
The overall frequency response of the center-channel speaker is 95hz-22khz and the -3db frequency response is 125-20khz.
Bass Reflex Enclosure:
The polk audio black stone tl1 satellite & center-channel speaker feature a non-resonant composite enclosure with a curved design, time-aligned geometry, integrated acoustic lens, an aperiodic-tuned rear port, and a beautiful high-gloss finish.
Curved Design:
The polk audio black stone tl1 loudspeakers employ non-parallel surfaces that not only lead to a stronger, more rigid and acoustically inert enclosure, but they also result in less audible coloration from internal surface resonances.
Integrated Acoustic Lens:
An innovative acoustic lens incorporated into the grille produces a high frequency response so smooth that it delivers a balanced, realistic performance.
An acoustic lens is molded into the back of the speaker grille and helps create imaging frequency balance previously impossible in small high-performance satellite speakers.
Aperiodic-Tuned Rear Port:
An aperiodic-tuned rear port enables better blending with a subwoofer.
This design combines the bass extension of an acoustic suspension enclosure with the mid-bass boost of a ported enclosure by controlling airflow through the port for better extension without distortion.
High-Gloss Finish:
The tl1 enclosure features a durable, deep automotive-strength high-gloss finish that matches today's most stylish flat-panel tvs. The tl1 satellites & center-channel speakers are available in a high-gloss black finish.
5-Way Binding Posts:
The polk audio black stone tl1 center-channel is equipped with one pair of 5-way binding posts to ensure a secure connection to many types of speaker cables and connectors.
The binding post terminals will accept banana plugs (single or dual), pin-connectors, spade-connectors, and bare wire (18-12 agw).
Rubber Feet:
Polk audio tl1 satellite & center-channel speakers feature integrated rubber feet so you can sit the speaker on a stand or shelf securely.
Wall Mountable:
The tl1 satellite & center-channel speakers feature keyhole slots on the back of the cabinet for wall-mounting the speakers without any additional wall-mount bracket (mounting screws not supplied).
There is also a 1/4"-20 threaded insert on the back of each loudspeaker for mounting the speaker to the wall using an optional articulating bracket (sold separately).