Definitive Technology Bp10b Bipolar Tower Speaker
Enjoy Rich Sound That Radiates Throughout Your Room
Choose definitive's bipolar tower™ series for detailed, lifelike sound that will fill your room.
The bp10b bipolar speaker uses both front- and rear-firing driver arrays to radiate full-range sound in an omni-directional pattern.
This allows every listener in the room to experience a huge, three-dimensional soundstage with both music and movies.
Innovative Bipolar Design Produces An Exceptionally Wide, Deep Soundstage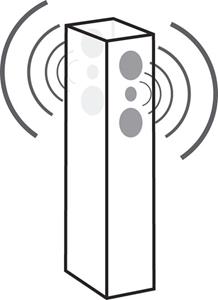 Each speaker array in the bp10b consists of one 6-1/2" mid/bass driver paired with a 1" dome tweeter.
This bipolar design means that direct sound from the front drivers arrives at your ears first, to provide clear, focused imaging.
That's followed by sound from the rear drivers, which is slightly delayed, to enhance spaciousness.
The combination creates a lush, seamless soundstage that's more like the way we hear sounds in real life.
Room-Friendly Sound Allows Flexible Placement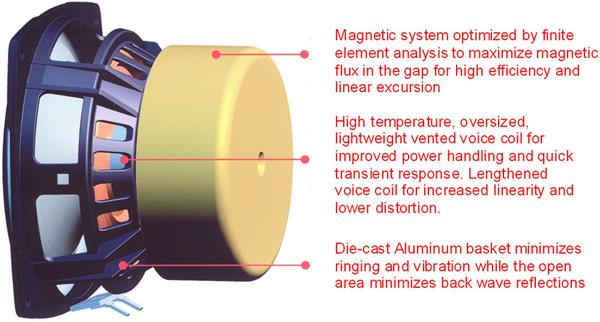 The bp10b's slim cabinet takes up less than a square foot of floor space, yet its bipolar design produces twice as much sound in your room as a conventional speaker.
A sophisticated crossover equalizes the front and rear drivers separately for more precise control of their combined output.
The bipolar driver arrays are wired together internally, so you connect the bp10b to your receiver as you would any conventional speaker, using one set of speaker wires.
The speaker is designed to be positioned from 4" to 24" out from your wall for optimum sound quality.
Build a complete home theater system using perfectly matched definitive technology centers, surrounds, and subwoofers.
Speaker Detail
Got Wire?
Most speakers don't include any. Learn about choosing and installing speaker wire at the Audiomaxx India learning center.Shop our selection of speaker wire.
Did You Know?
Your new speakers will probably sound better after several weeks of use than they do right out of the box.
That's because the material surrounding the woofers will loosen up, allowing the drivers to move more fully.
Definitive technology estimates a break-in period of 24 to 48 hours of playback before the speakers will deliver optimum sound quality.
For more information and helpful tips, check out this article from definitive's website about conditioning your speakers.
Product research
Driver Technology
Bipolar Design:
The definitive technology bp-10 is a true bipolar speaker, containing two complete full-range speaker systems; one on each side of the cabinet.
Definitive's bipolar technology radiates sound from the front and the back of the speaker for more life-like sound and spacious imaging for every listener in the room.
Bipolar technology combines the performance advantages of direct radiating (imaging, focus, localization, and specificity) and dipolar speakers (spacious, all-enveloping ambience) into one ideal speaker which is perfect for all multi-channel formats.
The bp-10's wide dynamic range, as well as true high-definition sound quality, combined with its bipolar radiation pattern results in total immersion in the sound field.
High-Definition Cast-Magnesium Drivers:
The definitive technology bp-10 utilizes two 6-1/2 inch high-definition bass/midrange drivers (one on front-side/one on back-side) for significant performance advantages in the areas of bass reproduction, lifelike midrange clarity, and dynamic range.
These sophisticated bass/midrange drivers incorporate deeply drawn mineral-filled polymer cones, combined with butyl rubber surrounds and dustcaps, high temperature vented voice coils, and massive magnet structures.
This combination of features assures high definition, superb transient response, high efficiency, high power handling, and extended bass response.
In addition, they are assembled utilizing an aerodynamically designed, magnetically inert, cast-magnesium basket to minimize internal reflections off the back of the cone and preserve structural and magnetic integrity under all conditions.
Moving Coil Pure Aluminum Dome Tweeters:
The definitive technology utilizes two annealed pure aluminum 1-inch dome tweeters (one on front-side/one on back-side), suspended by a silk surround and acoustically loaded by a precisely configured phase plug/lens; engineered to assure perfectly controlled, absolutely linear movement. This results in smooth extended response (up to 30 khz), greatly reduced distortion, improved transient response, wider dispersion, and notably higher definition. Magnetic fluid damping is incorporated for ultra high power handling.
Phase-Coherent Linkwitz-Riley Crossover Networks:
The sophisticated linkwitz-riley design used in the bp-10 equalizes the drivers for linear phase and frequency response.
This preserves the phase coherence, transient response, and dynamic integrity of the signal for absolutely lifelike music and home theater reproduction in your home.
Break-In Period:
The bp-10 will sound good right out of the box; however, an extended break-in period of 20-40 hours or more of playing is required to reach full performance capability.
The break-in period allows the suspensions to work in and results in full bass, a more open midrange, and smoother high frequency reproduction.
Enclosure Design
Non-resonant, low-diffraction cabinet: the definitive technology bp-10 monocoque cabinet is constructed of high-density medite with 1" thick front and rear baffles, foam dampening pads, and internal braces.
This virtually eliminates resonant cabinet coloration.
The bp-10 also includes an additional divider/brace panel separating the front and rear drivers.
In addition, the design of the bp-10 reduces diffraction to an absolute minimum by flush mounting drivers on extremely narrow baffles with radial edges, which are covered by a frameless grille "Sock.
Connections
Binding Posts:
The bp-10 is equipped with a pair of gold-plated, 5-way binding posts on the bottom of the cabinet to attach your receiver's speaker wire.
Mounting Options
Applications:
The definitive technology bp-10 can be used as a front main or rear/side surround speaker.
Front:
When used as front left and right speakers, the bipolar tower loudspeakers can be placed right next to your flat-panel tv with excellent results or may be separated by a distance greater the width of the tv.
The speakers may be angled in toward the listening position or left parallel with each other.
Surround:
When used as rear or side surround speaker, the bipolar tower loudspeakers may be located on the side or behind the listeners.
When used as a side speaker, locate the bp-10 behind and to the sides of the listeners.
When used as a rear speaker, the bp-10 can be located 6-12" from the rear wall and pointed towards the listener, or placed sideways on the rear wall with the drivers facing at each other and towards the side walls.
Placement:
The bp-10 is engineered to be easy to position (just 4" to 24" out from the wall) in any listening room or home theater installation in order to achieve superb sonic reproduction throughout your room.
In addition, a major benefit of the special driver topology is wide dispersion, which assures a superb panorama of lifelike sound for every listener in the room wherever you put them.
Adjustable Feet:
The definitive technology bp-10 comes with four plastic-tipped feet (installed) for placing the tower speaker safely on your hardwood floors or tile, and four spiked-feet for placing the tower speaker securely on your carpet.
You can adjust the feet or spikes to tilt the speakers back (front to back approximately 1/2" to 1" higher than rear) for even better sound.
The adjustable feet also help you level the speaker on uneven flooring. In addition, the bp-10 comes with a pair of rear-stabilizer feet to help stabilize the speaker even further. (width specification taken with rear stabilizer feet in place.)