Definitive Technology A90 Dolby Atmos® Tower Speakers
Take Home Theater Sound Higher With Definitive Technology And Dolby Atmos
If you're looking for an easy way to seamlessly integrate dolby atmos surround sound with your definitive technology bp-9020, bp-9040, or bp-9060 tower speakers, we have something to show you. 
When you add these definitive technology a90 speaker modules to those towers, you can get some pretty amazing home theater sound. 
They work with dolby atmos soundtracks to add a height dimension to your home theater, for enhanced immersion and spatial effects.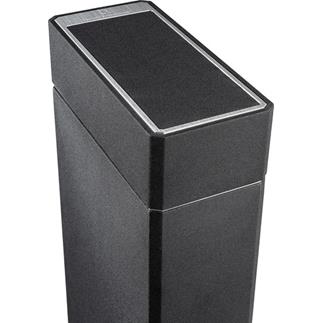 Definitive Technology A90 Dolby Atmos Speaker

The a90s fit on top of definitive technology bp-9000 series powered tower speakers (sold separately) to add dolby atmos elevation effects for more immersive surround sound
Bounce Sound Of The Ceiling For Enhanced Surround Effects
How Do These Speakers Work?
Each module features definitive's superb

 

4-1/2" mid/bass driver

 

and

 

1" aluminum dome tweeter

 

on the

 

top of the speaker. 
These drivers are angled and feature controlled dispersion, so they can reflect sound off of your ceiling and back down to your listening positions. The a90 speakers attach to the top of the towers. 
Use a pair of a90s with your front towers, or add another pair to a set of rear surround towers for an even more enveloping experience.
Custom-built for the BP-9000 Series Powered Towers

The a90 speaker modules are a snap to install. Just remove the brushed aluminum cap on top of each tower speaker, and line up the speaker connector plug on the bottom of each a90 with the connector port on top of the tower.
 Gently push the a90s down, and you're ready for an intense home theater experience. 
The a90's hidden integrated connector port terminates at the base of the tower speaker with a pair of binding post speaker terminals for connection to your

 

dolby atmos

 

compatible receiver's "Height" or "Top" outputs.
Features
Dolby Atmos Elevation Speaker Module:
Definitive technology designed the a90 elevation module as a dedicated height speaker designed specifically for the

 

bp9060,

 

bp9040, and

 

bp9020

 

models so you can fully enjoy a dolby atmos

 

multi-dimensional

 

sound experience within your home theater setup.
The a90 easily connects and sits within the top of the bp9000 speaker to fire sound upwards, which is then reflected off the ceiling and back down to your viewing area.
Compatibility:
The definitive technology a90 dolby atmos elevation speaker module seamlessly integrates within the top of the following definitive technology bp9000 series tower speakers -

 

bp9020,

 

bp9040, &

 

bp9060

 

(all sold separately).
The a90 adds approximately

 

3.875"

 

to the overall height of the bp 9000 series tower loudspeakers.
Proprietary, Plug-in Connector:
The definitive technology a90 is fitted with a proprietary male connector, which plugs into the proprietary female connector on top of the

 

bp9000

 

series tower speakers.
You will also need to run speaker wire from your dolby amos av receiver's "Height" speaker outputs to your bp9000 series tower speaker's "Height" terminal inputs.
Two-way Driver Design:
The definitive technology a90 dolby atmos elevation speaker module employs a

 

two-way driver

 

design with a

 

1" aluminum dome tweeter

 

and a

 

4.5" midrange cone

 

woofer.
The speaker's crystal clear highs and detailed

 

midrange

 

bring the most demanding audio to life.
Definitive technology's tweeters play higher in frequency than what is heard by the human ear, creating an authentic reproduction of sound as the artist intends in the studio or concert hall.
Sloped Speaker Baffle:
The definitive technology a90 dolby atmos elevation speaker module utilizes a sloped speaker baffle and exclusive foam construction to provide richness and depth to the sound.
The dolby atmos elevation speaker module fires sound upwards, reflecting it off the ceiling and back down to your viewing area in a tightly controlled dispersion pattern, damping the sound that remains.
Resonance-free Cabinet Acoustically Transparent Grille:
The definitive technology a90 uses a resonance-free cabinet w/ acoustically transparent grille for high performance sound.
The speaker cabinet's maximum rigidity with strategically placed bracing improves imaging while reducing resonance, further reinforcing the speaker's clean and powerful sound.
Thanks to the speaker's acoustically transparent grille, you'll enjoy the subtle elegance of the speaker design without having to remove a speaker grille to enjoy natural, uncolored sound.
Dolby Atmos:
With dolby atmos, sound comes alive from all directions, including overhead, to fill the home theater with astonishing

 

clarity,

 

power,

 

detail, and

 

depth.
Dolby atmos is the first home theater system that is based not on channels, but on audio objects.
Filmmakers using dolby atmos can decide exactly where those sounds should originate and precisely where they move as the scene develops.
To deliver the full object-based soundtrack to home theaters, dolby developed new home authoring tools and new encoding methods that allow all the audio objects created for the cinema to be used in home theater.
What You Need:
To experience dolby atmos using the definitive technology a90 elevation speaker module, you'll also need the following.
A minimum of a

 

5.1ch

 

speaker system with a pair of definitive technology bp9000 series tower speakers (bp9020, bp9040, or bp9060).
A dolby atmos enabled av receiver or

 

pre-processor.
A

 

blu-ray disc player, compatible

 

blu-ray game

 

console, or connected streaming player set to its

 

pcm

 

bit stream output option (must be connected via hdmi).
Dolby atmos encoded source material (blur-ay disc, game disc, streaming content, etc.)
Installation Notes:
To achieve the best dolby atmos experience possible, your room's ceiling should meet the following requirements.
You ceiling should be flat.
Your ceiling material should be acoustically reflective (examples include

 

drywall,

 

plaster,

 

hardwood, or other

 

rigid,

 

non-sound absorbing material).
Ideal ceiling

 

height

 

is between

 

7.5' and

 

12'.
Maximum recommended ceiling

 

height

 

is

 

14'.